Two salvias new to my garden, both in bloom this first week of July.
Looking at these photos, I can easily imagine a response of: You're kidding. Those washed-out things? So what?
Why I find certain plants appealing is a perpetual mystery, but a possible clue is the element of surprise that reseeders add to a garden. Surprise and also a snug sense of community as they return in new configurations with other self-sowers, until that fine day when you wake up to find you've created your own idiosyncratic chapparal/meadow. This salvia has the same rugged, big-leaved stature and similar culture requirements of verbascum. I've tried to establish this infamously reseeding biennial salvia in my garden for many years, whether by seed or by bringing in plants. Never a single bloom until this year. Either they're planted too deep in a border and are swamped, and/or the slugs get them. (Perhaps fall planting was a mistake, though conventional wisdom is to get biennials planted late summer/fall for bloom the next summer.) This Salvia sclarea 'Piemont' is from Annie's Annuals & Perennials, planted this spring, a nice airy location provided by removing a few more pathway bricks for optimal breathing room. Compared to AA&P's website photo, the coloring on mine does look slightly anemic. But it's a start, and hopefully variations in seedlings will bring better color. Plus, look at those leaves and star presence among grasses.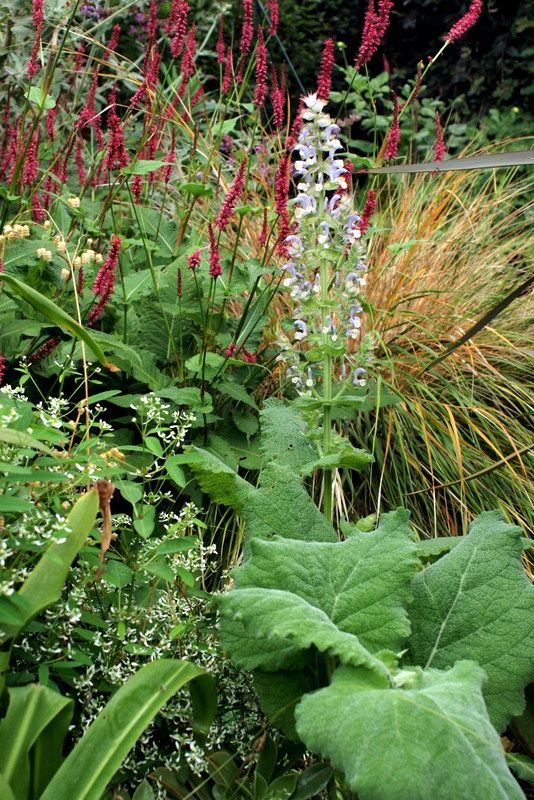 And now for the small salvia, less than 6 inches tall, Salvia taraxicifolia, the Dandelion Sage, a perennial salvia found at the Huntington Botanical Gardens plant sale in spring. If I hadn't decided to give the golden oregano a clip, I wouldn't have noticed it was in bloom. Whether that makes a plant charming or irrelevant is a matter of personal taste.

Hope it reseeds.