I have the Long Beach Marathon to thank for finding this garden.
No, I didn't run the marathon, more like actively avoided it. The marathon barricades cut off much of my end of Long Beach on October 6, so trying to get a few errands done was a circuitous challenge. I ended up in neighborhoods I don't often see, such as the one where this front garden fills a corner lot. I vowed to return. Last night, 13 days later, I found it again, even though I had misremembered the street name. Who needs street names with a garden like this? I bet locals use it for reference: "Hang a right at Little Lotusland…"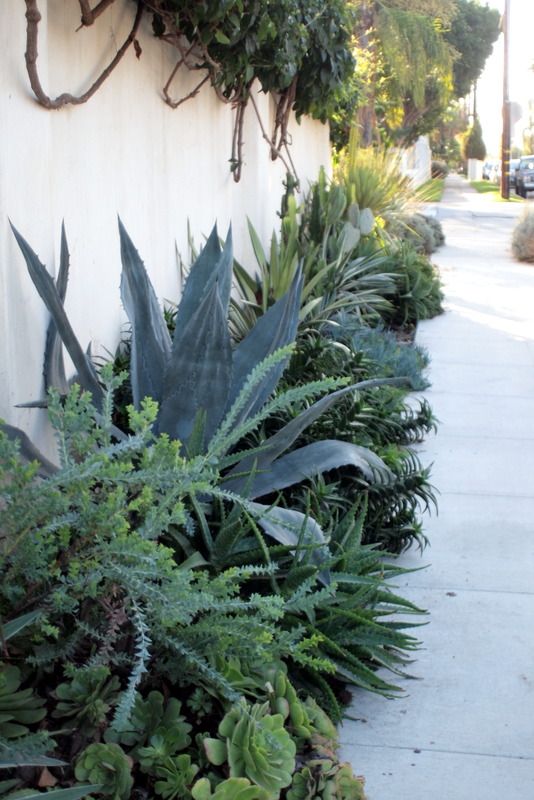 I parked along this sidewalk which borders the long white wall to the owner's back garden. Agave americana, Acacia pravissima, aloes, aeonium, opuntia in narrow borders…all clear signs that a serious desire for architectural plants has been let loose here.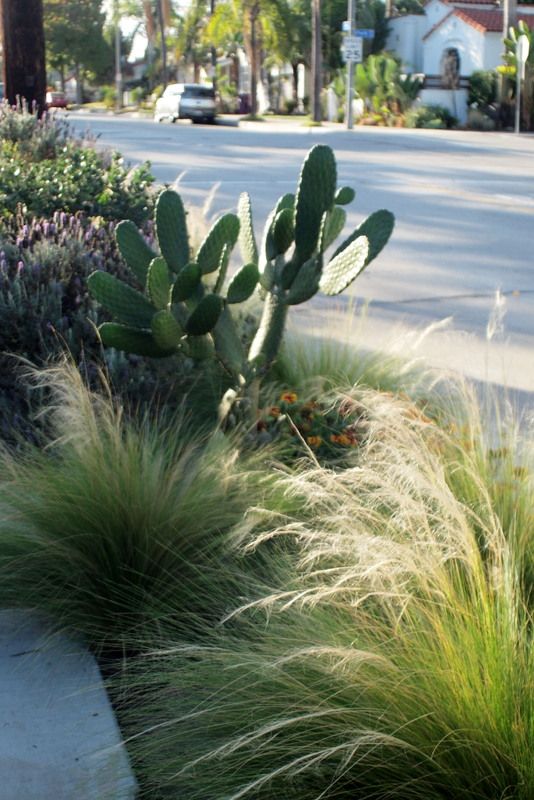 Turning the corner, the view was overpowering. And, surprisingly, so was the fragrance. But where was it coming from? Other than a small aloe and a bloom from a mangave, I could see very little else in bloom. Took me a few minutes to localize the scent, but all the while the unexpected answer was literally under my nose. All that delicious scent was pouring out of this unlikely candidate for sweetness and delicacy.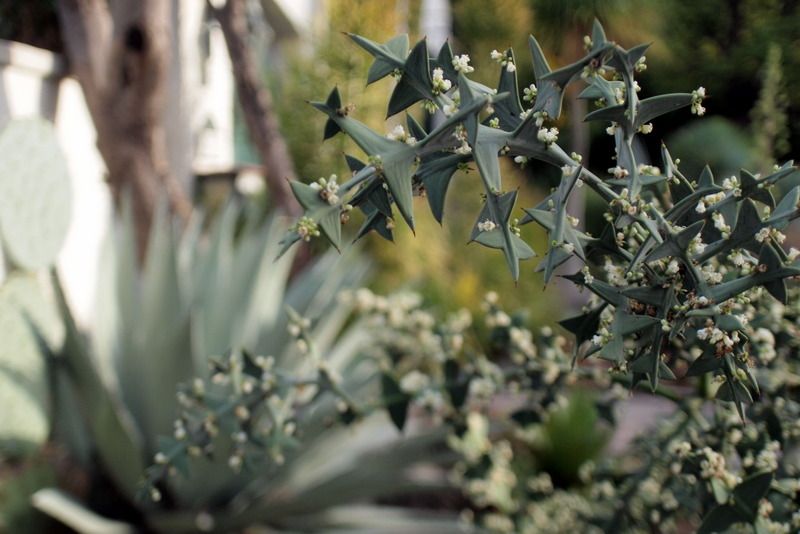 The formidable Anchor Plant from South America, Colletia paradoxa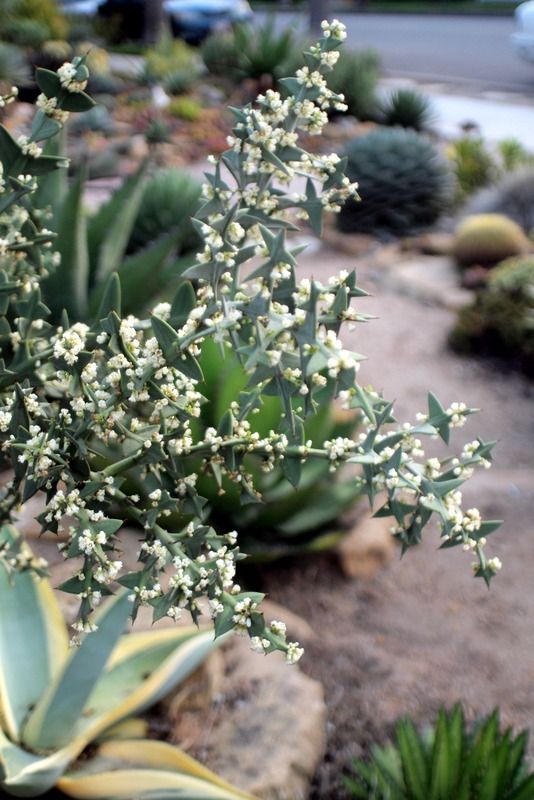 Up to this time, I had discreetly kept to the sidewalks, but a gentleman drove up and parked in front of the garden. I wasn't ready to leave yet, so instead of skulking around, it seemed a good idea to fess up and take my chances with getting permission to stay. But it wasn't his garden. He shouted at the front gates, and the owner stepped out to address the interloper with the camera.
I think the first thing I said was, "Your Anchor Plant…" to which he immediately replied, "I know. Can you smell it?" and then we were fine, and I was allowed to stay and take photos and granted deeper access off the sidewalk. I was told this entire garden is no more than four years old.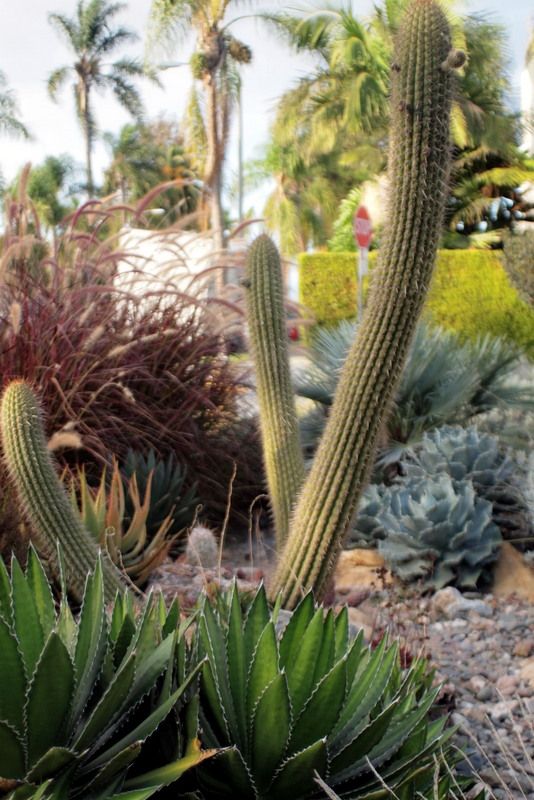 Here was a garden after my own heart, where the axiom more is more reigns and minimalism is kicked to the curb.
Packed in, spike to spike, gardens like this aren't serene and restful. From the street, it manages to make an impact at 25 mph. Up close, it completely disorders the senses. I'll take that over serene any day.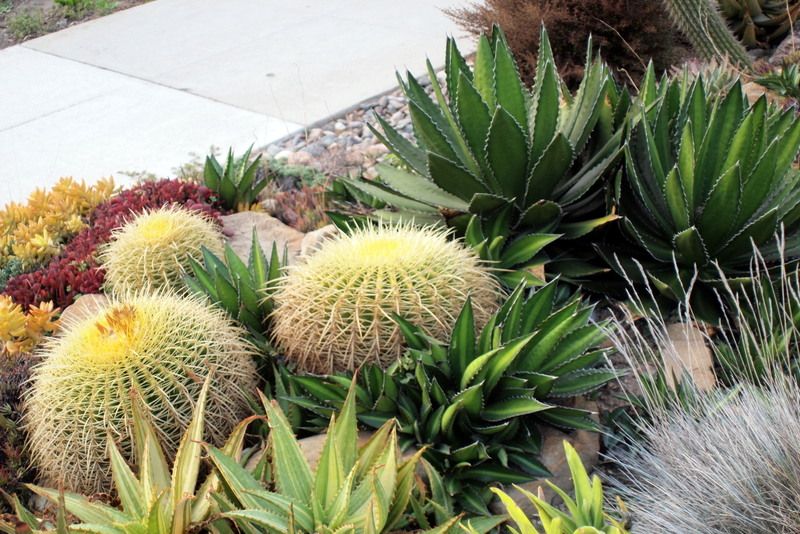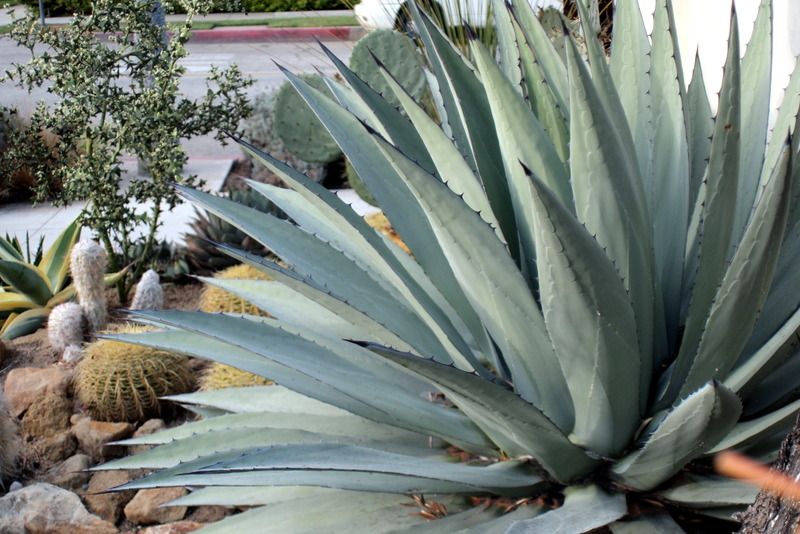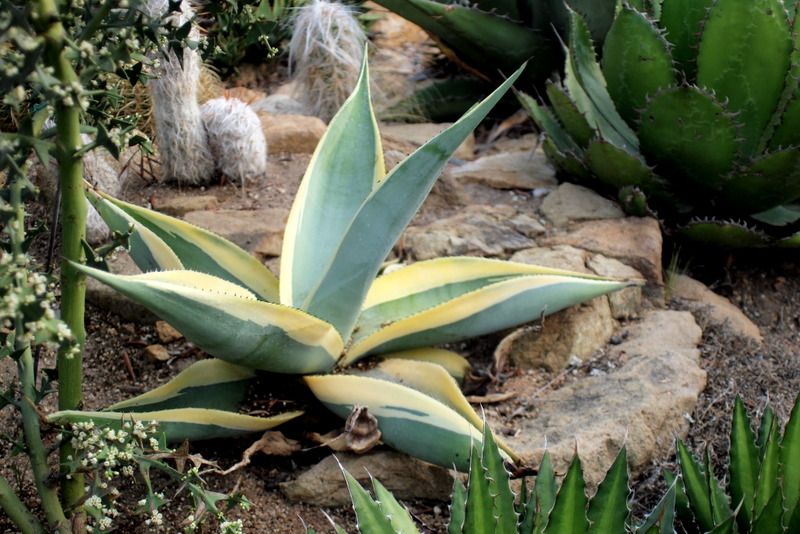 Some agaves I knew, like this A. guiengola 'Creme Brulee.' Cowhorn agave, A. bovicornuta, almost out of frame upper right.
Obviously, for a four-year-old garden, many of the plants have been brought in at specimen sizes.
Agave ferdinandi-regis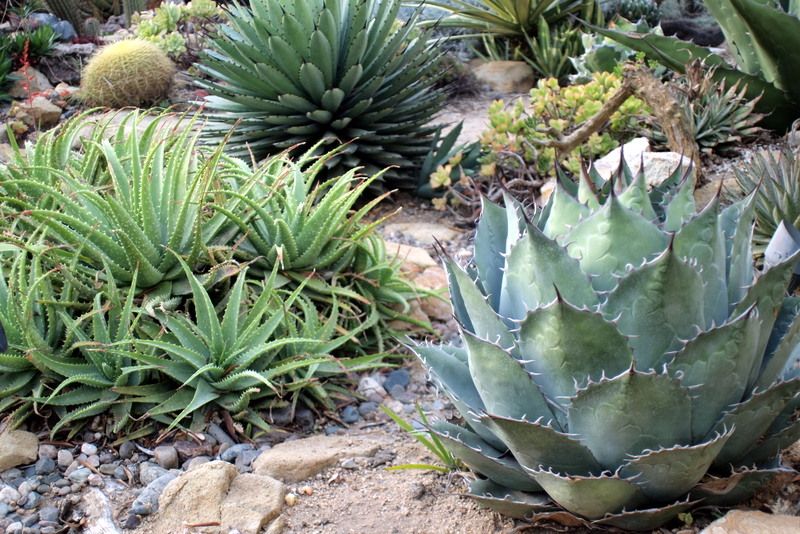 Not sure about this one on the right, and still haven't located my Irish book on agaves. Maybe Agave colorata. Past time to clean the office.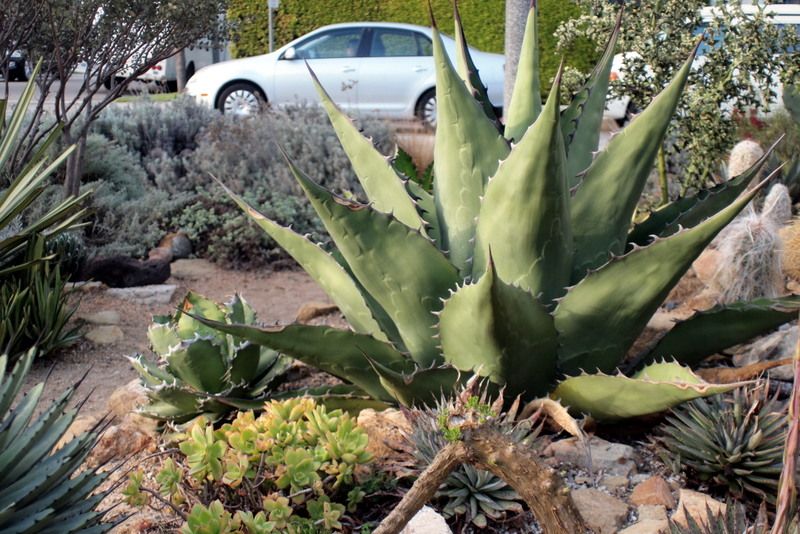 Agave salmiana? havardiana?
Aloes, barrel cactus, Agave lophantha.
Though the agaves relentlessly led my eye through the plantings, there was much more.
Euphorbia ammak and Euphorbia tirucalli flanking the gate. Bloom spike belongs to a mangave.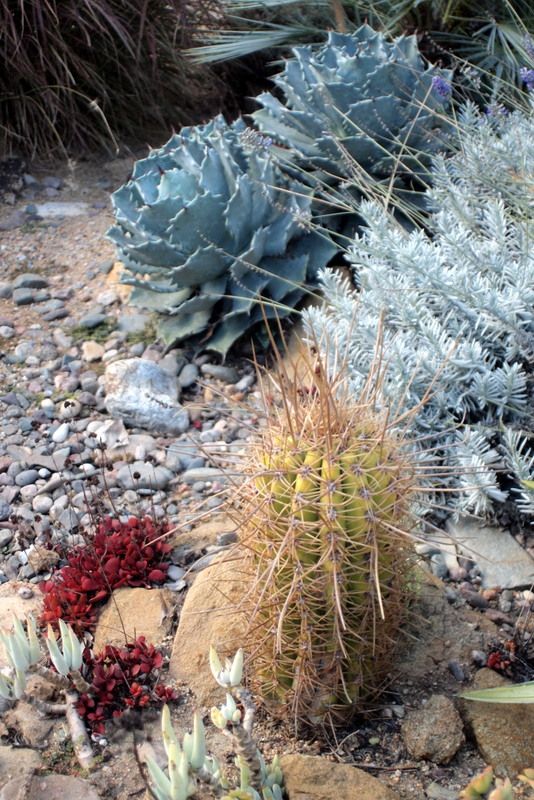 Smaller succulents, lavendar, grasses. (But what are those gorgeous powder blue agaves at the back? Not potatorum, but what?)
Yuccas, ponytail palms, the Bismarckia nobilis palm.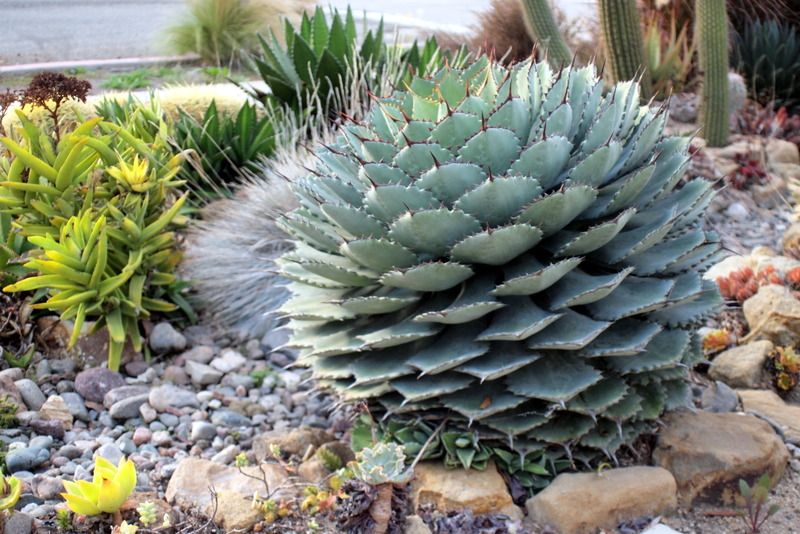 Agave potatorum
Agave titanota
Like so many agave lovers, collector mania has gripped the owner, who said the "gaps" were due to agave losses as mature specimens bloomed this summer. I hadn't noticed any gaps. Do you?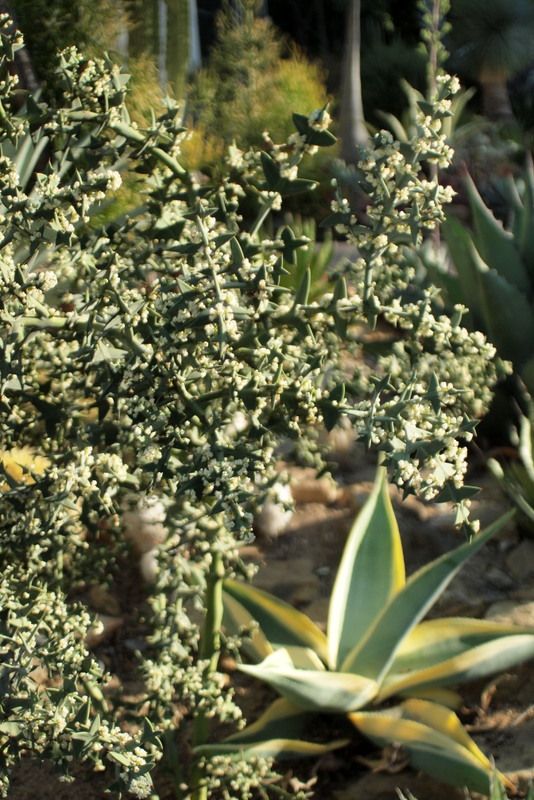 After sundown when I left, that scent from the Anchor Plant seemed even stronger, following me back to the car.
I noticed one agave he doesn't seem to have is Agave gentryi 'Jaws,' and I've got a couple offsets potted up. I think I'll drop one off at his gate to help fill up one of those "gaps."