Bicycling past this house a couple days ago, I made a hard U-turn to check out the swath of silvery groundcover running alongside the sidewalk underplanting a couple shrubs. It's probably a variety of Gazania rigens. As an inveterate plant collector who tends to overly complicate things, I love to see simple ideas executed so well. (See and admire them, not necessarily live with them. I'd probably require extensive psychoanalysis if I couldn't continually mess around and complicate things in the garden.)

Parking the bike is when I noticed the nice detail of the two mustard-colored, square ceramic containers holding a collection of various orbs flanking the pathway.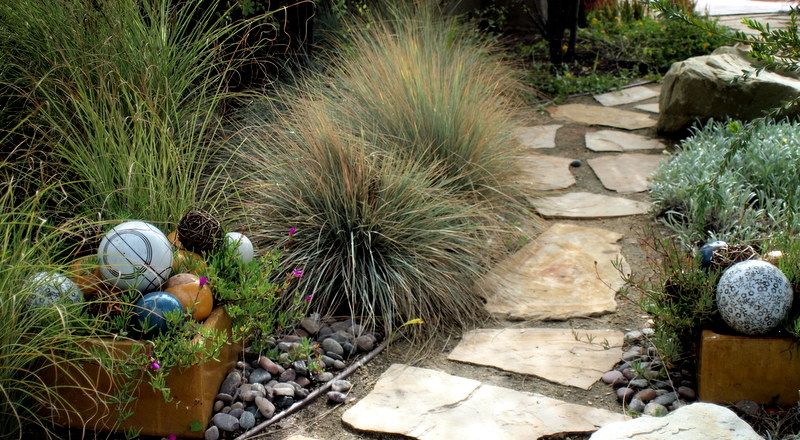 The flagstone/decomposed granite pathway runs through what would traditionally be the front lawn, bisecting the silvery gazanias adjacent to the sidewalk on one side and low-lying grasses and other ground covers adjacent to the house on the other side, taking one to the main front walkway. This is a corner lot, which allows for lots of scope to build up the simple rhythm of rivers of silver, shrubs, and a couple small crepe myrtle trees on either side of the front walkway.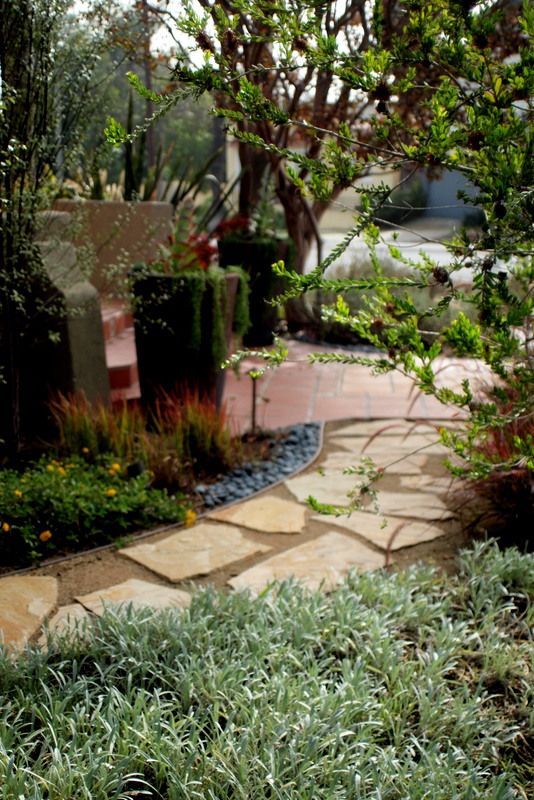 The shrubs underplanted with gazania might be Melaleuca nesophila. Further down can be seen the bark of crepe myrtles.
Large pots planted with succulents including Kalanchoe luciae and Senecio radicans, flank the steps to the front door.
The container harmonizes with the beautiful bark of the crepe myrtle.
That same day, at a different house, I found a parkway squared away with Dymondia margaretae and succulents. Marty has complained bitterly about the feather grass (Stipa tenuissima) I've planted in our parkway, whose seedheads completely engulf and attach to lower legs exiting cars. Clever seed dispersal tactic, but really annoying when you're dressed for work. The gazania or dymondia are definitely being considered as replacements, but the dymondia has the edge since it can tolerate light foot traffic.