Let me change the holiday music channel, if ever so briefly, by sharing the soundtrack that plays every time I walk by this agave, my crush with eyeliner.
Agave titanota hybrid 'Lanky Wanky'
A silly, last-round-at-the-pub name for a sideways-leaning hybrid of an elusive agave, an agave I've unknowingly owned for some years.
Here's the real thing, Agave titanota.
This agave is famous for it's pale white leaves, though I would argue that Agave celsii var. albicans 'UCB' may now hold that honor.
Agave celsii var. albicans 'UCB'

Agave titanota has been one of my long-standing mystery agaves. While it gained size, growing nameless, anonymous, and let's face it unloved, I occasionally pursued the legendary Agave titanota elsewhere, on eBay for example, where I was saddled with an impostor (who is now the new mystery agave). I didn't know what my old mystery agave was, but it didn't strike me as anything special. It took a long time to become smitten with Agave titanota, because it doesn't form that tight, breathtaking, world-within-world form that I expect to admire in agaves. The sharkskin-like leaves jut out at odd angles, and I mistook its pale coloring for bleached-out sunburn. Its famous natural qualities I attributed to grower error. (Someone needs more reference books.)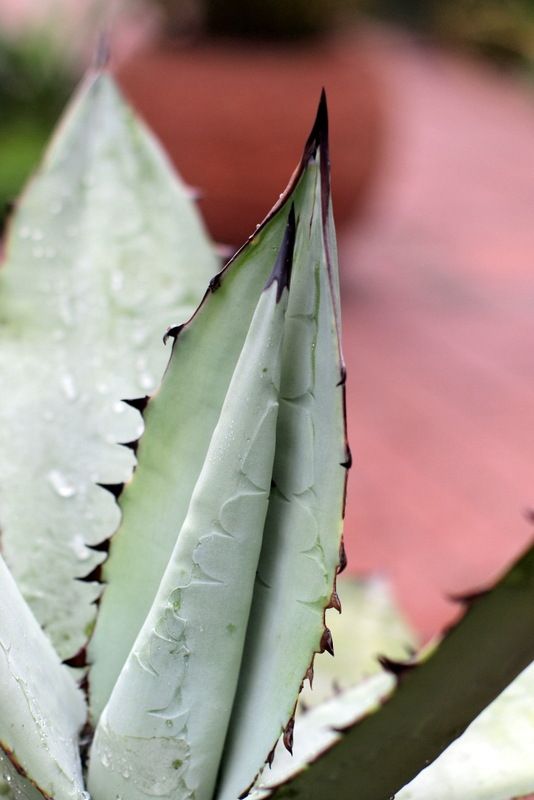 Fortunately for me, this agave chugged along amidst all that neglect, forgotten in a rarely watered pot in full sun.
"
Agaves Yuccas and Related Plants" by Mary & Gary Irish
helped with the final ID, as well as seeing a labeled A. titanota at a nursery recently. The similarity of the hybrid 'Lanky Wanky' also confirms the ID, and I love how its more congested form accentuates the black eyeliner on the leaf margins and spine tips. The new book on agaves, "
Agaves: Living Sculptures for Landscapes and Containers," by Greg Starr
, would be handy in a reference library too.
Agave titanota — still not a favorite, but no longer a mystery.
(Yeah, life is strange.)

I