What I know about Yves Saint Laurent, the fashion designer, as opposed to his enormous, well-known cultural celebrity, is limited to sewing up some of his "rich peasant" and stunning Russian collection designs off of Vogue patterns in high school. Before collecting plants and obsessing over gardens, I collected fabrics and obsessed over….well, mostly fabrics really. I never made the jump to obsession with high fashion, though there was a short stint in dress-making and pattern-making school. But as it happened, Saint Laurent did something later in life that left even those clueless about haute couture forever in his debt. He bought the fabulous Jardin Marjorelle, where the pigment bleu Majorelle was born. If you've ever painted a garden wall or a fence, as I did, a vivid electric blue, knowingly or not, this garden in Morocco created by French painter Jacques Majorelle is the source of that gesture.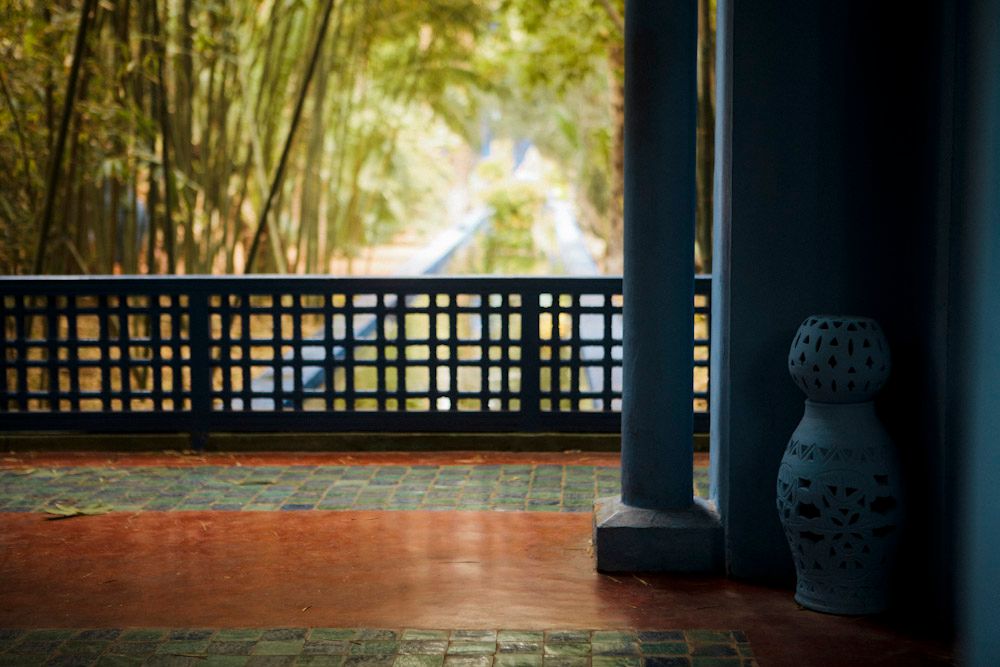 When I heard that photographer MB Maher was headed for North Africa, I made a special request that he photograph the Jardin Majorelle in Marrakesh, Morocco. For about 50 dirham, roughly $13.61 in US dollars, the Jardin Majorelle is open to everyone year round.
Boy, do I owe Maher for this one.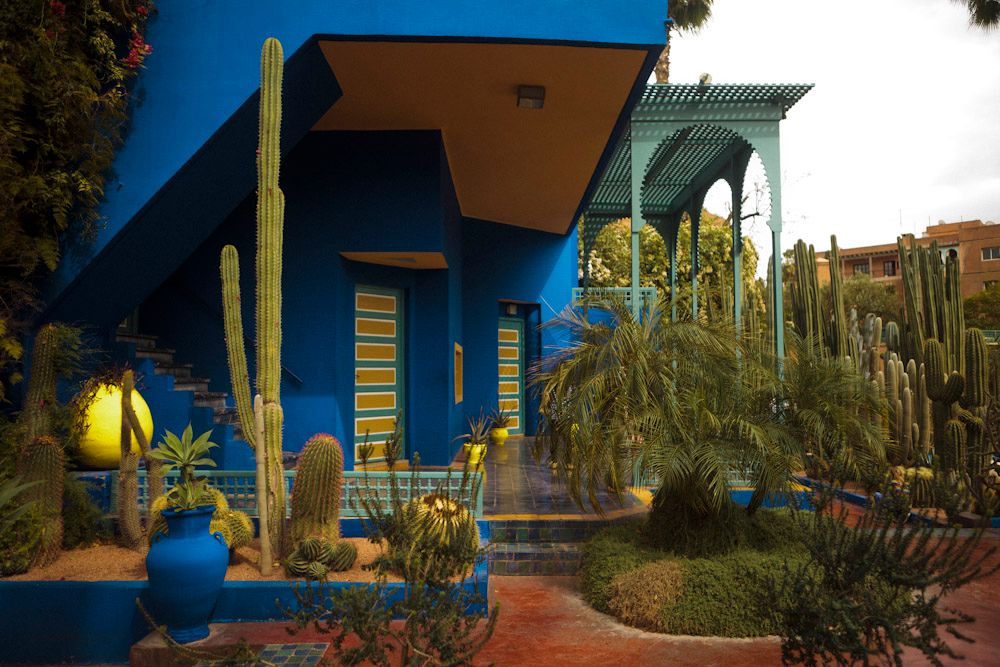 The shocking blue garden draws on the ancient Islamic garden tradition born of arid regions and the ideal that Paradise can still be found on earth, but is the unique vision of an expat French artist. That vision was rescued from oblivion by Saint Laurent, who restored then bequeathed the 12-acre garden to the foundation bearing his name and that of his partner, Pierre Berge. I've added some quick-sketch general context from books I had handy and pertinent websites.
"In 1919 the French painter Jacques Majorelle (1886-1962) took up residence in the medina in Marrakech (then a French protectorate) with which he fell in love…In 1937 the artist created an ultramarine blue that was both bright and intense: known as Majorelle blue, he used it to paint the walls of his workshop, and then the entire garden, transforming it into a living tableau which he opened to the public in 1947."
(Fondation Pierre Bergé – Yves Saint Laurent)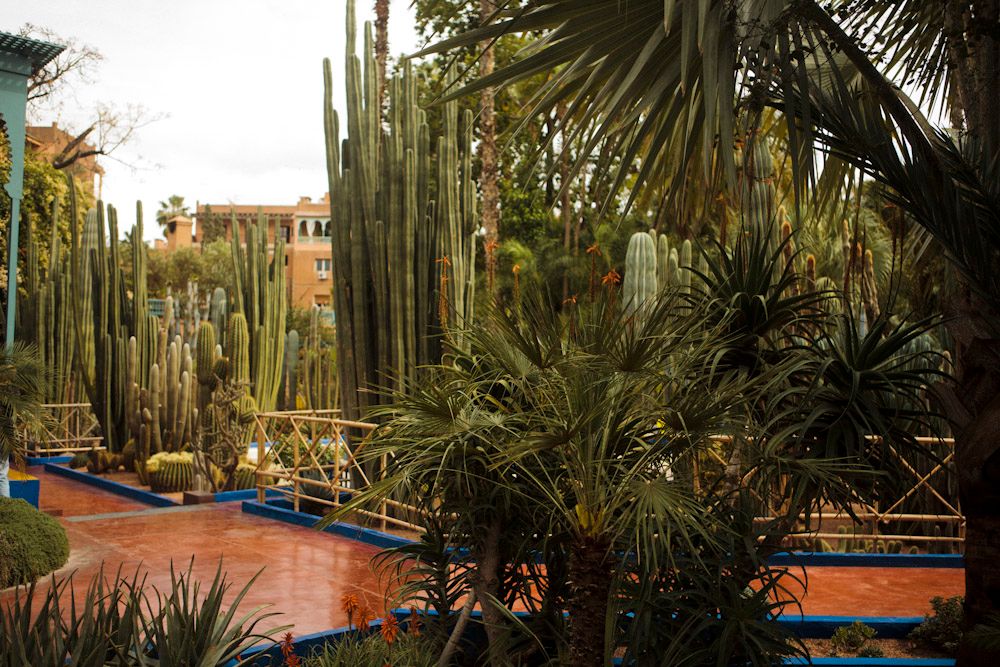 "Fond of botany, he created a botanical garden around his villa…"
(Fondation Pierre Bergé – Yves Saint Laurent)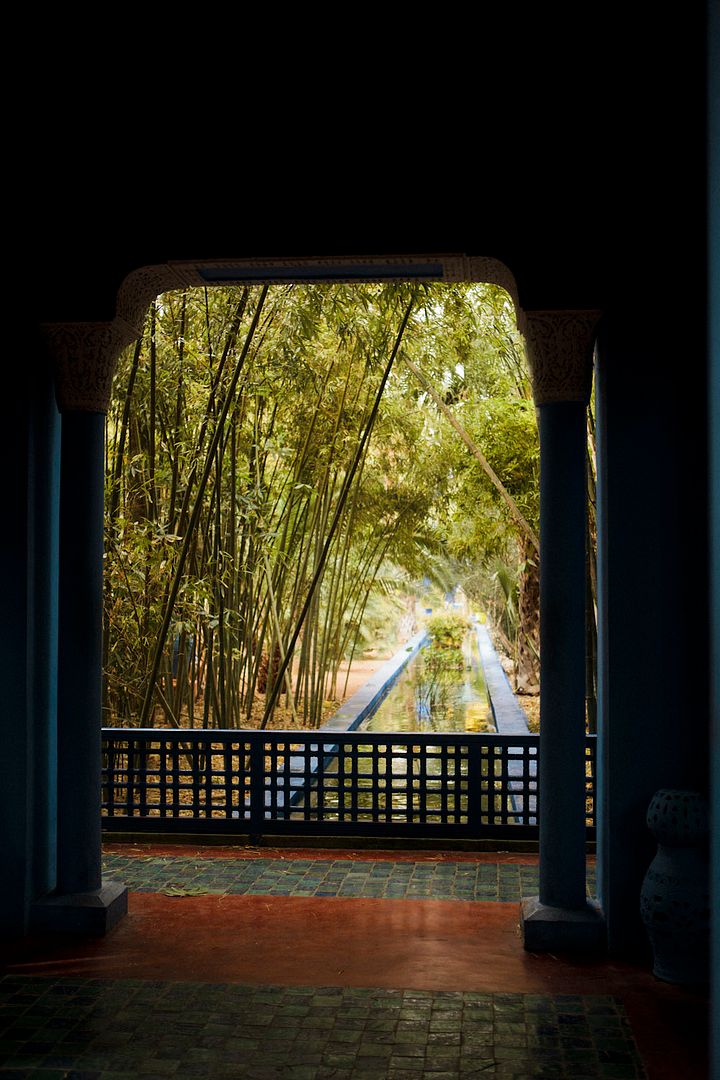 Some background on Mediterranean gardens:
"Mediterranean and hence all Western gardening had its origin in Egypt between three and four thousand years ago. Since Egypt is a natural desert, depending entirely on irrigation from the Nile for its fertility, its gardens were planted round reservoirs and along canals of the kind used for irrigation. The canals were straight for practical reasons; trees planted for shade naturally followed them in straight rows…Hence, the theory goes, the axial designs, the straight lines, the "formality" of all classical Mediterranean-inspired gardens to our own day — via the Persians, whose style swept eastwards to India and westwards to Spain with the spread of Islam, and the Romans, whose adptation of Egyptian style was repeated by the Renaissance." — The Principles of Gardening, Hugh Johnson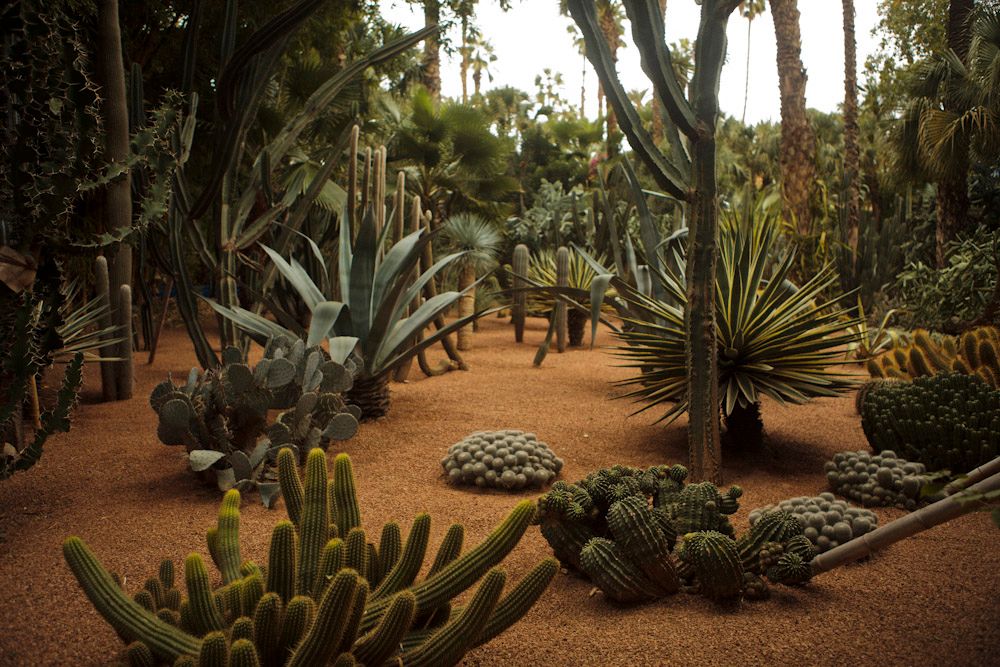 Notwithstanding the formal design elements near the artist's studio, this is obviously the garden of a plant collector and includes desert plants from the Western Hemisphere, like cacti and agaves, along with their Eastern Hemisphere counterparts adapted to similar conditions, such as many in the Euphorbiaceae family.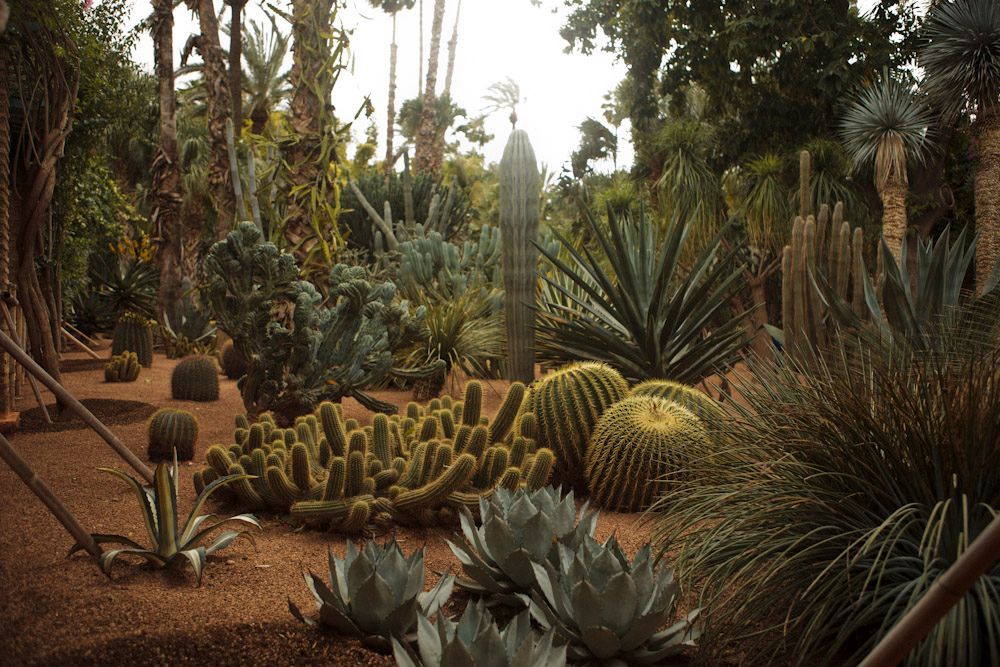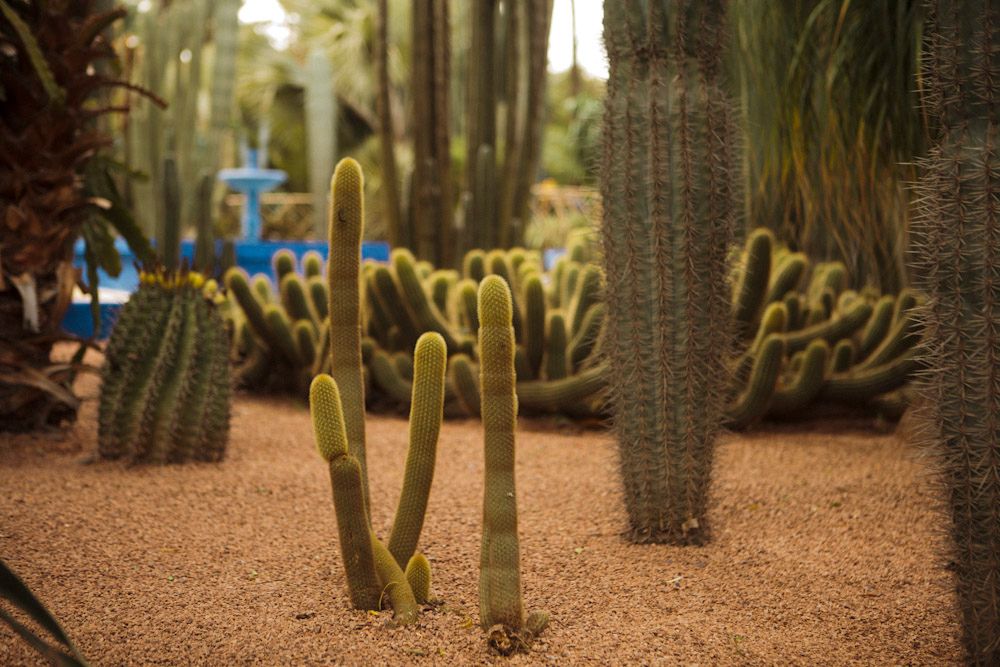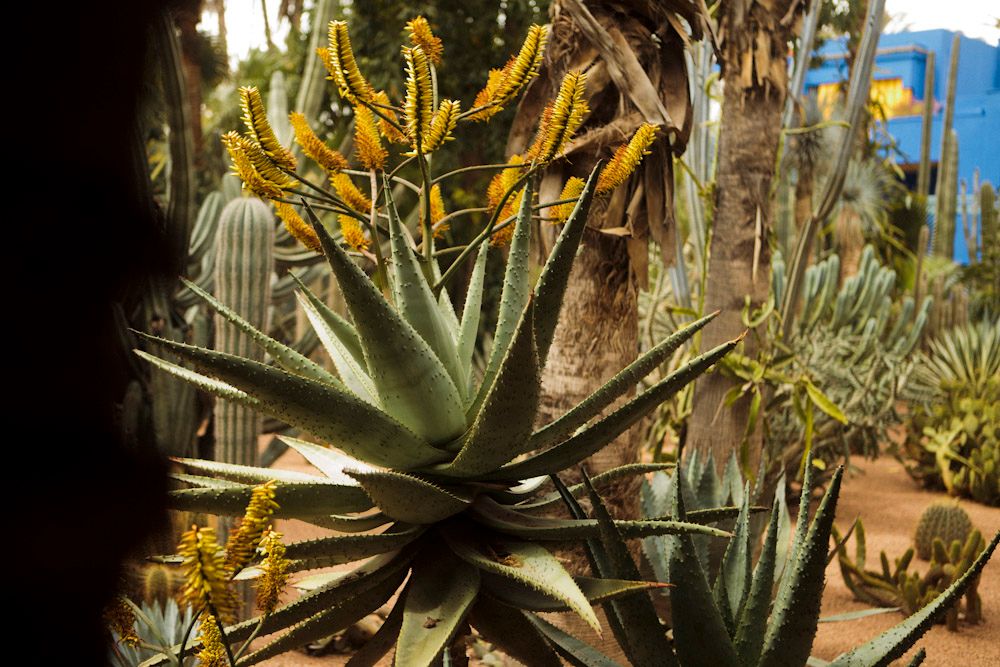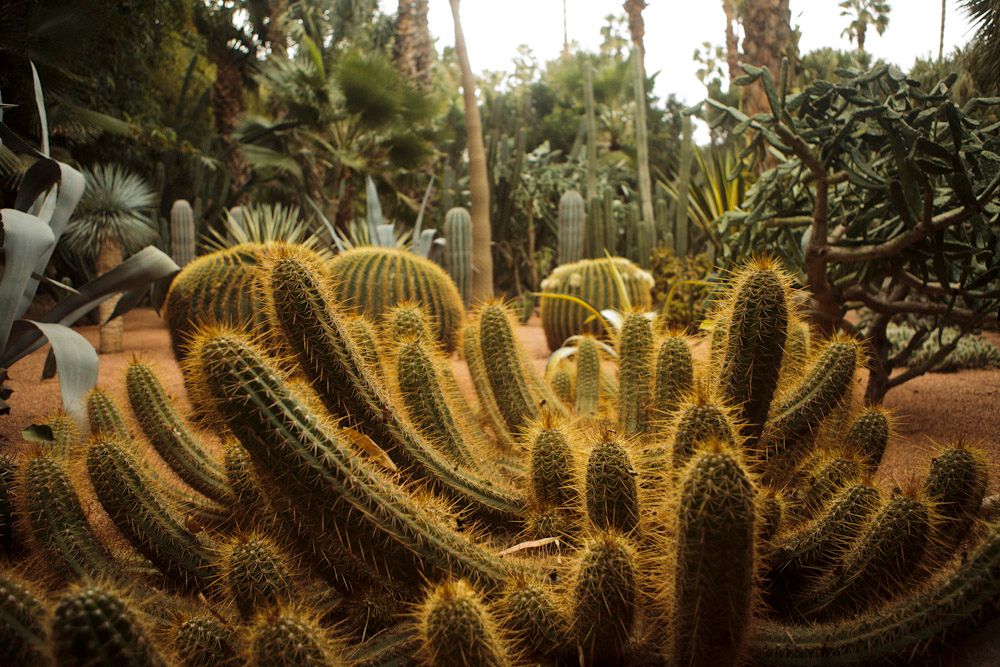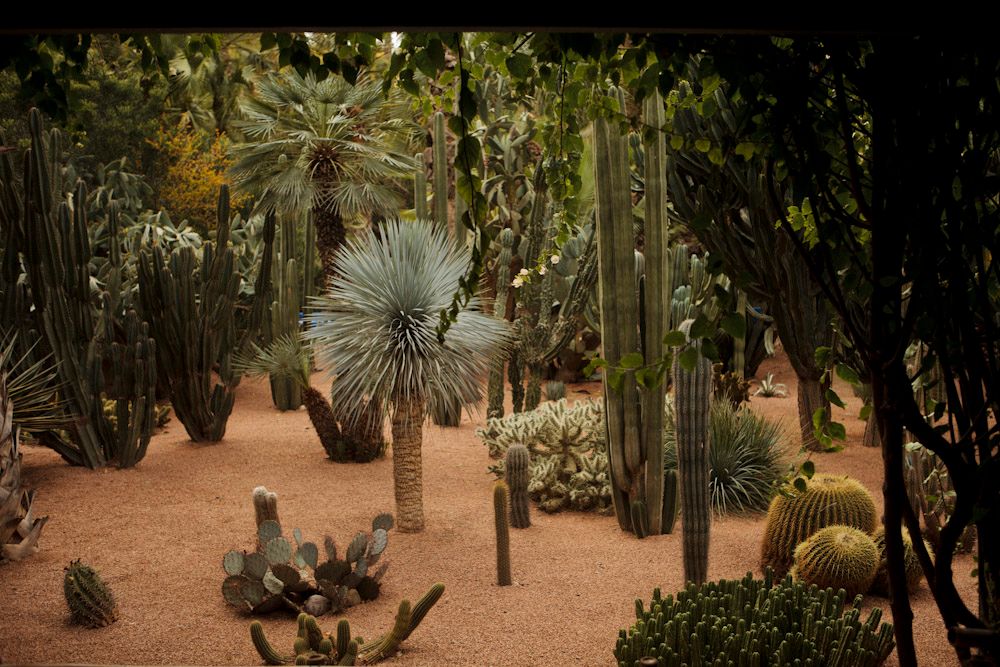 The rigorous attention to spacing in a garden of this age is impressive. The Moroccan botanist Abderrazak Ben Chaabane is credited for the redesign of the plant collections.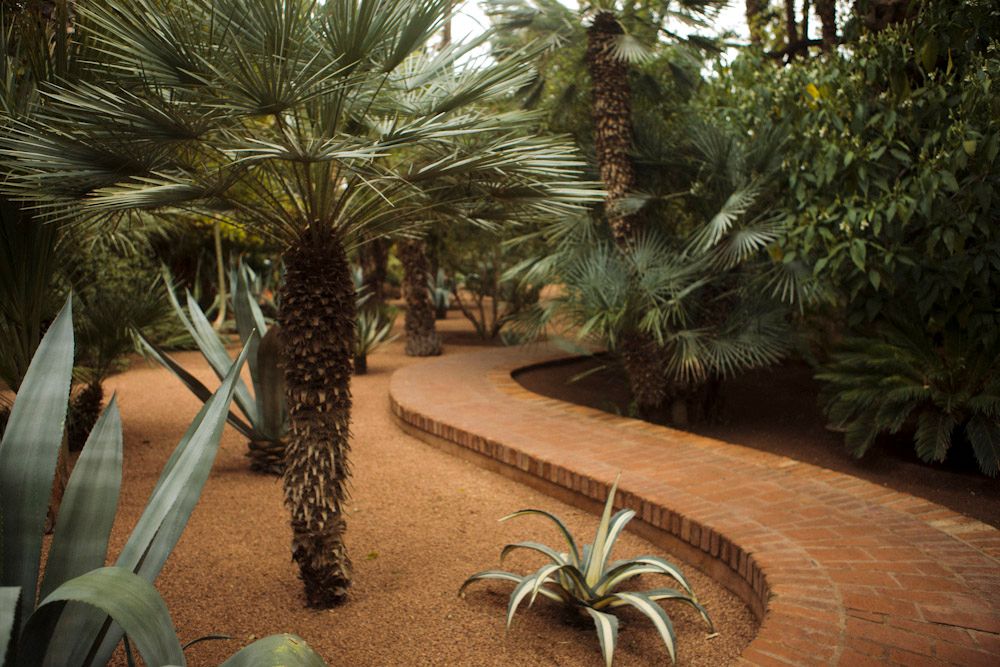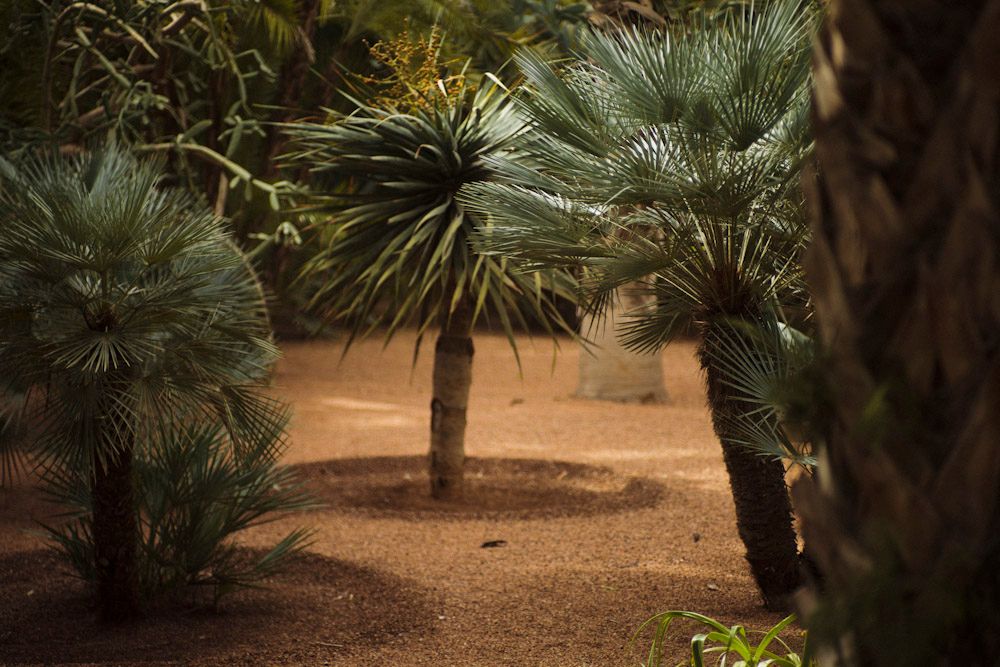 Gently sloping watering basins are formed around some plants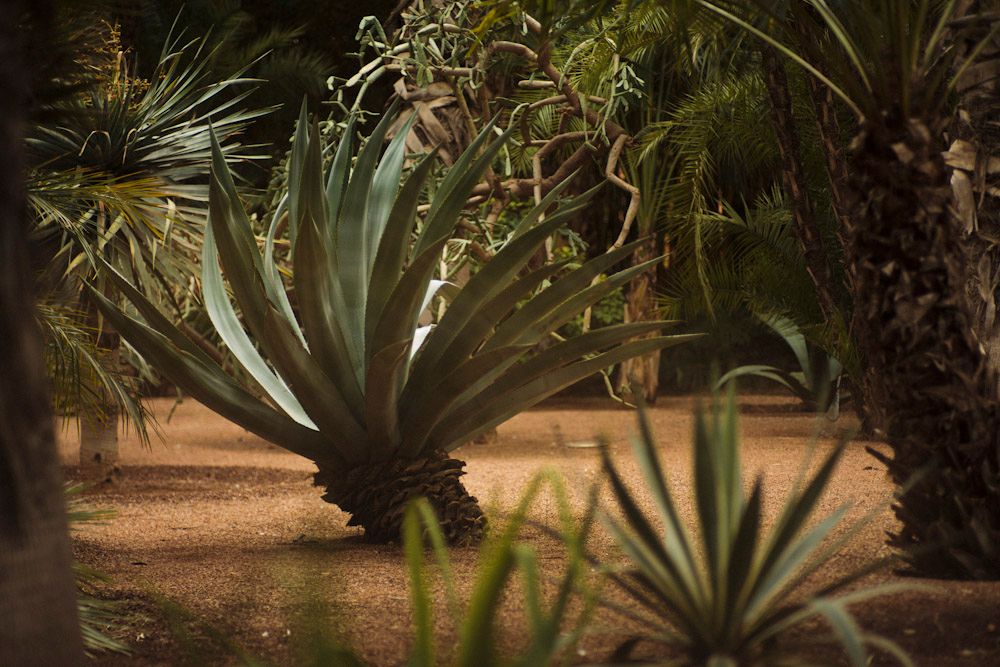 "Marrakesh features a semi-arid climate, with mild damp winters and hot dry summers…The relatively wet winter/dry summer precipitation pattern of Marrakesh mirrors precipitation patterns found in Mediterranean climates. However the city receives less rain than is typically found in a Mediterranean climate, hence the semi-arid climate classification. (Wikipedia)
This garden with over 70 employees is so carefully swept and manicured it reminds me of a diorama. The pathways and mulch allude to Marrakesh's nickname as the "Red City" or "Ochre City" because of its ancient red sandstone buildings.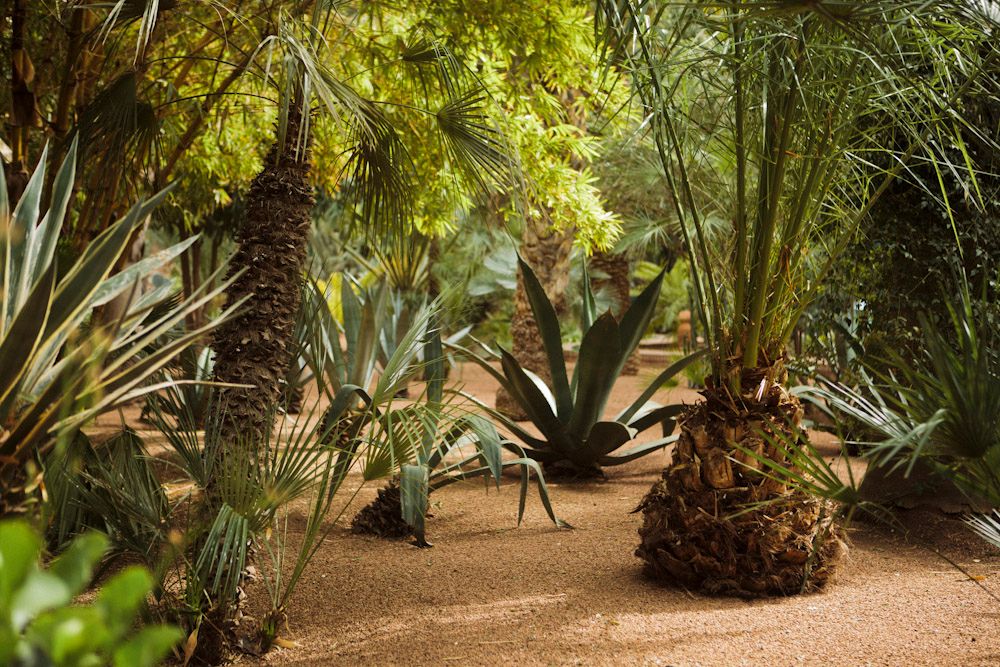 The mulch is from local crushed stone.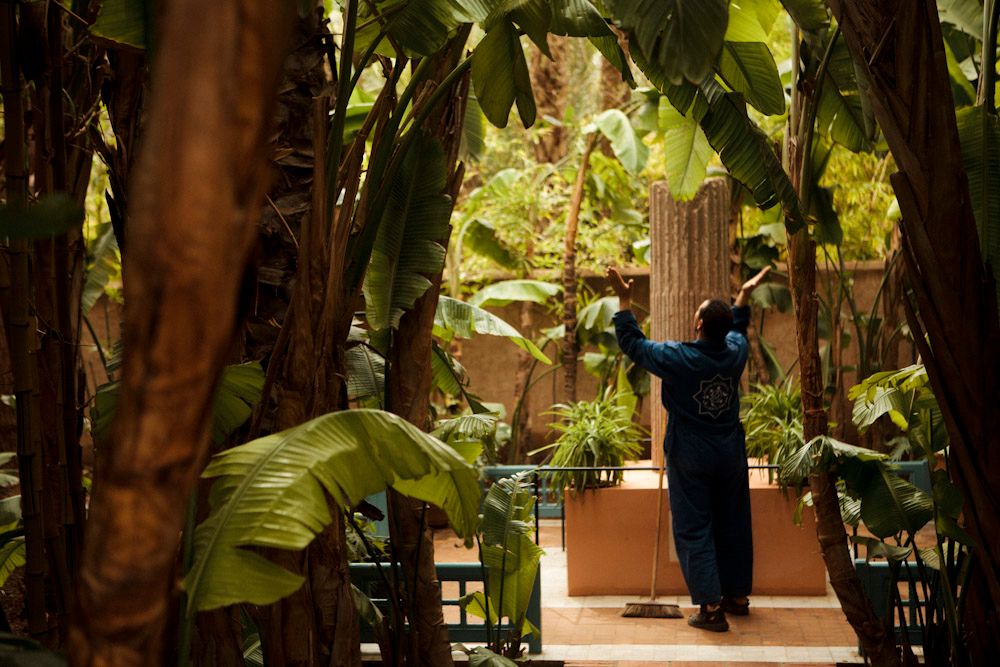 "If Islam has given us some of the most beautiful, formal, and serene gardens in the world, it is no doubt thanks to the way their designers brought that tension into sublime harmony — the harmony between spiritual abstraction on the one hand and radiant sensuality on the other, or between the beauty of form and its contemplative content."
Gardens, An Essay on the Human Condition, Robert Pogue Harrison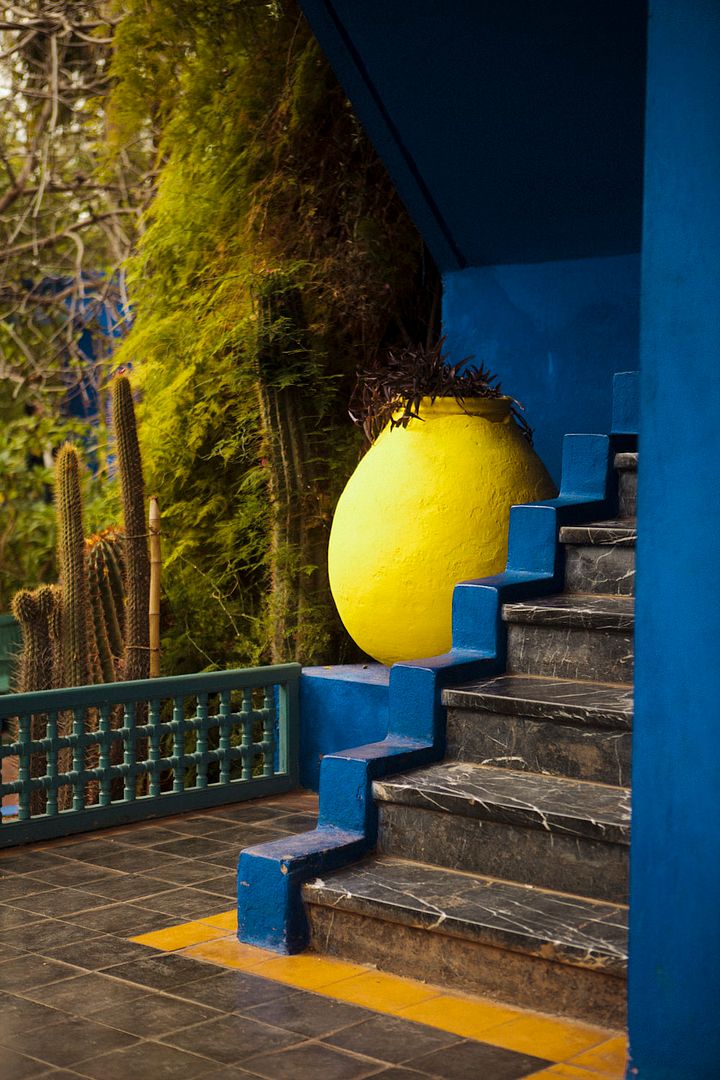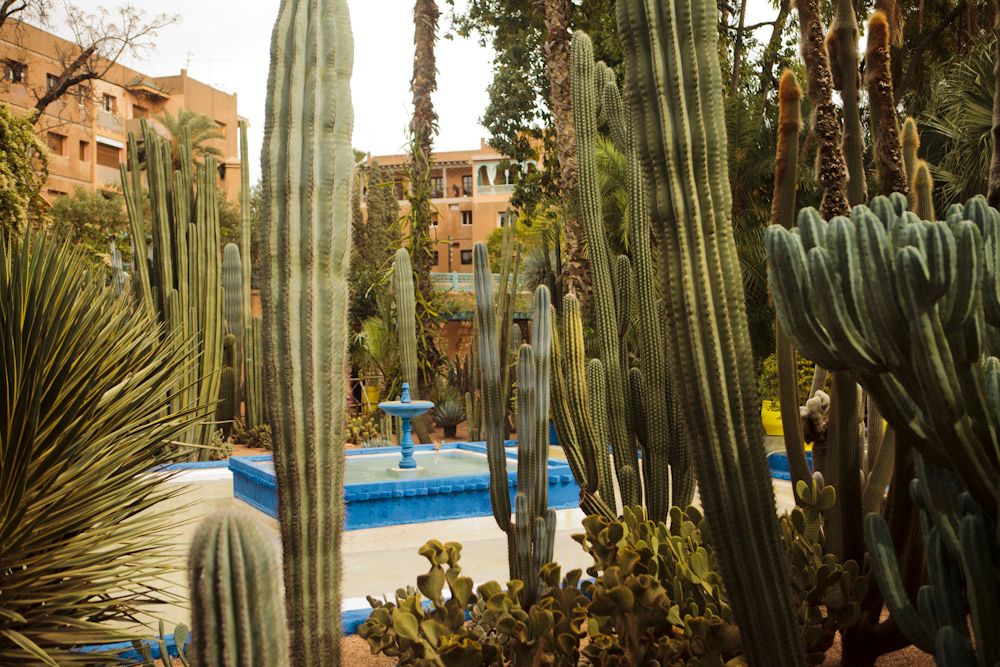 The apartment buildings of modern Marrakesh press in on the garden, which receives over 600,000 visitors a year.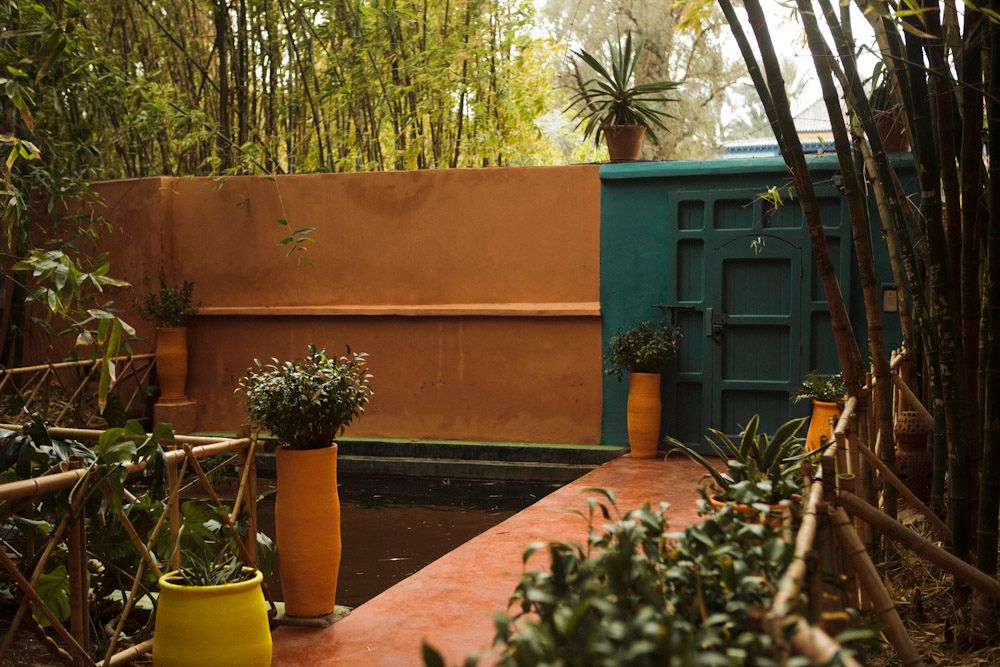 Yet there are still quiet places to be found.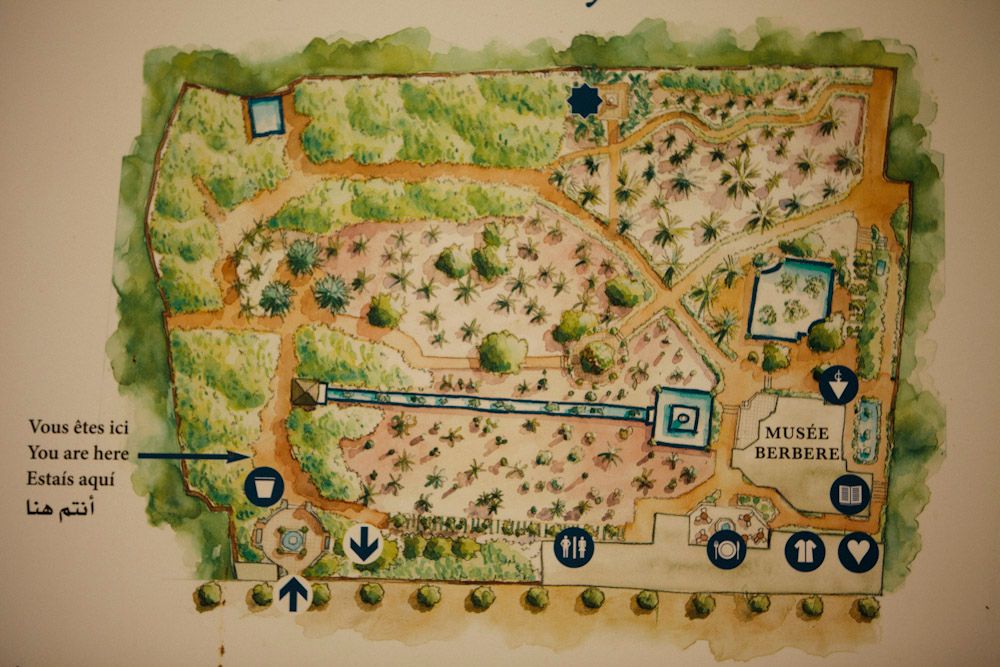 The map shows the formal design elements, including the rill, but also the extensive rambling paths characteristic of a botanical garden.
One last glimpse of bleu Majorelle.
Suzy Menkes remembers Yves Saint Laurent here.
Addendum: Recent New York Times article on garden designer Madison Cox, Vice President and general director of Jardin Majorelle.