Walking off Easter dinner, what caught my eye last evening was a petite bloom on the melianthus, the first I've seen on this cultivar 'Purple Haze.'
I'm really starting to believe now it is the holy grail, a dwarf melianthus, since even the flower is diminutive.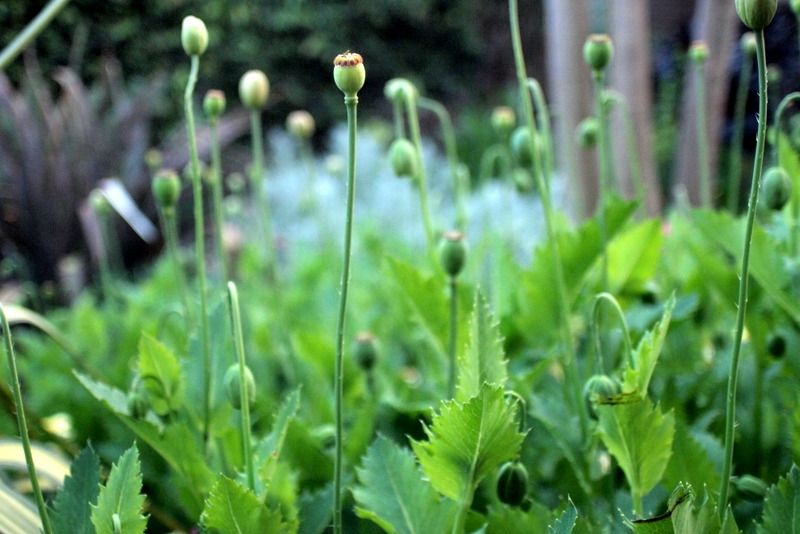 Last evening poppies were catching the tail-end breezes of Sunday's rainstorm as it passed us by. Somebody else got our rain once again. I hope they put it to good use, saved some in barrels and kept it from running uselessly into the streets.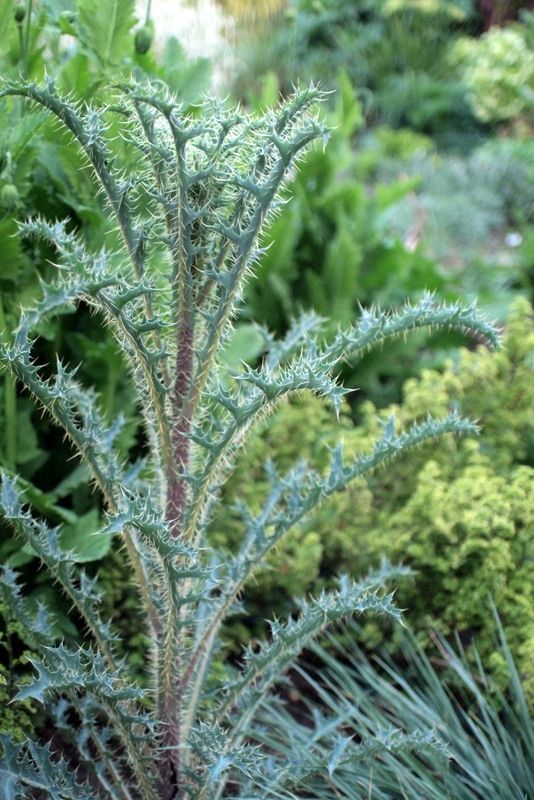 Argemone munita lengthening and forming flower buds was probably my favorite sight the last day of March.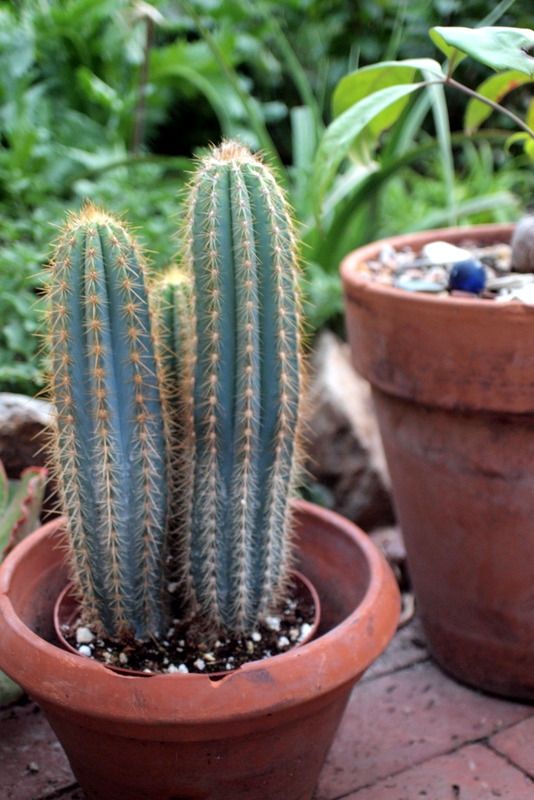 Lovely Easter colors, robin's egg blue, on the Pilocereus azureus.
(The first cactus I've ever purchased. No idea what this means for the garden or what the future holds now. H&H on Lakewood Blvd. has more in small pots and a few large specimens.)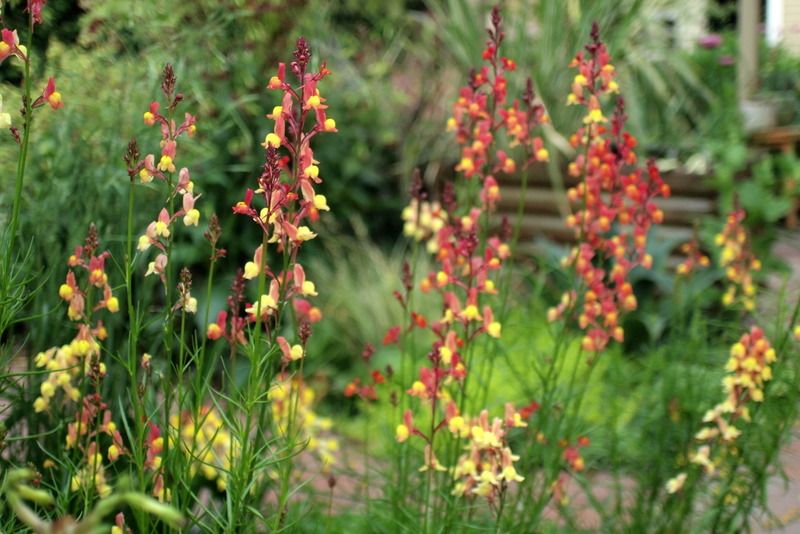 Sunset colors on Linaria 'Licilia Peach,' such a good cool-season, winter-spring annual, this color range a nice change from the typical Moroccan souk colors available, the kinds I usually crave during color-drained winter.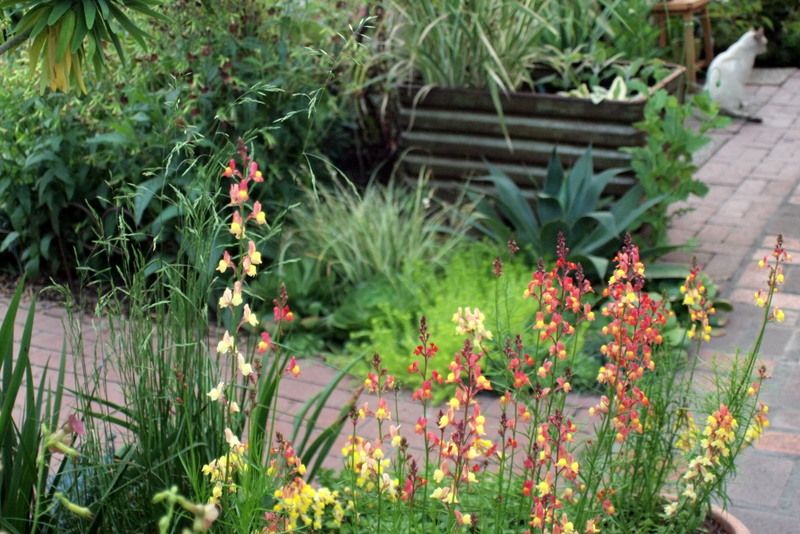 I grabbed the only six-pack I found locally of this peachy kind and planted them in the tulip pots when they were finished. Tall, see-through, catch the wind, thrive in pots, they tick off a lot of boxes. Good cut flowers for small vases too.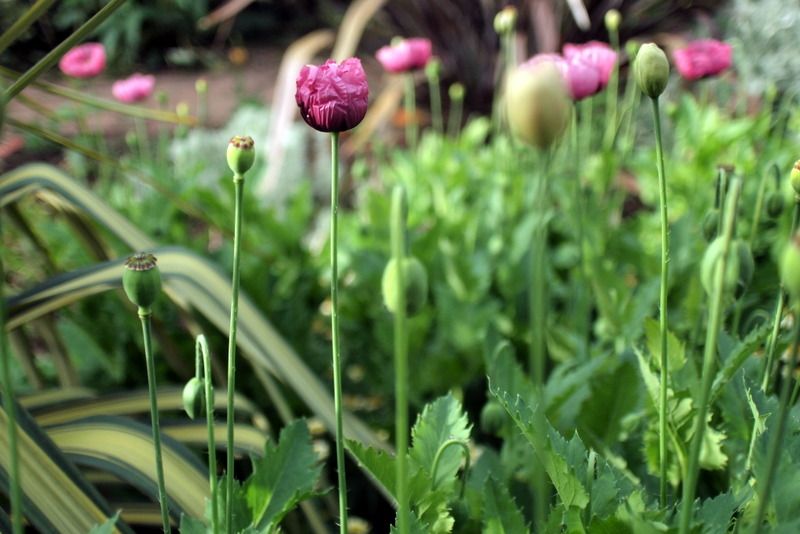 All buttoned up last night, this April morning the shape-shifting poppies with their burlesque petals were in various stages of tempting disarray.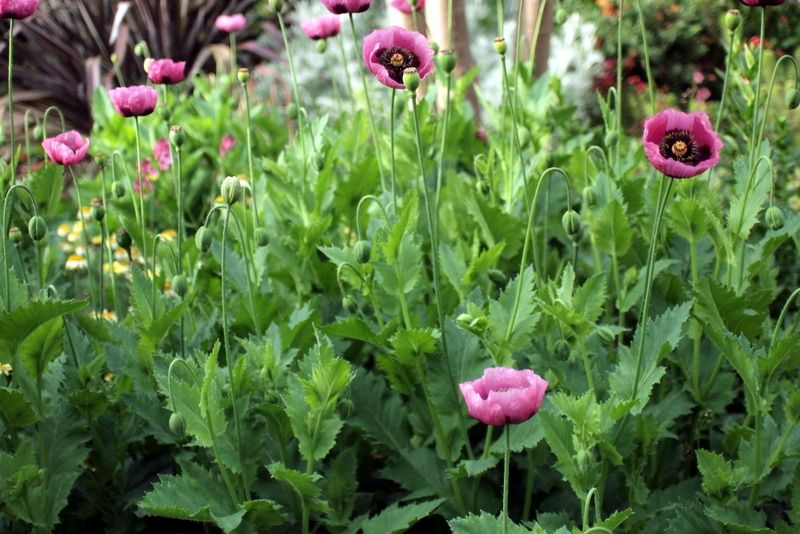 On the plant acquisition front, on Saturday March 30 I stood in front of this Agave gypsophila in Buck and Yvonne Hemenway's garden in Riverside.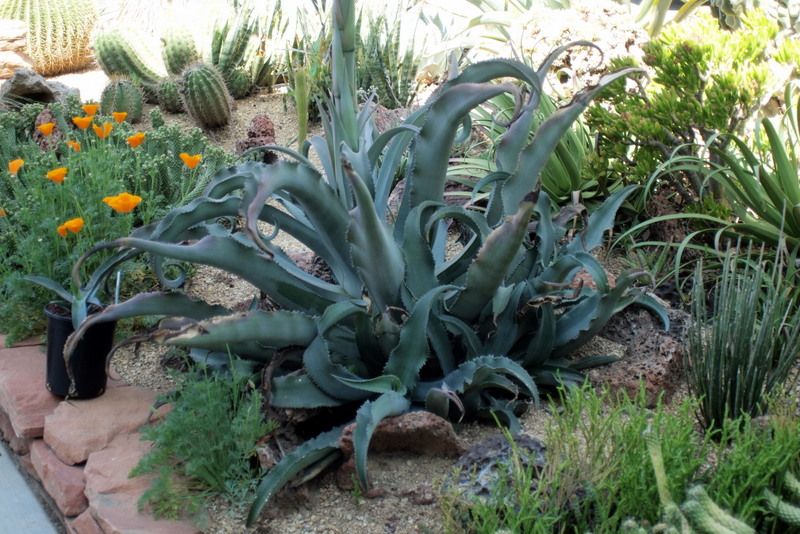 The photo doesn't begin to do its wavy frilly twisting blueness justice. Note the bloom stalk, which soared upward into the full-sun, noonday sky, and the relatively petite size at maturity, which sealed the deal. I quickly grabbed the gallon with the baby agave sitting on the rocks and felt alternately relieved and guilty when other hopefuls stopped to admire it and see if any more were offered for sale. Also bought my first gasteria at this sale, which is a succulent that can put up with some shade and has surprisingly lovely, beschorneria-esque blooms, and found two Euphorbia mauritanica, which garden designer Dustin Gimbel uses to such beautiful effect. (This gasteria goes by the charming name of 'Little Warty.') The prices at this sale are unbeatable. If you go next year, you will be treated to the cognitively dissonant experience of driving through the arid landscapes of Riverside County, turning into the entrance of Buck and Yvonne's neighborhood, which is bounded by the lush green fairways of the Indian Hills Golf Course, and driving past houses which zealously maintain deep green front lawns. And then there's Buck and Yvonne's amazing garden. No need to check for house numbers at this point.