Nothing too thematic, just some odds and ends.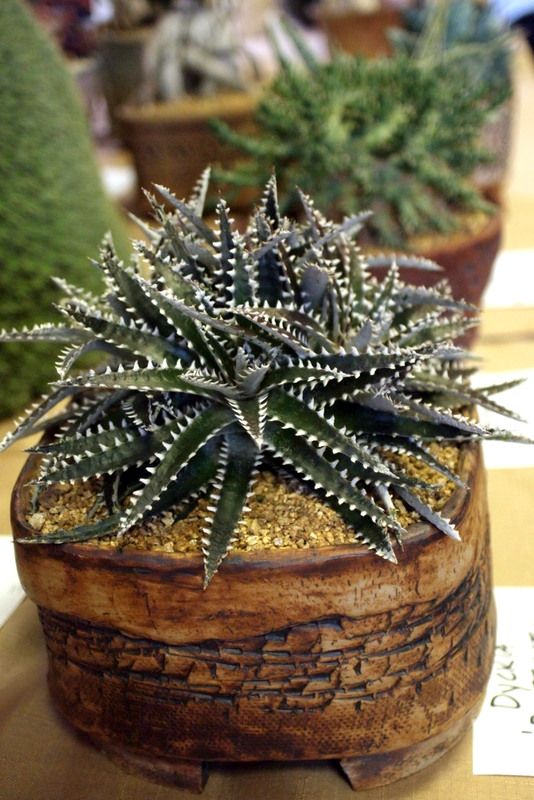 To prove I left the plant sale tables briefly and did a lap in the show room at the recent Orange County CSSA show, here's a Dyckia 'Brittle Star' hybrid that won an award. My own big clump of dyckia is starting to throw up bloom stalks, which the snails munch like asparagus spears. The slimy gourmands ate every bloom last year, and they're on their way to doing it again this year. Some of that biodegradable snail bait was dispensed this morning, possibly too little too late.
In the back garden, between the poppies and the anthemis, there's scarcely any bare soil showing and it's not even April. I've started thinning out the poppies more aggressively. Diascia personata is the not-yet-blooming swathe of green behind the Agave americana var. striata in the tall green pot.
Starting to bloom this week, though the event could easily pass unnoticed, is the Australian mintbush, Prostranthera ovalifolia 'Variegata,' a shimmering, aromatic shrub of medium size. I'm keeping it pruned to approximately 4 X 4 feet. Tiny, luminous, evergreen leaves, a loose, open form with contrasting dark stems. Tolerates dry but can handle regular garden irrigation. Not a specimen plant, its attractions are subtle. It brings pattern and light, not weight, to the garden. Some might find it a little nondescript. I wish I had room for more than one. In bloom its branches become studded with tiny lilac-colored bells. Not very long-lived, this is a shrub I replant over and over.
Leaving subtle behind, I'm so excited to see some blooms on the Canary Island Foxglove, Isoplexis canariensis. These shrubby foxglove relatives may save me the trouble of throwing more money at trialing more of the rusty-colored digitalis species like ferruginea and trojana, which have yet to make it through winter. They just melt away, leaving me scratching the soil where they were planted searching for signs of life. Not enough rainfall maybe.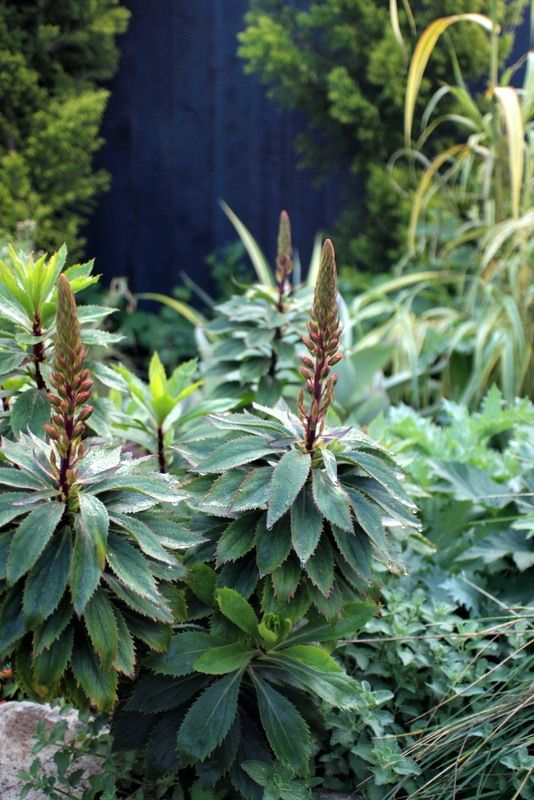 Another look at the isoplexis, a big sturdy plant. Nothing seems to bother it, knock wood.
Geranium maderense 'Alba' opened some of its pure, laundry white blooms this morning.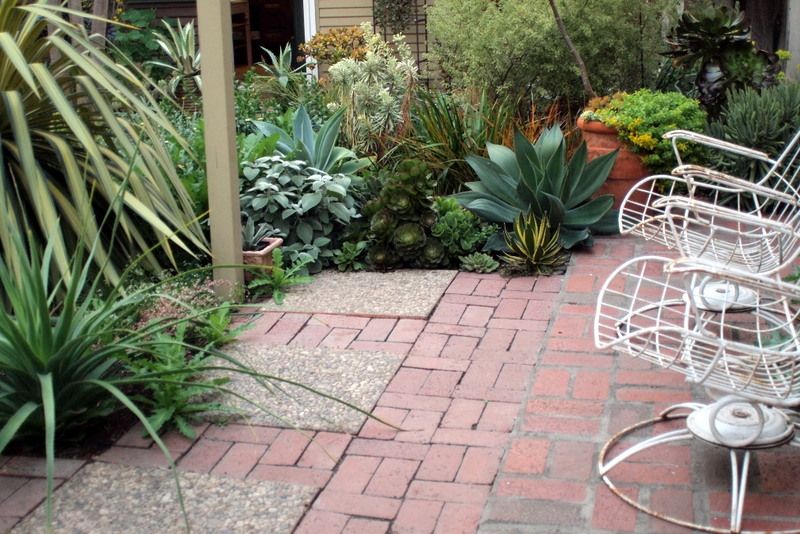 The back garden viewing gallery, the bricks freshly cleaned and weeded by Marty. I think he's got the attention to detail necessary to win prizes at plant shows. Good thing one of us does. I insisted he leave a few poppies that had self-sown into the bricks. I used to keep a small table here too, until I planted that Eryngium padanifolium too close. But what a stunning plant it is.
Around the corner on the east side of the house, the pittosporum is turning into quite the tillandsia outpost. A neighbor brought over a basketful last week. I love it when neighbors have your number.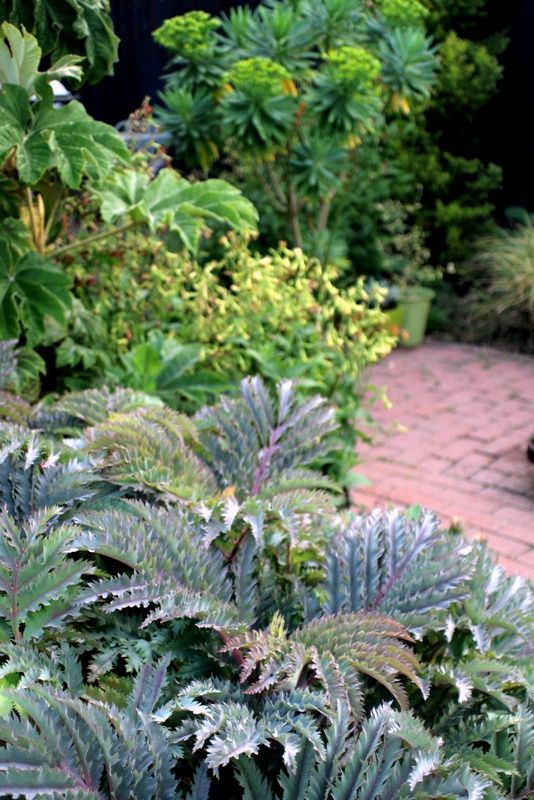 The battle of the compound leaves, melianthus vs. tetrapanax. The purple wash on the melianthus' leaves is about as strong as it gets. I think it recedes a bit in summer. What an amazingly beautiful compact selection 'Purple Haze' is. Fantastic improvement on the species for small gardens.