My birthday took up just about every single day last week, and more days on the weekend, which is how I rationalized a trip on Saturday to find that hitherto unknown-to-me, unmet, spectacular plant that would forever after be marked as my, gollum gollum, birthday present. (Because we wants it.) At our house we always make a big deal about not making a big deal about birthdays, no presents, please, thank you very much, which has the unintended (intended?) consequence of turning birthdays into birthweeks. You don't want any presents? You better take off work then. Can't buy you anything? Then I'll cook you a special dinner tonight. And tomorrow. And breakfast the day after. And bake you a cake. And why don't you sleep in this morning, and I'll feed the cats?
Yes, I don't want any presents for my birthday, but I don't mind some festive shopping around for something fabulous in the leaf and twig department during my birthday/week celebration. And on Saturday I did find my birthday plant, but it could not be had for love nor money, birthday or no birthday.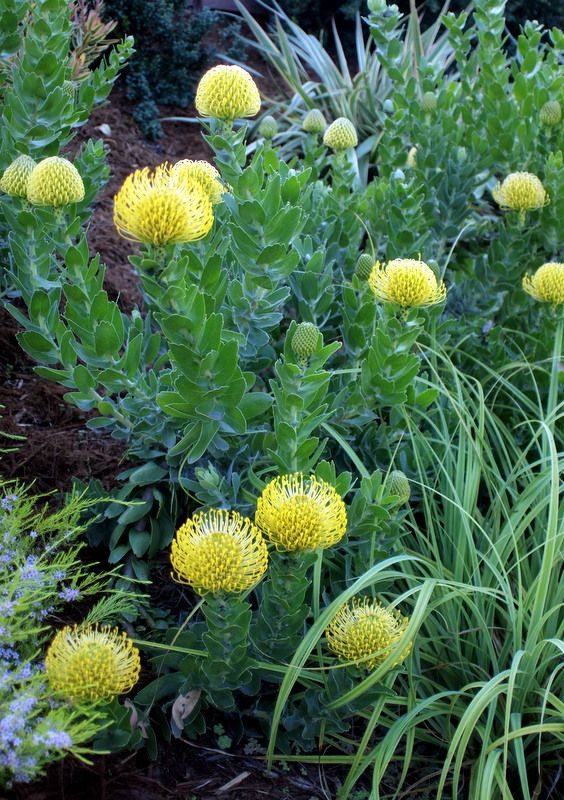 An unknown, unnamed leucospermum looking extremely fat, happy and floriferous. Weren't these supposed to be the malingering shrubs with soil issues? The grower is now out of business, and the retail nursery where this thrives in a sloping display border, Roger's in Newport Beach, has been trying to find more stock for the past two years, without success. I know all this because I shouted out questions to one of their nice, extremely busy employees who was mid-stride in the process of helping another customer. Beautiful plants can cause my manners to slip occasionally.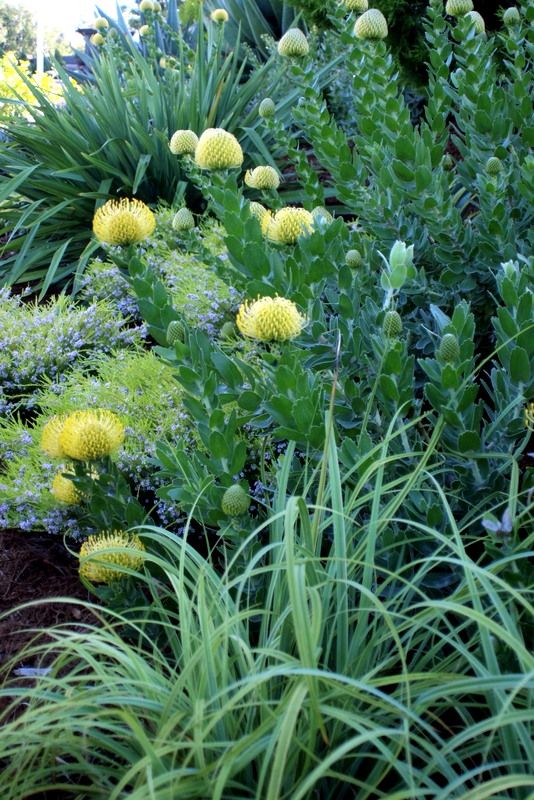 Research suggests it's probably Leucospermum cordifolium 'Yellow Bird,' one of the pincushion protea shrubs from South Africa. A nursery in Ventura County I've been meaning to visit, Australian Native Plants Nursery, has it back-ordered. I see that they consider it a candidate for containers, which is wonderful news because there isn't an inch of garden available for a shrub. I very possibly need to extend my birthday/week further to include a trip to Ventura.
On Saturday I watched the shoppers peruse and select plants, which is endlessly fascinating. And I sniffed the sweet peas.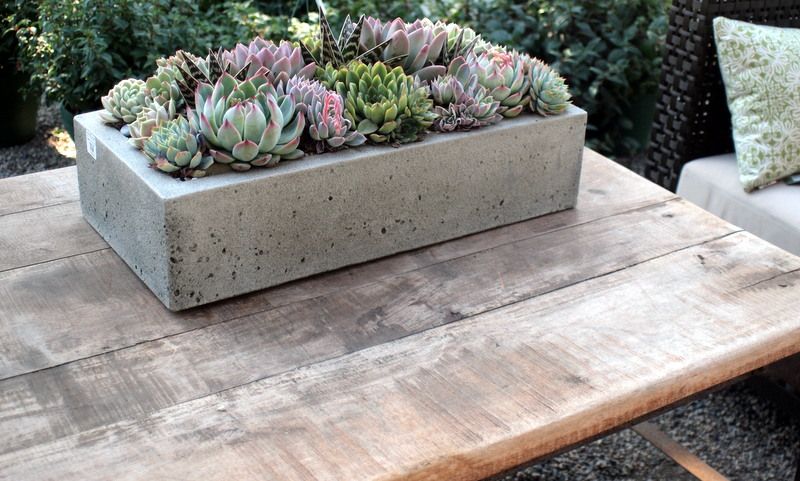 And admired the new succulent plantings.
Slipping in a tiger-striped aloe among the echeverias was a nice touch.
This nursery leans toward an Old World, heavy-on-the-European influence, so it was nice to see some pieces made of concrete, simple and unadorned. Or possibly a lightweight stand-in for concrete. I didn't touch.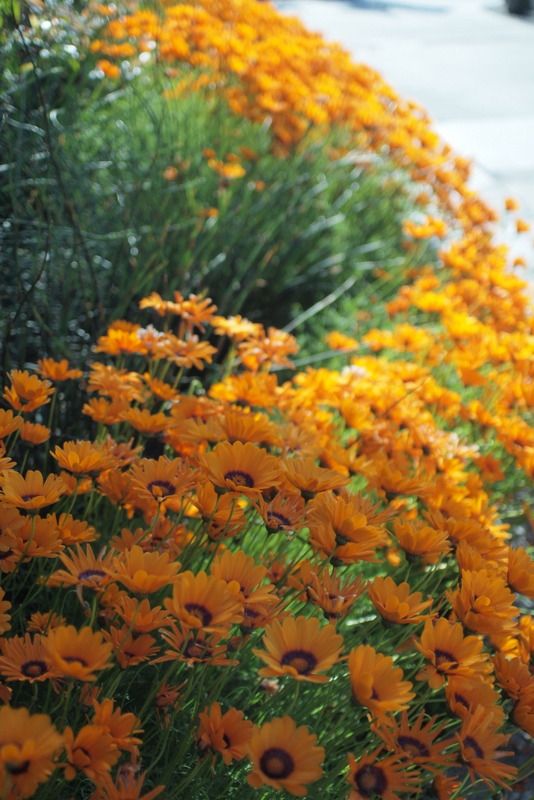 And I envied the luxurious billowing of Ursinia anthemoides 'Solar Flare,' one of Annie's Annuals & Perennials signature annuals.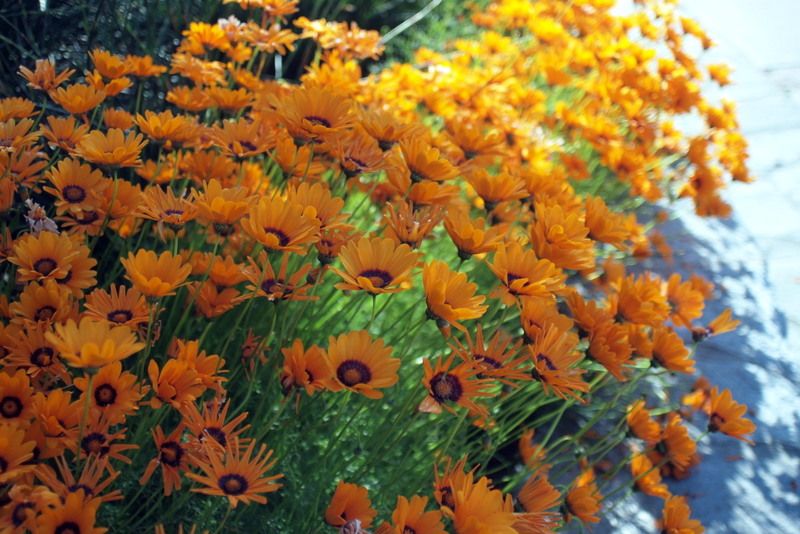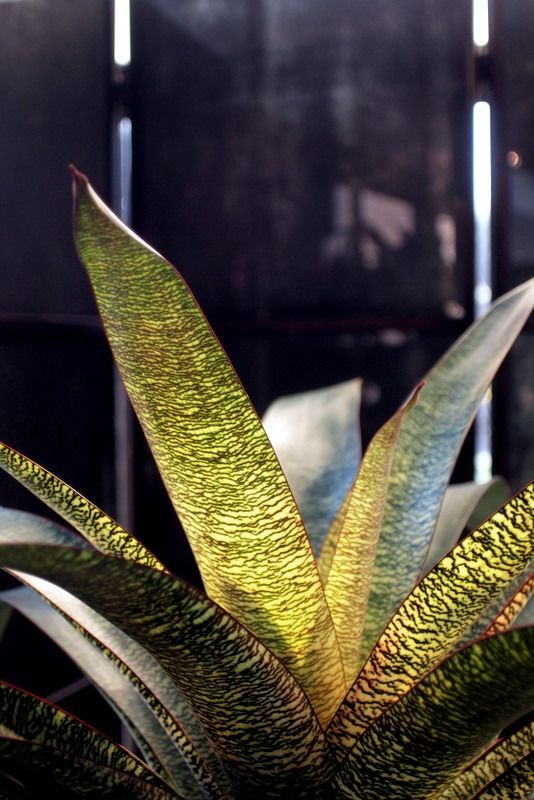 And noted the effects of the afternoon sun on a bromeliad, glowing, backlit, diffused by a screen.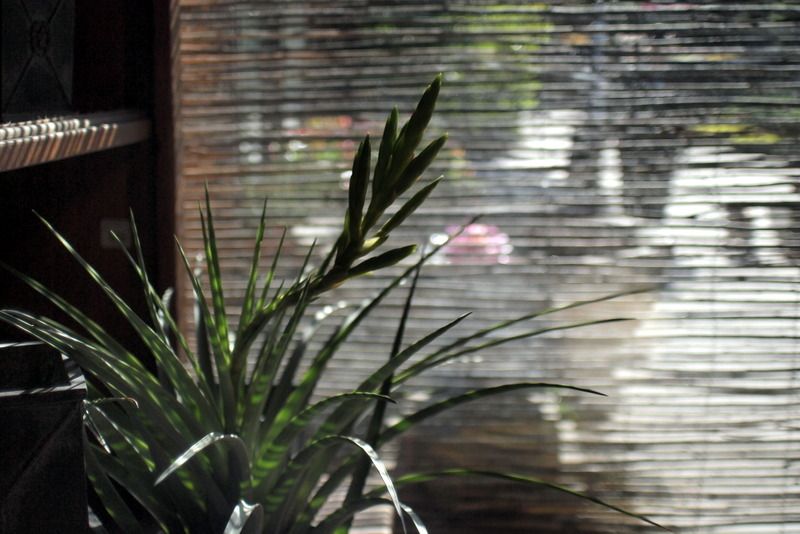 More screen and shadow effects, this time with a tillandsia.
I just love birthdays, even without any presents — maybe especially without presents. I'll take the gift of time filled with beautiful incidents over presents any day.