I've been accumulating photos of the ever-present succulent arrangements I see all over town. All over town might be an exaggeration. It's just possible that I tend to gravitate to places where there will be succulents. But there's no denying that they are still the Edie Sedgwick of the horticultural world, the It plant of the moment. And from a glass-half-full perspective, they dovetail so nicely with the warmer, drier summers we've been having.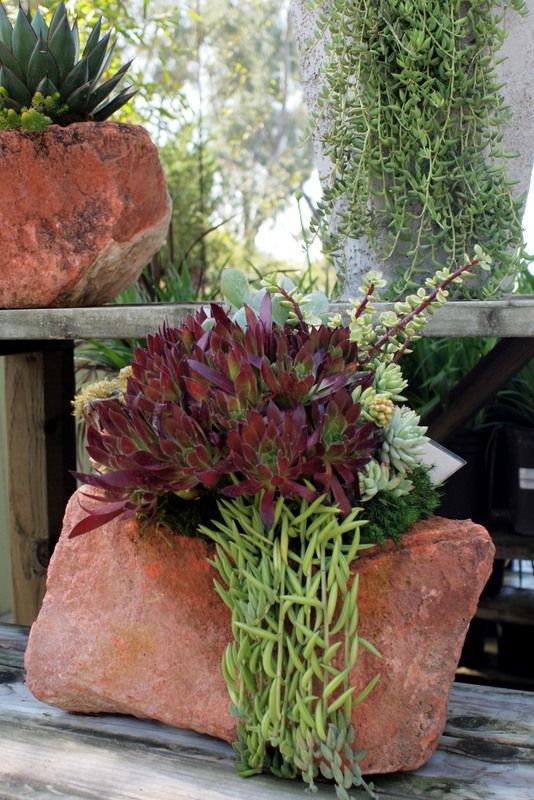 Aeoniums, Portulacaria afra, graptoverias, and the trailing Senecio radicans, the fish-hook senecio. Rolling Greens, Culver City. This seemed to be a staging area for presold arrangements.
Agave 'Blue Glow,' echeverias, Sedum 'Angelina,' Sedum morganianum.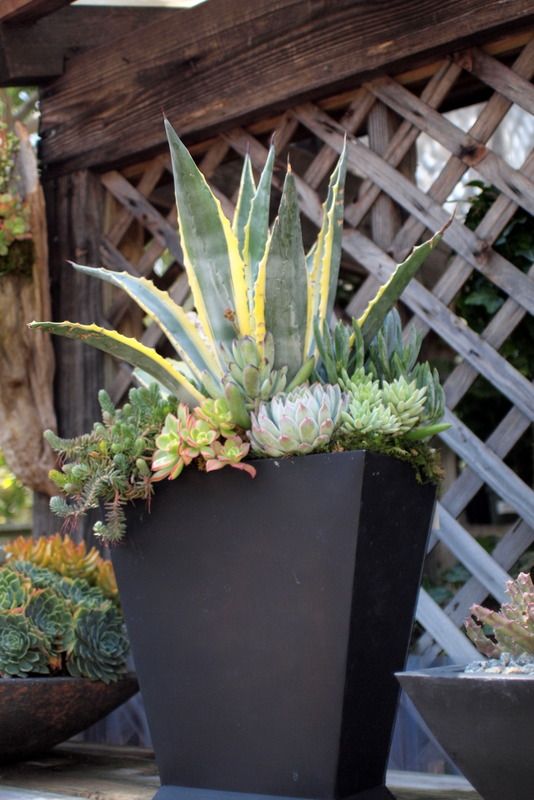 Agave americana 'Variegata'
I'm seeing lots of wood and natural-looking containers this spring. Dark red aeoniums, Portulacaria afra, Aeonium 'Kiwi,' Senecio radicans, Euphorbia tirucalli. These have more in common with floral arrangements, packed for maximum impact, but will have to be broken apart fairly soon. Portulacaria afra and Euphorbia tirucalli each have potential to become shrublike in Los Angeles. .
No ID aloe, crassulas, Senecio radicans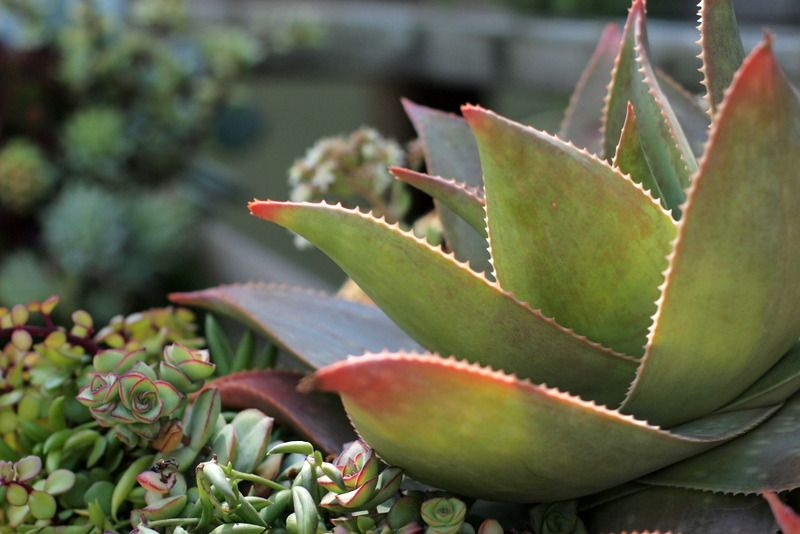 Furcraea macdougalii at Inner Gardens, also on Jefferson Boulevard in Culver City. I finally got my F. macdougalii out of its pot and into the garden, not an easy thing to do with a 5-footer brandishing leaves studded with hooked barbs. Spectacular plant.
To give a sense of the length that Senecio radicans will grow, this is my old lamp stand, which has lost quite a bit of detail since this post. It had to be replanted a few months ago when Marty bumped it and sent it flying, rolling and bouncing, which it withstood amazingly well, considering. I patched it back together and added the trailing fish-hook senecio. Once it reaches the ground and I start trimming the ends, it loses that lovely, loose draping effect and thickens up, just like any plant that's pinched back. Yes, for a change, I did try to style the photo a bit, which is incredibly hard to get right. Kudos to the pros for making it look effortless. After dragging benches and teapots out of the house, shifting things micromillimeters to the left then right again, I was exhausted. The "turk's head" was a gift, brought home from the souks in Morocco, and the reason I'm asking Marty to teach me traditional seaman's knot work. He's always made "monkey fists" and these "turk's heads," but never ones this big. I want to make lots of them but in slightly smaller sizes, to hold down the canvas canopy over the pergola this summer, clip on tablecloths to keep from blowing in the wind, etc. We'll see how many I make. Plans are always the easy part.
These two, Aeonium 'Kiwi' and Echeveria prolifica, fill in incredibly fast.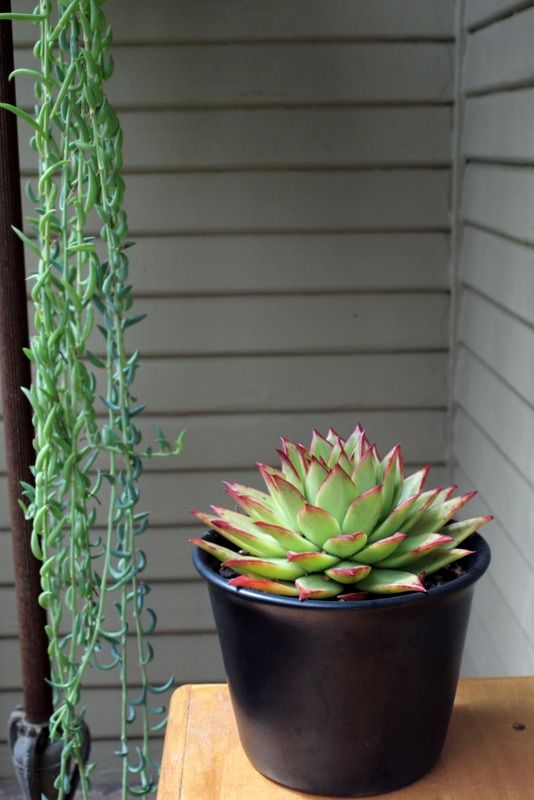 Echeveria agavoides
Echeveria cante at the Spring Garden Show at South Coast Plaza in Costa Mesa. This show will be open through the weekend. I found this opalescent beauty in a 4-inch pot.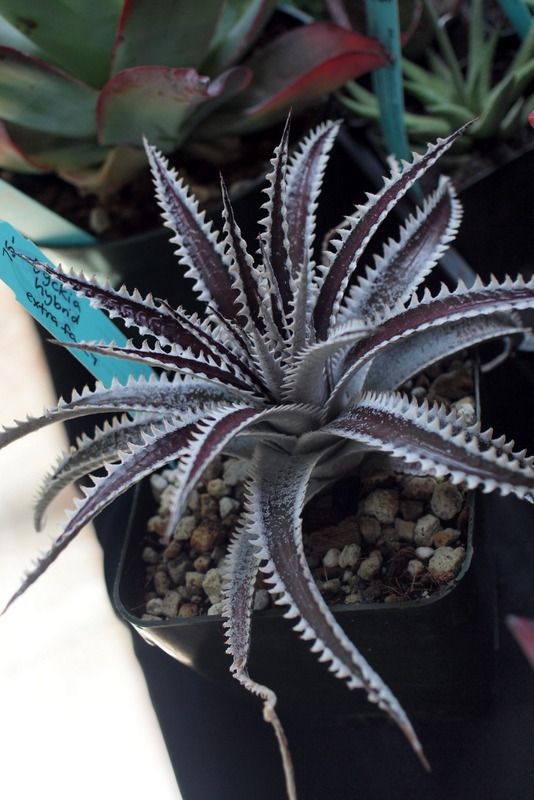 An unnamed dyckia hybrid going for $75. I left it at the show, waiting for the dyckiaphiles.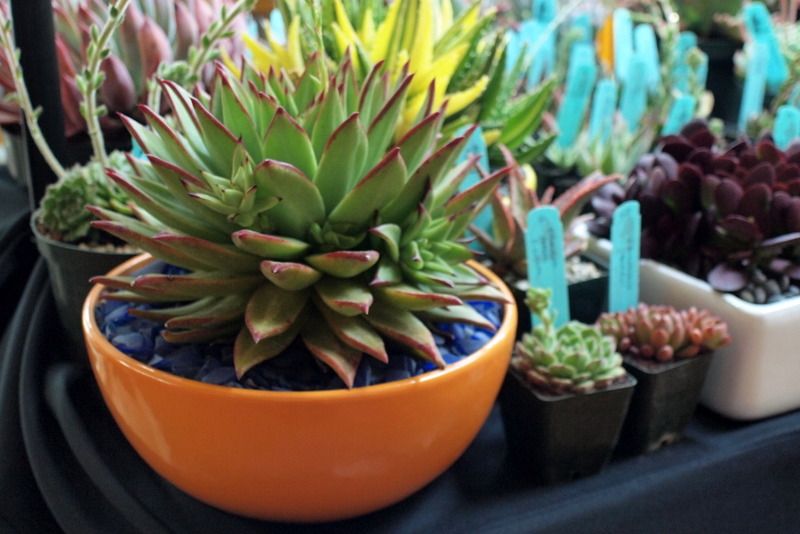 Echeveria agavoides at the show
Echeveria subsessilis 'Variegata' (synonymous with E. peacockii). Beautiful but pricey.