Not a title to a pulpy romance novel but a snippet of Hinkley's hilarious prose from his infamous Heronswood nursery catalogues. (The nursery was opened in 1987, bought by Burpee in 2000 and closed by them in 2006.) The catalogues unfortunately haven't survived office purges, but the context I remember for the quote is that he's awaiting dinner party guests at Heronswood, working frantically in the garden around twilight, when he hears guests arrive. As the sounds of laughter and tinkling glasses begin to waft over the garden, he becomes morosely suspended in that moment before he leaves the garden and joins the guests. He lingers at his garden tasks, brooding over the distant merriment, and stuck in that moment as pure but isolated observer he writes, "I hate the sound of laughter in the distance." I could be entirely wrong about the context, of course. But that was the magic of Hinkley's writing, how it transported one to states of being and places beyond plant catalogues.
Hinkley's talk, "The Dry Lush," was sponsored by Roger's Gardens of Orange County, held in the Newport Coast Community Center on 5/28/10. I had heard Hinkley joined forces with Monrovia as a venue for introducing worthy plants discovered on his plant-hunting trips, and I assumed this talk would be highlighting some of these new plant introductions. Not so at all. Most of the plants he spoke of during the hour talk and accompanying slide show were old friends. (The link to Hinkley's website provides a plant list from a talk he gave under the title "The Dry Lush" in Utah recently, and the plant list for our talk varied slightly but has the same general outline.)
While Heronswood was a thirsty shade garden, Hinkley's new garden, Windcliff on the Kitsap Peninsula, is an open, sunny 5 acres frequently strafed by roaring winds, which he says keeps the crowns of plants dry. Rainfall is under 40 inches a year. Summer is overcast but not rainy, as many people assume is the case for the Pacific Northwest. There was a mad scramble for pens and paper when he stated that upon arrival at Windcliff, weed removal was accomplished by spraying undiluted, distilled vinegar. Temperatures have to exceed 75 degrees for this method to be effective, and applications may have to be repeated, but with diligence vinegar will remove even bermuda grass, and is especially good for graveled areas.
Some gleanings from the talk. The plants he profiled for drought-tolerant plantings are many familiar structural beauties: opuntia, yucca, agave, aloe, nolina, beschorneria. He warmly recommended Aloe striatula for its bloom both in spring and fall. Shrubs discussed included acacia, genista, members of the proteacea. Grevillea victoriae blooms nearly year-round at Windcliff, for which hummingbirds give grateful thanks, nectar being just as sweet whether sipped from native or non-native plants. Ceanothus thrysiflorus var. griseus 'Kurt Zadnik,' a rich indigo blue, selected by Roger Raiche and passed from hand to eager hand for years, will soon be introduced by Monrovia. Grasses were difficult at shady Heronswood but are a natural for the new windy site, such as Stipa gigantea.
No one in the U.S. ever mentions the New Zealand daisy bushes, the olearias, so it was gratifying to see them profiled in his talk. Olearia x mollis seems to be Hinkley's favorite. (Mine repeatedly succumbed to scale.)
Olearia 'Henry Travers' from the UK's Garden Cottage Nursery:
Readers of his catalogue will remember his enthusiasm for restios, which still get him excited. The huge, frothy Rhodocoma capensis is a giant restio he particularly admires. I can testify to the restios' many virtues. Thamnochortus insignis puts up with much abuse in the front gravel garden, not only droughty conditions but the effusive summer bloom of a lespedeza, and does it in typical restio style. Nothing fazes them. And if you don't crowd them and allow them to display their graceful, fountain-like shape year-round, so much the better.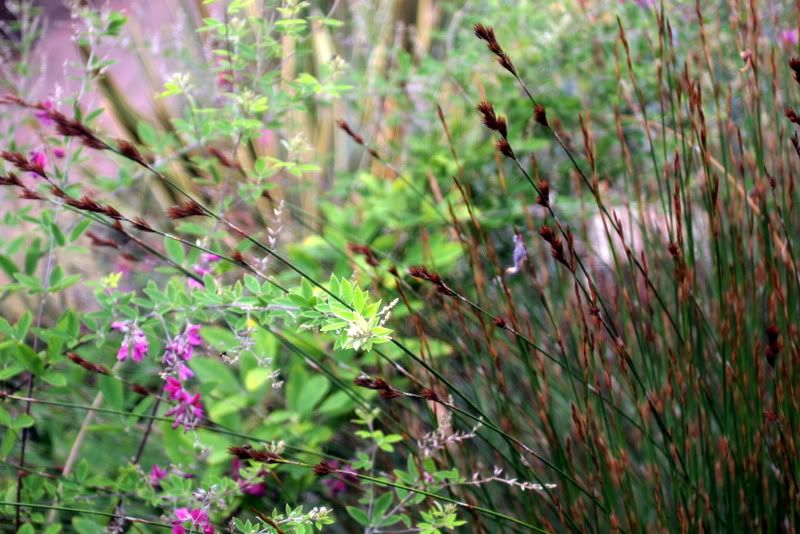 Hinkley seemed almost abashed to bring up agapanthus in a room crowded with zone 10 gardeners who see them daily in municipal plantings, but he strongly admires their toughness and late summer bloom and has amassed 65 species at Windcliff. I've never grown agapanthus myself but admit to recognizing their potential. That shape, for one, like a giant allium. I've been keeping an eye out for cultivars and species that do something a little different, and Hinkley has found the drooping petals of A. inapertus particularly exciting. The dark cultivars are more alluring than the familiar washy lilac blues, but I remain uncommitted. Once a plant acquires a civic/municipal identity, it's difficult to overcome that bias.
Yet this year I've selected this reliable roadside grower and moved it from ubiquitous status to prime pot status, Limonium perezii, vigorous waste area colonizer, so why limonium and not agapanthus? Just find the statice more interesting, I suppose, and less thirsty in a pot. So sometimes the mundane does deserve a closer look. But then I daydream about taking the mundane statice and engineering an even wavier, possibly chartreuse leaf and deeper blue flower. The agapanthus I'd want to make more purple and allium-esque, only because the allium is the difficult rarity in my garden. What an exasperatingly conflicted group gardeners can be.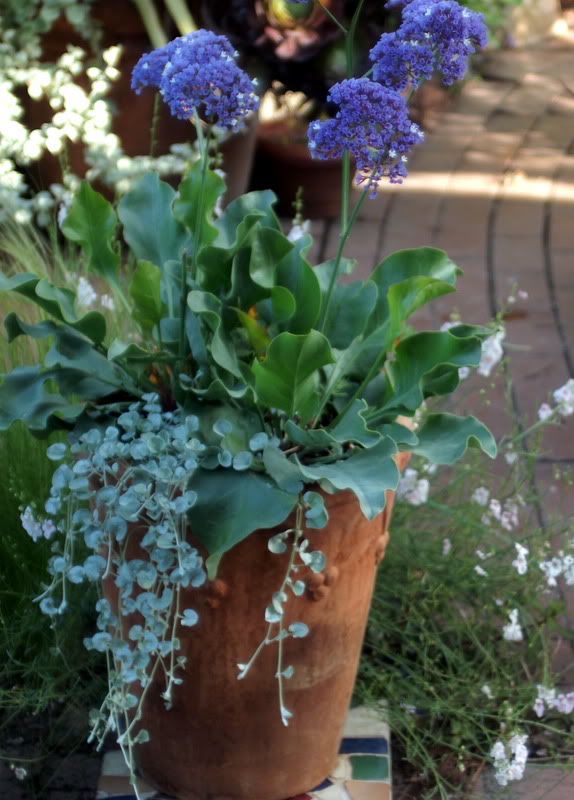 Hinkley asked, Who grows dierama? My hand stayed clamped at my side. Raising it would surely jinx blooms this year. He then teased the zone 10 audience that there was a plant he grew that we could not, Embothrium. (He may have been referring to Embothrium coccineum, the Chilean Fire Bush, but didn't give a species.) Moving along to his next plant, Hinkley was interrupted by a hand rising up from the audience, and a possibly slightly petulant voice asked, "Excuse me. Why can't we grow embothrium?" Too much zone 10 summer, apparently.
I now have Hinkley's word of honor that Melianthus 'Purple Haze' will stay a dwarf, saints be praised, to 2 feet for him so at least double that for me. But with the species looming 12 feet and higher, that's great news. This is a large, cut-back shrub for me, and lately I've felt unequal to the task of growing this monster and haven't done so for a few years. Next year's plant list grows longer and longer, and it's still early June.
Naturally, I began a mental inventory of what Heronswood plants remain in my garden. Practically none. Perhaps a single beschorneria. This Begonia grandis 'Heron's Pirouette' just waking up in June was probably bought from Plant Delights.
And then I remembered the perpetual rebuke that comes in the form of Clematis recta 'Purpurea,' the selection 'Lime Close,' sulking just on the other side of this Salvia verticillata 'Purple Rain.' There is very little to show of the clematis other than a crispy, very green leaf.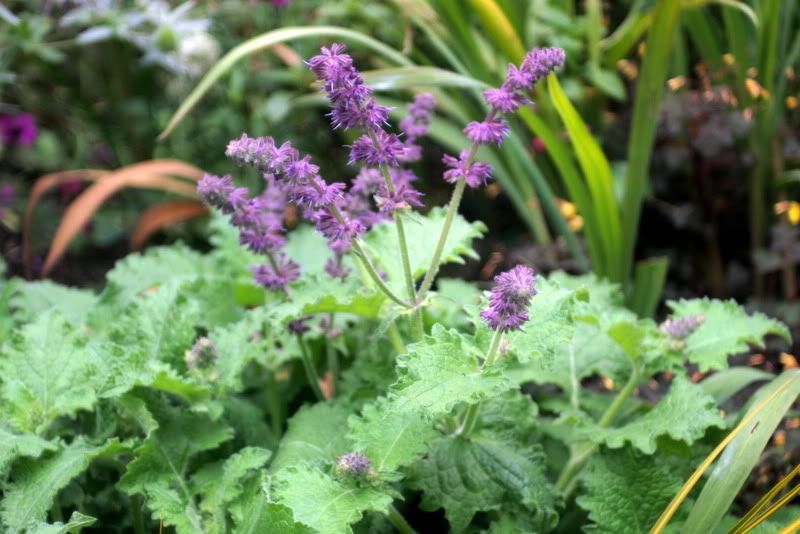 Since I've owned it, it's undergone a name change to 'Seriously Black.' Whatever its name, it's having a very long sulk of, oh, about eight years or so, during which time it was moved at least once, so you figure allow three years to recover from that insult. At this point, I can't be bothered to care anymore, and it'd be too much trouble to dig out. (Did you hear that, C. recta of the seriously black leaf? I just don't care!!) I would say it's obviously not a zone 10 candidate, but many gardeners get good results from clematis in this zone, so my experience is by no means definitive.
Hinkley relayed an anecdote similar to Vita Sackville West's experience with garden visitors gushing over robust plants: "How lucky you are to have these old walls; you can grow anything against them!" The point being, unless one lives in a tent, we all have walls. Many of Hinkley's woody lilies are grown protected from excessive wet under eaves, and/or on a south-facing aspect, and visitors will often comment on how fortunate Hinkley is to have this prime southern exposure. (Again, unless one lives in a tent, we all have south-facing exposures, even if they have to be exhumed from under overgrown shrubs.)
The love of plants is transformative, a truism exemplified by a community college teacher from Michigan who became the creator of a world-famous rare plant nursery, then morphed again into plant explorer and lecturer, and it can bring a world seemingly without walls…if occasionally some irksome laughter in the distance.