I got a very late start on the self-guided Lawn-to-Garden tour Saturday, thirty gardens from 10 a.m. to 2 p.m., just because Friday was an unusually odd workday and I lingered and wallowed far too long in the glory of being home Saturday morning.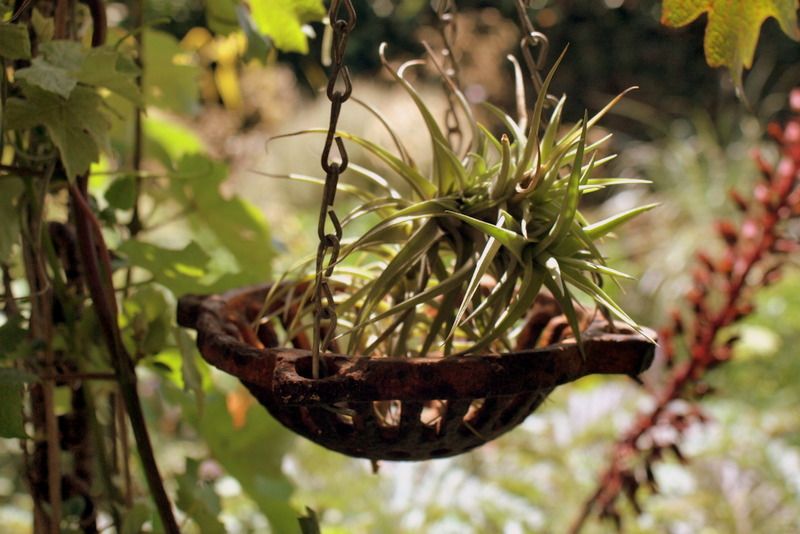 There might have been some extended Saturday morning puttering with hanging tillandsias on maritime salvage.

So I saw precisely two gardens on the tour. Running late, I chose these two gardens because they were close together in the California Heights neighborhood of Long Beach. California Heights is one of those neighborhoods where the homeowners are inventive and daring with their homes and gardens but also very, very attentive to issues of upkeep and neatness, and that can be a fine line to straddle. It's so interesting how these demographic pockets evolve and neighborhoods develop specific, well-defined personalities. Just a few streets over but outside the California Heights neighborhood, the homes are more conservative, lawn-and-foundation-shrub affairs, which is the default, time-honored approach. Front gardens can be touchy, even politically-charged propositions, and some neighborhoods will push back if any other approach but the traditional is attempted. Yet in increasingly arid Southern California, with every successive below-average rainy season and record high temperature, whose front garden is on the wrong side of history is becoming less and less debatable. Some cowards opt out of the controversy entirely and grow privacy hedges, as I did when I took out the lawn over 20 years ago. Controversy aside, I crave privacy, and kids and pets necessitated protection from our heavily trafficked street, but I admit the rolling, uninterrupted vistas available in neighborhoods without barriers to the view are very appealing. Whether through custom and habit or decreed by their historical society, there are very few front yard boundary hedges or fences in Cal Heights, which makes it wonderful drive-by garden hunting ground.
In Cal Heights the homes are mostly Spanish Revival. Not on the scale of, say, a Diane Keaton Spanish Revival mansion, but similar details in small, single-family homes with the occasional two-story home. Driving around the neighborhood, I spotted these examples: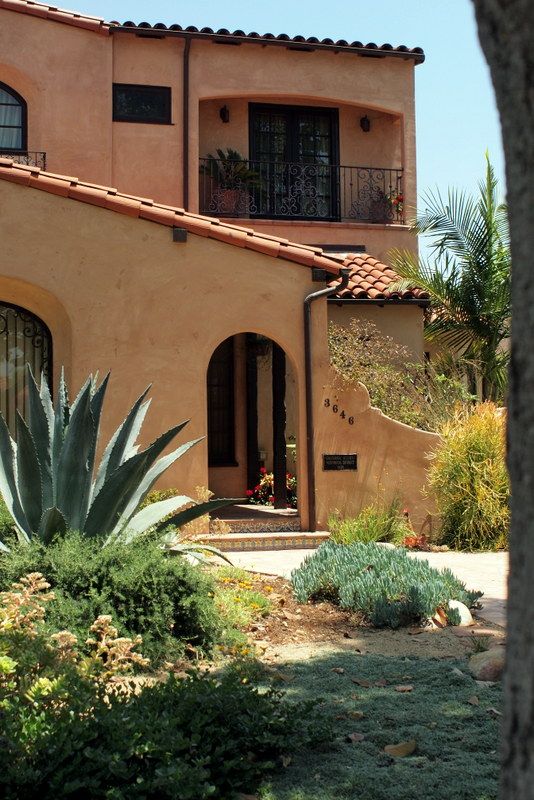 Agave americana, Dymondia margaretae, Senecio mandraliscae, shrubby Carissa macrocarpa in the foreground on the left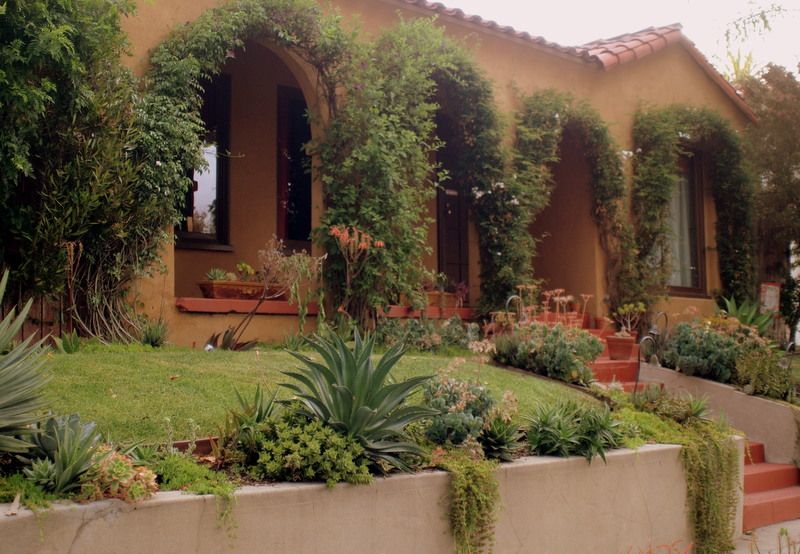 Climbing jasmine and potato vine trained on the arches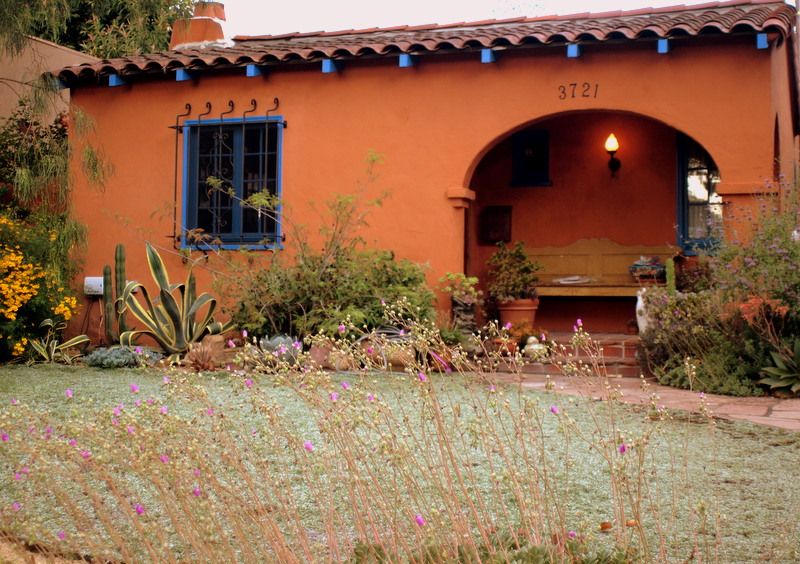 One of the best dymondia lawns I've seen. Calandrinia in the foreground
And I hadn't really noticed before this tour, but on a few of the streets the houses sit fairly high, bounded by steepish slopes with or without concrete retaining walls. These sloping front yards, which have got to be frustrating to mow, have amazing garden-making potential.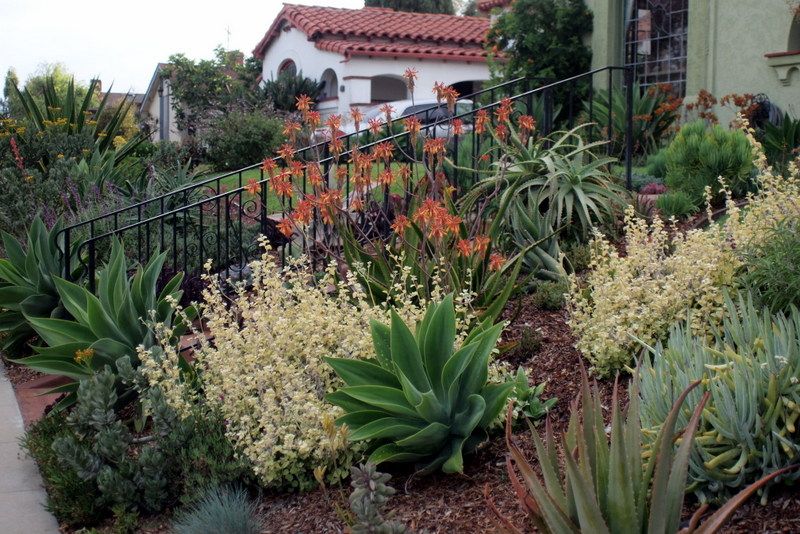 This garden on the tour really exploits the potential of that slope.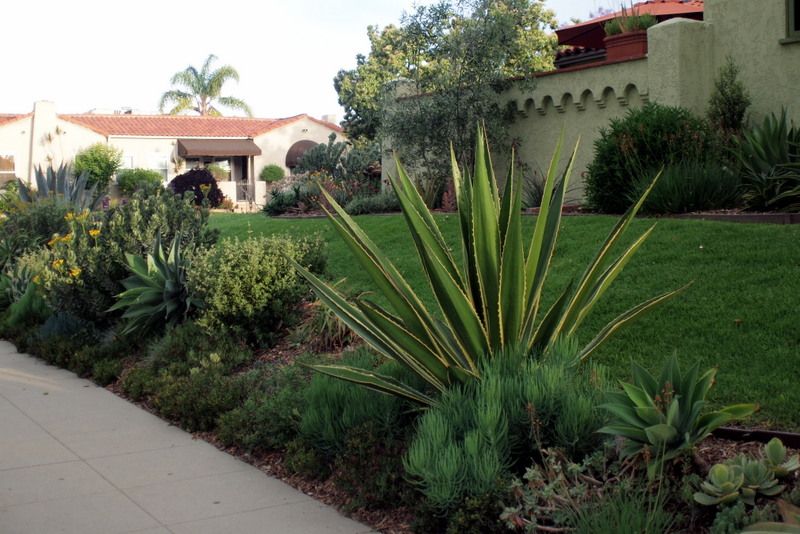 And yet the homeowners wanted to retain a narrow band of lawn as a calming, negative space, which they hand-water, and which loses that bright green and builds up a summer tan later in the season. Though the slope doesn't appear steep from this photo, it truly is. It was hard to keep steady footing on what's left of the lawn. The plantings are bark-mulched. The owner I spoke with opted against using decomposed granite as part of this lawn replacement garden. It just didn't appeal to her. Near the sidewalk a strip of iceplants in brilliant colors acts as a bumper to hold in the mulch, so spillage onto the sidewalk hasn't been a problem.
The ruffle of iceplants near the sidewalk had just finished their spring bloom.
This is a corner home, which gives the garden lots of scope for repeating certain plants to lend cohesion as you walk its perimeter. This variegated agave was repeated throughout. Is it an angustifolia? Plant names weren't a concern for the homeowner, who had an amazing eye for good plants, many of which were bought at Mariposa Garden, a small wholesale nursery unknown to me (road trip!) The garden is about three years old.
I always see strong repetition of key plants as a sign of character and discipline, something to strive for, to put on the new year's list of resolutions (again and again). The same agave paired with the shrublike Senecio amaniensis, which was also used repeatedly as a foil to knit together the varied shapes and colors. Agave attenuata, far left, was also repeated throughout.
Another look at the agave, the slope, driveway in the distance and adjoining property. Hanging baskets on the privacy fence.
A lot of lawn-replacement gardens divide into two camps; scrubby natives or sleek, semi-minimalist succulents. Both gardens on this tour elected to combine succulents with not necessarily native but drought-tolerant plants, like Salvia leucantha and Helichrysum petiolare in both its silver and chartreuse forms.
Hesperaloe in bloom with big blue Agave americana, aloes, Salvia leucantha, arctotis, lavender, Senecio mandraliscae.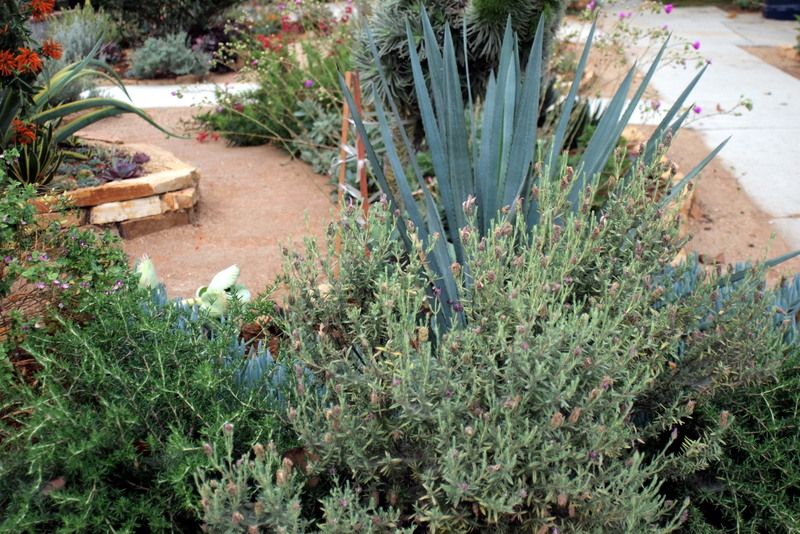 At the other garden I toured, there was much less of a slope. Even so, the homeowner told me he wouldn't use decomposed granite if he had to do it over again. Even with our light rainfall and the little supplemental irrigation required, the d.g. washes down the slope and onto the sidewalk.
The plantings here were outlined in stacked, sandstone-colored rock surrounded by pathways of decomposed granite. An exquisite setting for viewing succulent treasures like Agave desmettiana.
Agaves lophantha and vilmoriniana with tall, shrubby Leonotis leonorus. This was a young garden as well.
After touring both gardens I drove around a bit.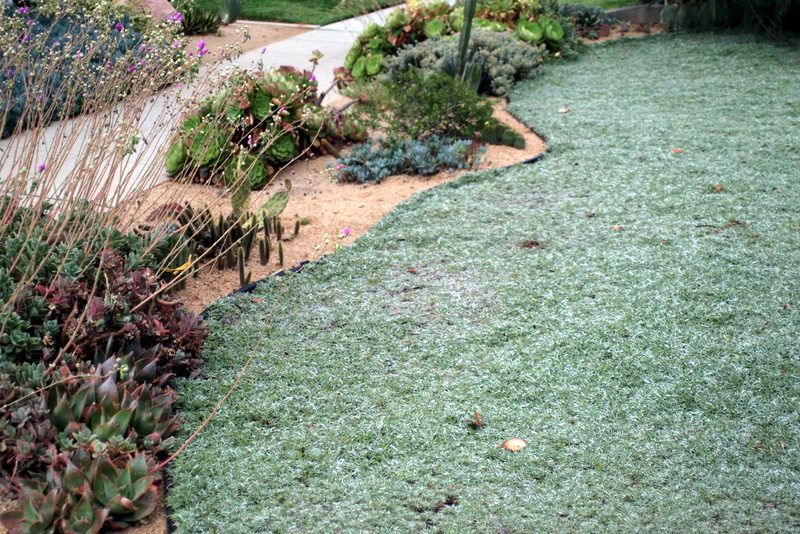 And found the house with the flawless dymondia lawn.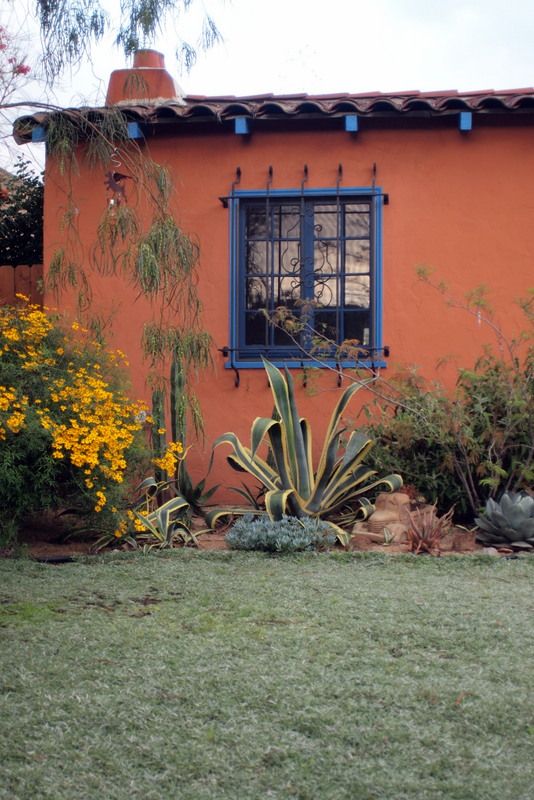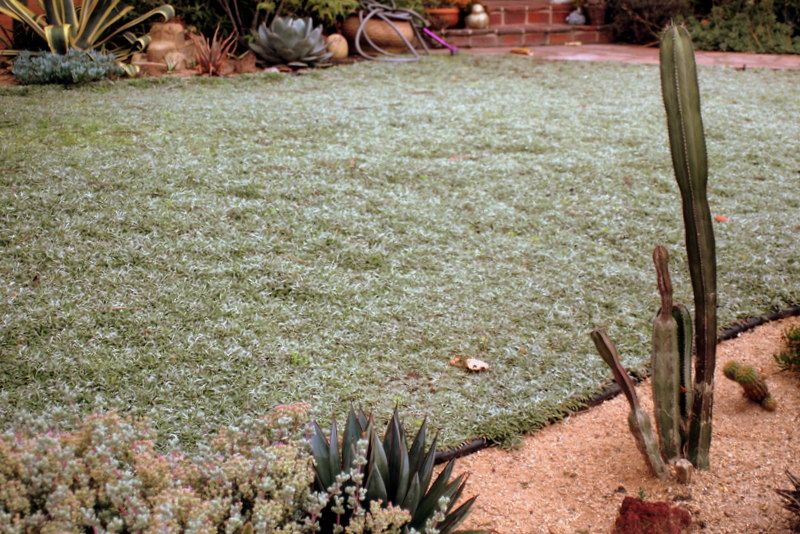 A few more views of some front gardens in Cal Heights.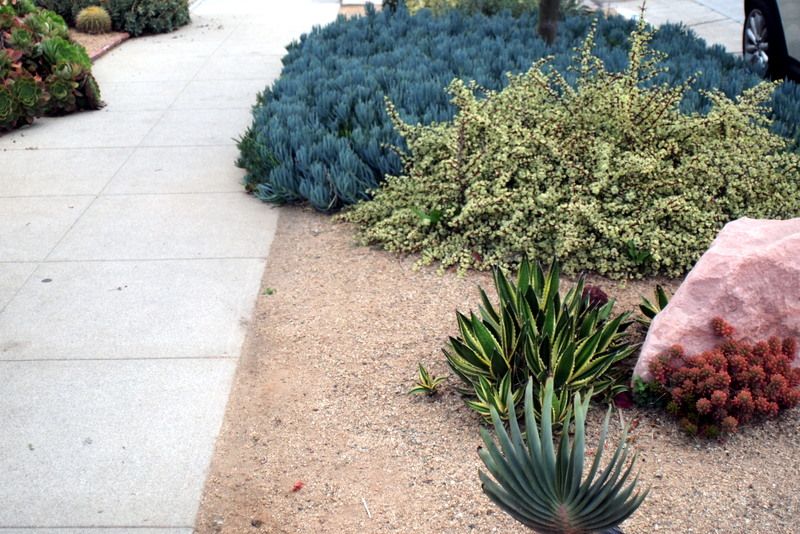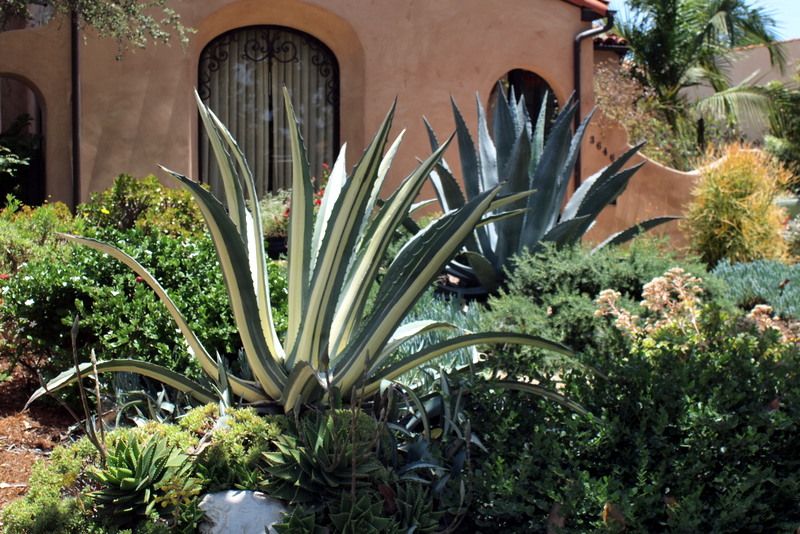 This was a tour very much worth attending, made up of homeowners brimming with design talent and generous with their time for answering questions. Next year, if there is another Lawn-to-Garden tour, there will be less puttering at home and more time spent visiting gardens.