Is there a tinge of desperation in the road trips of late summer? By the end of summer are we stuffing itineraries with an absurd number of places to see in the dwindling opportunities to experience daylight until 8 p.m.? Guilty here. I'll give a recent example from just this last weekend. And for the similarly desperate, there will be a trail of bread crumbs to follow for potential future road trips for the fall season. By fall I'll be reconciled to the inevitability of autumn's shortened days, and any road trips then will undoubtedly be washed in a golden haze of acquiescence to the rhythms of the seasons.
image courtesy of Thread and Bones

It all began with a 63-foot-long hall in an apartment in the Mission district of San Francisco that could use the services of our 9-foot-long Turkish rug. The one we can't use at home because of the prodigious shedding capabilities of the corgi. (Even the thinnest pretense for a late-summer road trip will do.) Los Angeles to San Francisco, roughly six hours. I've made this trip many, many times and have lived in a couple of the trip's stops, like Petaluma and San Francisco. Familiarity increases the speed factor, another important consideration for late-summer road trips. My workload was fairly light, so Thursday to Monday were clear. Marty has been working all summer weekends, so it would just be me and my smart phone, a formidable traveling companion that can read to me How The Irish Saved Civilization in between navigating duties. The only question left was:
Before delivering the rug, where would I like to go?
Let's see. Just a bit east of San Francisco, the Ruth Bancroft Garden was giving a talk on "The Amazing Plants of Mexico" on Thursday, August 22, at 6:30 p.m. Definitely doable. A cheap room in Walnut Creek was reserved minutes before I left Los Angeles around 10 a.m., and I arrived in enough time for a quick look around the garden.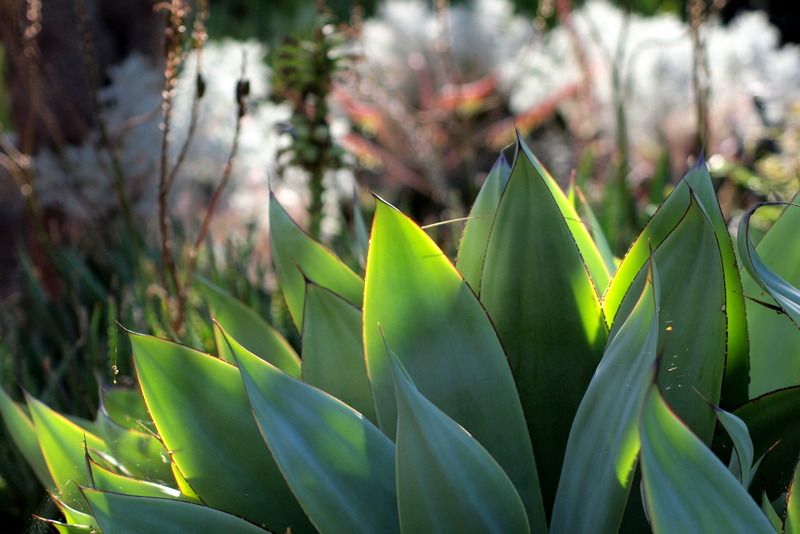 Agave celsii albicans var. 'UCB'
Agave 'Cornelius'
A very quick look around the garden. Actually, it had closed at 4 p.m., and I skidded in around 4:15 but was graciously allowed to visit before the lecture started at 6:30 p.m. A lecture not at the garden, as I had assumed, but at a library down the street. In the haste of getting on the road, I'd skimped a bit on researching the details, but it all worked out amazingly well. The lecture was wonderful, filled with images of unheard of agaves clinging to sheer cliff faces.
Here's the first bread crumb: The Ruth Bancroft Garden is having their Fall Weekend festival and plant sale, October 4 and 5.
That took care of Thursday. I was hoping to ultimately get as far as Digging Dog's nursery up in Mendocino, a couple hours north of San Francisco near Fort Bragg, where I had reserved another cheap room for Friday night, which still left most of Friday wide open. So between Walnut Creek and Fort Bragg, where would I like to go next? Cornerstone in Sonoma County, of course, a collection of outdoor gardens, shops and restaurants inspired by the International Garden Festival at Chaumont-sur-Loire, curated by owner Teresa Raffo. (updated 2016: now home to Sunset Gardens Outdoor Test Kitchen)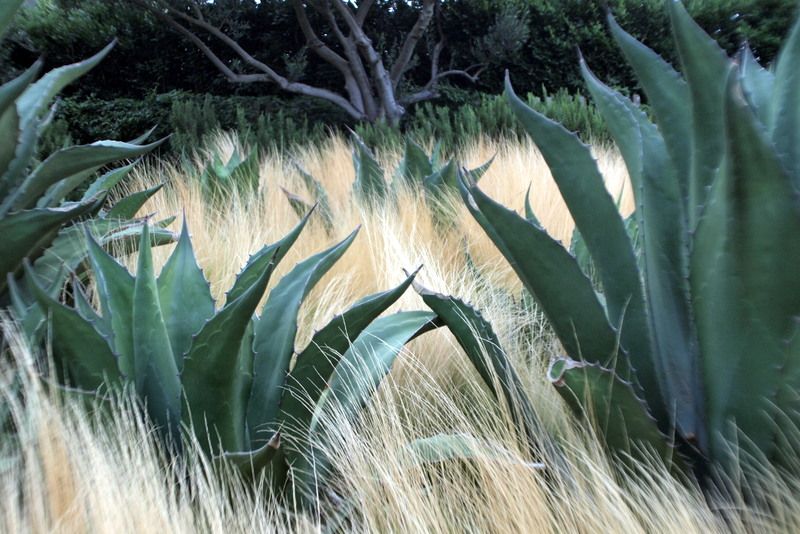 Garden of Contrast by James Van Sweden and Sheila Brady, Cornerstone Sonoma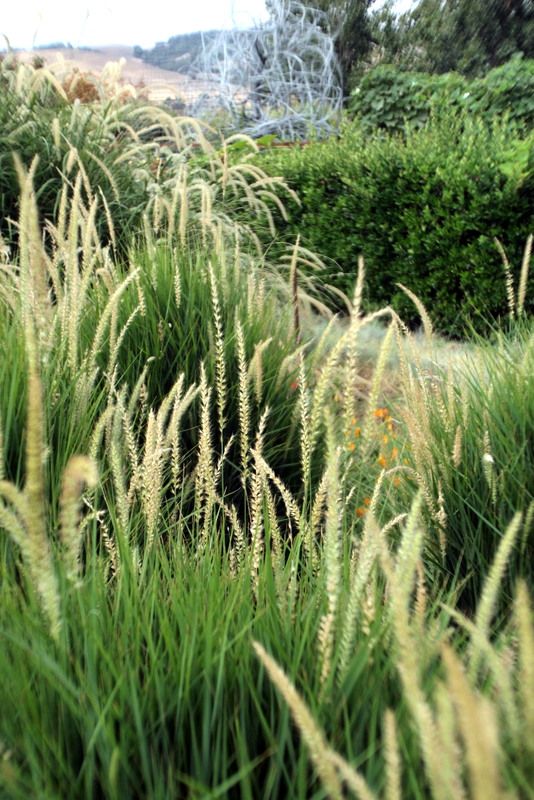 John Greenlee's Mediterranean Meadow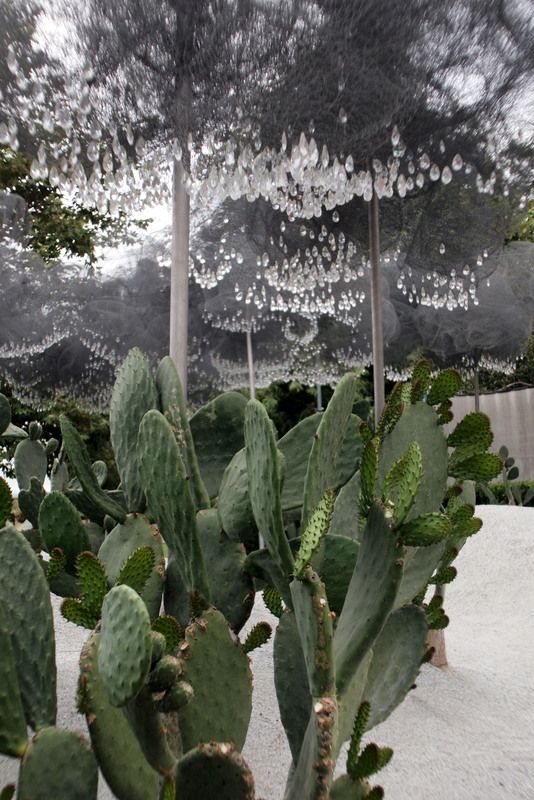 White Cloud by Andy Cao and Xavier Perrot
At this time of year, equally as impressive was Cornerstone's vegetable garden. The stunning variety of squash floored me, neatly and obediently climbing posts and draping the pergola in lush swags.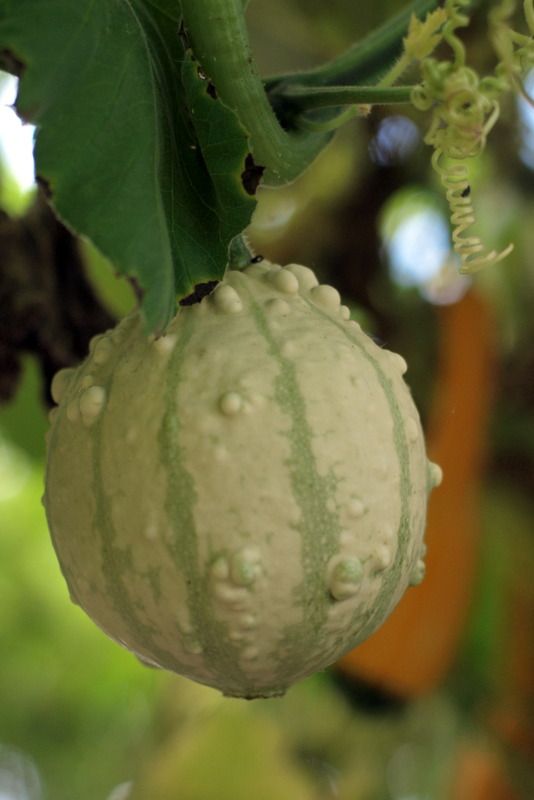 Second bread crumb: Cornerstone Sonoma's Annual Tomato Tasting will be held September 29, 2013.
Just up Highway 101 from Cornerstone is the town of Petaluma, which has changed quite a bit since I lived there for a year or so in the late seventies. Downtown's Victorian buildings now house restaurants and antique shops, and Courtney Love was playing Saturday night in a former opera house. An ornate bank building has been taken over by Baker Creek Heirloom Seeds and is now a living pun (seed bank). This seemed like the perfect time for a visit after all that fecund gourd porn. As is typical of me when in a shopping frenzy, the camera is neglected, but hopefully there will be photos later of the blue-podded peas chosen for my winter vegetable garden, Baker Creek's 'Blauwschokkers.'
Third bread crumb, and one I'm sorely tempted to follow back up the coast: The Heirloom Exposition held at the Sonoma County Fairgrounds in Santa Rosa, California, September 10, 11, and 12, 2013.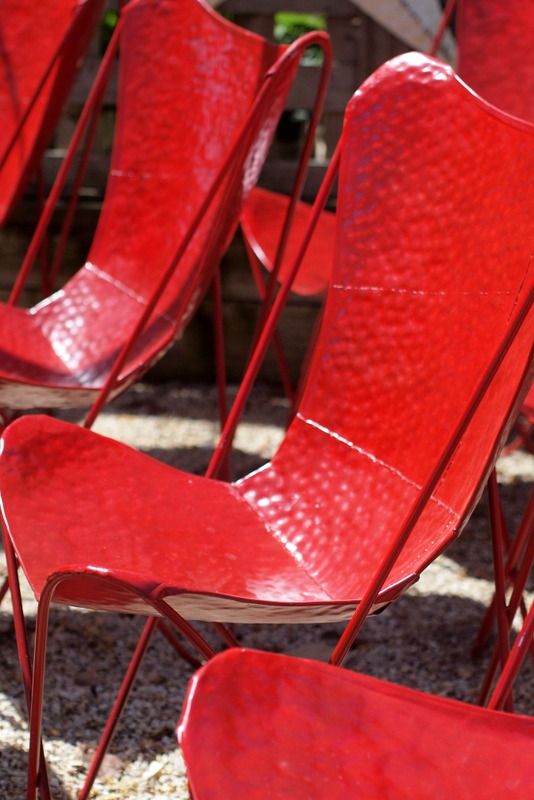 The other stop in Petaluma was Cottage Gardens of Petaluma, where there's always a good selection of plants and much else to admire, like these metal-worked butterfly chairs. Now the afternoon was disappearing fast, and I still needed to tackle the twisty challenges of Highway 128 enroute to Mendocino and my cheap flop before dark, so that would be it for Friday.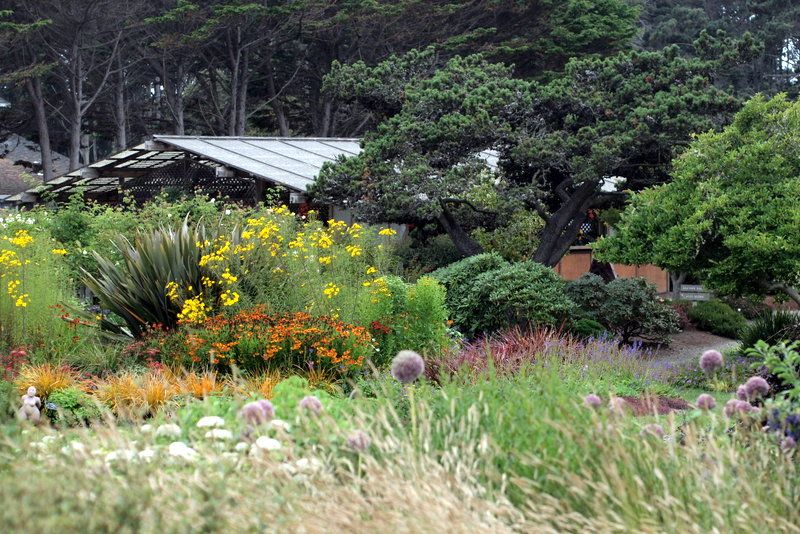 But Saturday started early, because the Mendocino Coast Botanical Gardens in Fort Bragg opens at 9 a.m.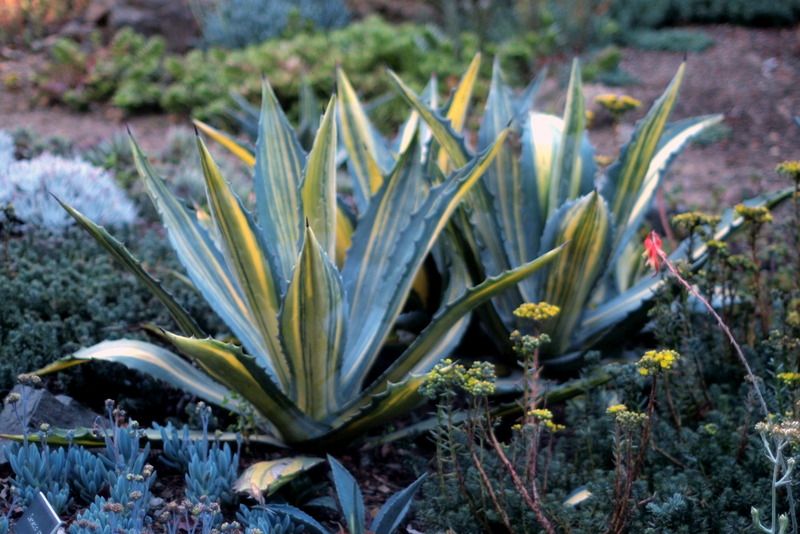 Agave americana var.striata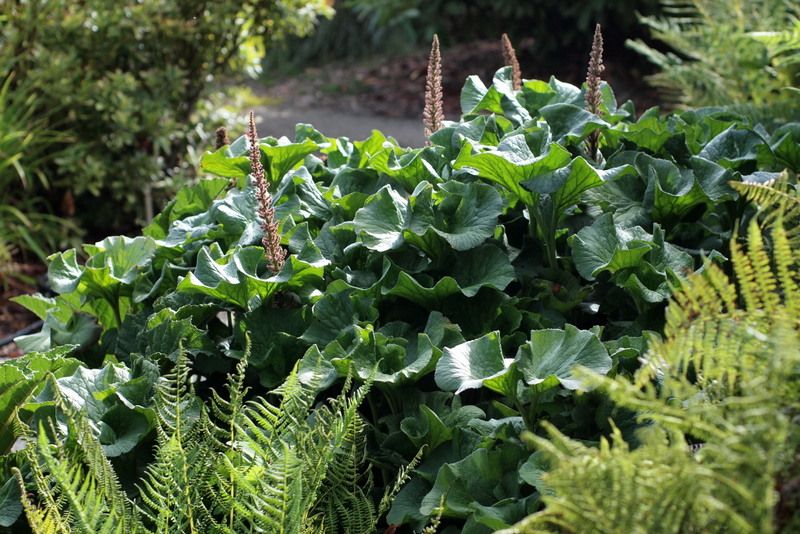 The "River Pumpkin," Gunnera perpensa
By noon or so it's off to the town of Albion a few miles south of Fort Bragg, and the fabulous horticultural riches at Digging Dog Nursery. Here again I let my camera go idle while I scoured their greenhouses for new acquisitions. They were out of the New Zealand grass Chionochloa rubra, but Achillea 'Inca Gold' was in flower in its pot, so I could verify its luminous superiority over other peachy yarrows.
Next bread crumb: Digging Dog's Saturday Strolls and Plant Chats are set for September 7, September 21, and October 5. The "Dog-Gone Super Fall Plant Sale" will be held October 11, 12, and 13.
During this trip, my able smart phone companion delivered the astounding news that Annie's Annuals now, this minute, had stock of Digitalis 'Illumination,' a digitalis/isoplexis hybrid never before available in the U.S., at least a source that I could find.
Decisions, decisions. Head to San Francisco to deliver the rug and finally relax among friends and family, or attempt to beat the clock and get to Annie's in Richmond by close of business at 5 p.m.? By now it must be pretty obvious that I'd opt for the slim chance of making it to Annie's before closing. And I did make it by 4:30, but 'Illumination' had sold out in two days! I made a half dozen or so consolation purchases, loaded the car, and finally delivered the rug to MB Maher's new apartment in the Mission, where it beautifully covers 9 feet of that 63-foot hallway.
Here's all the bread crumbs conveniently listed in one spot, with a couple additions.
The Ruth Bancroft Garden Fall Weekend festival and plant sale, October 4 and 5.
The "World's Pure Food Fair," Heirloom Exposition held at the Sonoma County Fairgrounds in Santa Rosa, California, September 10, 11, and 12, 2013.
Cornerstone Sonoma's Annual Tomato Tasting, September 29, 2013.
Digging Dog Nursery's Saturday Strolls and Plant Chats, September 7, September 21, and October 5. The "Dog-Gone Super Fall Plant Sale" will be held October 11, 12, and 13, 2013.
University of California Botanical Garden at Berkeley, Light in the Garden with Saxon Holt, September 7, 2013
University of California Botanical Garden at Berkeley's ongoing exhibit Natural Discourse will hold its next series of lectures "Culture and Cultivation," October 10, 2013, at the Ballroom at the Berkeley City Club, 2315 Durant Ave, Berkeley, California. Order tickets here.
Let me know if there are any I've missed, and I'll add them to Dates to Remember.