Zadie Smith's essay "Love in the Gardens," describing complicated family relations against the backdrop of visits to two gardens, the Boboli in Florence accompanied by her father, and the Borghese garden in Rome after her father had died, gave me quite a few shivers of recognition. Not that I traveled much with my father after leaving home except for a mediterranean cruise two years before he died, and a cruise admittedly allows families ample opportunity for timely and strategic retreat. But Ms. Smith and her father had an experience similar to the one Marty and I had when navigating Florence on foot, enroute to the Boboli garden. At least they actually found the garden.

The Boboli Gardens in Florence, 2002; photograph by Chris Steele-Perkins

"In the morning, we set out. We had the idea of reaching the Boboli Gardens. But many people set out from a Florence hotel with the hope of getting to a particular place—few ever get there. You step into a narrow alleyway, carta di città in hand, walk confidently past the gelato place, struggle through the crowd at the mouth of the Ponte Vecchio, take a left, and find yourself in some godforsaken shady vicolo near a children's hospital, where the temperature is in the 100s and someone keeps trying to sell you a rip-off Prada handbag. You look up pleadingly at the little putty babies. You take a right, a left, another right—here is the Duomo again. But you have already seen the Duomo. In Florence, wherever you try to get to, you end up at the Duomo, which seems to be constantly changing its location." – Zadie Smith, "Love in the Gardens," The New York Review of Books, November 7, 2013

image found here

But then Ms. Smith and her father managed to break free from the gravity pull of the
Duomo
and find the Boboli, something Marty and I, to my eternal chagrin, weren't able to accomplish.
"
Through formal gardens we passed, each one more manicured and overdesigned than the next, our cameras hanging dumbly from our necks, for Boboli is a place that defeats framing. As an aesthetic experience it arrives preframed, and there's little joy to be had taking a picture of a series of diametric hedges…In Boboli you don't really escape the city for the country, nor are you allowed to forget for a moment the hours of labor required to shape a hedge into a shape that in no way resembles a hedge. No, not like an English garden at all…though perhaps more honest in its intentions. It speaks of wealth and power without disguise. Boboli is Florence, echoed in nature. As a consequence of this, it is the only garden of which I can remember feeling a little shy. I would not have thought it possible to feel underdressed in a garden, but I did—we both did. Clumsy tourists dragging ourselves around a private fantasia. For though Boboli may be open to the public, it is still somehow the Medicis' park, and the feeling of trespassing never quite leaves you. It was a relief to find ourselves for a moment on an avenue of curved yew trees, shaded and discreet, where we were offered the possibility of respite, not only from the awful sun, but from the gleaming of monuments and the turrets of villas
."
– Zadie Smith, "
Love in the Gardens
," The New York Review of Books, November 7, 2013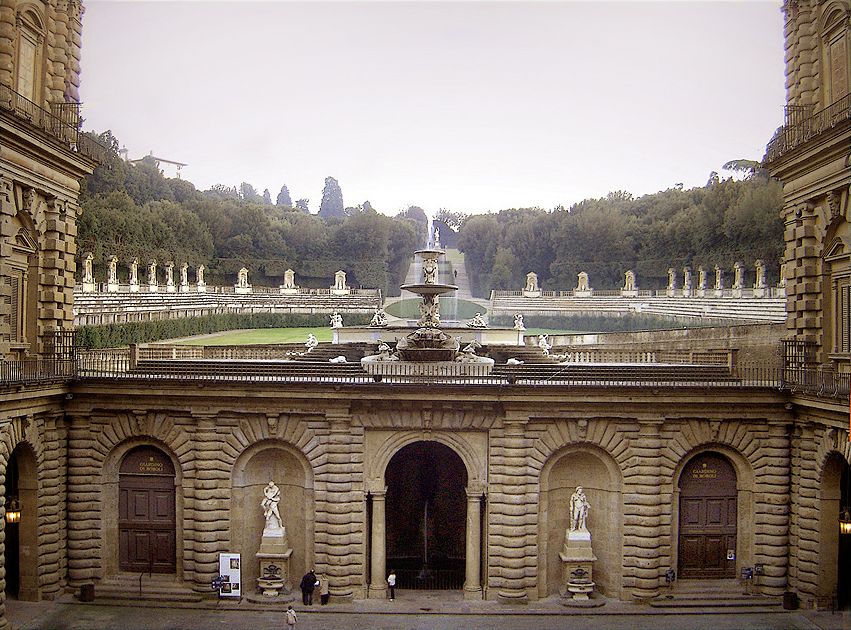 image from Wikipedia
I did manage to pull off one complicated transaction in Florence. Well, two, if successfully waiting in line several hours to see the Uffizi counts, and I still think it does. (Long waits to get into the
Uffizi
were a security consequence of the car bomb that ripped through the gallery in '93.) Right before we left Florence and our second-story room in the former mansion of a forgotten dignitary's mistress, with its balcony overlooking the weir of the Arno where we drank our Peronis, with as much guidebook English as I could muster, I purchased a bottle of bath salts from a local
farmacia.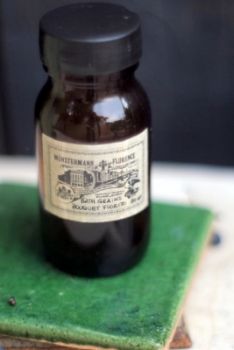 And that, along with an art book from the Uffizi, is what I brought home from Florence. Traveling pre-blog, I never took photos (more chagrin), because that's what tourists did, and of course we blended right in, circling endlessly around the Duomo…
image of The Duomo found here.