Cleaning up the tropicals for their winter rest in early November, there remained an absolutely perfect leaf on Colocasia 'Blue Hawaii.' I cut it for a vase, and when the water had evaporated and the leaf was still in good shape, I laid it on a book shelf. Now I was intrigued that such a soft leaf had endured this long. How much longer could it last? In late December I noticed that the texture of the leaf had turned from brittle to a suede-like feel and was still beautifully intact. The terrarium turned up at a garage sale, and I was drawn to its simplicity. No faux Edwardian flourishes. It was missing one of the rounded footings, but that could be easily fixed. (How fitting that a seedpod from the triangle palm was exactly the right size and shape. That's the seedpod on the left in the photo.) I admit that out of all the uses I could imagine for the glass case, housing a colocasia leaf was not one of them. But then that's the attraction of a transparent box — its endless possibilities. Since enclosing the leaf in the glass case, the texture has reverted back to potato-chip brittle. Keeping the case on the warm mantle over the fireplace might not be the best site for it, but it's where I can see it most often. I moved it into the bright light of the kitchen for the photo. At this angle, doesn't it resemble a giant tropical butterfly?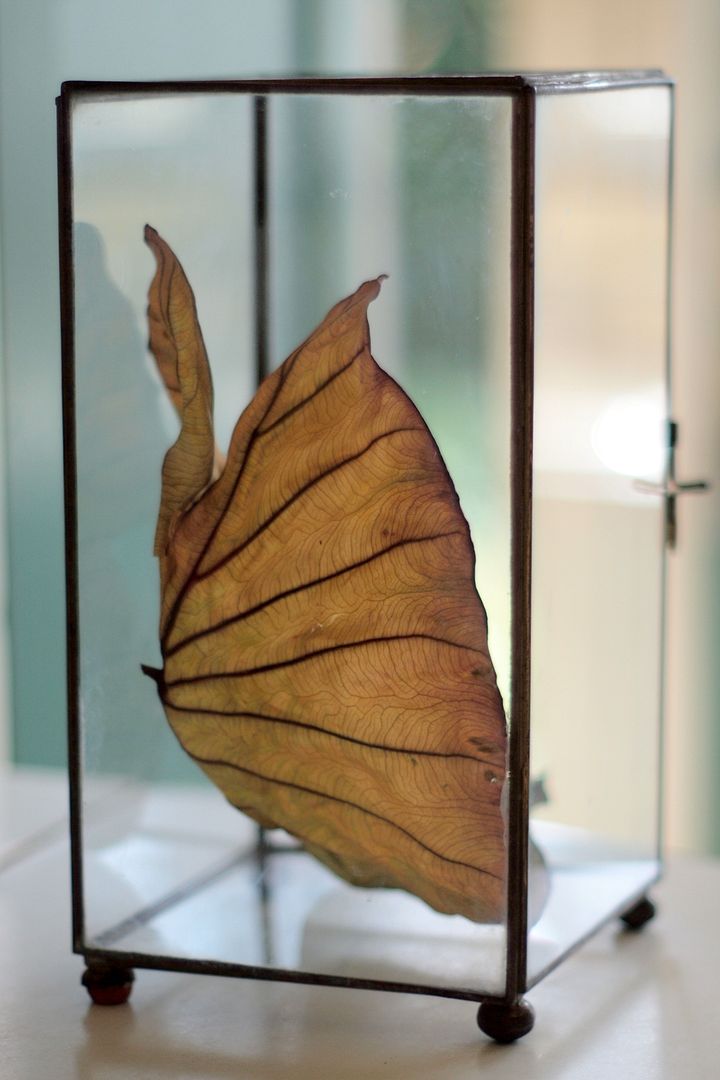 Colocasia 'Blue Hawaii'
Plant Delights Nursery offers this colocasia via mail order. Mine was found locally. (PDN's 2014 catalogue arrived in the mail yesterday and lists this colocasia.) If garage sales don't prove fruitful in sourcing the case, Terrain offers a similarly simple version.