Melocactus matanzanus
The Orange County Cactus & Succulent Society sale is this weekend, where the buzz and gossip amongst the sales tables might very likely entice you into bringing home your first melocactus. It's possible that the recent visit to the Huntington's Desert Conservatory is behind this atypical impulse buy. (I also snagged a small Agave 'Tradewinds,' with lovely blue-green stripes and a couple bromeliads, much more typical of my usual succulent show purchases.) I'm going to designate the melocactus my favorite plant in the garden this week, because if you go to Loree's blog, the post prior to favorite plants references a great deal on the Personal Recollections of William Hertrich, the man who made the desert garden for Huntington. And here I just bought socks on Amazon for my youngest son and forgot to add Hertrich's recollections to my basket. Damn.
Eulophia petersii at the sale
Plant shows are so helpful in filling in gaps in understanding the life cycle of these often very slow-growing plants. I'd never heard of eulophias before this week, a desert-adapted orchid, so would normally walk right by these pleated green leaves with the bulbous bases, which I'm sure I've done dozens of times before at succulent shows.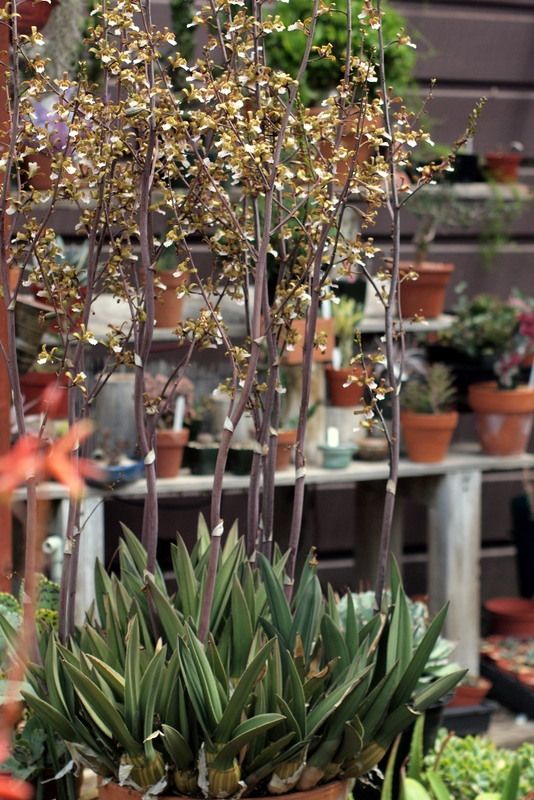 But I had just seen eulophia in a staggering full-bloom display earlier in the week at Solana Succulents, on consignment sale for hundreds of dollars. So what those underwhelming leaves were capable of producing was still very fresh in my mind. Pots about one-sixth the size of the above container were selling for $50 at the show.
The eulophia fit neither my wallet nor the Mini Cooper, so the only purchase I made at Solana Succulents was this smooth-leaved Dyckia 'Naked Lady.'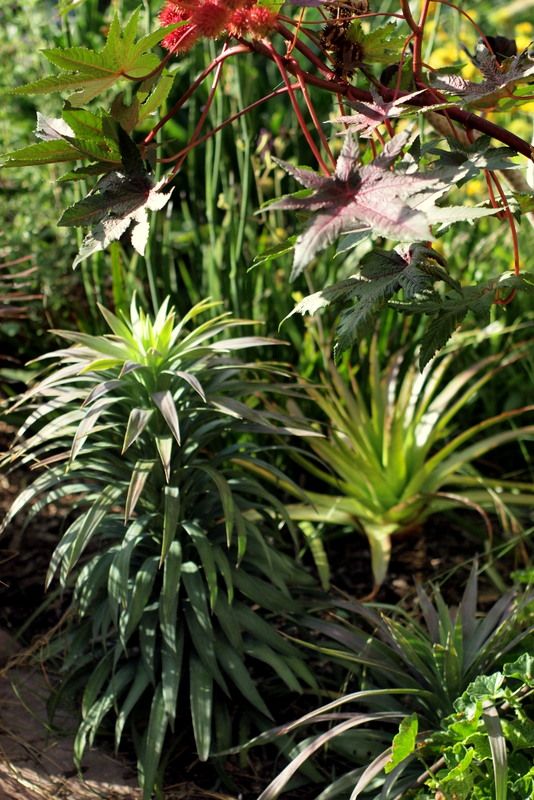 I'm compulsive about planting something as soon as I bring it home. I tend to forget to water seed trays and cuttings, but if it's in the garden I know I'll keep an eye on it. I planted the new dyckia as a ringer amongst a couple Yucca aloifolia 'Purpurea.'
Maybe I'm just kidding myself, but I'm thinking this placement kind of minimizes that rank plant show impulsivity I fall victim to, as in Nothing to see here, just a disciplined repetition of key plants.. I have an enormous clump of barbed dyckia to tackle one day, so this Dyckia nudum had instant appeal.
Pachypodium namanquanum
This pachypodium at the show reminded me of the verbascum I once grew and can't seen to find again. (The verbascum was sold as V. undulatum. Furry, chartreuse leaves, it could have been Verbascum epixanthinum.)
Lastly, in case you're in need of more bromeliads, and who isn't, Rainforest Flora in Torrance is having a 20 percent sale this weekend and next weekend too.