It's finally happening.
Miraculously, after a couple close calls resulting in an almost fatal wilt, Musschia wollastonii has survived and begun to hoist up that much-anticipated chartreuse candelabra of blooms. The Madeira Giant Bellflower must be an unforgettable sight in bloom on its native cliffs of Madeira. As with Aeonium tabuliforme, the cliff face is what's shaped that remarkable architecture. Some claim to grow musschia mainly for the leaves, but I don't find them wildly exciting, possibly because it's been struggling to survive here. Musschia is monocarpic, meaning it will die after blooming. Which also means I can now die happy, having seen it bloom in my garden. But what vigilance to get to this point! In spring I parked this pot right by a hose bib on the north side of the house for its daily shower.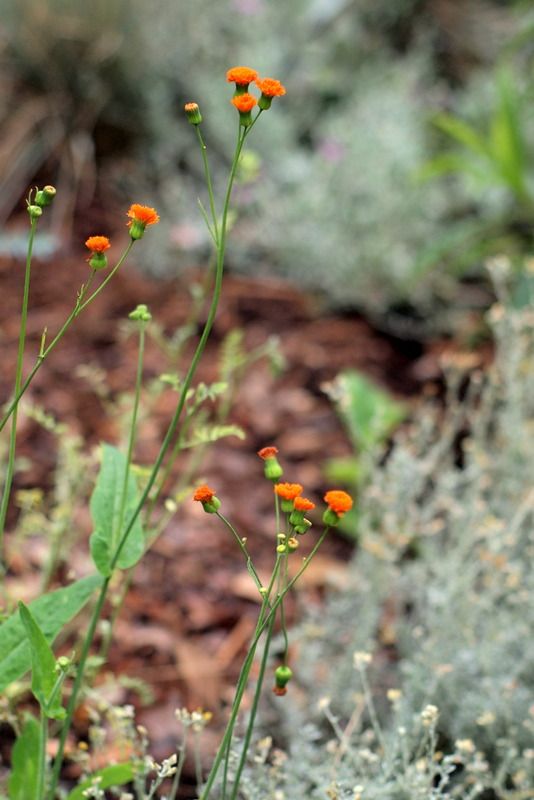 Also newly in bloom and slightly offbeat, Emilia javanica 'Irish Poet,' the Tassel Flower. A delicacy that couldn't compete in a waist-high, full-throttle summer garden, but it stands out fine in mine, which is in the process of undergoing accommodation to the ongoing drought.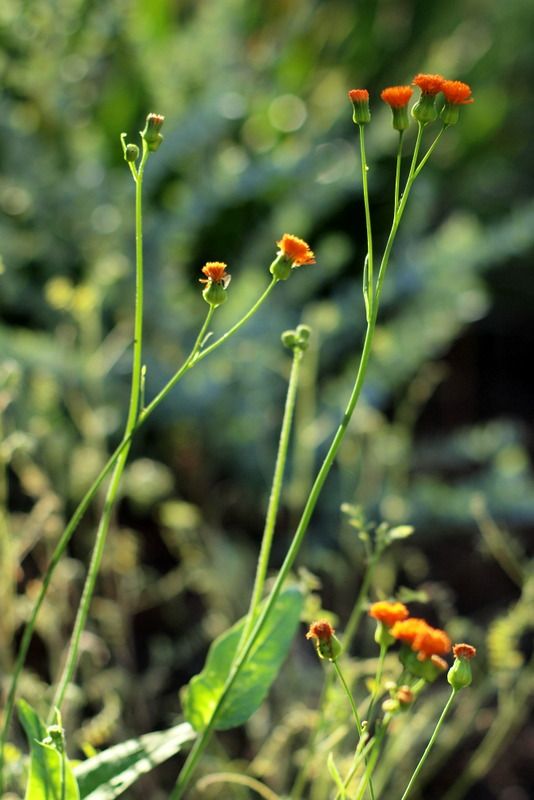 Emilia may be small, but it packs a big orange punch in its 'Irish Poet,' form, seed from Nan Ondra. Many years ago I grew the species, which is a darker, burnt orange bordering on red. I much prefer the electrifying orange of 'Irish Poet.'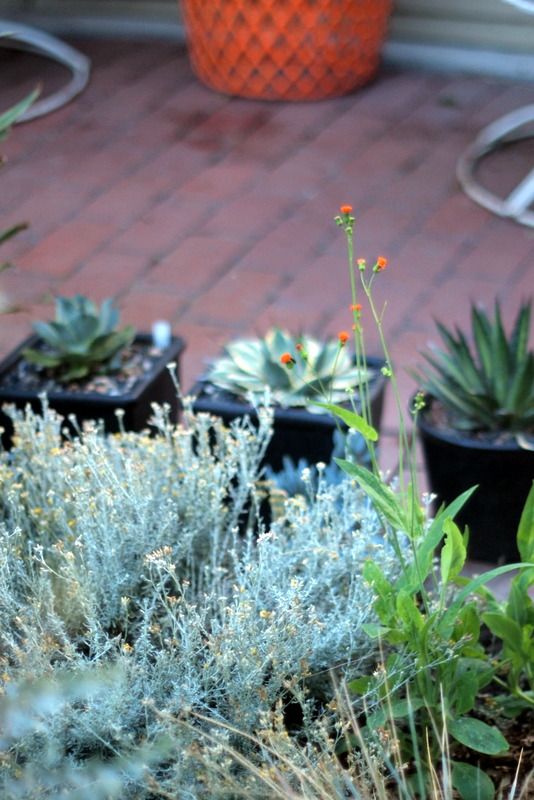 These pots give a sense of its scale. Last agave on the left was just brought home from the recent Orange County succulent show.
Agave 'Tradewinds,' a blue-green striped potatorum selection thought to be a seedling of 'Kissho Kan.'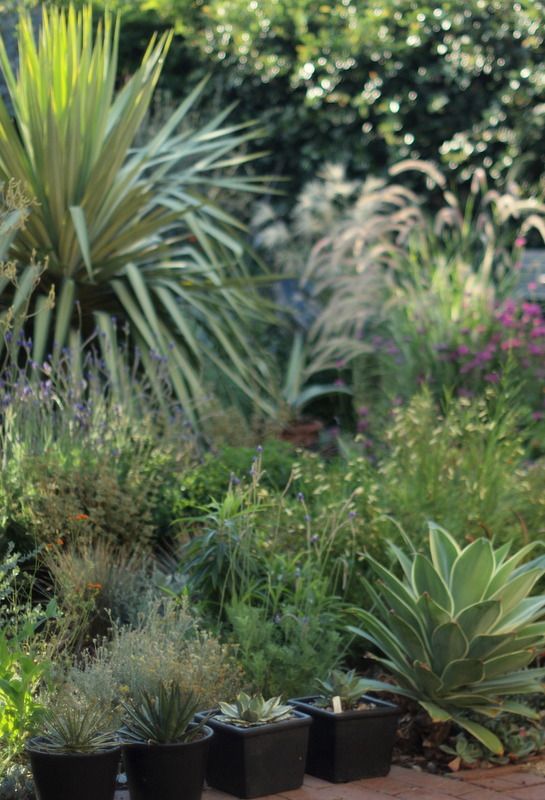 Diminutive emilia is barely visible on the lower left, unlike the fountain of Pennisetum 'Sky Rocket' in the distance.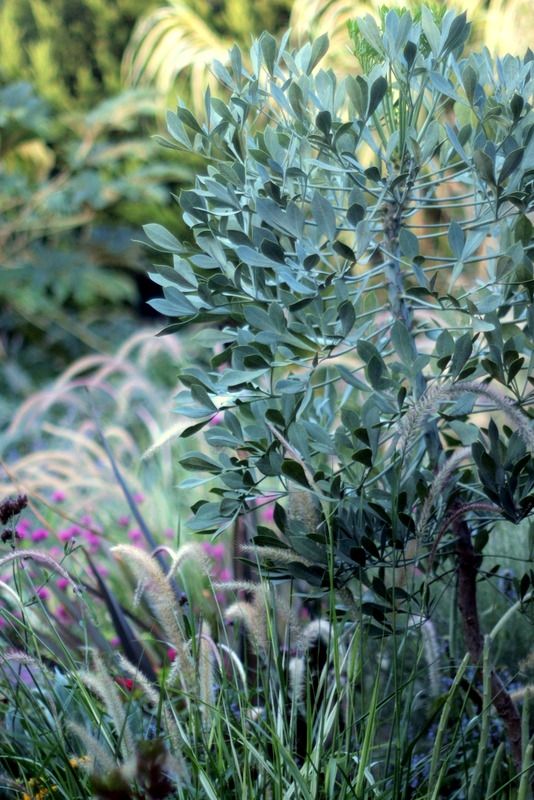 The plumes arch just where the Cussonia gamtoosensis canopy begins, a wonderful effect that's unlikely to be duplicated next year as the cabbage tree continues to grow. Today I watched for the first time as a sparrow landed in the baby cussonia, which to my mind makes it a real tree now.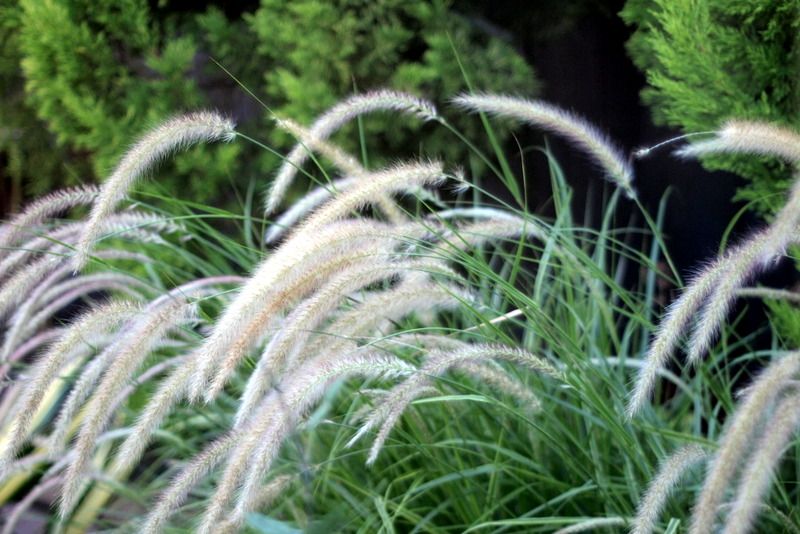 There's also two big clumps of this grass fronting the lemon cypresses on the eastern boundary*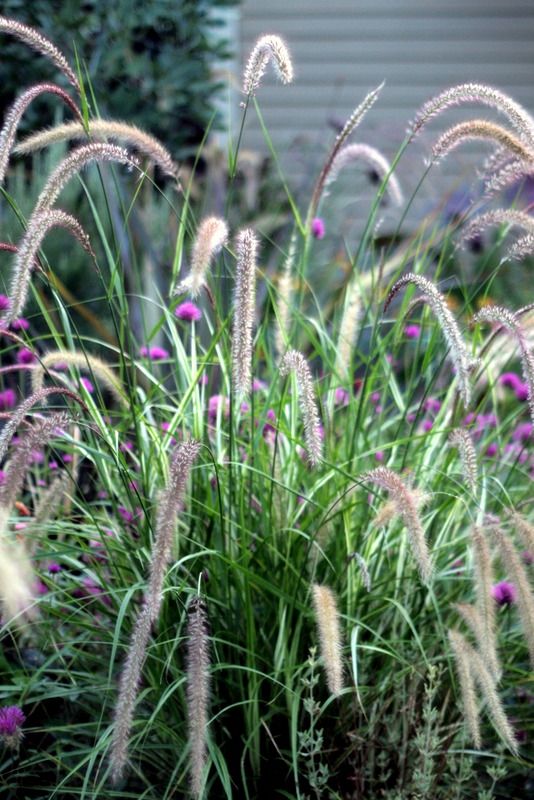 And another clump growing amidst Gomphrena 'Fireworks.' Both thrive on minimal supplemental water, which keeps them in trim, upright shape.
The front of the cussonia border, which shows how Aeonium 'Zwartkop' looks in its summer dormancy period here. I can appreciate 'Zwartkop's' skeletal form, as opposed to the giant 'Cyclops,' which was getting increasingly annoying in its off-season shabbiness, so it's been pulled out of the garden to be grown in a container. All the plants here are well adapted to low water use, except for a couple patrinia I foolishly included this year. Crambe maritima is doing really well, another plant I saw in several Portland gardens recently. Yucca, furcraea, gaillardia, adenanthos, coprosma, Pelargonium 'Crocodile,' anigozanthos, agastache, echium, Rekohu carex. A Beschorneria alba is in here somewhere too. Variegated St. Augustine grass is weaving through the legs of the aeonium and spilling onto the bricks. The iron pyramid was propping up a castor bean I recently pulled out.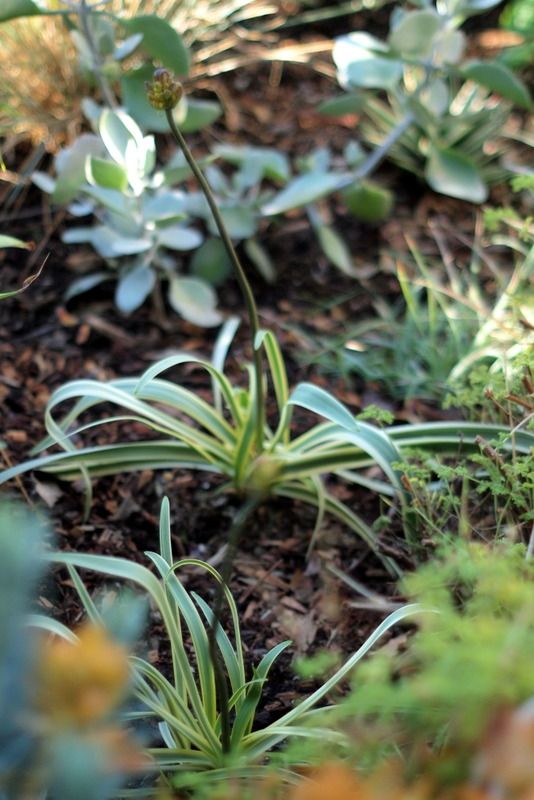 In 'Cyclops' place I decided to try agapanthus, something I'm as surprised to type as I was to purchase, having never brought one home before. This one is 'Gold Strike,' and it wasn't easy to find. I wrongly assumed I'd have the pick of tender varieties in inky blues, even deep purples, all within a few miles' radius of home. After all, they grow like weeds here. There must be a wonderful selection locally, right? And if not, there must be U.S. growers with extensive lists, right? Wrong on both counts. The best selection, of course, is found with UK nurseries. A couple years back I attended a lecture given by Dan Hinkley on what he's up to at his new garden at Windcliff, and a good part of the presentation was on his new-found love of agapanthus. "How suburban!" I thought at the time, and "Dan's going soft!" But as usual, Dan's right. Mature stands are tolerant of drought, make a mid-summer garden look fresh again, and now I can't wait to try them with Pennisetum 'Sky Rocket.' The deepest blue to be found locally is 'Storm Cloud,' but I'm not done searching around for other kinds with names like 'Purple Emperor' and 'Night Sky.' Still can't believe I'm shopping around for agapanthus, though.
A large mint bush near the 'Cyclops' aeonium was showing its age, so that was given the heave-ho recently too. Prostranthera never gets older than a few years in my garden and is well known to be short-lived. Waiting in the wings, outgrowing its pot was Eucalyptus 'Moon Lagoon,' which I intended on planting in the mint bush's spot in the fall. This is one of the mallee eucalyptus, which are more large shrubs than the towering giants Californians associate with eucalyptus.
Never much inclined to wait, I called Jo O'Connell at Australian Native Plants Nursery, where I bought the eucalypt, to ask her opinion. She said to absolutely go for it now, mid-summer, a woman after my own heart. And so it's been planted.
Speaking of suburban, how about some marigolds? (Now who's going soft?)
What an undeserving bad rap the bedding plants industry has given marigolds. The tall strains like this one, 'Cinnabar' from Derry Watkins, are so hot. If you don't have a bias against orange, that is.
And I don't think there's anything easier to grow from seed than marigolds.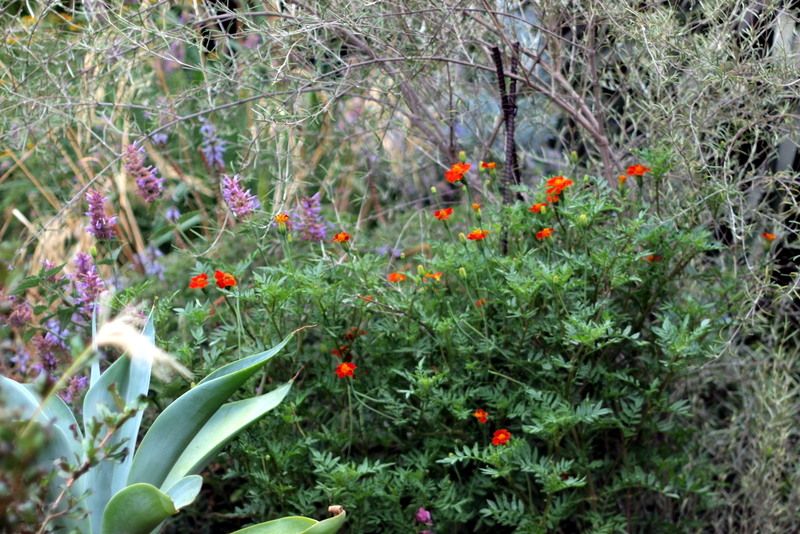 The grey shrub arching over the marigolds is Olearia virgata v. lineata 'Dartonii,' brought home from Far Reaches Farm a few years ago. ("If you've hankered for a willow but lament your dry conditions, then weep no more.") It was so cool to see this shrub growing against the greenhouse at Old Germantown Gardens in Portland recently, where it was tightly clipped in a more columnar form. The Agave attenuata is 'Boutin's Blue,' formerly 'Huntington's Blue,' not quite happy in full sun. In a large pot, it's the Goldilocks of agaves and gets moved around quite a bit.
Marigolds in the distance, the new Leucadendron 'Ebony' in the foreground, handling its first summer beautifully so far. The sideritis to its right wasn't so lucky, inexplicably collapsing a couple days ago, about a day after this photo was taken. Every so often around mid-summer, this mysterious soil-borne wilt process takes out a plant. I know in my absence the garden was watered really well for a change, and that might have kicked it off. The sideritis was one of two self-sown seedlings I found this spring, so it was a gimme anyway. I've already planted a couple Cirsium occidentale in its place. (Seeing the cirsium almost in bloom in Scott's garden in Portland was a nice moment too.)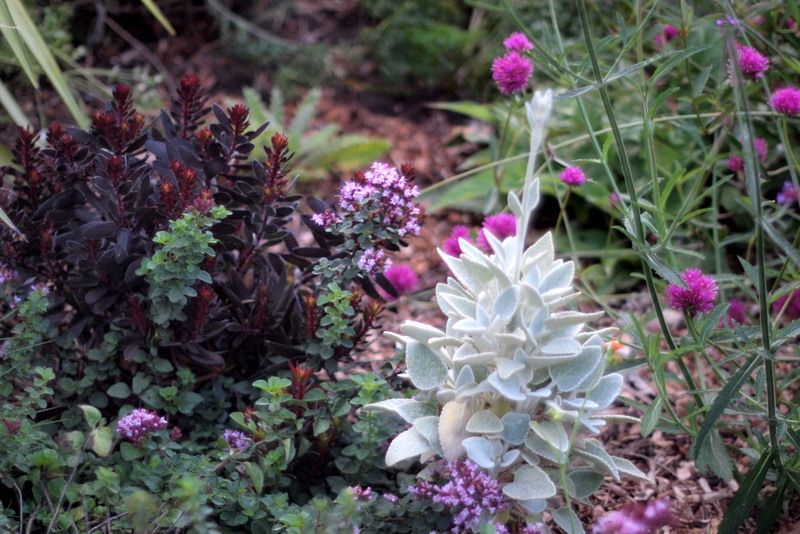 The Berkheya purpurea I brought home from Cistus a few weeks ago can just be seen behind the leucadendron. The oregano-like plant is Calamintha nepeta 'Gottlieb Friedkund.' Fabulous plant I've been spreading around the garden. From Digging Dog.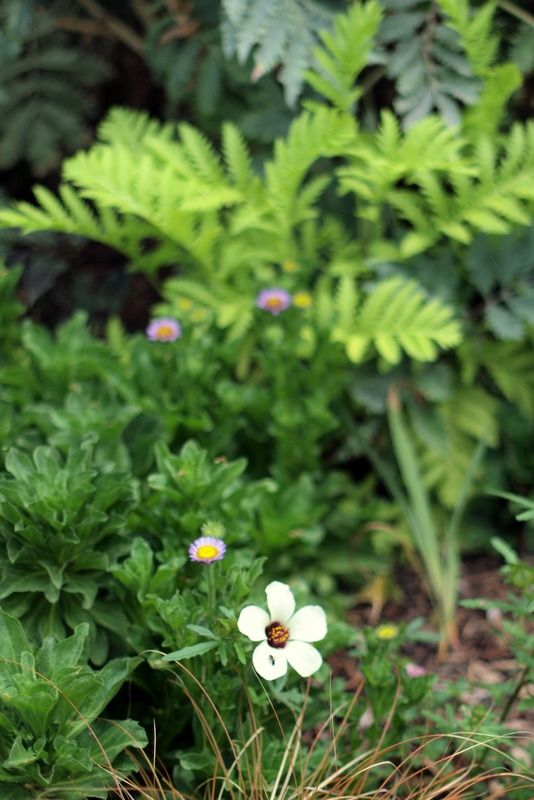 Another annual growing fast in the heat, Hibiscus trionum, seed also from Nan Ondra.
Rudbeckia triloba is everything I want in a summer daisy, except for its moderate thirst. There's a chance that if it self-sows, the progeny will be better situated for drier conditions. Slim chance, but you never know. And there'll always be gaillardia.
Eryngium pandanifolium in its second year, reliably blooming again, a great relief.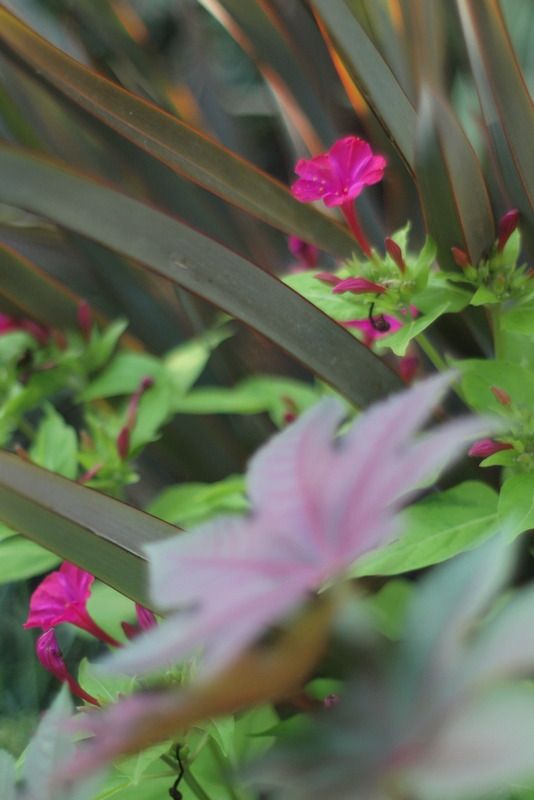 The 'Limelight' Miracle of Peru seed around, and a few are always welcome.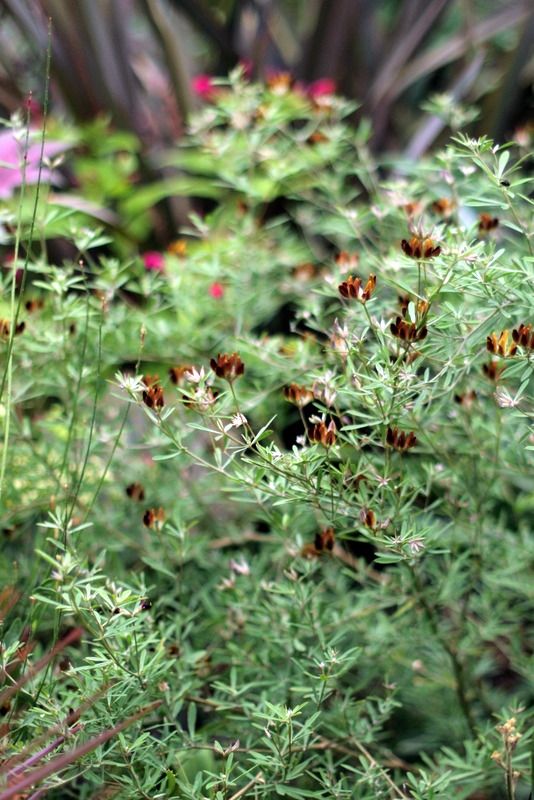 A potted Lotus jacobaeus has filled out well this year, much more so than when planted directly into the garden.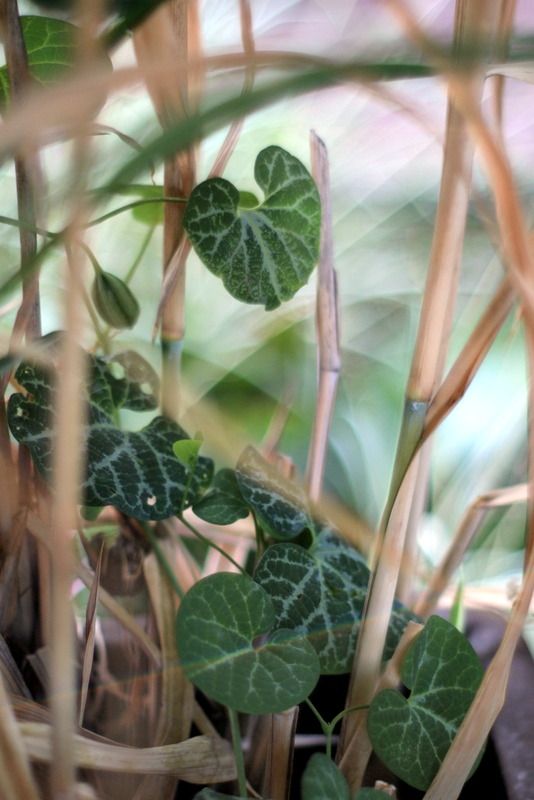 Aristolochia fimbriata scoffs at any neglect I throw its way. No surprise that it was included on the sales tables at a recent succulent show. It's that tough.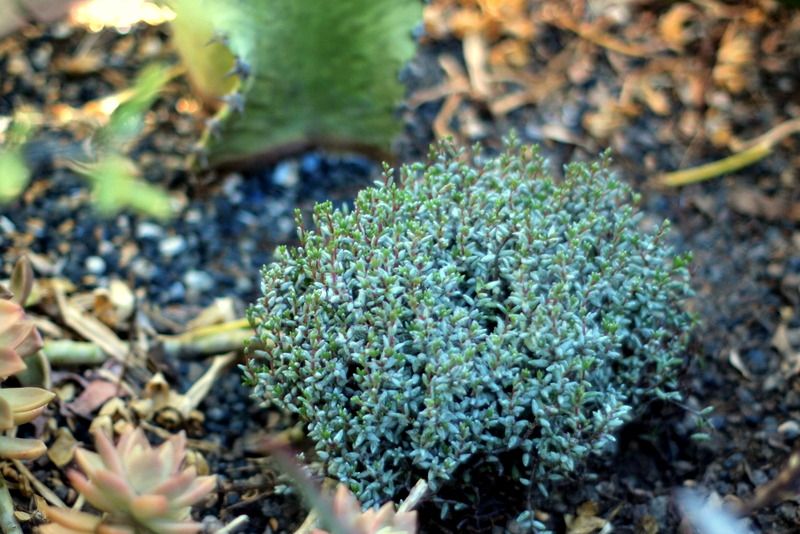 Crassula pruinosa, also brought home from Cistus.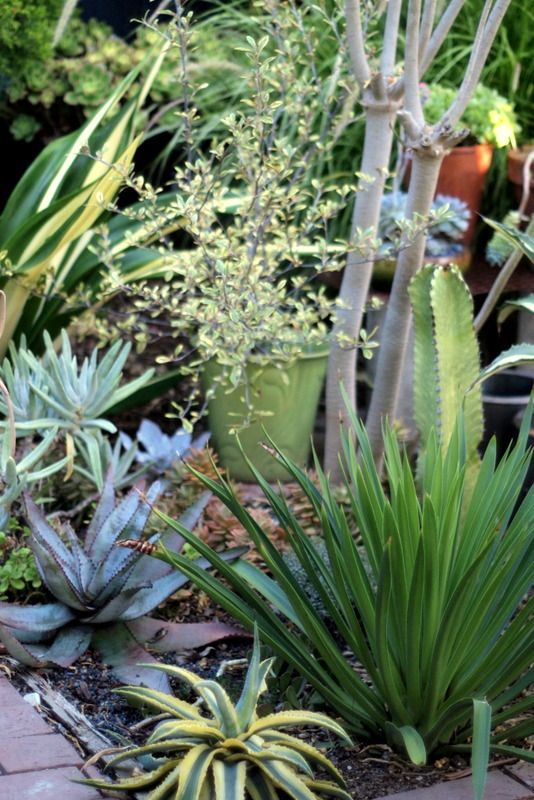 The crassula was tucked in at the base of Euphorbia ammak. That golden-leaved shrub thrives in pot culture, even the careless kind I practice.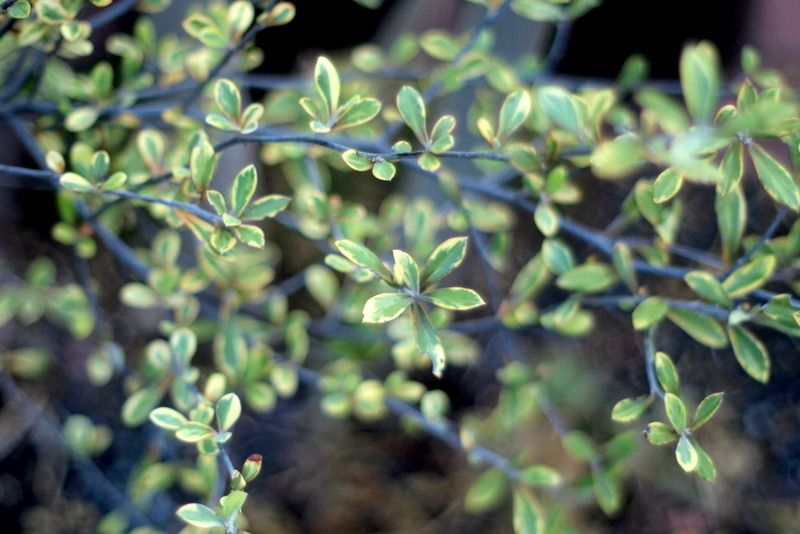 Really brightens things up. Corokia virgata 'Sunsplash'
Also doing really well in a container is the Shaving Brush Tree, Pseudobombax ellipticum.
And that just about takes care of mid-summer 2014.
*I keep neglecting to mention that one of the best attributes of this excellent grass is that it is sterile and therefore noninvasive, unlike Pennisetum setaceum.