It might seem kind of pointless to check out the local nurseries in the dog days of August. A lot of the inventory can look frazzled, but roaming the mostly customer-less aisles in August, armed with sunscreen, hat, sunglasses and smart phone for reference, is the perfect time to discover the true survivors. What shrubs are still managing to look respectable in gallon cans? (Westringia, adenanthos, ozothamnus, leucospermums are a few.) What stalwarts have I overlooked? Did anyone buy that Agave weberi 'Arizona Star' I've had my eye on? What's on offer in the "color" section in August? Will Echinacea 'Cheyenne Spirit,' the new seed strain, be durable or a meltaway type? August is where the rubber meets the steaming road, where all the buzz and fanfare evaporates under a punishing sun. That any inventory can still look at all presentable I find astonishing. Since these kind of retail nurseries oftentimes don't sell plants until they are in bloom, many times it's the only opportunity to grab August-blooming plants locally, even if it's not the friendliest month for planting. Other than the California chain of Armstrong Nurseries, with one of their stores just a couple miles from me, most of the nurseries I check on frequently are independents. None of the nurseries on my circuit are boutique, rare plant nurseries, which don't exist in Los Angeles, but a lot of their stock comes from solid growers like Native Sons, San Marcos Growers, Monterey Bay, Monrovia. (Northern California's Annie's Annuals & Perennials is available at Roger's Gardens in Newport Beach, Brita's Old Town Gardens in Seal Beach, International Garden Center near LAX, and Lincoln Avenue Nursery in Pasadena.) Other than Roger's Gardens, none are "destination" nurseries. Yet it always surprises me how each nursery's unique choices from the same pool of growers sets their inventory apart from other local retail nurseries. If you visit often (and I do!), a specific taste can be discerned even in the chain nurseries. Some may subtly favor edibles or succulents or native plants, while others may have strong selections of South African and Australian plants. So I really do have to visit them all.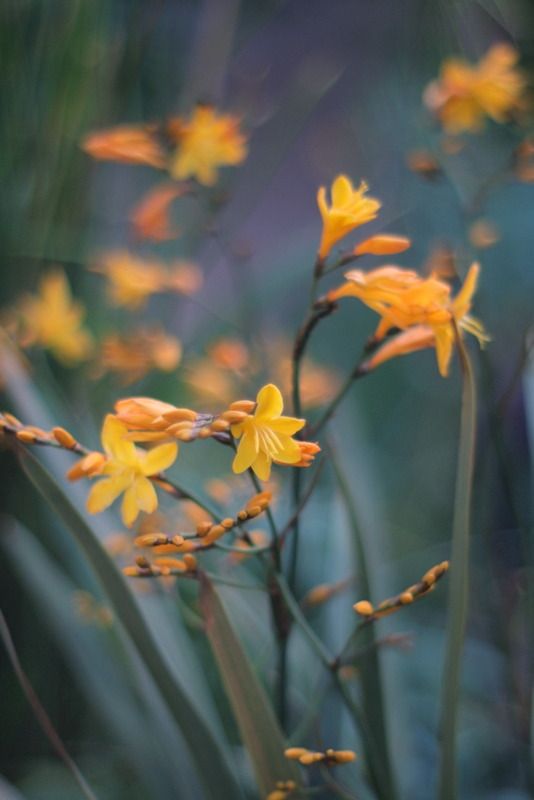 For example, Crocosmia 'Solfatare' was recently available only at H&H Nursery on Lakewood Boulevard near the 91 Freeway, right under the power line towers. I once had a huge clump of this crocosmia in the front garden, before Agave 'Mr. Ripple' moved into its place. It's always described as one of the slowest-growing crocosmias, but it seemed to multiply at good clip from what I remember. The leaves strike me as more a dull olive green than bronzish, as it's often described. The flower color is a galvanizing egg-yolk gold.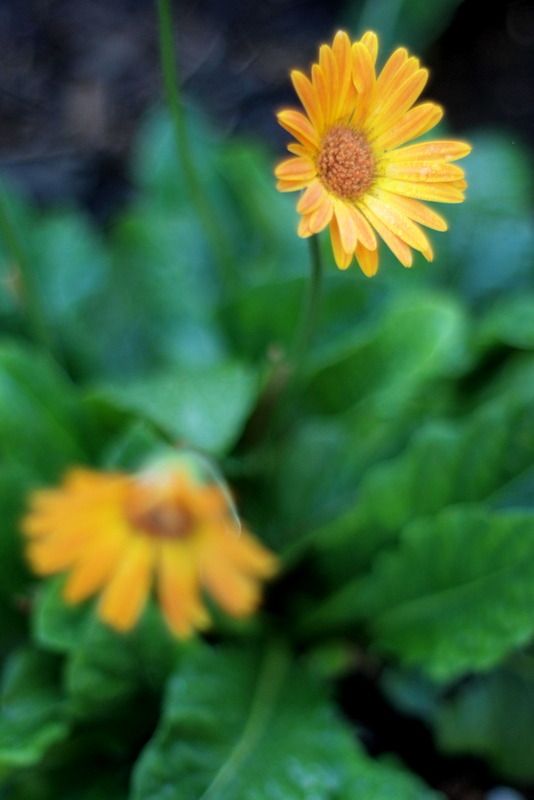 Gerbera 'Drakensberg Gold,' was available at just two nurseries, Village Nurseries in Orange and their next-door neighbor Upland Nursery.
This is a great new gerbera strain, a long-blooming cross with some sturdy alpine species, and the first time I've seen it offered in this color.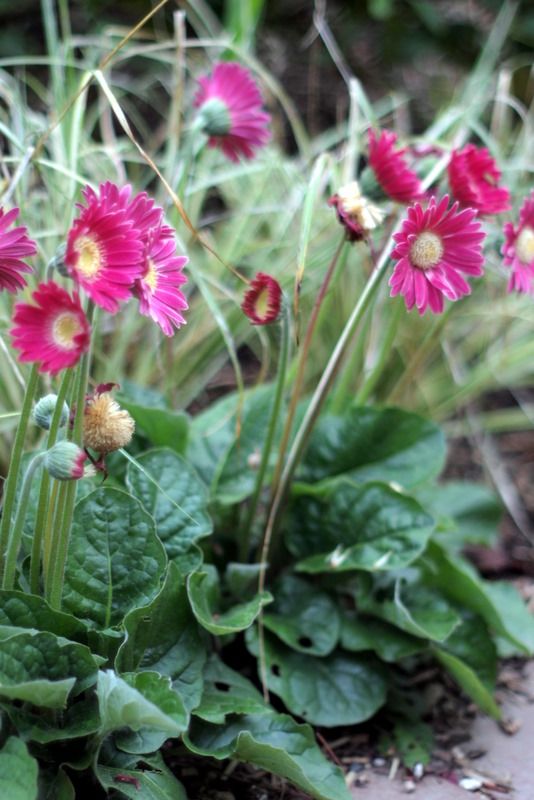 The pink form, 'Drakensberg Carmine' was an outstanding plant a couple years ago, that was almost too much of a good thing in that color. For me, anyway.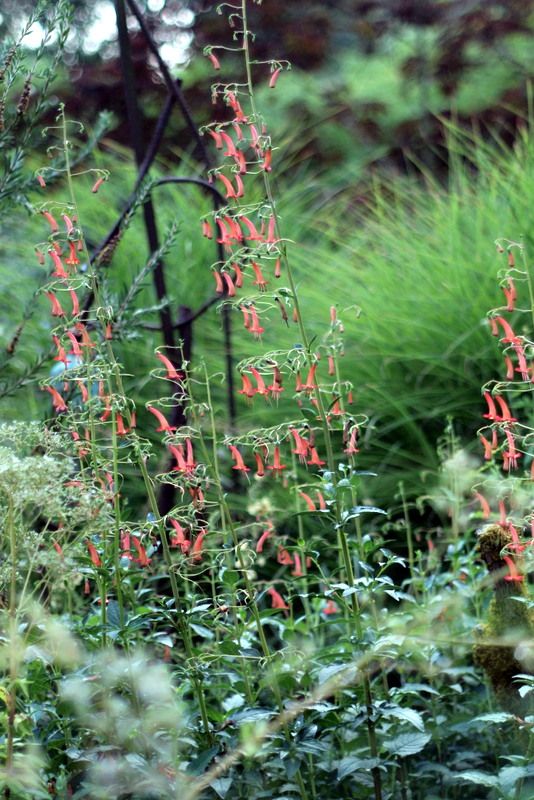 Phygelius in the Portland garden of Bella Madrona got me pining for phygelius again. This one may possibly be 'Salmon Leap' or 'Devil's Tears.' I have no memory of phygelius growing in this splendidly upright posture, always being somewhat of a sprawler in my garden, but this vision was enough to spur me to give 'Diablo' a try.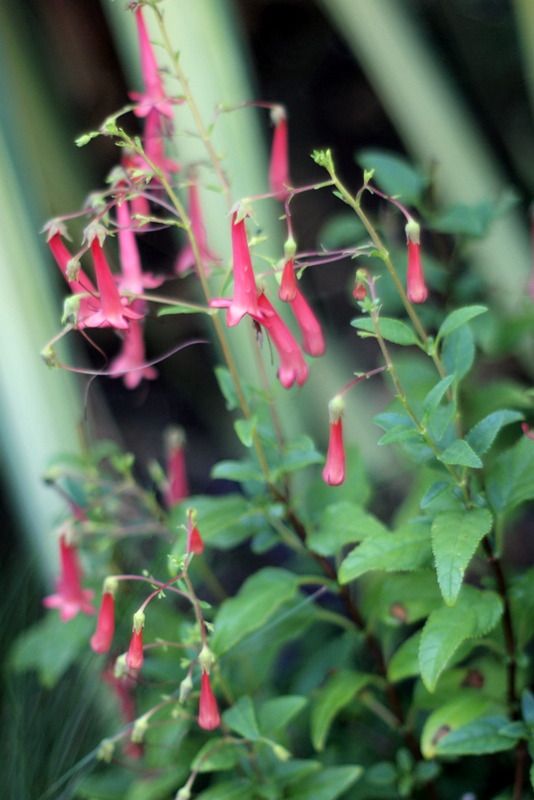 I found 'Diablo' at the local Armstong, just this one gallon available. Phygelius is another plant I grew years ago, usually in its chartreuse forms like 'Moonraker.'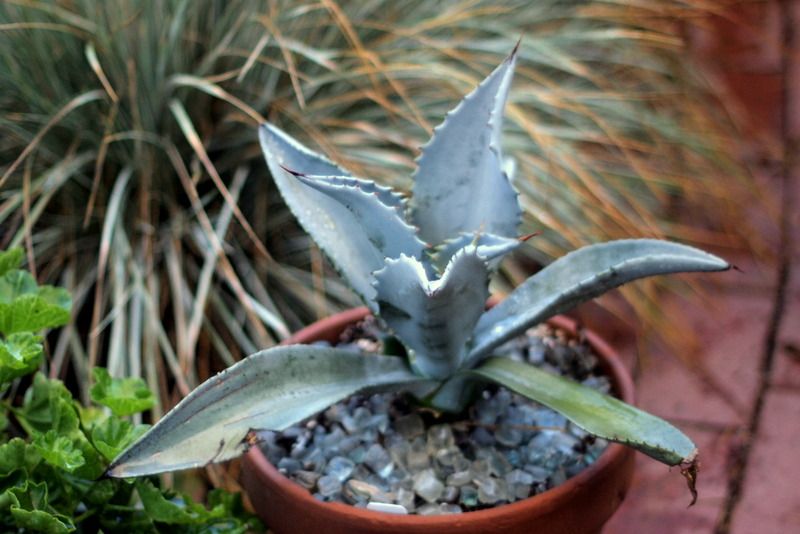 I recently extended my nursery hopping down into Orange County, where I found this small size of Agave franzosinii, just one available. Cindy McNatt at Dirt du Jour blogged that a beloved nursery, Laguna Hills Nursery, had found a new home on Tustin in the city of Orange. They had just opened and were getting settled in, but were extremely welcoming and friendly. Rare fruit trees and edibles look to be their specialty, but someone stocked this agave that's rarely found for sale, which I think counts as a good omen. This is an enormous agave when mature, so I'll keep it in a pot as long as possible to contain its ultimate size.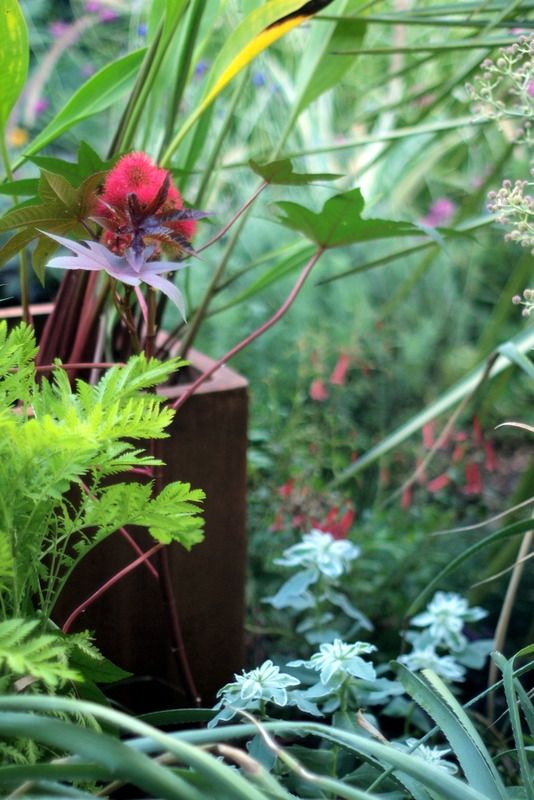 Snow on the Mountain tucked in by the little water garden. The Sagittaria lancifolia 'Ruminoides' was found at the International Garden Center.
There were a couple other nurseries on that same street, Tustin, so I made an afternoon of nursery hopping in the OC, and each one had something unique to offer. At M&M Nursery, "home of the original fairy garden experts since 2001," (who knew?) I found the annual Euphorbia marginata amongst a very good selection of out-of-the-ordinary annuals. At Village Nurseries, as mentioned above, I found the 'Drakensberg Gold' gerbera as well as 'Storm Cloud' agapanthus. Upland Nursery was literally next-door to Village, so even though the heat was way past oppressive by mid-afternoon, I stopped in at Upland before swinging home. They specialize in plumeria, which sounded interesting though not really up my alley, but I was up for a quick first-time visit.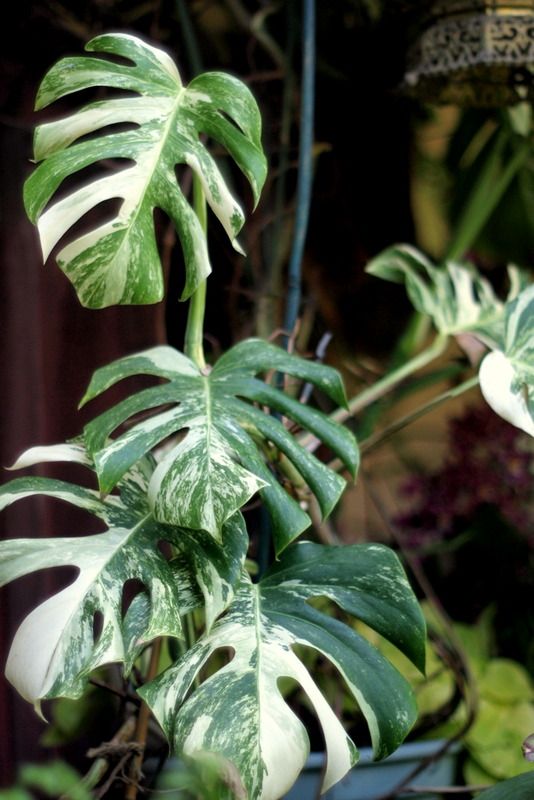 Variegated Swiss Cheese Plant, Monstera deliciosa, seen in an LA garden last May.
I ended up walking Upland's entire long and narrow length, investigating each of its specialty rooms off the main path, because it became quickly apparent that Upland had some surprises up its sleeve, like the variegated swiss cheese plant tucked into a corner, the first I've ever seen offered locally, or an agave I'd neither heard of nor seen before, like Agave ellemetiana. Upland is the first local nursery I've found to carry Eucalyptus 'Moon Lagoon.'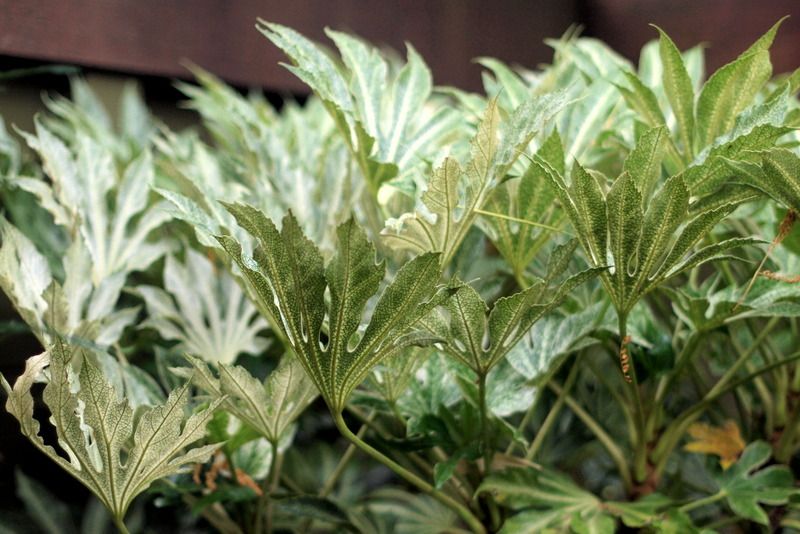 Fatsia 'Spider Web,' still unavailable in Southern California.
Upland was just an extraordinary place, with a personal, mom-and-pop atmosphere, where you'd bump into such amazing sights as grevilleas grown on standard. I searched it thoroughly, because I half expected to find the 'Spider Web' fatsia lurking in a shady corner. There was lush hanging rhipsalis and big, mature display plants to give an idea of what the little 2-inch succulents would grow into. The entire back section was devoted to Japanese maples. I asked the owner about the possibility of getting the monstera in a smaller, more affordable size, and she said spring would be the time to check back. When I asked if there was a drinking fountain, she reached into her fridge and handed me a bottle of water. With that gesture, they made a customer for life.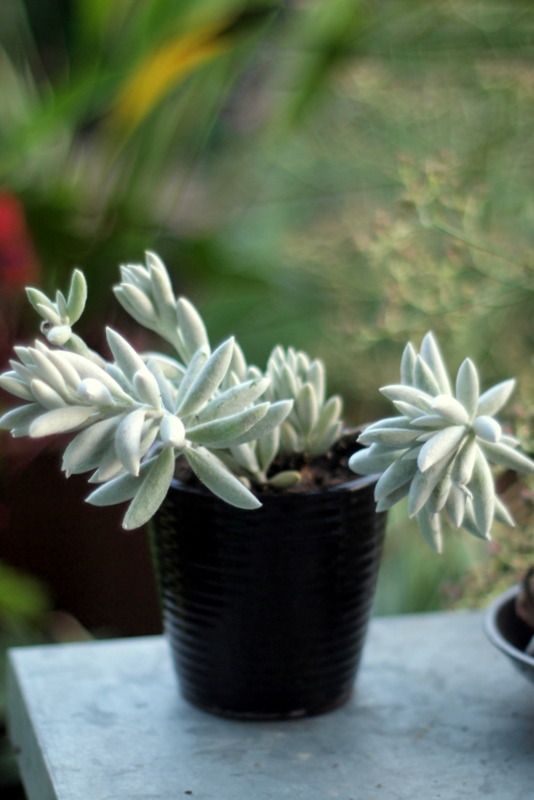 Seeing a huge display pot of Senecio haworthii at Upland Nursery sealed the deal on a succulent I've passed over many times.
Up in Pasadena, at Lincoln Avenue Nursery, a big, lusty Agave 'Mateo' had me checking the label for its identity. At a mature size, it looked nothing like my wispy-leaved 'Mateo.' The venerable Burkhard's just around the corner continues its mysterious decline, with the plants in a sad neglected state, but wouldn't you know they had the variegated vilmoriniana agave I've been coveting, $60 for a big specimen. Not a bad price, especially at Burkhard's, but I passed. The nursery is a shambles but still worth a prowl. Poorly maintained plants sold at exorbitant prices is the perplexing current state of affairs, but even so there's many gems you just can't find anywhere else. Also somewhat of a surprise recently is finding Sunset's line of plants, like the new 'Amistad' salvia, astelias, dianellas, carex, digiplexis, and the 'Soft Caress' mahonia, at Home Depot. International Garden Center, Village and H&H have the most extensive grounds and probably the most sophisticated inventory, and each could easily swallow an hour's time. IGC is the place to find water plants, and their succulent selection is one of the best. At IGC plant stock past its prime isn't thrown out but moved to a row way in the back, where it can be had for cheap. Many times unsold stock is potted on to larger sizes, such as the currently available Echium simplex. I also check in with the exceptional Marina del Rey Garden Center when I work out that way and have noticed their increasingly fine selection of bromeliads and unusual edible plants.
And that's the August nursery report. They may not have the rarefied atmosphere of botanical gardens, but retail nurseries are the places to experience where culture, commerce, and plants collide.