Because of this house, I spent a good part of yesterday afternoon trying to source a flat of Sesleria autumnalis or Sesleria 'Greenlee.'
No luck yet, but I will not be deterred.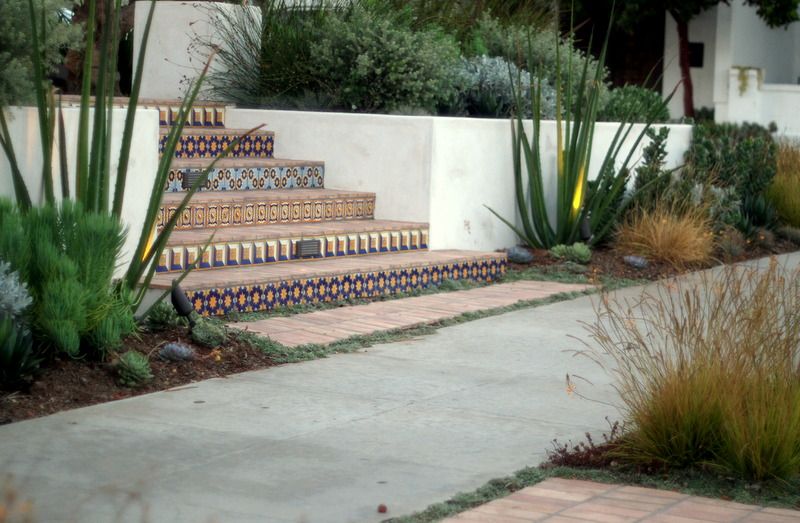 It's true, I love all kinds of gardens, the hand-made, the collector-driven, the sleek, the rustic. And I can very much admire a garden design whose brief might be "Give me something tough and textural that I don't have to mess with too much. Something that brings out the beauty of my fabulous Spanish house." (In this case, whether that brief was a note to self or given to an outside designer, I don't know.) The two-story, Spanish-style house faces east. Upper terrace includes restios, phormiums, foxtail agaves, westringia. A no-nonsense checklist of sturdy, beautiful plants.
A discreet, streetside glimpse of the blue ceramic fountain in the graveled courtyard beyond the retaining walls.
The tiled stairway is flanked by Furcraea macdougalii. Someone very wise chose to light the furcraea at night. Dymondia margaretae creeps where the stairs meet the sidewalk and around the hardscaped "landing pads" in the parkway.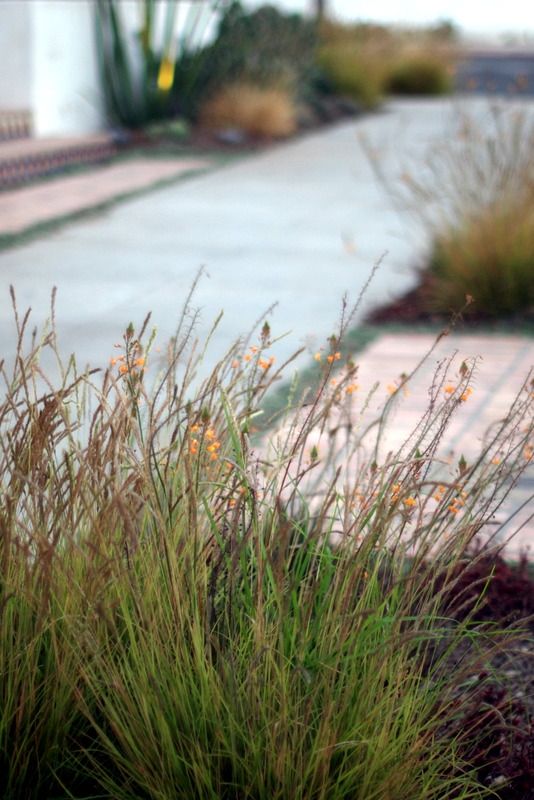 Very sensible to build into this long parkway generous areas for foot traffic and parking cars. Because when it comes down to foot vs. plant, the foot always wins.
Sesleria and bulbine in the parkway. Furcraea and Senecio vitalis against the retaining wall.
Closeup of the vigorous silver next to Senecio vitalis, which looks like beach wormwood, Artemisia stelleriana, with 'Blue Glow' agaves.
Restios flank the staircase at the upper level. Each column holds a bowl of Echeveria agavoides
Looking down the sidewalk at the wonderfully controlled gradations in height.
Another succulent repeated in the design is shrubby Senecio decaryi from Madagascar.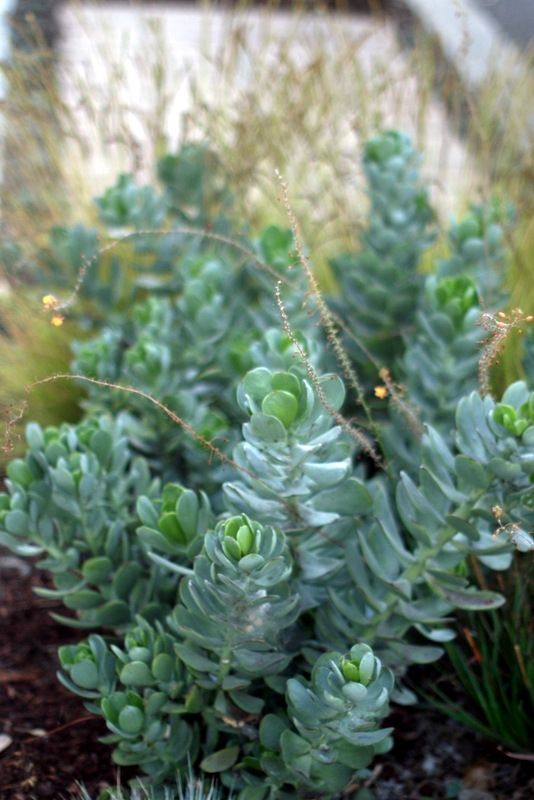 Not very often seen, it was misidentified as Senecio amaniensis when I acquired it from the California Cactus Center. This senecio grew in my front gravel garden but became infested with climbing asparagus fern and has been replaced with a Leucadendron 'Golden Tip.'
It can get very big and lanky if not clipped regularly.
These plantings look fairly young.
Turning the corner.
And the north side is lush with aeoniums, the Myer's foxtail fern, variegated dianella.
The narrow gravel courtyard wraps around the house, ending in the bench in the background on the north side.
Possibly Ligularia tussilaginea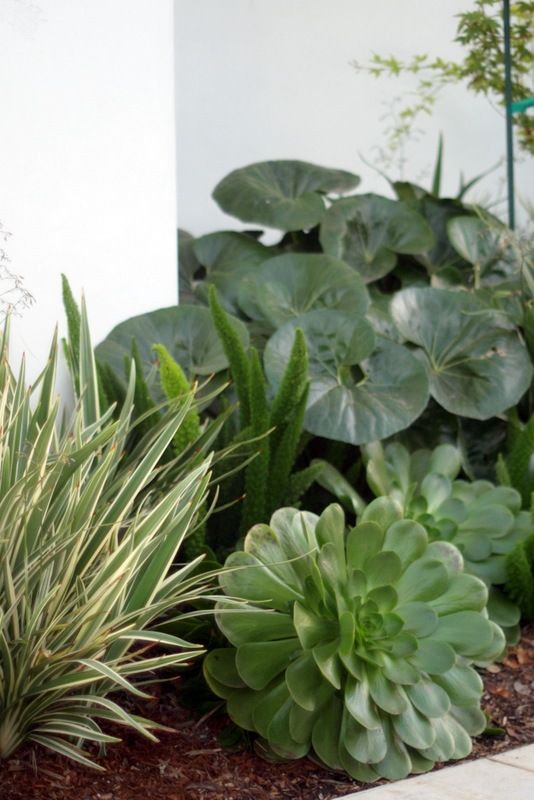 Generous landing pads to access streetside parking continues on the north side.
More Senecio decaryi.
Back to the east side. These two seem such a natural together, the sesleria and bulbine. Funnily enough, I do have bulbine planted under the jacarandas in a short stretch of our parkway but didn't water them all summer. Bulbine is a tough plant, but not that tough.
Last light on Echeveria agavoides, and I still had to find something for dinner.