The drive will be considerably shorter for me to this year's Natural Discourse, which will be held close to home at the Los Angeles County Arboretum & Botanic Garden:
"A symposium presented by the Garden Conservancy and the Arboretum that will explore the connections between art, architecture, and science within the framework of the botanical garden."
Natural Discourse: Light & Image
Saturday, October 18, 2014, 9 a.m. to 5 p.m.
301 North Baldwin Ave
Arcadia, CA 91007
Wahoo! Garden designer/Natural Discourse curator Shirley Watts assembles a mesmerizing group of storytellers in a day-long event that has no equal in the botanical world.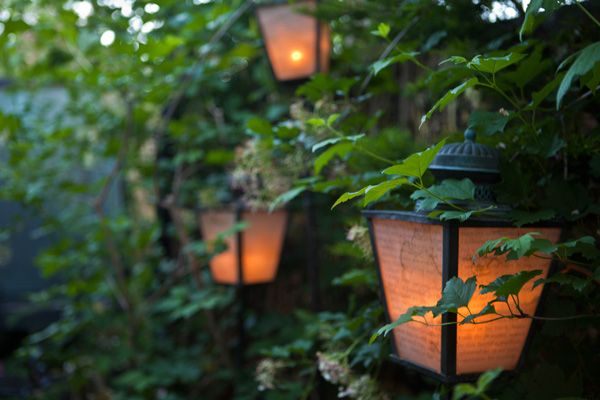 Coincidentally, and perfectly in keeping with this year's theme of Light & Image, Shirley's lanterns inscribed with excerpts from Mary Shelley's Frankenstein made the cover of Pacific Horticulture this month, with photos by MB Maher, and an interview by Lorene Edwards Forkner: "Artful Gardens; A conversation with Shirley Alexandra Watts." 19-year-old Mary Shelley famously conceived of the idea for her novel Frankenstein while vacationing with friends in Geneva, Switzerland. The weather was miserable, so they passed the time indoors in an impromptu game of Can You Top This Scary Story. (I think it's safe to say that Mary probably won that game hands down when she recounted the germ for the story that grew into her book: "I saw the hideous phantasm of a man stretched out, and then, on the working of some powerful engine, show signs of life, and stir with an uneasy, half vital motion. Frightful must it be; for supremely frightful would be the effect of any human endeavour to mock the stupendous mechanism of the Creator of the world.")
All of which proves that sparks fly when like-minded people gather to entertain each other. See for yourself at Natural Discourse tomorrow, Saturday, October 18, 2014, 9 a.m. to 5 p.m.
You can search the blog for the many posts I've written about previous Natural Discourse symposia, such as this one here.