One of the best things about fall is being able to dig again. Since it's cooled down, I've been digging in the vegetable garden plot and can't resist moving things around at home too, such as this tall, lanky succulent that I've finally planted in the back garden. It had tripled in size from when I brought it home in 2011 and plopped it, still in its nursery can, into a large pot by the east gate. It seemed to love the morning sun, afternoon shade there, so I left well enough alone. But always I've been tempted to try this assertively vertical succulent in the back garden, where I'd be able to see it more often. I finally got up the nerve to do it over the weekend. I knew the large pot's tall sides were providing support for the long, 6-foot stems but didn't realize to what extent until I had lifted the 5-gallon pot clear of the rim, and the top-heavy plant immediately fell sideways, nearly catapulting out of my arms. Amazingly, no stems were broken in getting it into the ground, and once the hole was backfilled it stopped rocking and listing. With the big container no longer providing support, the stems initially splayed out in all directions but then ultimately found their balance, arranging themselves in a vase-shaped equilibrium.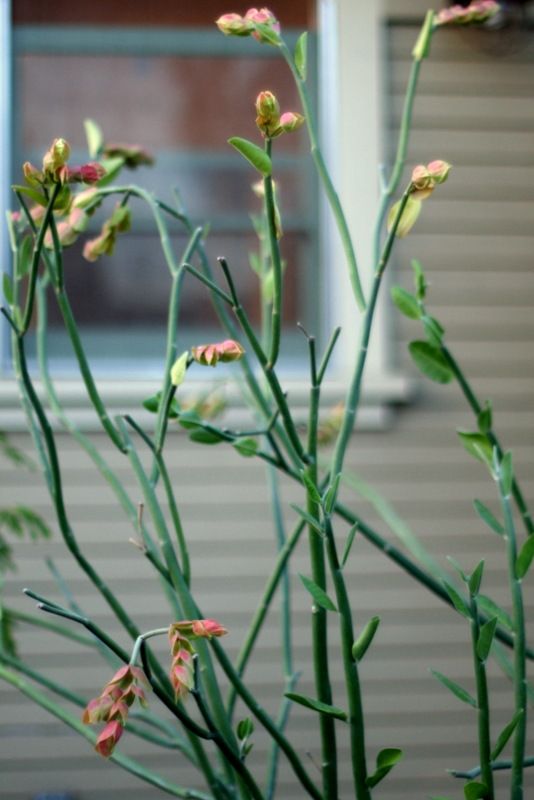 Nearly leafless, it gives a similar silhouette as an ocotillo but without the potential for injury. It's completely smooth, thornless.
A clump of the New Zealand evergreen grass Harpochloa falx was getting overwhelmed by other plants, and after moving it I realized there might be space enough for the pedilanthus if some aeoniums and sedums were moved too. With everything cleared out, the lanky brute was able to be squeezed in among the remaining agaves, dry conditions perfectly to its liking. The pedilanthus had more than proven its drought-tolerant chops by residing in that 5-gallon nursery can for three years on a semi-forgetful watering regimen and still managing to grow over the top of the gate.
The only question is how it will manage now in full sun rather than half-day sun. I'd hate to have to move it again. I'll revisit that question next summer.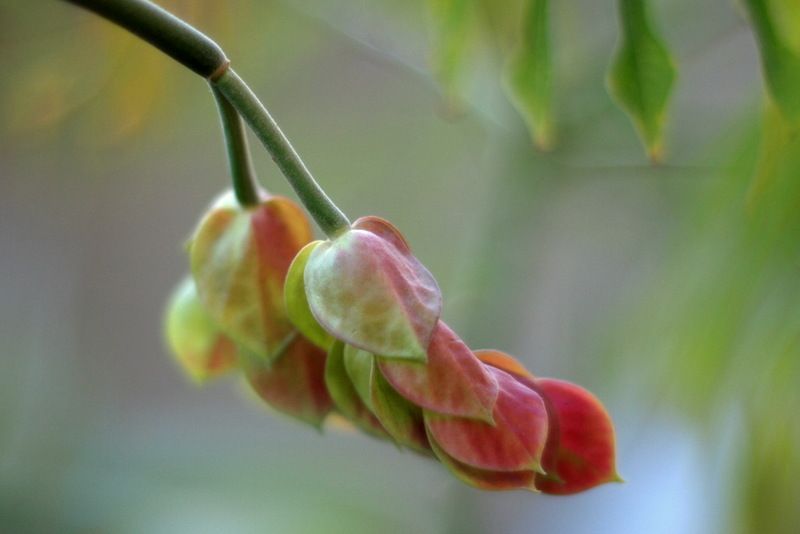 Because of it's height, I rarely got a glimpse of the ruddy bracts.
Now that the big pot no longer girdles the stems and they've relaxed downward a bit, I can enjoy the bracts in all their bizarre, shrimpy-green coloration.