I didn't leave the house Sunday, so wandered the back garden this morning in search of something newsworthy to report.
This large container seems to be coming along nicely. Just recently it was rim-rolled into the back garden again to act as a cache pot for a Corokia virgata 'Sunsplash' and some fish-hook senecio.
(Rim-roll: Tilt the pot on edge, grab the rim like an oil roughneck grappling with a big valve, and spin it round and round.
Then gently guide the pot as it gains momentum until it practically twirls itself to the desired destination..)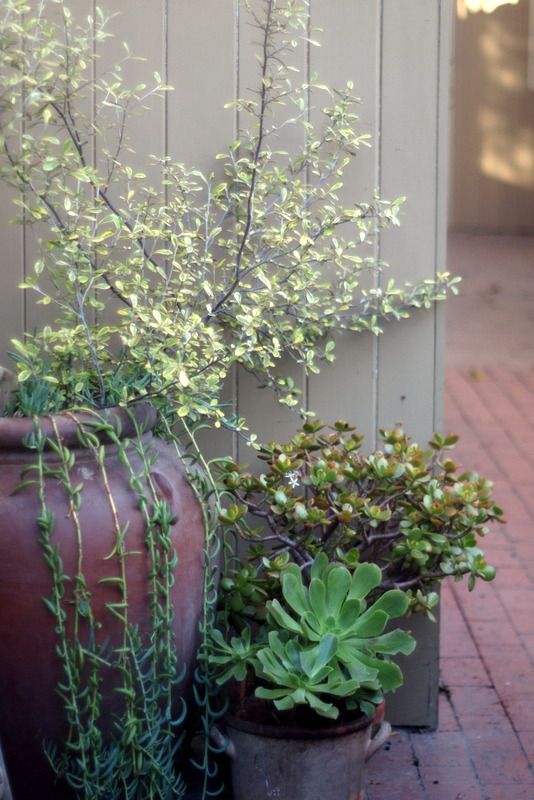 A stack of bricks was used to elevate the inner pot of corokia and senecio flush with the rim.
A jade plant just coming into bloom and winter-fat green aeoniums have found their way here too.
All of these plants suffered varying degrees of neglect throughout summer, some coming perilously close to death, but they always recover in fall/winter, growing plump and juicy again.
In the case of the jade plant at least, my neglect coincides nicely with its cultural preferences of summer dry/winter wet.
Oh, the many lives of large, empty vessels. They can gurgle as fountains, as this one did in the back garden for many years (photo taken in 2009 by MB Maher).
Or they can remain empty, looking all monolithically solemn and imposing. But I consistently fail at leaving any container empty for long.