There's bound to be something doing well, no matter what the weather, if you just can't keep yourself from stuffing all kinds of plants in your garden. Vegetable growers know this too well; the green beans crop in bushels while the tomatoes languish, but it also goes for ornamentals. The grasses might be having a good year while the tropicals sulk. It's a rare year when everyone is happy.
A friend told me that the first 15 days of July along the coast in Southern California were cooler than the first 15 days of last January. This Blue Vine Sage has been having a fine summer with these record low temps.
The leaves are constantly chewed upon, a culprit barely visible on the left in the above photo, but the flowers keep coming.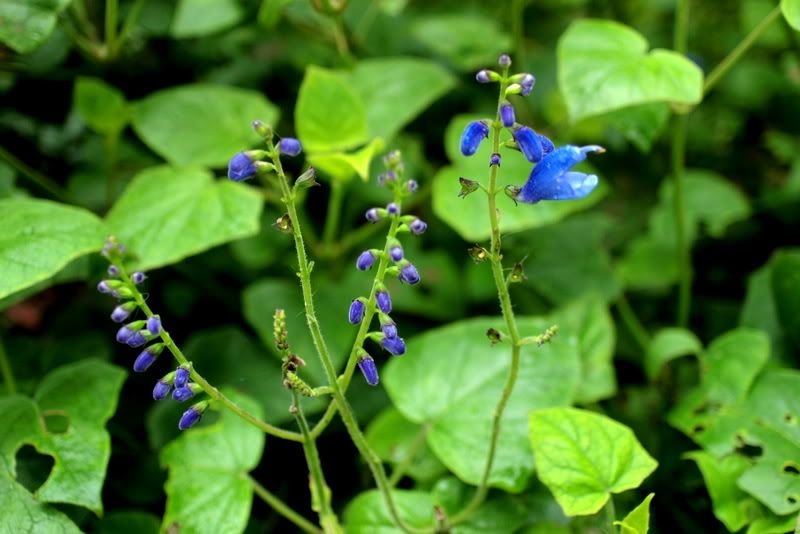 That this cool summer has been very much to the liking of this salvia is no surprise, since its habitat is the high pine and oak canopies of the mountains from its native Chiapas, Mexico, and in Guatemala and Honduras, 5000-8000 feet. It is believed that Strybing Arboretum in San Francisco and the Huntington Garden in Pasadena, California, introduced this salvia to California gardens in the 1970s (from Betsy Clebsch, The New Book of Salvias: Sages For Every Garden.) Hardy to 20 degrees but makes a great container specimen even when not in bloom, for its succulent, intensely green, triangular-shaped leaves and viny habit alone.
Salvias were a rabid enthusiasm about ten years ago. Although I don't trial as many new ones currently, I always keep a few salvias in the garden. The hummers would probably go on a homicidal rampage otherwise. Salvias could patent the color cobalt blue.
Even a plant tough enough to be named the Cow Horn agave, A. bovicornuta, appreciates a little cloud cover and overcast skies.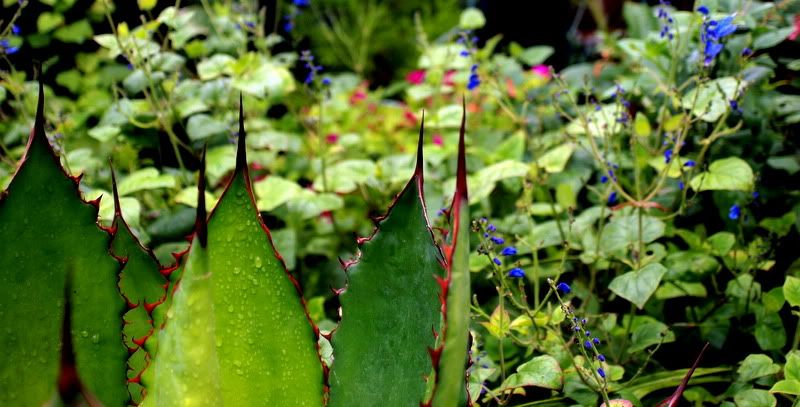 And I'm not complaining either.