I've gradually been filling the garden with mostly shrubs, grasses and succulents. Very few perennials, with just a couple exceptions, like kangaroo paws. And I mentioned back in August finding some of this newish gerbera hybrid in gold/orange. The pink version, 'Drakensberg Carmine,' is what piqued my interest in this line of small-flowered but very garden-worthy gerberas. But I wasn't sure if that vigor would extend across the color range.
It looks promising so far. (Plant Delights lists this gerbera series as hardy to zone 7b.)
Yes, there's osteospermums and arctotis for daisies on the tough side for zone 10, if your garden is spacious enough to accommodate vast, sprawling carpets. But I think I've found my daisy. Long-necked, with nodding flowers that do a charming radar-dish swivel in multiple directions simultaneously.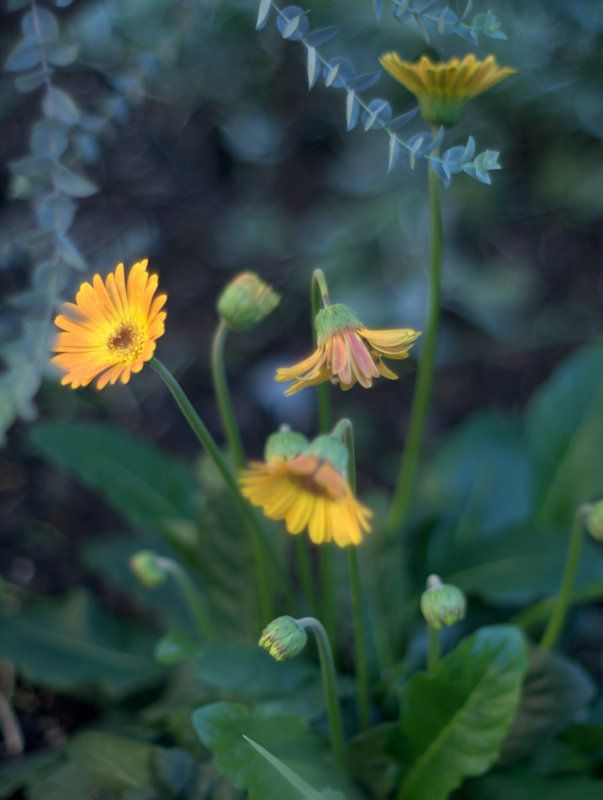 And with orange of this purity and clarity, to me quantity of bloom is irrelevant. Not to mention that contrasting darker eye and ruddy brushwork on the outer petals. And what a nice coincidence that everything else is mostly silvery and blue here. Isoplexis leans in on the right, which will have orange flowers too. Weird. You'd think I planned it. The grass in the foreground is new to my garden this year, Elymus 'Canyon Prince.' It would have to develop some inexcusably bad faults to make me stop loving it. Silvery succulent is Kalanchoe hildebrandtii, with the bluish leaves of Eucalpytus 'Moon Lagoon' in the background.
I cut about a foot from the leader of the eucalyptus, since I'll be growing it as a shrub and cutting it frequently to promote those sexy juvenile leaves. I saw a mature 'Moon Lagoon' tree at Jo O'Connell's nursery near Ojai, which is an entirely different animal in its green adult leafage.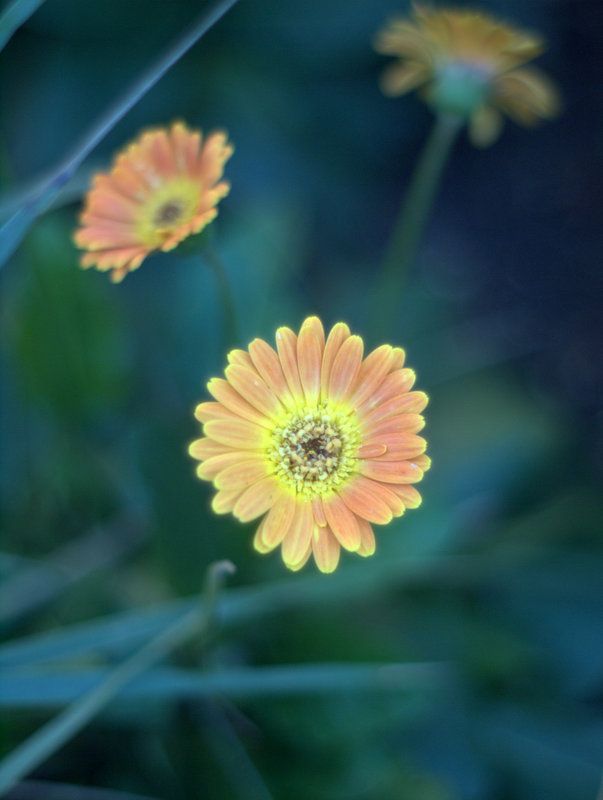 This series of gerberas was bred by German nurseryman Peter Ambrosius. Mr. Ambrosius has recently donated his 45-year-old collection of hybrids to the gerbera's place of origin in Barberton, South Africa. The collection will be the foundation of Gerbera Park, in honor of their native flower they call the Barberton Daisy. Mr. Ambrosius included an alpine species in the Drakensberg hybrids that conferred a tough constitution and that neat, clumping habit of growth. Outside of South Africa, most of us know gerberas as those huge florist flowers with an incredibly long vase life.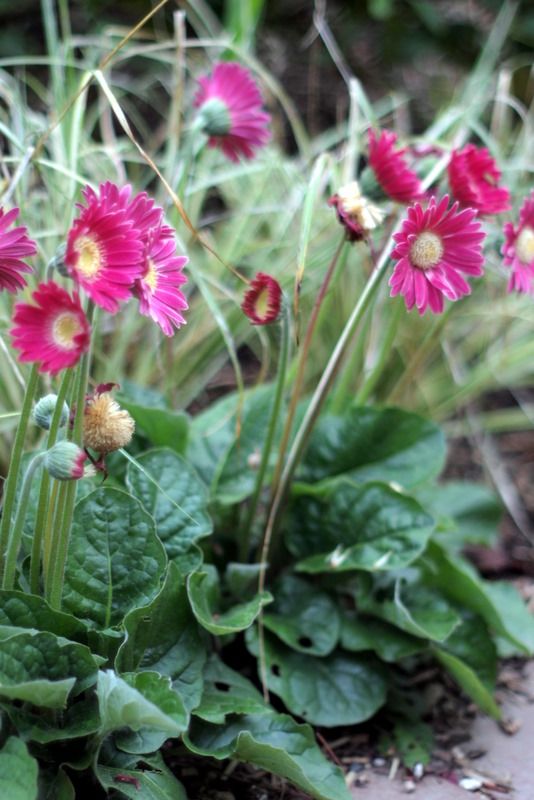 An old photo of 'Drakensberg Carmine.' Anthericum saundersiae 'Variegata' is the grass-like plant. Obviously there's something about grasses with these gerberas that I keep coming back to.