I've been busy moving this little blue grass, Carex glauca, (really a sedge) to various spots the past few days. This photo, with Echeveria nodulosa, is from May 2010.
A couple prominent blue echeverias have been sustaining heavy snail damage all summer. This morning I once again noted the disgusting appearance of their chewed-up leaves but, instead of sighing and looking away, realized here's a perfect place for the little blue grass to flaunt its immaculate good looks.
A 6-inch gap between the bricks and Miscanthus 'Gold Bar' has been staring at me all summer. Another opportunity for the little blue grass to finish off an edge, it occurred to me yesterday morning.
And this little grass, only 5 inches or so high, is so tough that when the blinding thought occurs that its presence is also immediately required elsewhere, no matter how clumsily you separate it from the main clump, it doesn't complain. Today I pried a large clump away from this spot it shares with Sedum nussbaumerianum. I hadn't noticed the typical sedge blooms until I started digging it up, they're that insignificant.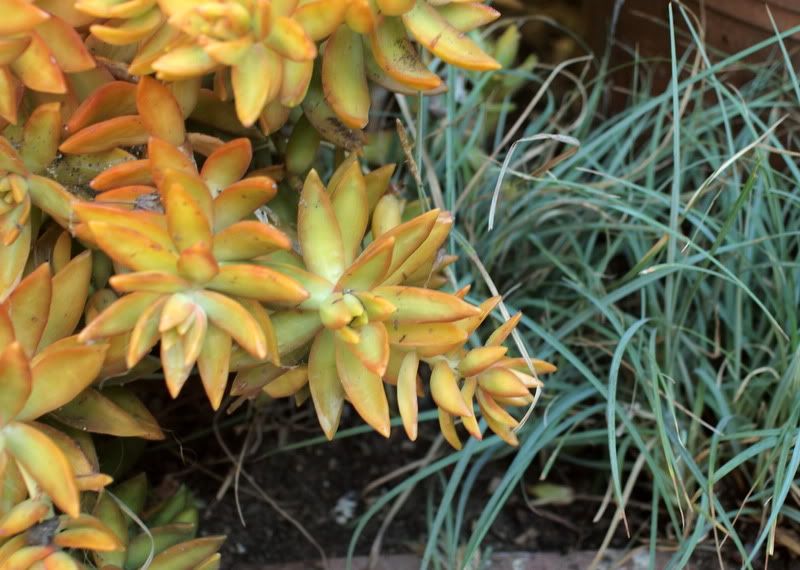 Double-checking its growing requirements today, I found a wide range of advice, from needing even moisture to drought tolerant. It handles both conditions in my garden. It's also called Carex flacca, and the San Marcos Growers site says it even tolerates light foot traffic. Now, there's an idea worth exploring, a nice blue ruff among pavers, for instance, where it loves to grow anyway. In my zone 10 garden about a mile from the ocean, this little blue grass is one tough monkey for full sun and shows good drought tolerance, but at the same time isn't terribly invasive either, though it does spread slowly by stolons. The one failure to report was a western exposure, no supplemental irrigation, and occasionally having to withstand the wheels of my son's Miata, a lot to ask of any grass.
It's a great little sedge that I don't hear much about, that I tend to take for granted because it goes about its business without any fuss or drama, but now I'm beginning to see spots for it everywhere. Zoned for at least 5-9, with some reports to zone 4.