I love garden surprises. Sure, there is some planning involved, but because the garden supports a collecting habit, the big picture is usually uncertain and often a mixed bag. What the collecting id of my psyche is up to all year is anyone's guess, including mine, and uncertainty prevails. Excitement too. With spring comes the big reveal.
This year's reveal shows a pronounced orange and blue theme.
There's a big, bold orange and blue statement with Eucalyuptus 'Moon Lagoon' now that Isoplexis isabelliana is in bloom.
But there's orange and blue everywhere.
Agave franzosinii with Phygelius 'Diablo' and Sphaeralcea 'Newleaze Coral'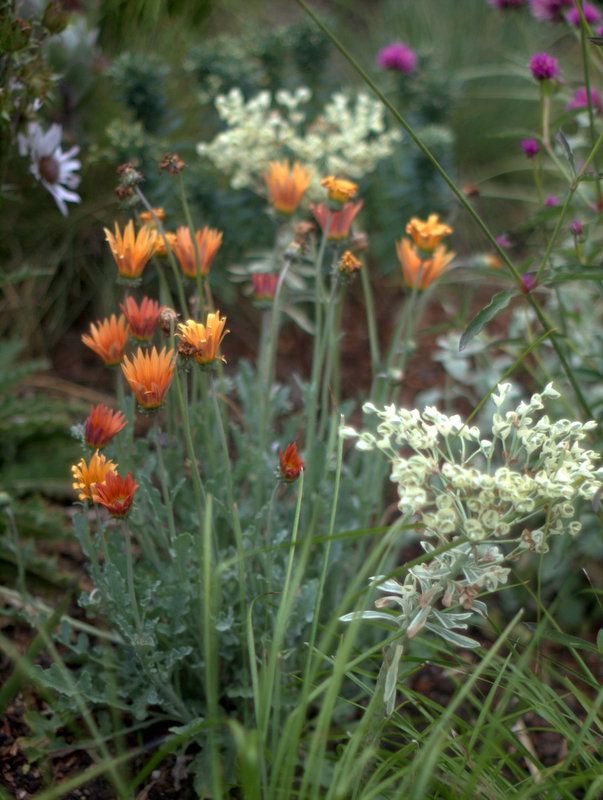 Arctotis 'Opera,' one of about three clumps threaded through lomandra, anigozanthos, euphorbias, still a youngish planting. The only real plan was for summer daisies to be orange, so orange varieties of arctotis and osteospermum were selected. The rest is all collector mania. Gomphrena 'Fireworks,' magenta bobs on the right, has been perennial. This is its second (or third?) year. It's a pretty close substitute for alliums all summer long and matches clear orange in intensity.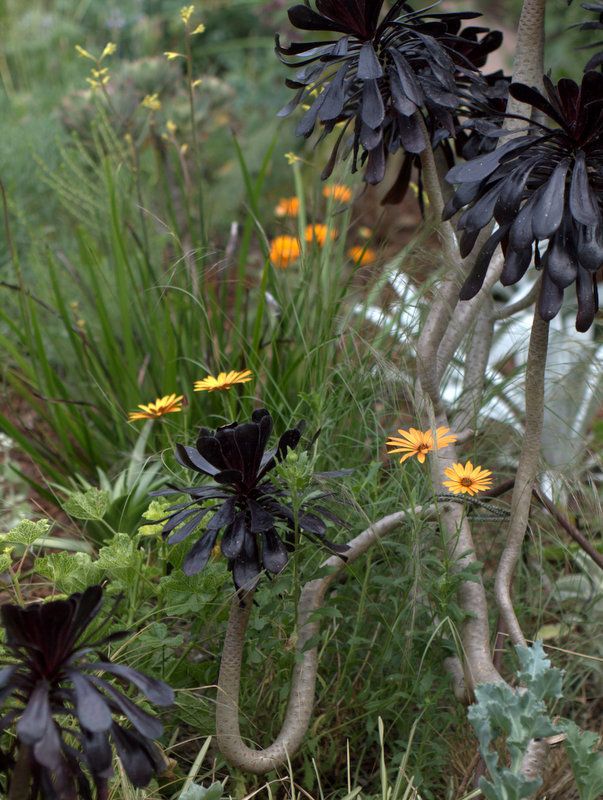 Osteospermum 'Zion Orange' was planted in January. There was a really good color selection of the South African daisies at the nurseries this spring, making possible your own personally customized veldt. Lower branches of this aeonium keep breaking off in winter storms then rooting, so it's quite the undulating thicket now.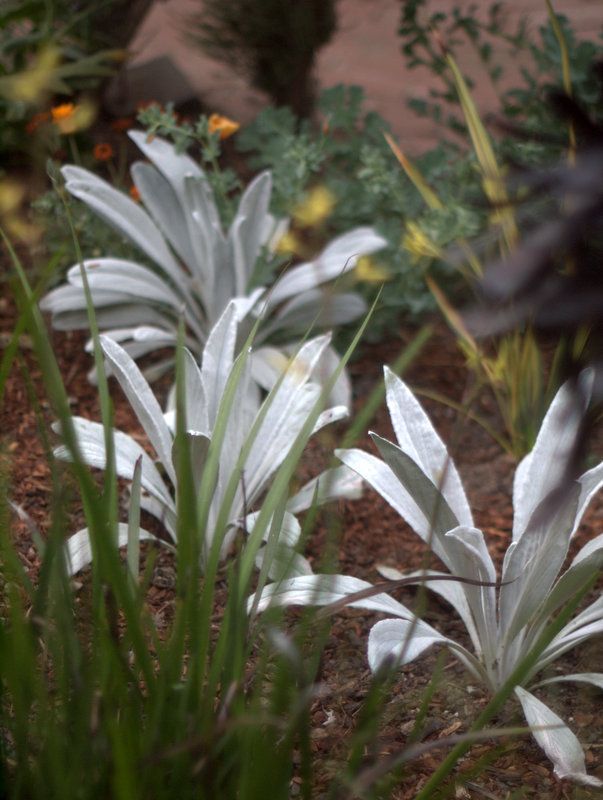 The source for all that blue (and silver) is the plentiful number of dry garden plants with leaves in those shades. New planting of Stachyls 'Bella Grigio' replaced biennial Echium simplex after it finished blooming. From reading other blogs, it's uncertain whether this stachys will be a durable member of the garden or just a fleeting phenom.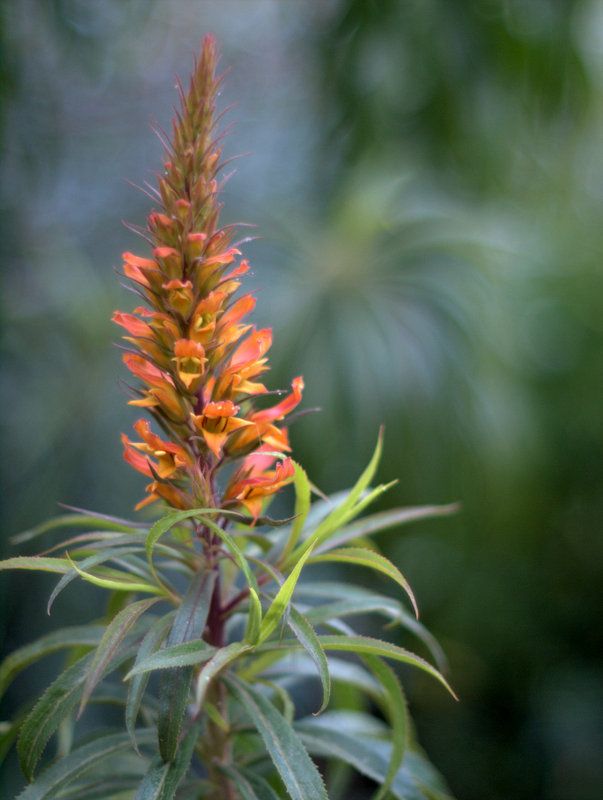 I'd love to see Digitalis ferruginea bloom here, but so far they haven't take a shine to the garden. But isoplexis is more than enough compensation. Like the bigeneric hybrid digiplexis, the isoplexis attract scale, but overall I think I prefer the shrubbier isoplexis. And with the warmer winters, a big ants and scale problem is the new norm.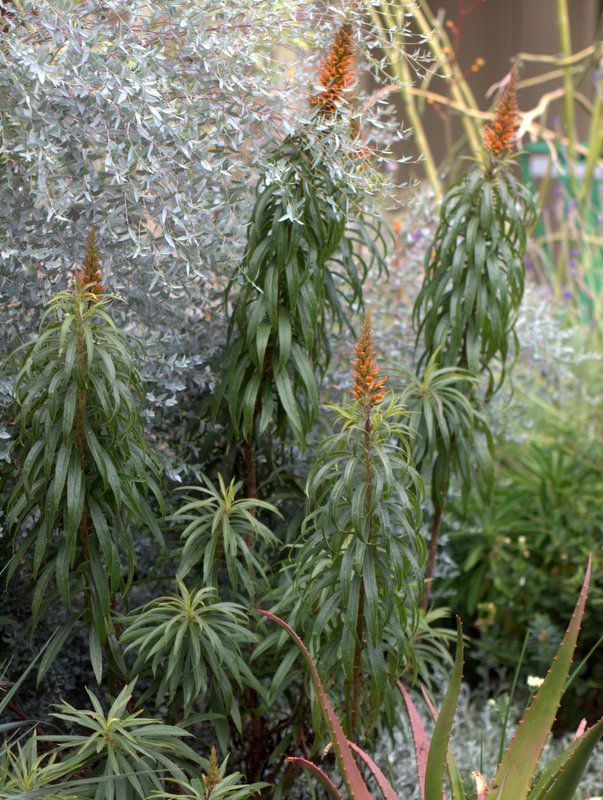 Purchased from Jo O'Connell's Australian Plants Nursery last year, the eucalyptus was planted from a gallon in July 2014. As you can see, it's fast on its feet. I've already trimmed it back a bit but will ultimately give it free rein in this corner, which means shifting and moving everything in its path. Initially I had plans to keep it in a container, a silly idea in a drought. Now I'm hoping to grow it as a large shrub, not a tree. I noted on a recent visit that the Huntington's new Education and Visitor Center plaza area has planted quite a few of this eucalyptus too.
Blue Agave 'Dragon Toes,' with Aloe cameronii on the left and Aloe elgonica on the right, both aloes flushed orange from the recent heat waves rolling through every few weeks or so. And then the little variegated agapanthus will bring more blue in a week or so. I'm still apprehensive about agapanthus in my garden, the first time ever. It's now in bloom all over town. My gamble is that it will seem less quotidian surrounded by succulents and grasses. It's such a good plant for dry summer gardens. But there's a strong chance I won't be able to overcome lifelong prejudices and shopping center associations.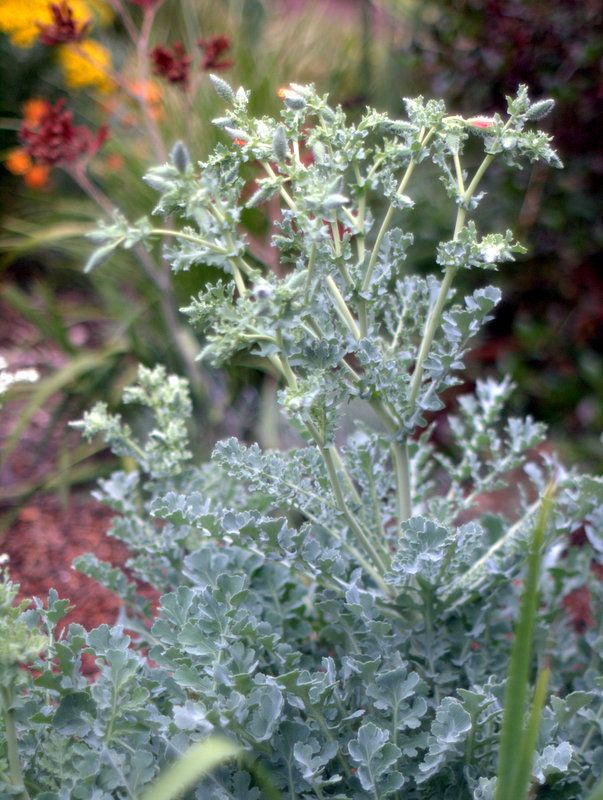 And then silvery-blue Glaucium grandiflorum started building up some imposing bloom architecture. Photo taken May 9, 2015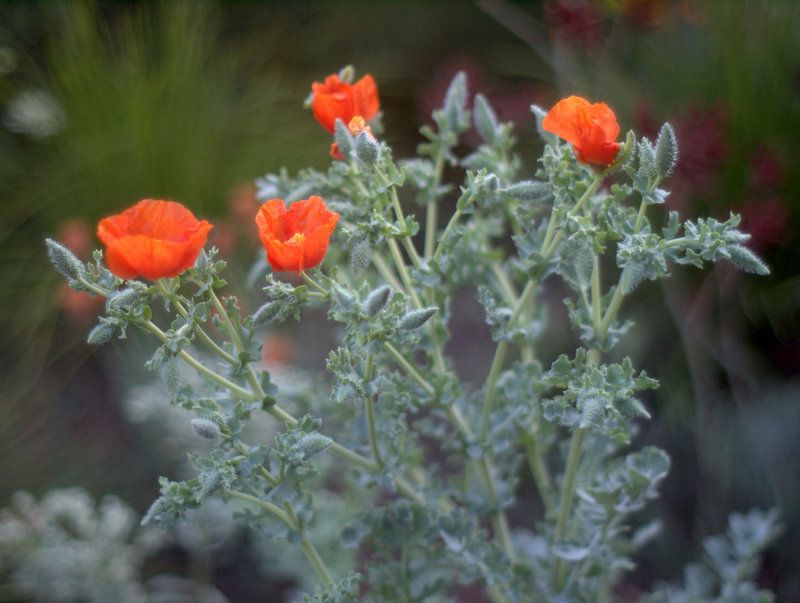 I gasped when I saw these open this morning.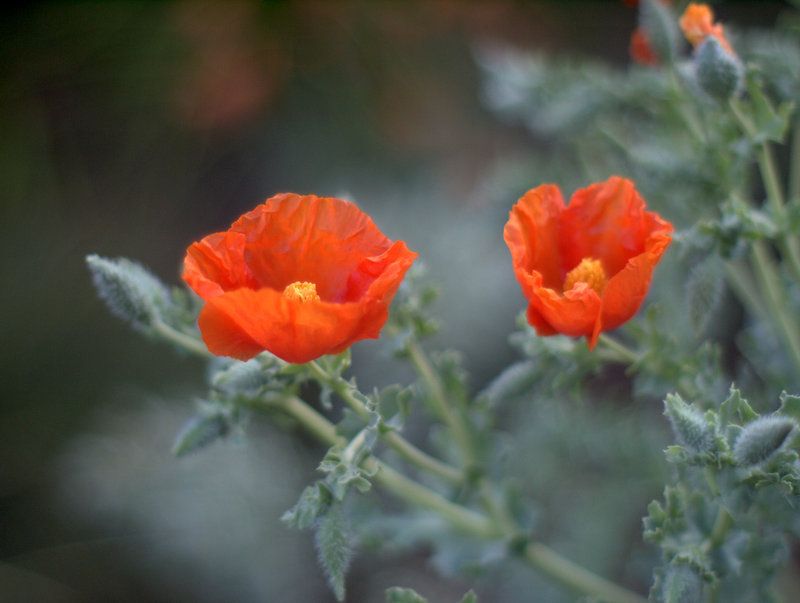 Audibly gasped. Between gasping at flowers and talking to bees, who knows what the neighbors must be thinking by now.
This glaucium might behave as a short-lived perennial or biennial and may or may not set seed. There were no blooms last year, just those magnificent leaves. There's two clumps, and both plants were covered by the band of shade that lies over this part of the garden in winter, which had me worried a bit. Maybe in a wet winter the shade might have proved fatal. Both clumps are in full sun now. This glaucium is from Annie's Annuals & Perennials but not listed as available now.
Another big wash of blue (under Acacia baileyana 'Purpurea' no less!) from Plectranthus neochilus.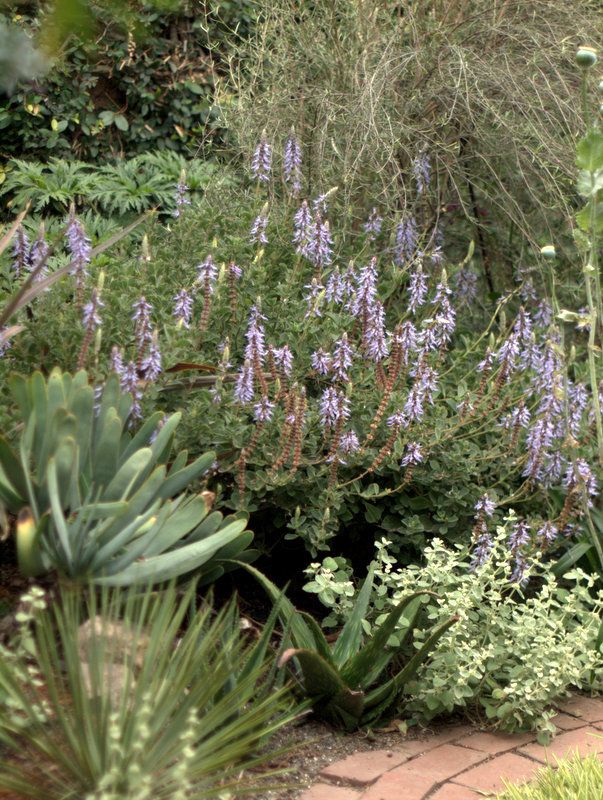 Mostly blues and silver here now, but a lot of aloes have found their way here under the acacia, out of frame (and Helianthemum 'Henfield Brilliant.' More orange!)
I hope I don't get orange and blue fatigue any time soon…