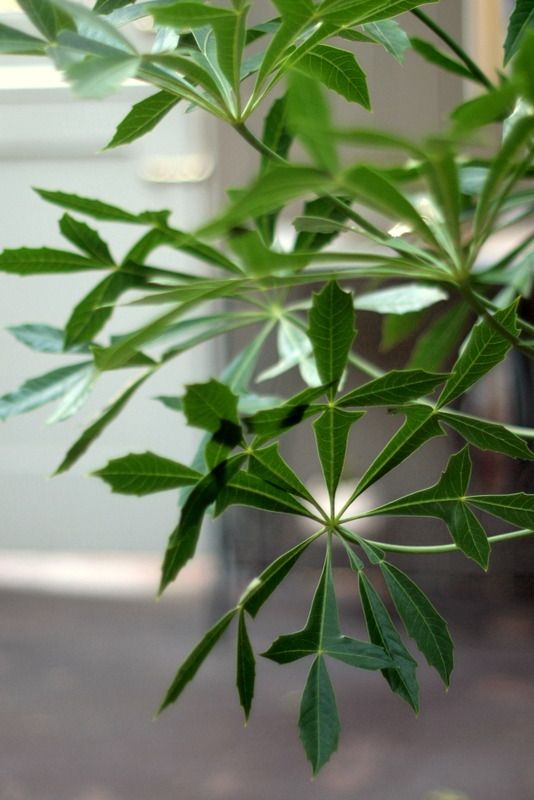 Cussonia spicata, June 2014. Cussonias are also known as Cabbage Trees, all from South Africa, and I want every one I've ever seen. In my zone 10 they can be grown outdoors, where they will fulfill their ultimate destiny as medium-sized trees. But they're well-known rock stars for containers, in which they can live long, relatively happy lives.
(Caveat: in a big enough pot.)
On one of my early morning garden prowls in late April I discovered that the Cussonia spicata had exploded its pot. It was kind of thrilling, actually. I've never had a plant do this before, not even an agave. Not even an Agave americana.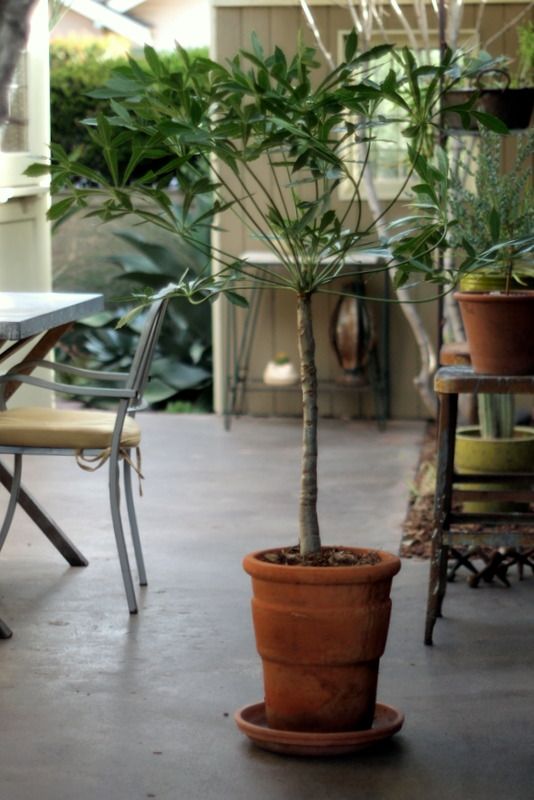 Here's the cussonia still appearing meek and content in its pot June 2014, no hint of its future explosive tendencies. I had originally located the container in dappled shade on the east side of the house, where I should have let it remain. I didn't realize how badly it needed some shade until I saw it for sale recently looking almost tropical, much more lush and green than mine.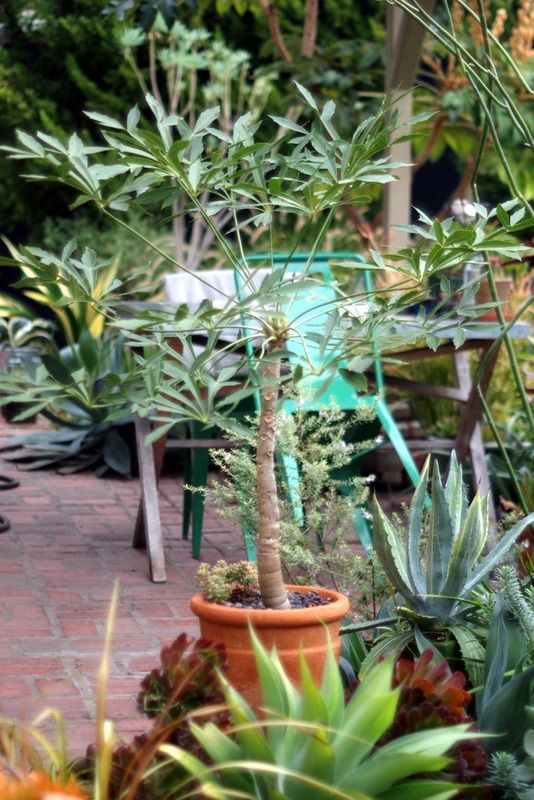 But I just loved it in this particular spot, which unfortunately is full sun, so I made the cussonia just deal with it. (Not much stands still for long here. For instance, that Agave americana var. striata on the right has been moved elsewhere this spring.)
You can see the rupture, the dark shadow on the right. Oh, well, nothing to do now but go container shopping. Which reads rather dry and mundane but is actually one of the happiest sentences in the English language. And, coincidentally, end of April is awfully close to Mother's Day and not that far removed from my early April birthday. Prime season for presents to self. For once, I was going to buy whatever container spoke to me, money be damned. (OK, I was ready to blow maybe $100.) And it is very weird how the crude cost of it all keeps coming up with this particular cussonia. See post here.
I searched around locally, but nothing really spoke to me, and the matter was shelved until after a brief trip to San Francisco. Oh, wait. Isn't that where Flora Grubb keeps her nursery with its amazing plants and containers?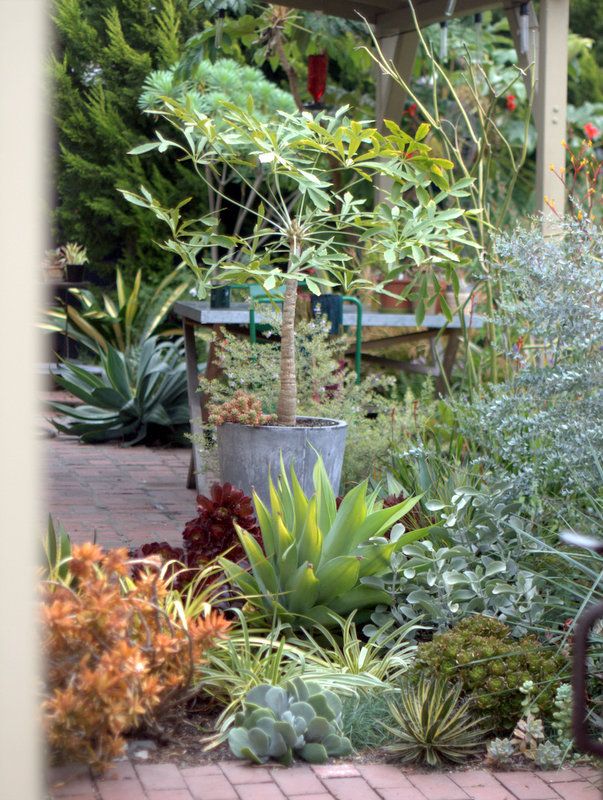 Yes, she does. And there it was, a lightweight concrete fabrication. The search was over. By the time we got home, a big slab of the original pot had calved off like an iceberg. It was as simple as peeling a banana to remove the remaining pieces, the easiest repotting job I've ever done.
And with all the moving and shuffling going on here, lightweight seems like a sensible idea. (That westringia in the background has been moved this month too. Euphorbia mellifera needed its spot.)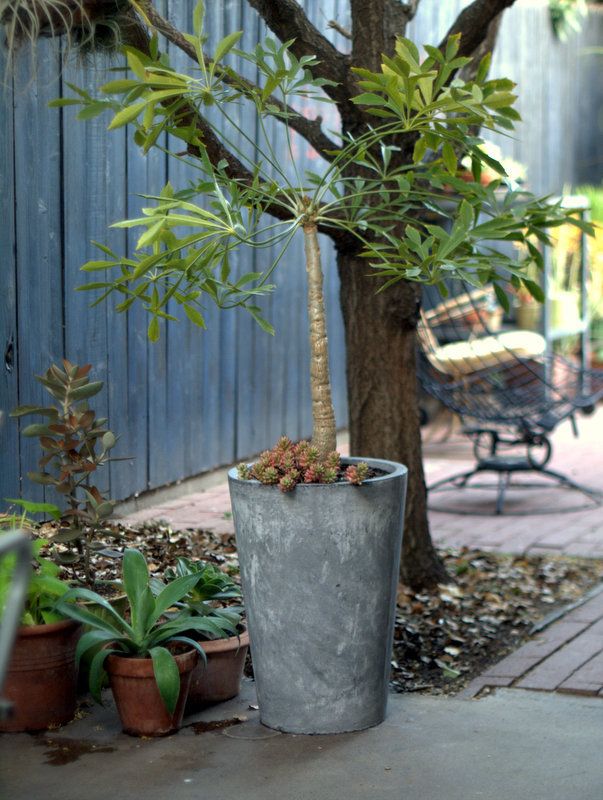 I did eventually relent and moved the cussonia back to the shadier east side in its new lightweight pot.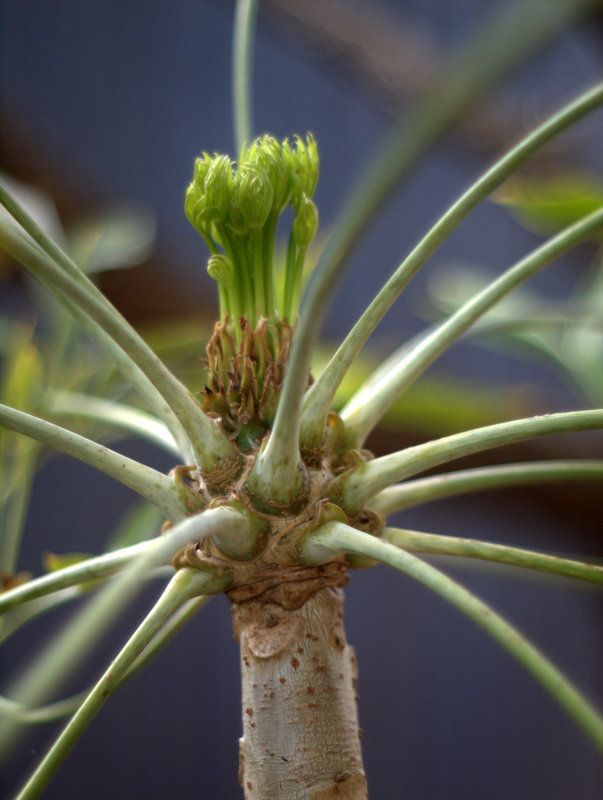 I don't like the way the trunk of the fringe tree fights with its silhouette, but since repotting and moving back to dappled shade, it seems happy once again. Hopefully, any explosive tendencies will be suppressed for another few years.
For anyone in Northern California, it was at Flora Grubb's where I saw the fat and happy Cussonia spicata, about the size of mine but without the leaf-tip burn.
And I found this video by the RHS on repotting plants, which covers the whys and wherefores.