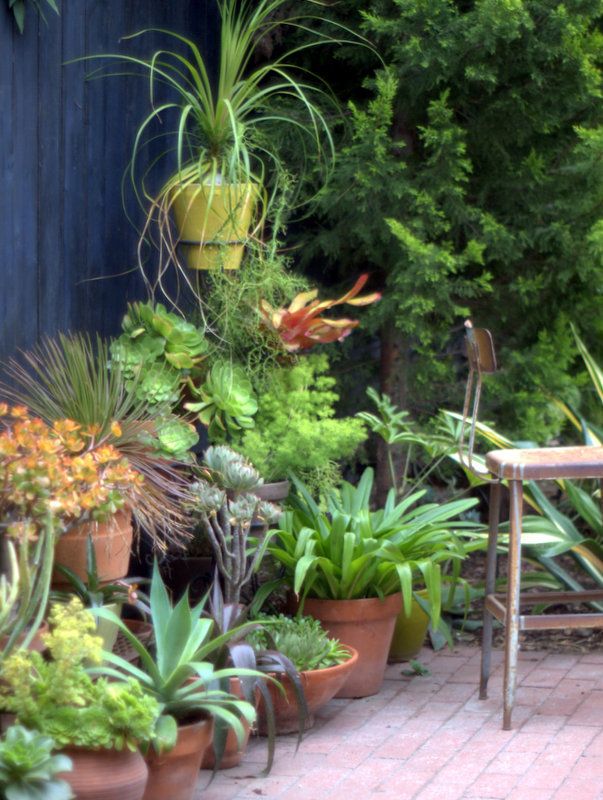 In case I've left the impression my only collection of pots resides on that little table under the pergola, there are more. Lots more.
This group of pots lines the east fence. Morning shade, afternoon sun.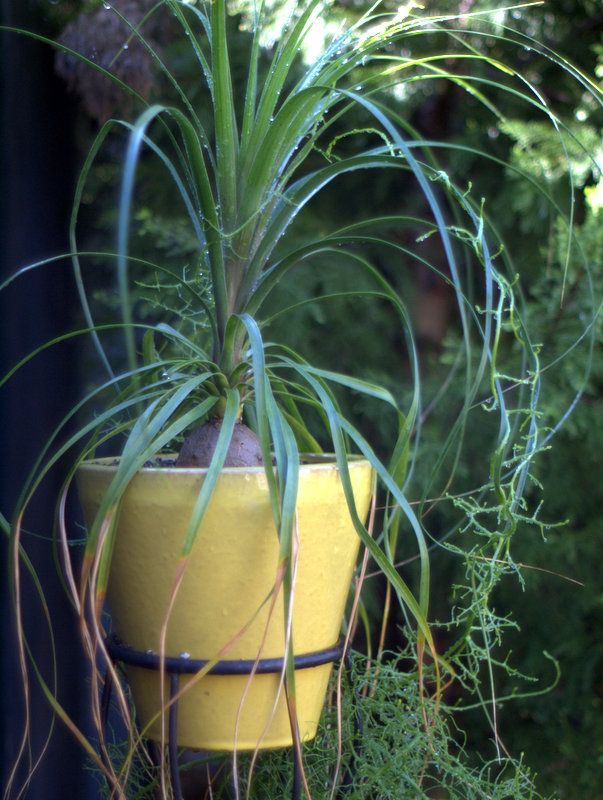 The topmost plant in the iron stand is a ponytail palm, Beaucarnia recurvata, entangled in a climbing onion, Bowiea volubilis.
This photo was taken on a dewy February morning last winter. Both of these plants are incredibly easy in pots and take neglect in stride.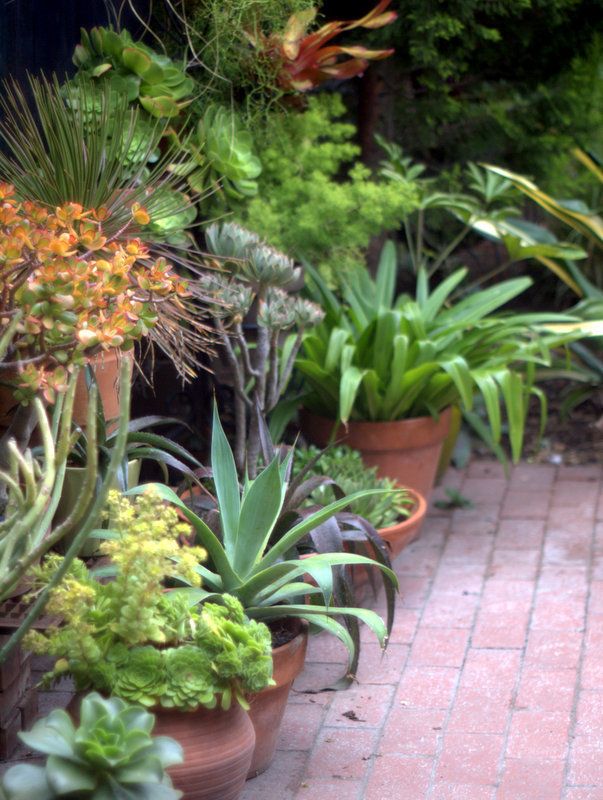 Conserving water and keeping plants in containers might seem to be mutually exclusive aims, but I can vouch that it can be done without spiking the water meter.
These pots of mostly different kinds of succulents are doing very well on the "bucket" water from the shower.
Rather than created especially for summer, most of these pots contain plants I rotate in and out of the garden.
For example, the aeoniums were a big part of the winter garden, dug up and potted in spring to make room as summer plants fill in.
If summer temperatures consistently top the 90s, I'll probably move the aeoniums again to more shade.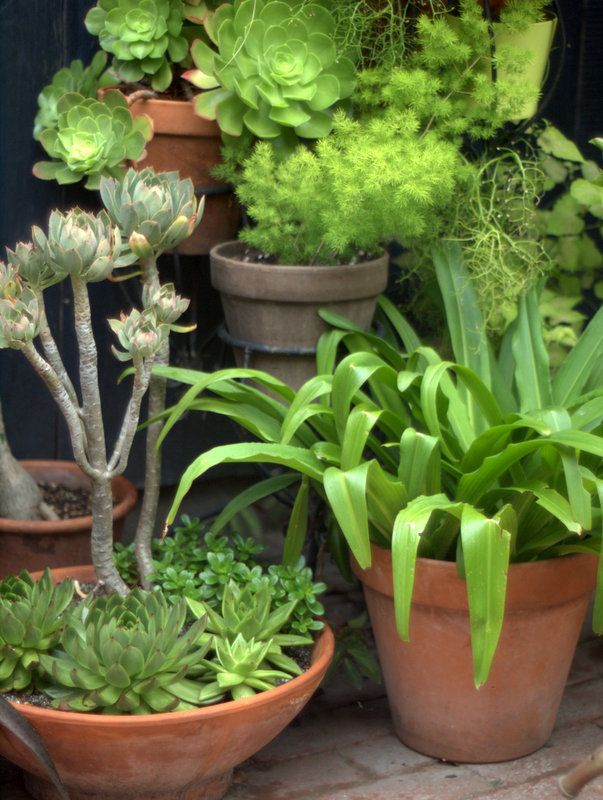 Last year I dug all the eucomis/pineapple lilies out of the garden and dumped them in this pot on the right, which is watered on the succulents' schedule.
As much as I love eucomis in gardens, mine is planted too tight to allow the pineapple lilies to comfortably unfurl in summer.
Bright green Asparagus retrofractus just above the eucomis contributes that wonderful foamy texture on a miserly amount of water.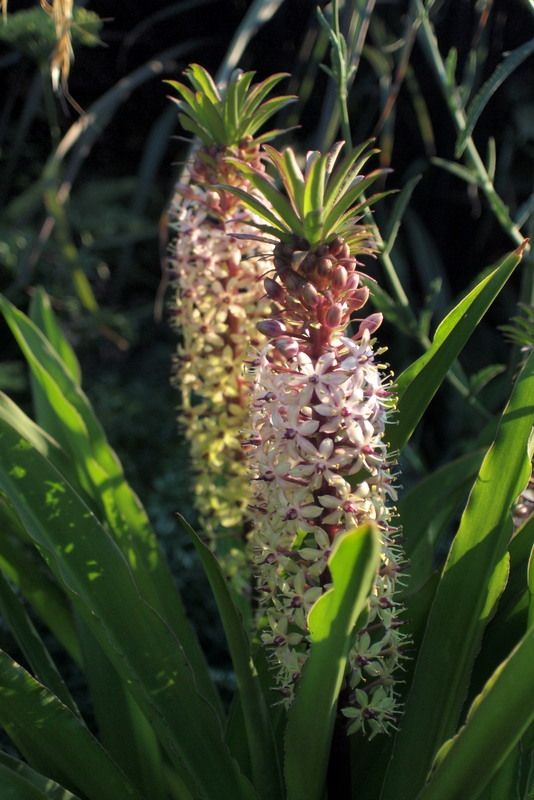 Eucomis in bloom July 2013.
Agave attenuata 'Boutin's Blue' with Carex trifida 'Rekohu Sunrise.' I love using this carex in pots just for this effect. Both plants are fine in part shade, dry conditions.
I dug up the entire pot out of the garden last week, which you can tell by the darkish color to the pot about 6 inches up from the base.
The potted agave was prominent all winter but slowly became engulfed by early summer. (I wrote about parachuting potted agaves into the garden here.)
I've been wanting to try the Korean Feather Reed grass, Calamagrostis brachytricha, so when found locally I pounced and slipped one into that spot.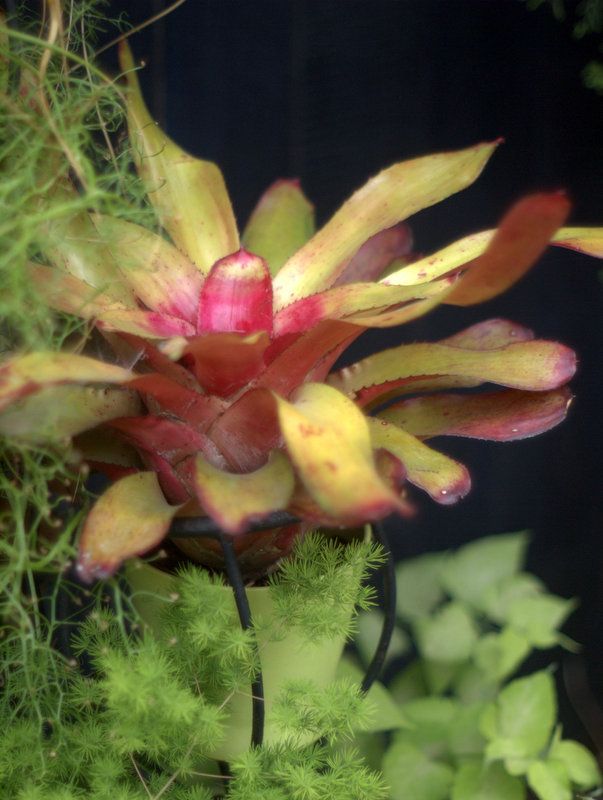 The wrought iron stand holds a neoregelia still in pretty good shape. Other bromeliads are getting leaf burn as I figure out shifting sun/shade patterns for summer.
There's another look at that fabulous Asparagus retrofractus again.
Not the best photo, but it shows what a bromeliad nursery Reuben's wrought iron orb has turned into. The light conditions under the fringe tree are ideal in summer.
Small bromeliad pups and tillandsias all seem to find their way here. Makes it easier to remember to mist them all a couple times a week.
(I'd love to find something similar at Reuben's upcoming Open Garden on June 20.)
Yes, I do have a lot of pots, but May's water bill nevertheless brought good news. The three of us used 97 gallons of water a day, and that includes occasional overnight guests.
The average use per person per day is estimated at 80-100 gallons, so we're way under average.*
Yesterday I visited a couple nurseries, just to check if I felt cheated to be counting gallons, to see if I'd experience a massive horticultural FOMO (Fear of Missing Out).
No, I think I'm good.
*Meaning for the entire household, indoors and outdoors, our water usage was 97 gallons a day.
If average usage is 80 gallons per person a day, the average for our household would be 240 gallons a day.