The planting under the Acacia baileyana 'Purpurea' is all fairly new, except for the Plectranthus neochilus. Stinky or not, it's a great addition to a dry garden. Gomphrena 'Balboa' is the clover-like flowers with silver leaves, which blends in seamlessly with all the ballota here. Tall grass in bloom is Stipa ichu, the Peruvian Feather Grass, said to be noninvasive, unlike the fearsome Mexican Feather Grass. California chain Armstrong Nurseries as well as Home Depot have both vowed to no longer sell the MFG, Stipa tenuissima.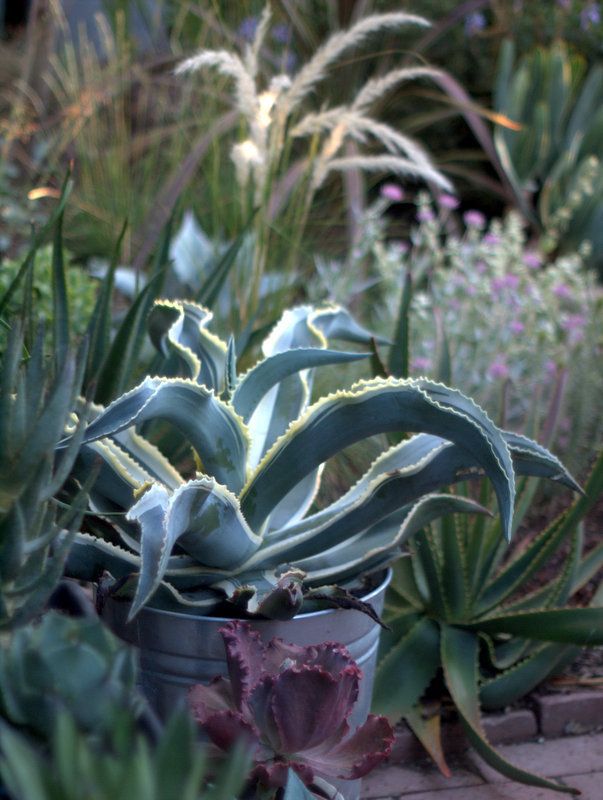 There's more aloes planted under the acacia than agaves. Currently there's an Agave ovatifolia in the ground here and a small 'Dragon Toes.' Agave gypsophila 'Ivory Curls' is still in a container that gets moved around frequently, just because this agave looks great anywhere and everywhere.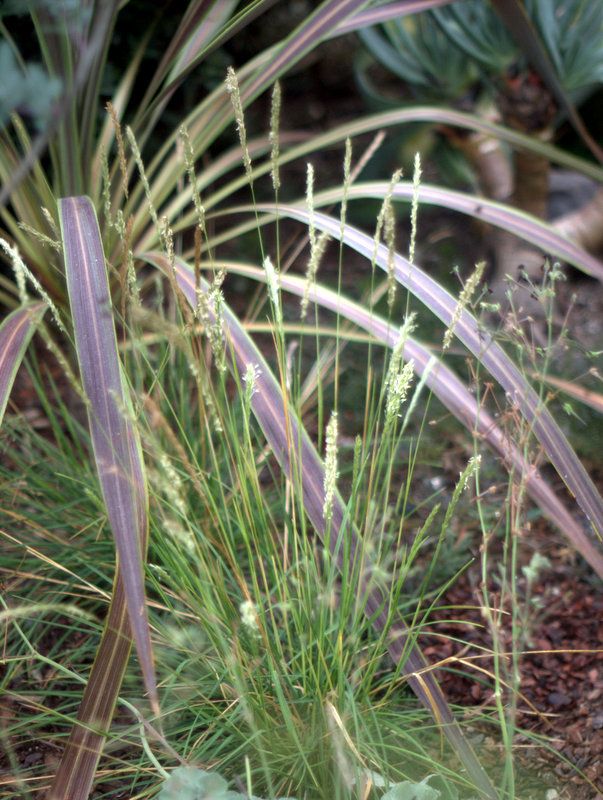 Sesleria autumnalis 'Campo Verde' under the arms of Cordyline 'Electric Star' Sesleria 'Greenlee' is in bloom now too, a little bit shorter in height than 'Campo Verde.' Both are wonderful smallish grasses with nice lines and oatsy texture.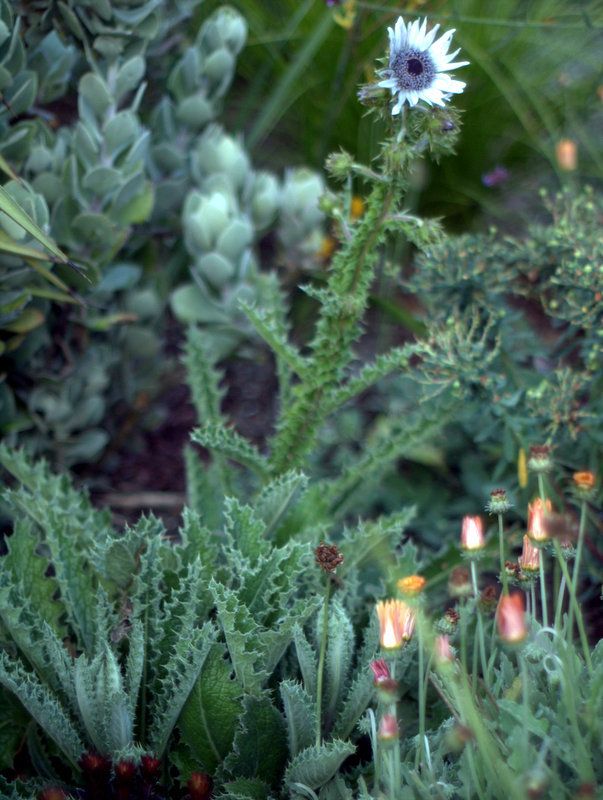 More to the middle of the back garden, Berkheya purpurea just threw out another bloom truss.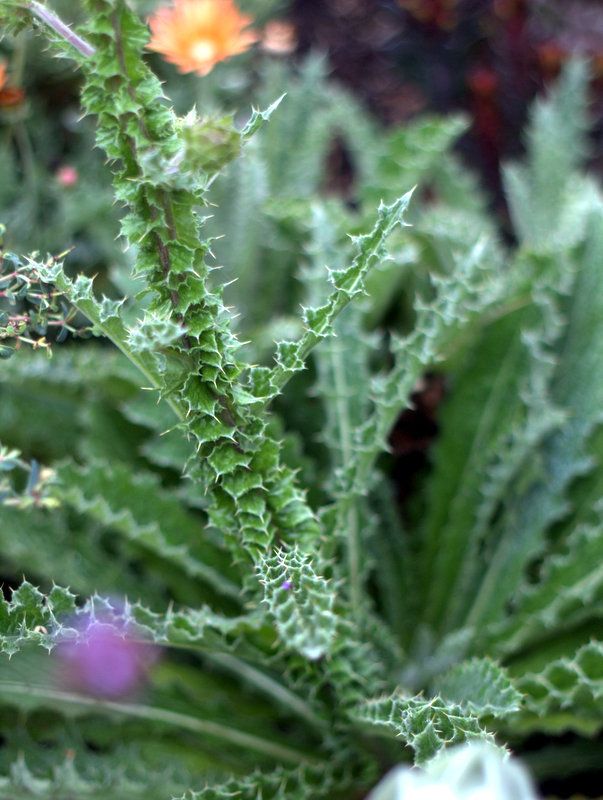 The leaves and stems are possibly even more appealing.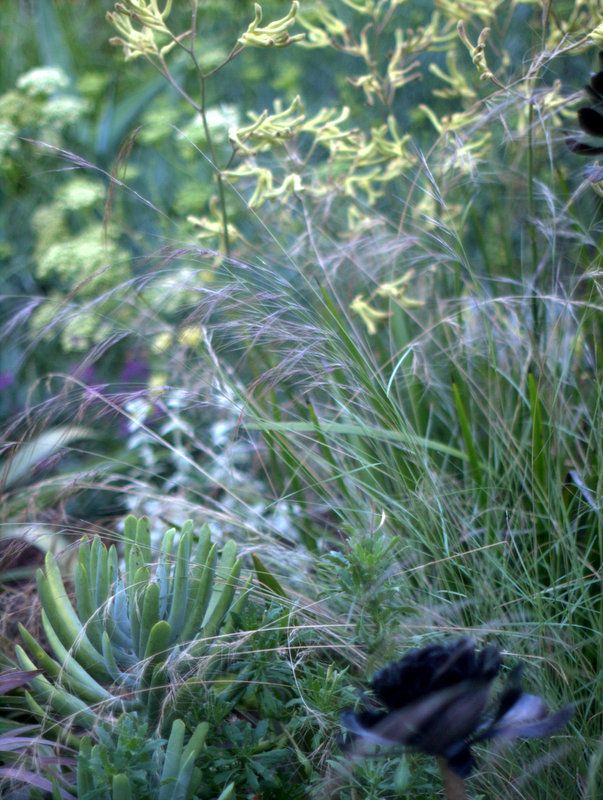 Aristida purpurea will most likely not take over the mantle of the exiled Mexican Feather Grass. Incredibly wispy, falling in all directions.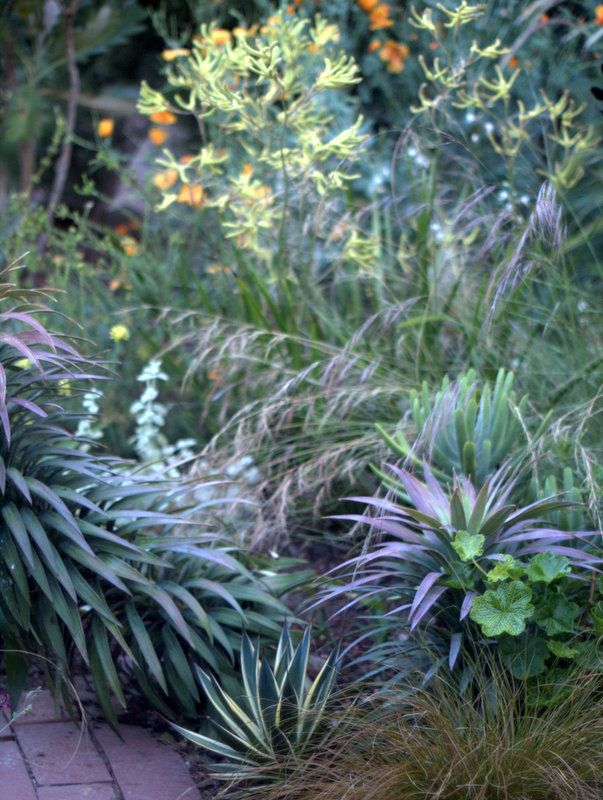 If you didn't look closely, you'd miss this grass entirely. But at least the others plants are safe from wanton invasion. I haven't found any seedlings yet. Agave 'Snow Glow' is really building size this summer. I'm already thinking of moving it, since Yucca 'Blue Boy' is bulking up too. The little South African shrub with tiny, myrtle-like leaves and yellow pinwheel flowers, Gnidia polystacha, is here with anigozanthos, sideritis, and Glaucium grandiflorum
Opposite the yucca I just added Pelargonium sidoides. I'm just now becoming aware of how variable this pelargonium can be. I have a big-leaved, almost black-flowered strain, and maybe I'm imagining it, but this one I just picked up seems to be much brighter in color than the typical velvety maroon. All you lawn replacers, consider this low-growing pelargonium with sesleria, small agaves and succulents, santolina. You can scale up to a smaller conebush like Leucadendron linifolium or choose among the prostrate forms of ceanaothus, grevilleas, and manzanitas. The amount of choices can seem bewildering, but once the wimps are outed and a few things start to thrive, it's really a matter of building around what remains. If you're local, email me. I love an excuse to go plant shopping.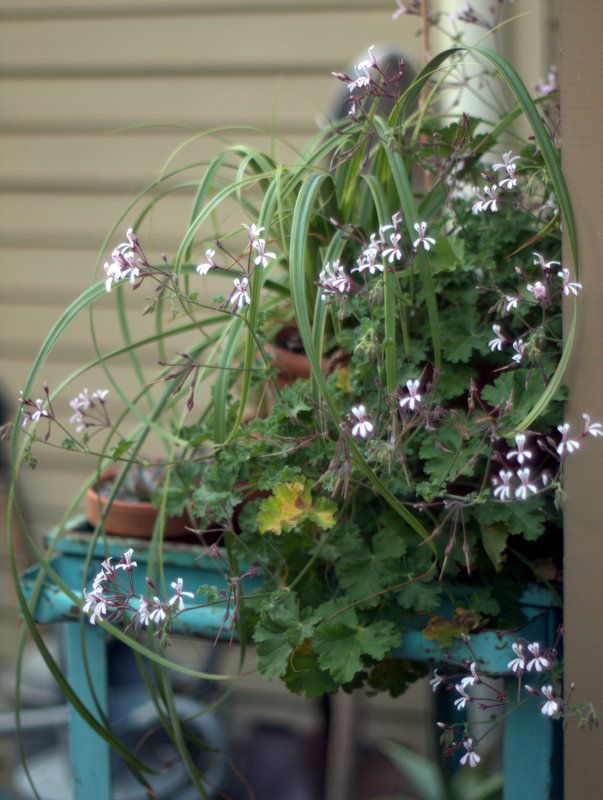 Another pelargonium in bloom, this one in a container. I don't know the name/didn't keep the tag. Tiny flowers suspended and hovering like fireworks, good leaves, tolerant of dryish conditions. Running out of containers, I stuck a cutting in this pot with the carex and unseen Aloe harlana that just threw a bloom.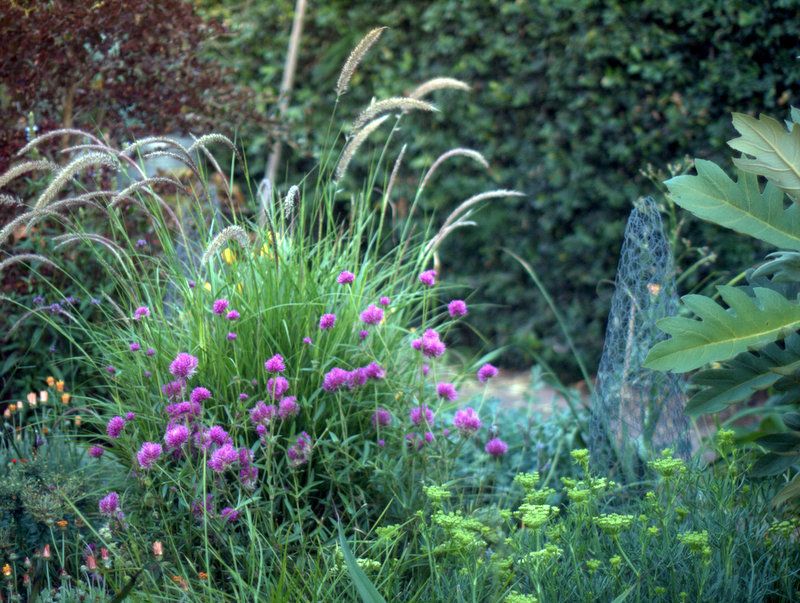 Pennisetum 'Sky Rocket' has started to bloom, which just might be my fav for a compact, staying-put kind of grass. Sterile, not hardy. Both the pennisetum and Gomphrena 'Fireworks' are perennial here in zone 10. (And, no, your eyes don't deceive you. That is a chicken-wire cone on the right, made for the holidays a couple years ago.)
There were two cones made for the mantle. I was playing around with them in the garden yesterday. I think there may be some potential here. Chicken wire orbs, obelisks?
They're so see-through as to be almost invisible, which may or may not be a good thing, depending on your feelings about stuff made from chicken wire.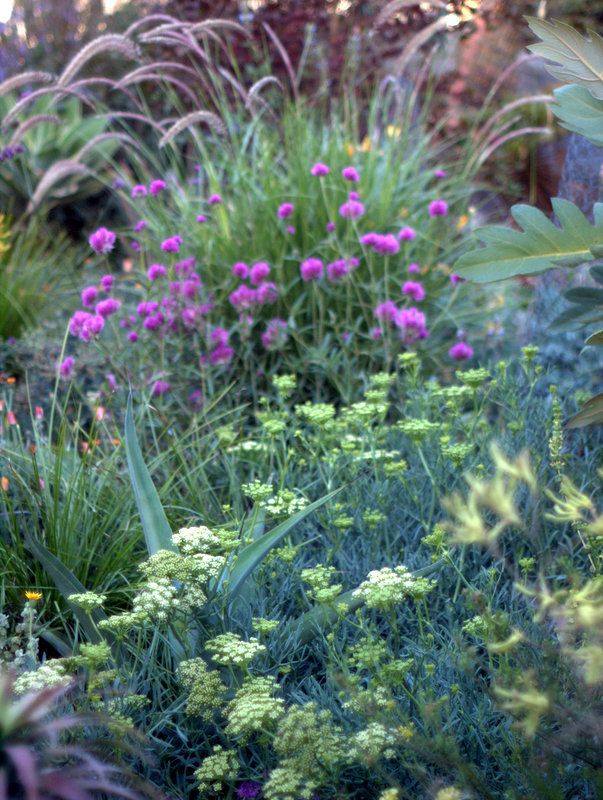 In the foreground, that's Agave vilmoriniana waving its arms frantically, drowning in a sea of Crithmum maritimum. It'll become huge soon enough, so I don't want to make it too easy for him. As I've said over and over, Crithmum is the best umbellifer for the dry garden, and I've tried lots. The Black Parsley, Melanoselinum decipiens, is surprisingly tough but more a specimen plant, with a palm-like habit of growth, and it dies after blooming.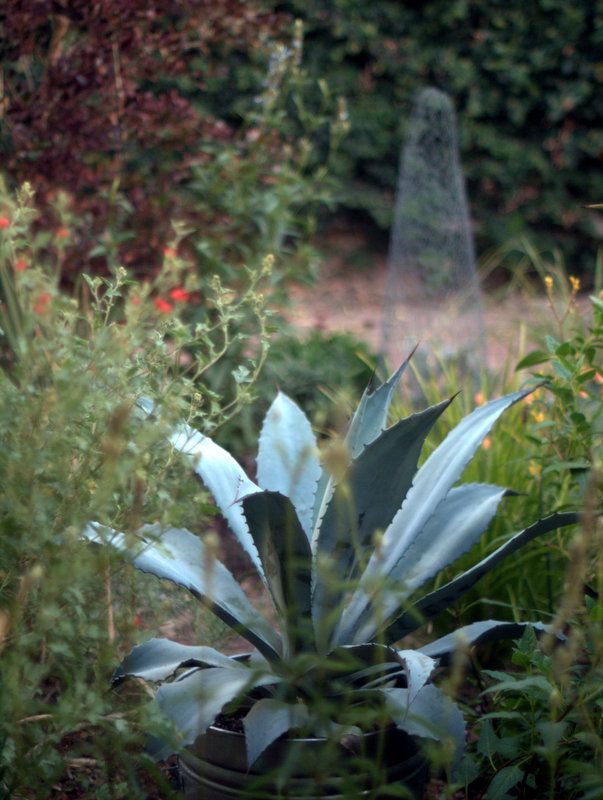 I removed one of the two Sphaeralcea 'Newleaze Coral,' the Desert Mallow. They make huge shrubs for summer and one was more than enough. Any plant with the epithet 'desert' in its name is worth investigating, and this mallow is amazing. Just be prepared to cut it back several times in summer. (Another ghostly outline of a chicken-wire cone in the background.)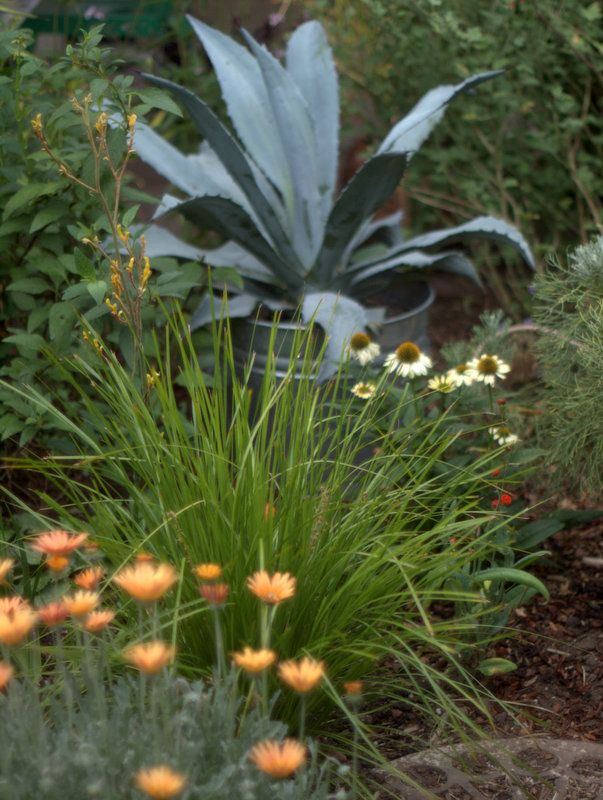 I just pulled out a couple echinacea planted on the other size of the Agave franzosinii that were way too much work to keep hydrated. Aloe 'Topaz' got their spot. I guess drought tolerant means different things in different climates. Gaillardia is a much better choice for a summer daisy here. Or arctotis, osteospermum. Grass-like plant is Lomandra 'Lime Tuff' which has been flawless so far.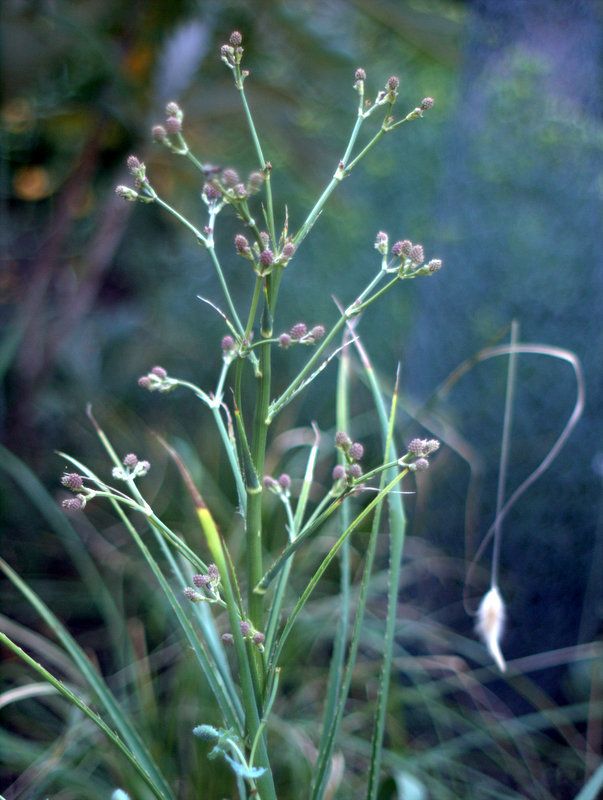 Eryngium pandanifolium, the remaining clump in the garden. I saved a small division of the mother plant, but it's easier to propagate from seed.
Yucca 'Margaritaville' doubling up as a plant support for Phygelius 'Diablo'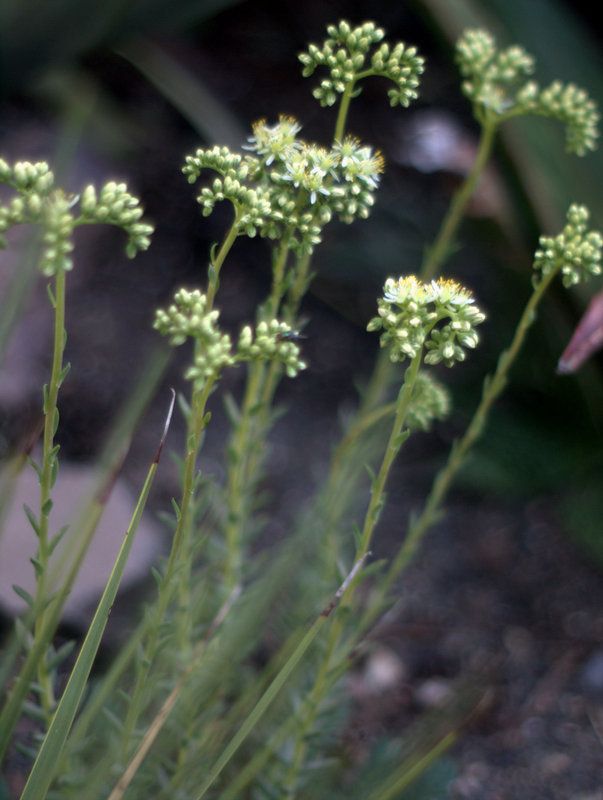 This sedum new to me this year looks really promising. Sedum sediforme 'Turquoise Tails.' To Zone 5.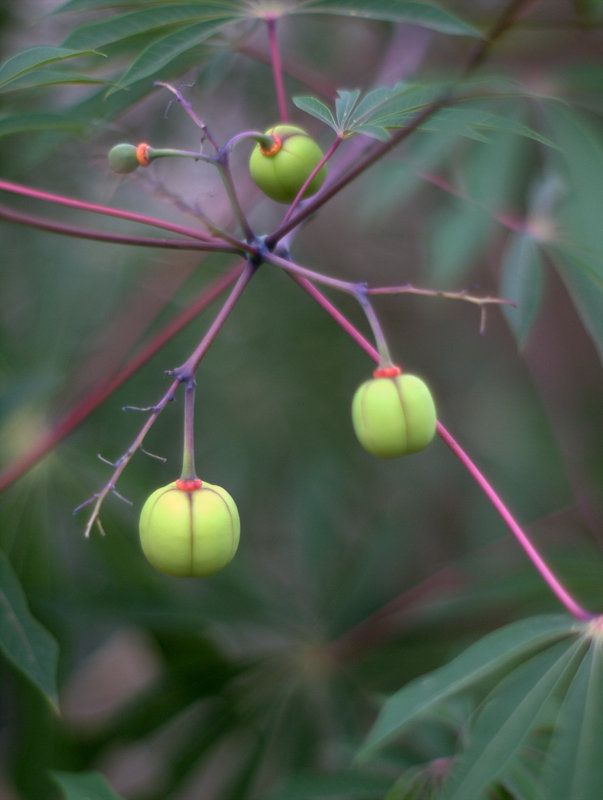 I couldn't get a good photo of the manihot's tiny flowers, so beloved by bees, but the pumpkin-like seedpods are cool enough in their own right.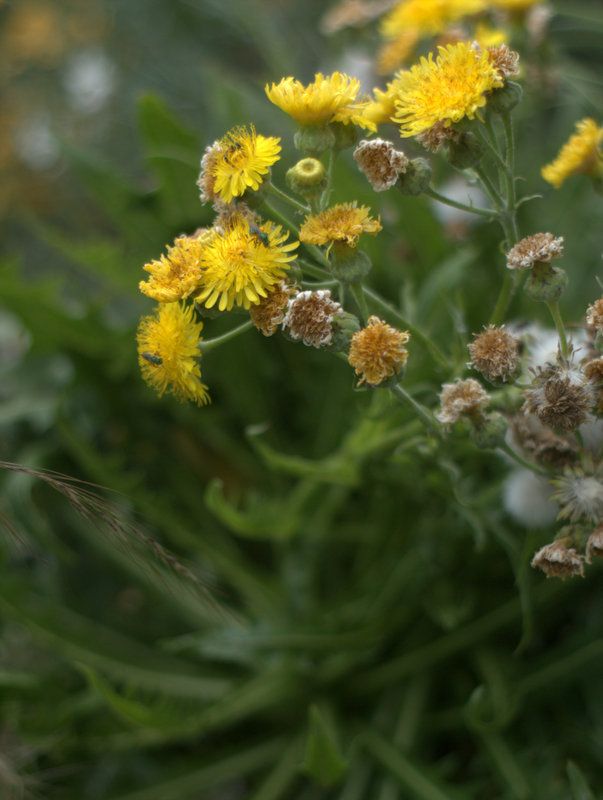 I haven't let dandelions take over, just a relative, Sonchus congestus.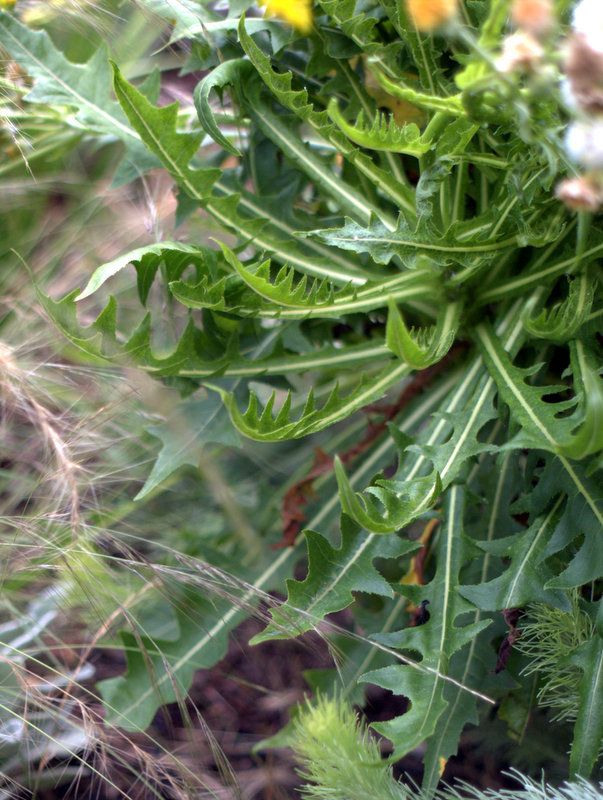 It's more about the leaves with this plant, but pollinators love the flowers.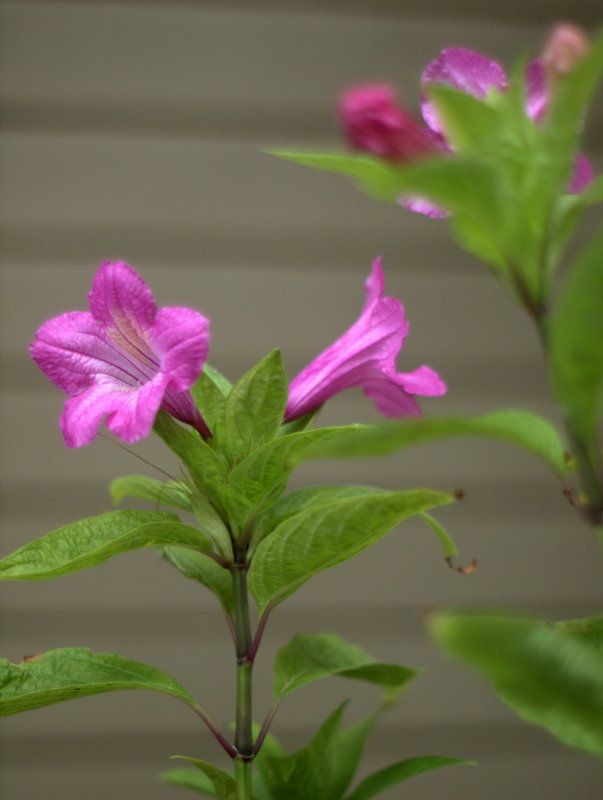 Ruellia macrantha from Brazil wants even moisture, so it stays in a pot. I still can't believe I couldn't get the more common Ruellia simplex, or Mexican Petunia, settled into the garden. It has slimmer leaves, dark stems, purple flowers. I see it growing in paving cracks topping 4 feet high and as much across, getting no summer irrigation.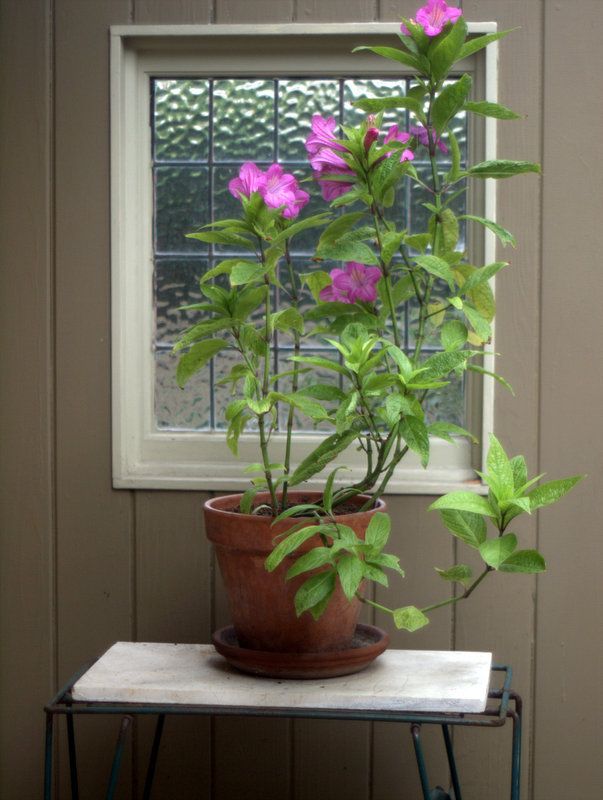 This pink ruellia just started opening blooms a few days ago. Supposedly it will now bloom through winter, so we'll see how it does.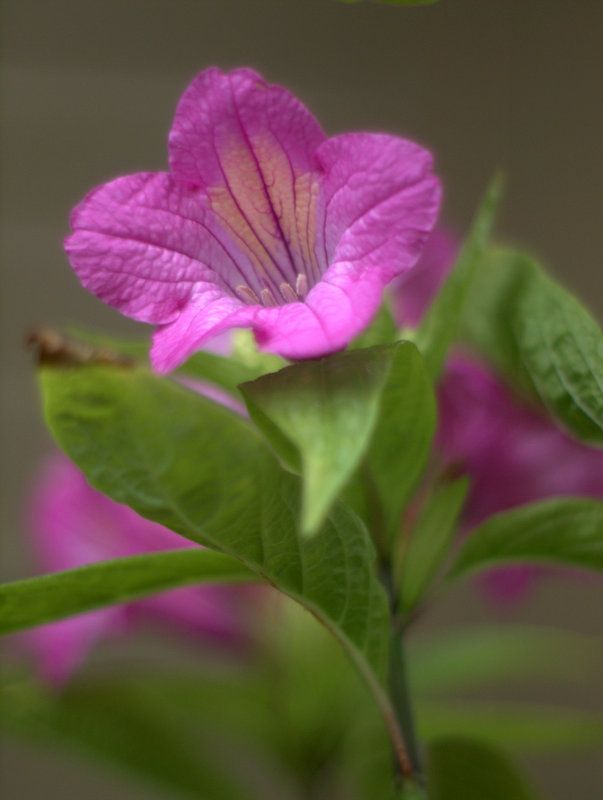 Shrubby and almost azalea-like.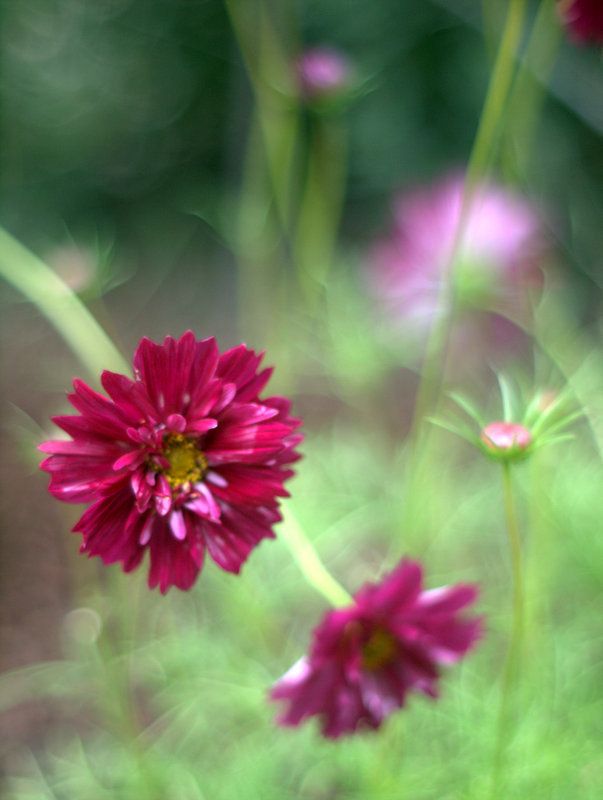 Straight outta the local nursery last week, Cosmos 'Double Click Cranberry.' I'd like to collect its seed for the cutting garden I'm envisioning for next summer at the community plot. I'll leave room for tomato plants and green beans of course.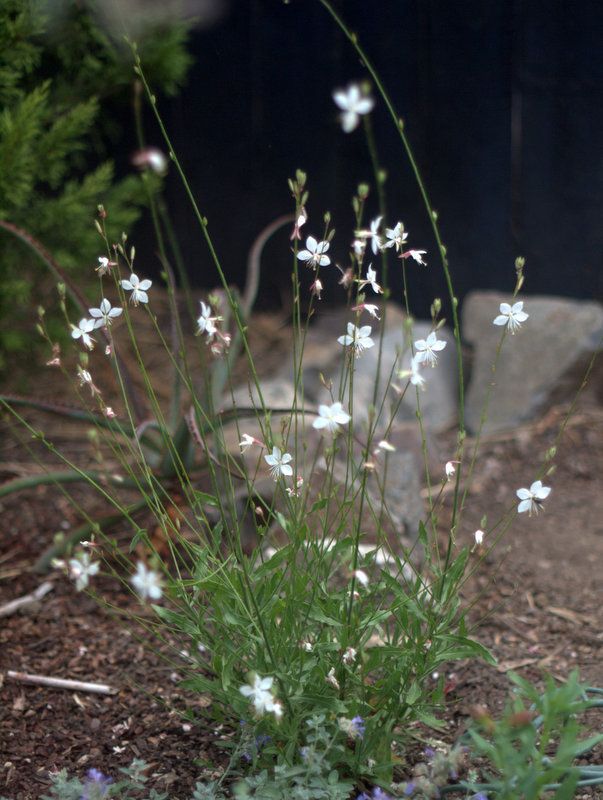 And Gaura 'Belleza' is another recent purchase too. This gaura took Ruellia simplex's vacated spot.
And a couple more gaura replaced Stachys 'Bella Grigio' near Sonchus congestus. I potted the stachys up again to see if they could be revived.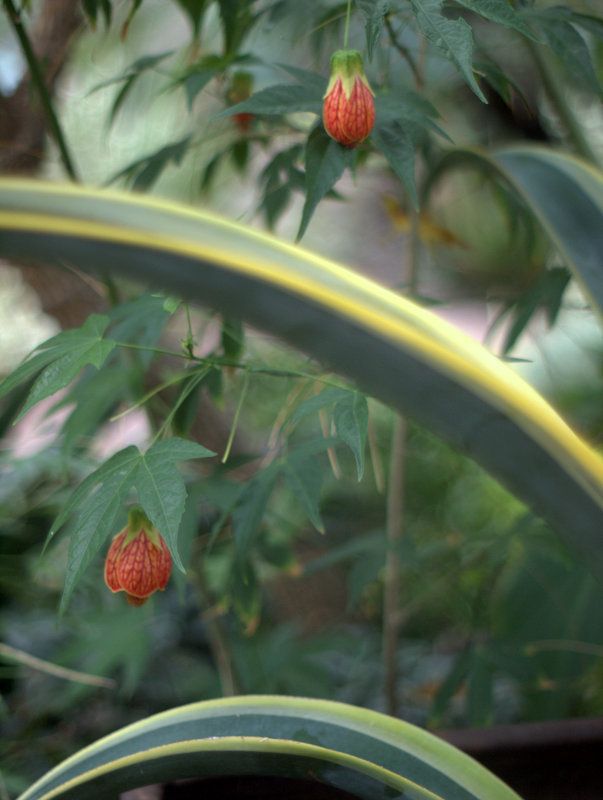 Abutilon venosum
In bloom in the front garden, Aloe distans. July is a month not to be missed for Bloom Day news at May Dreams Gardens.