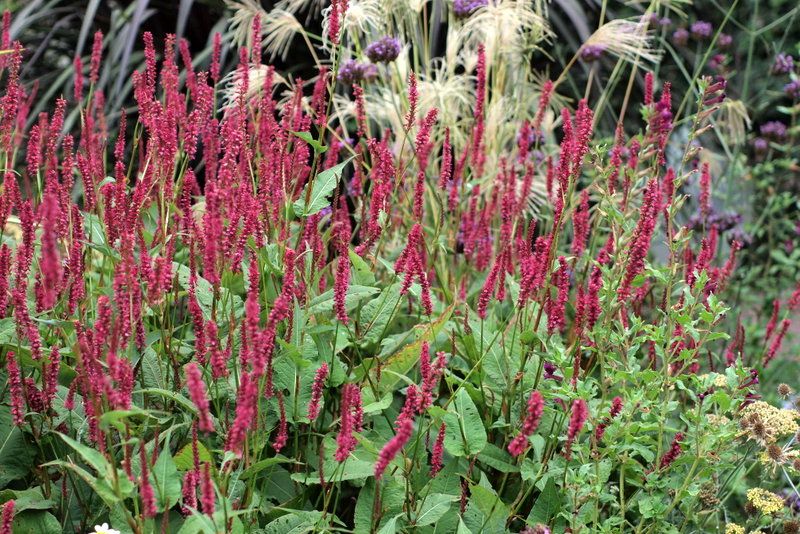 August 2013
I'm happy with the garden this summer, and there's not much I would change, other than doubling its size if I could. And if I could, then I'd find a spot again for Persicaria amplexicaulis. It loves the stiff clay soil here. (I've been thinking about that clay soil a lot now that there's rumors of a wet El Nino winter coming. And here I've been filling the garden with succulents and drainage-touchy Mediterraneans. It's always something.) This Persicaria's water needs are surprisingly modest to mediumish, probably similar to anizoganthos, and it handles full sun beautifully. It's one of the most reliable perennials I've ever grown. Perennials generally hate zone 10 because we don't let them sleep through the winter, which makes them grouchy and die. There's white and pink forms too if you find the red a little strident. But a big clump like this leaves a big gap in winter. A gap that can be filled with winter-blooming aloes, for example.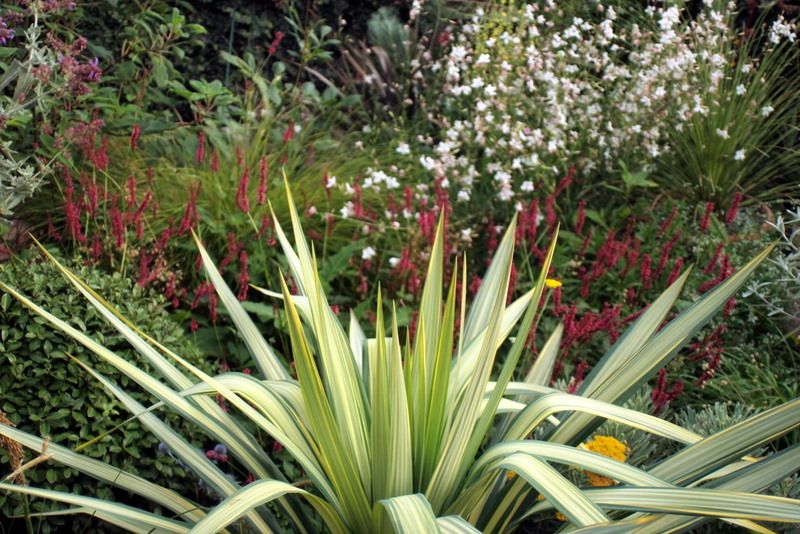 July 2011
The persicaria with gaura, way back when my Yucca 'Margaritaville' still had impeccable form and was 1/8 of its current size. That yucca has seen a lot of changes in the garden. It's probably the oldest plant here.
The yucca again with Geranium 'Dragon Heart,' another plant that needs a moister garden. I spy catanache and the dark-leaved shrub Lophomyrtus 'Red Dragon' too. I need to find this great form of New Zealand Myrtle again. I should have done a photo series through the years with that yucca as the linchpin in an ever-changing garden.
I still think I should be able to grow Lobelia tupa. I got this close to a bloom a few Julys ago.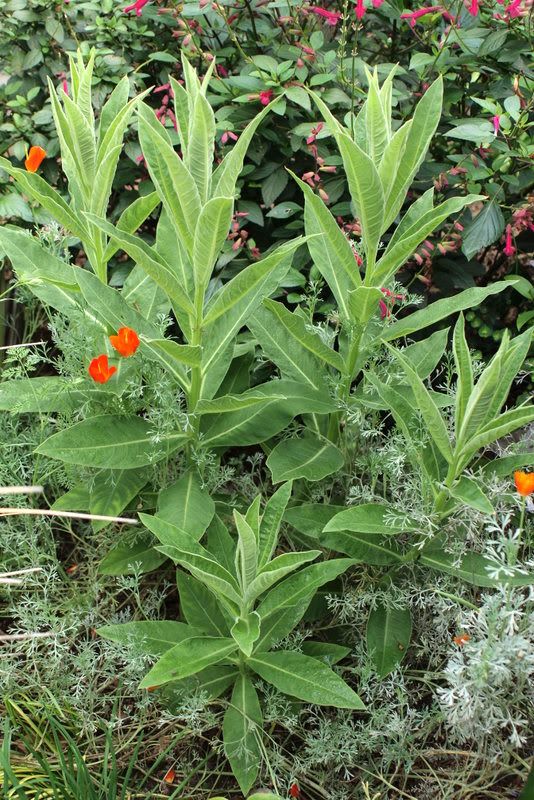 And the clump appeared to be robust. A hot August was the end of it. Maybe afternoon shade?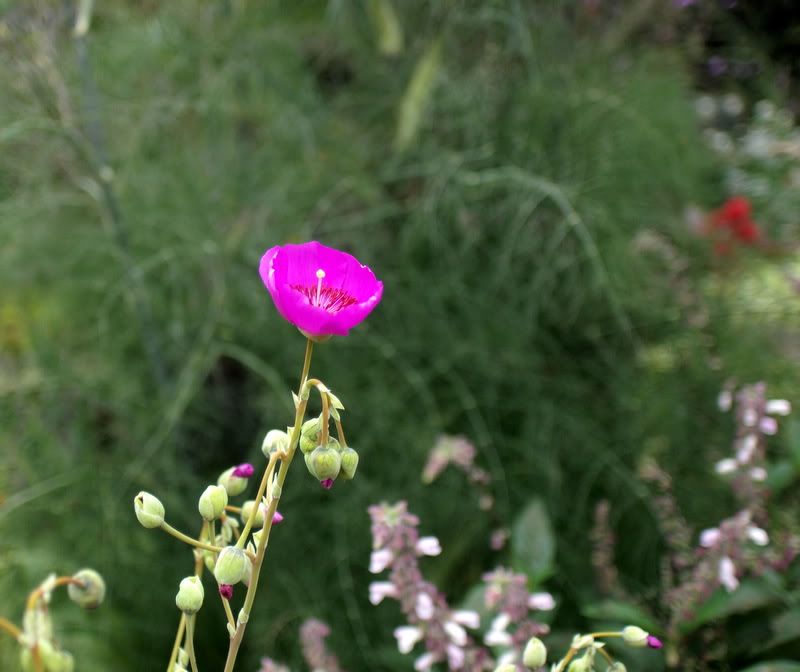 I haven't grown Calandrinia spectabilis, the Rock Purslane, in a few years and just planted a small rooted cutting I must have pinched from someone's hellstrip.
It's almost too common now because it's easy, tough. The only down side is that it tends to quickly make a huge, unwieldy clump.
Also goes by Calandrinia grandiflora and Cistanthe grandiflora. Tender, from Chile.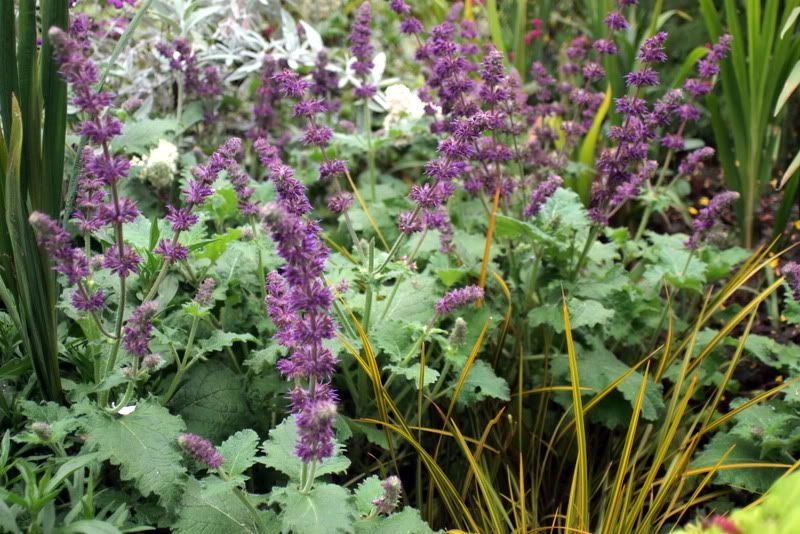 Salvia 'Purple Rain' is a very short-lived perennial here. The Libertia peregrinans tends to fade away too. Loved them together. June 2010
Amicia zygomeris from Mexico is an oddball I've been thinking of again. Maybe I'll try the variegated form this time. Might as well go odd whole-hog. This plant laughs at heat, and I don't remember it being touchy about requiring evenly moist soil. A giant thing, at least a 6-footer.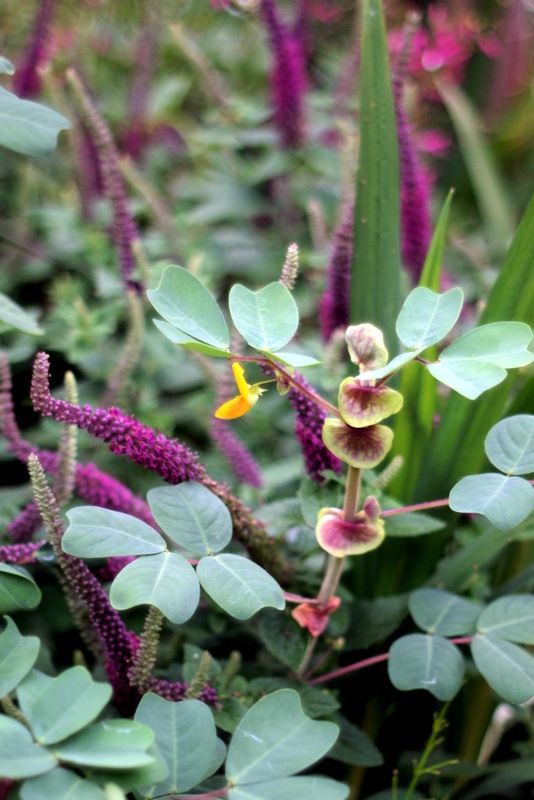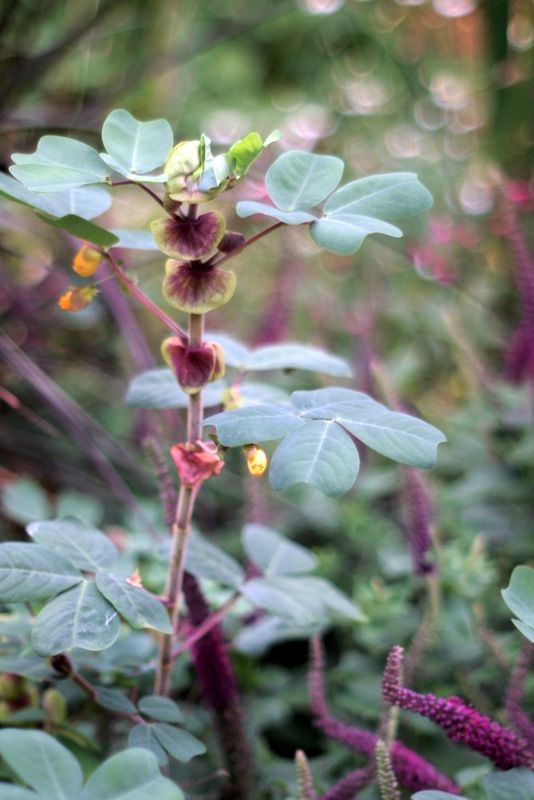 I wrote in June 2011:
"The Amicia zygomeris planted last fall has been a mesmerizing presence that I've allowed to grow as large as it pleases. Permissiveness the first year in the garden, discipline the next. In a small garden, something's gotta give, and this year it's the crocosmia getting squeezed by the amicia. Crocosmia is tough enough to take it and will be back in force next year."
Uh, no, not exactly. I'm just now rebuilding stock of crocosmia again. I'm definitely missing crocosmia this summer.