Welcome to the jungle. (Okay, so it's a dry jungle.)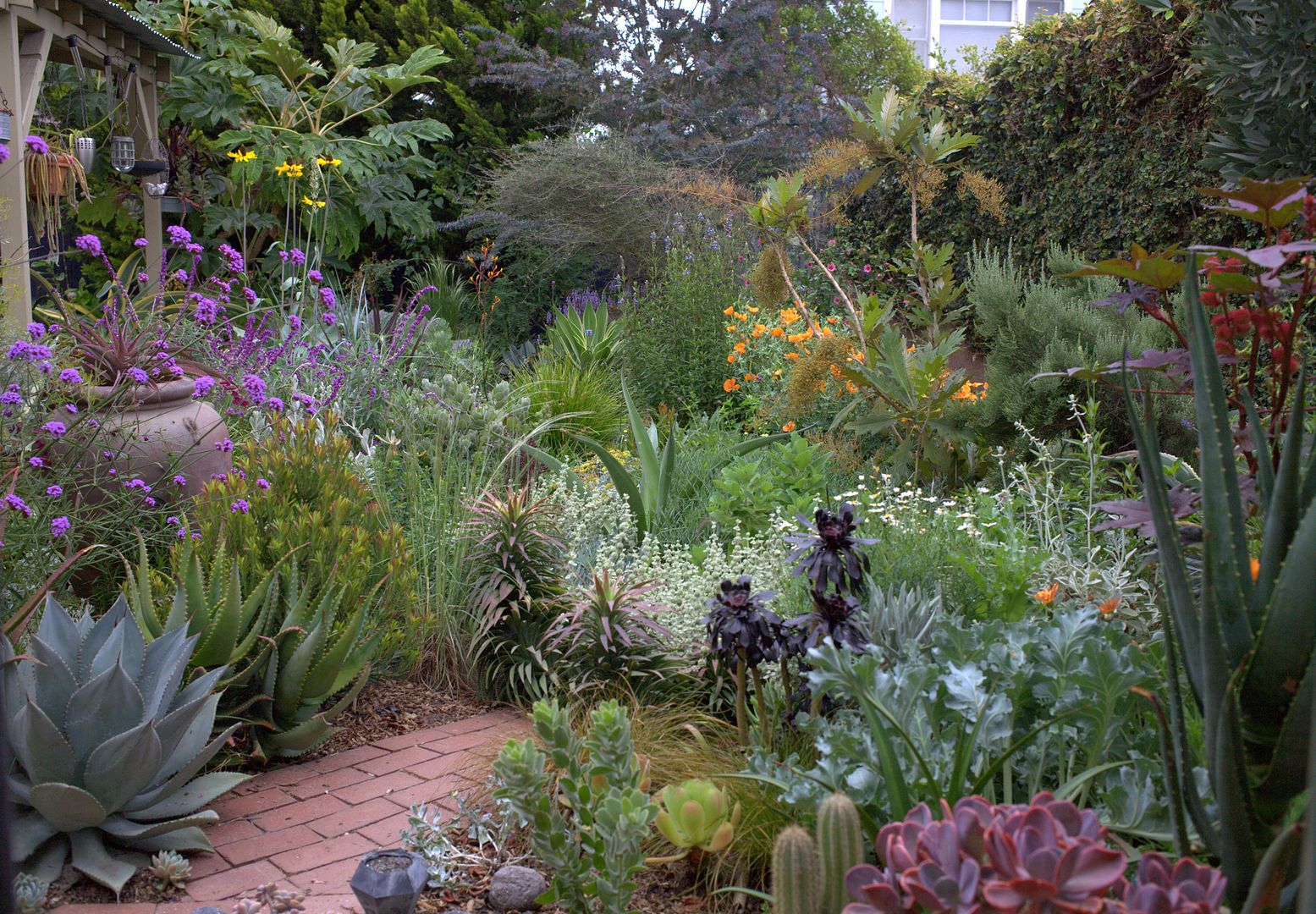 This will be an abridged Bloom Day post, looking at the telescoped view through my office doorway and describing the big stuff that stands out in the frame.
Rudbeckia maxima on the left is nearly as tall as the pergola but not as tall as the tetrapanax behind it in this view. The kangaroo paws are starting to gain height.
Orange poppies on the far right are Glaucium grandiflorum,. Just one plant is at least a yard across this year.
It wouldn't be summer without daisies, and this year there's orange arctotis (right foreground near the sea kale, Crambe maritima).
And buttery yellow Anthemis 'Susanna Mitchell' with ferny, silvery green leaves, not pictured but at the feet of the glaucium.
The little white dots just to the right behind the dark aeoniums come from one of my favorite summer daisies, Argyranthemum foeniculaceum, a Canary Islander.
I never find it local, so this plant comes from a cutting I nabbed at a San Francisco park. Small, simple daisies with grey-green, finely cut leaves.
Purple and blues from Salvia uliginosa and Salvia leucantha. More Verbena bonariensis seedlings are coming into bloom.
In the foreground to the left of Yucca 'Blue Boy' I'm just stupidly excited to have the grass Stipa barbata coming into bloom.
Another grass I haven't seen in bloom yet, Stipu ichru, way in the back under the acacia, has started flowering. I'll be sure to grab photos for June.