In June, it seems like everywhere you point the camera, something is in bloom.
Glaucium grandiflorum wants the entire garden for itself, so there's been lots of ongoing, strategic pruning.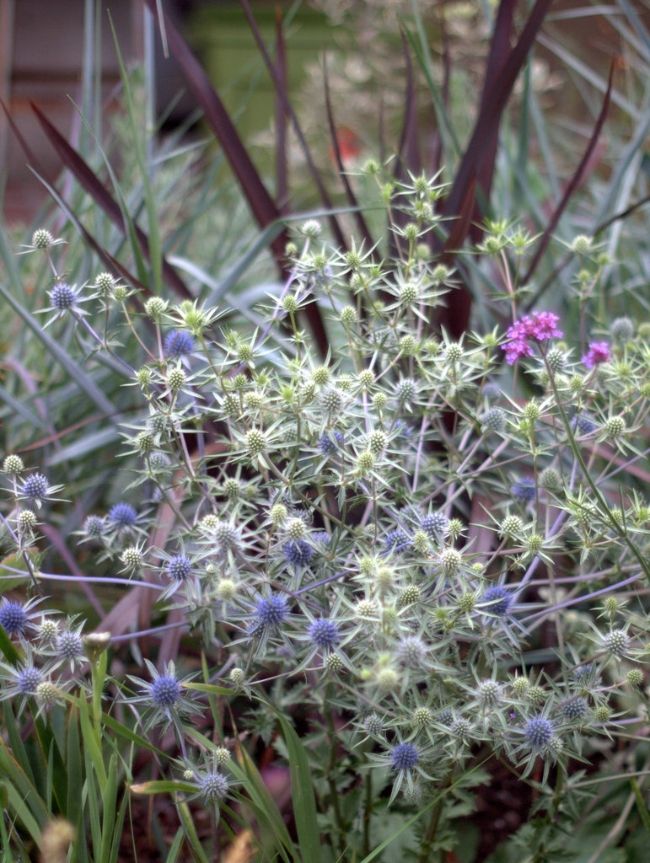 The blooms of Eryngium planum eventually slide from silvery-green into blue.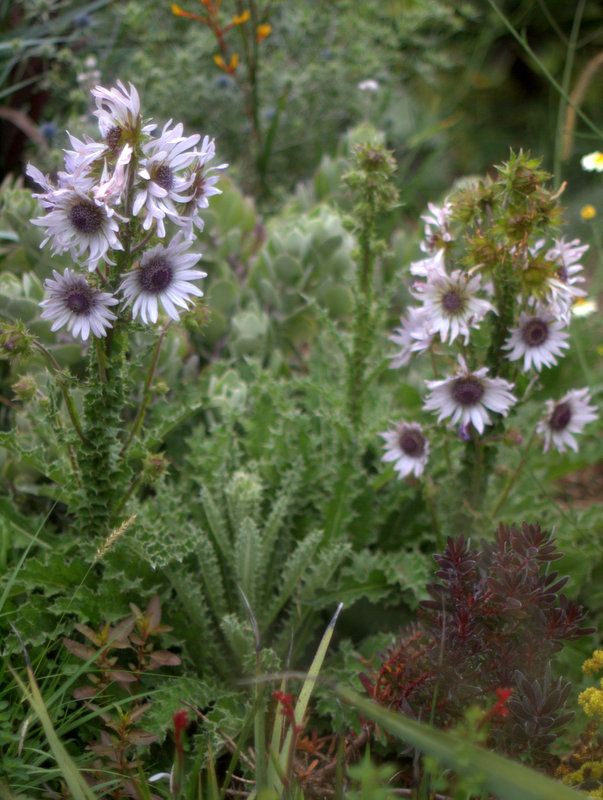 Berkheya purpurea has matured into several big clumps and probably won't stop there.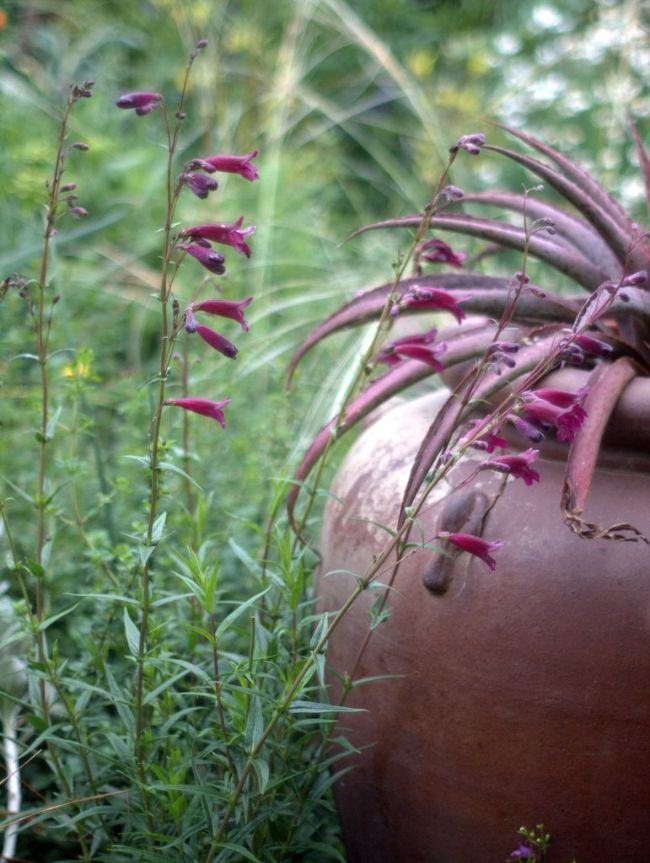 'Enor' was planted in spring from gallons, just two, plus a 'Pike's Peak Purple. I like the almost dierama-like effect from the the tall, smaller-flowered varieties of penstemon.
And I always fall for the darkest colors. 'Blackbird' and 'Raven' are similarly dark-flowered varieties.
Salvia uliginosa is unapologetically robust. I'm already making mental notes to split this clump in fall.
I think this might be the salvia to interplant with big grasses.
Chocolate Daisy, Berlandiera lyrata, unlike Chocolate Cosmos, really does scent the garden chocolate. As long as the sun is out, that is.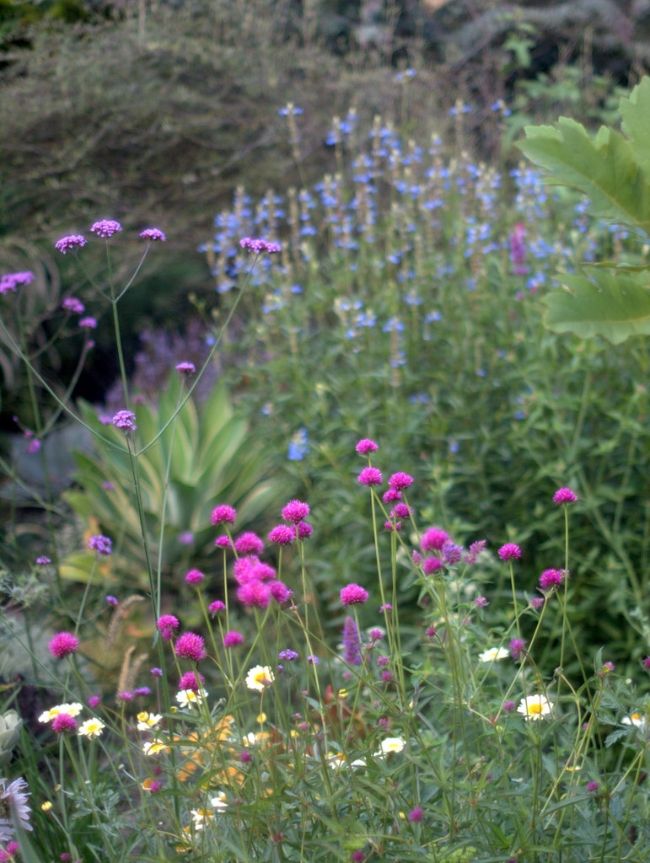 Small, frost-free, the back garden chugs along year round, so summer must share ground.
And I'm partial to long-lasting flowers with a strong architectural presence. (Which means BD posts can be a tad repetitive.)
Gomphrena 'Fireworks' returns for at least its third year, same footprint, no reseeding, reveling in the driest, hottest conditions. It's a performance so perfect as to be almost artificial.
Anthemis 'Susanna Mitchell' is the buttery daisy. Agastatche 'Blue Blazes' is barely noticeable, just starting to gain height. The latter two are both new this year, though I've grown them in the past.
A similar effect can be had from the succulent Cistanthe/Calandrinia grandiflora (long-stemmed, screaming magenta flowers), but clumps of calandrinia seem to double in size overnight.
Agastache 'Blue Blazes'
Anthemis 'Susanna Mitchell'
I thought the 'Terracotta' yarrow would never bloom. It was playing by the rules and waiting to make that fabled third year leap.
The kangaroo paws aren't nearly as tall as they should be. Steady irrigation before and during flowering seems to be key.
I put El Nino in charge of the irrigation this winter, and what a slacker he turned out to be. At least in Southern California.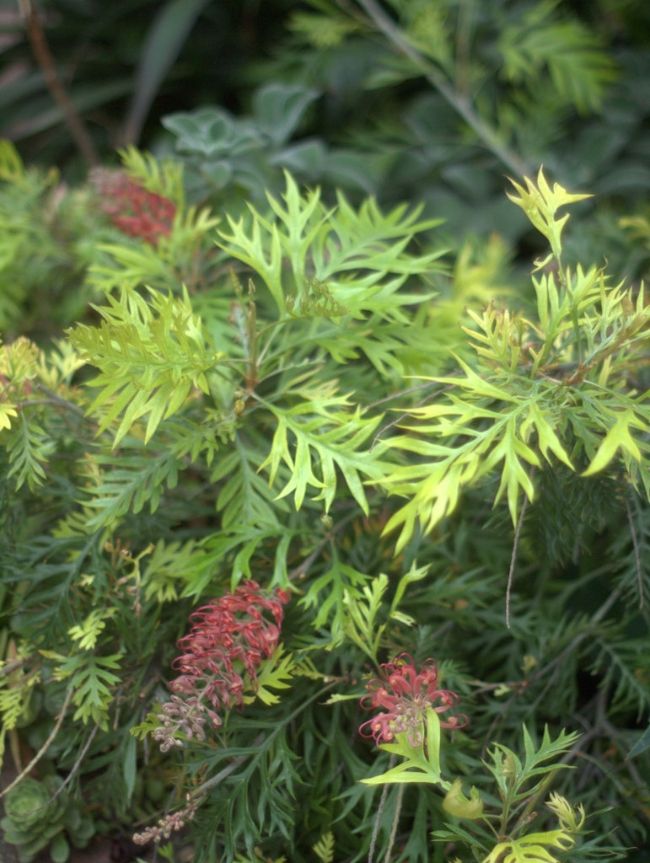 I'm loving the bright chartreuse new growth on Grevillea 'Robyn Gordon'
The Pittosporum crassifolium 'Variegatum' was a recent indulgence.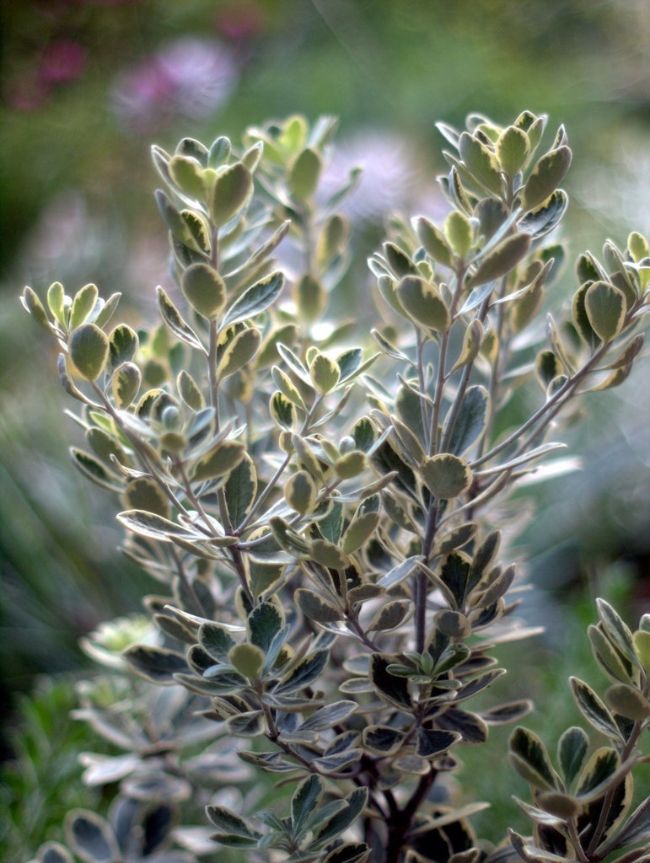 Even in June, flowers just aren't enough. Let's give it up for leaves.
June is a month not to be missed for Bloom Day news, which Carol collects for us at May Dreams Gardens.