You know how one thing leads to another, and before you know it there's a new pair of earrings coming in the mail? Let me explain.
There's a Roberto Burle Marx exhibit right now at the Jewish Museum in New York (review here, "The Builder of Jungles" by Martin Filler.)
I admit to being slightly confused as to how a museum exhibit could possibly do justice to the work of the great Brazilian modernist landscape architect.
But Burle Marx was an outsized, protean artist, "a painter and sculptor; a designer of textiles, jewelry, theater sets, and costumes; a ceramicist and stained-glass artist."
Therefore, he's eminently worthy of an indoor exhibit, though I have to agree with Mr. Filler that:
"The primal presence of nature—even in this designer's highly stylized manner—is needed to fully explain the atavistic magic that emerged from his jungle fervor."
(If you're going to the Olympics in Rio this August, in addition to the famous Avenida Atlântica, the Copacabana boardwalk, you'll want to research some Burle Marx-themed road trips.)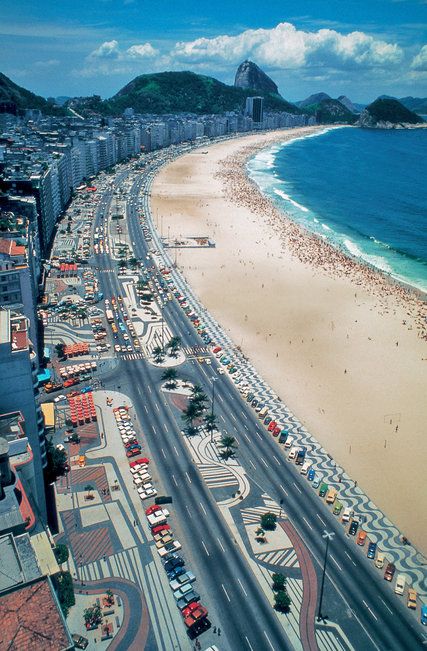 Avenida Atlântica, Rio de Janeiro, Brazil, via The New York Times
After reading the NYRB review, I confess my next thought was on the low-brow side: museum shop!
Maybe there were some special prints for sale made for the show, such as a print of this: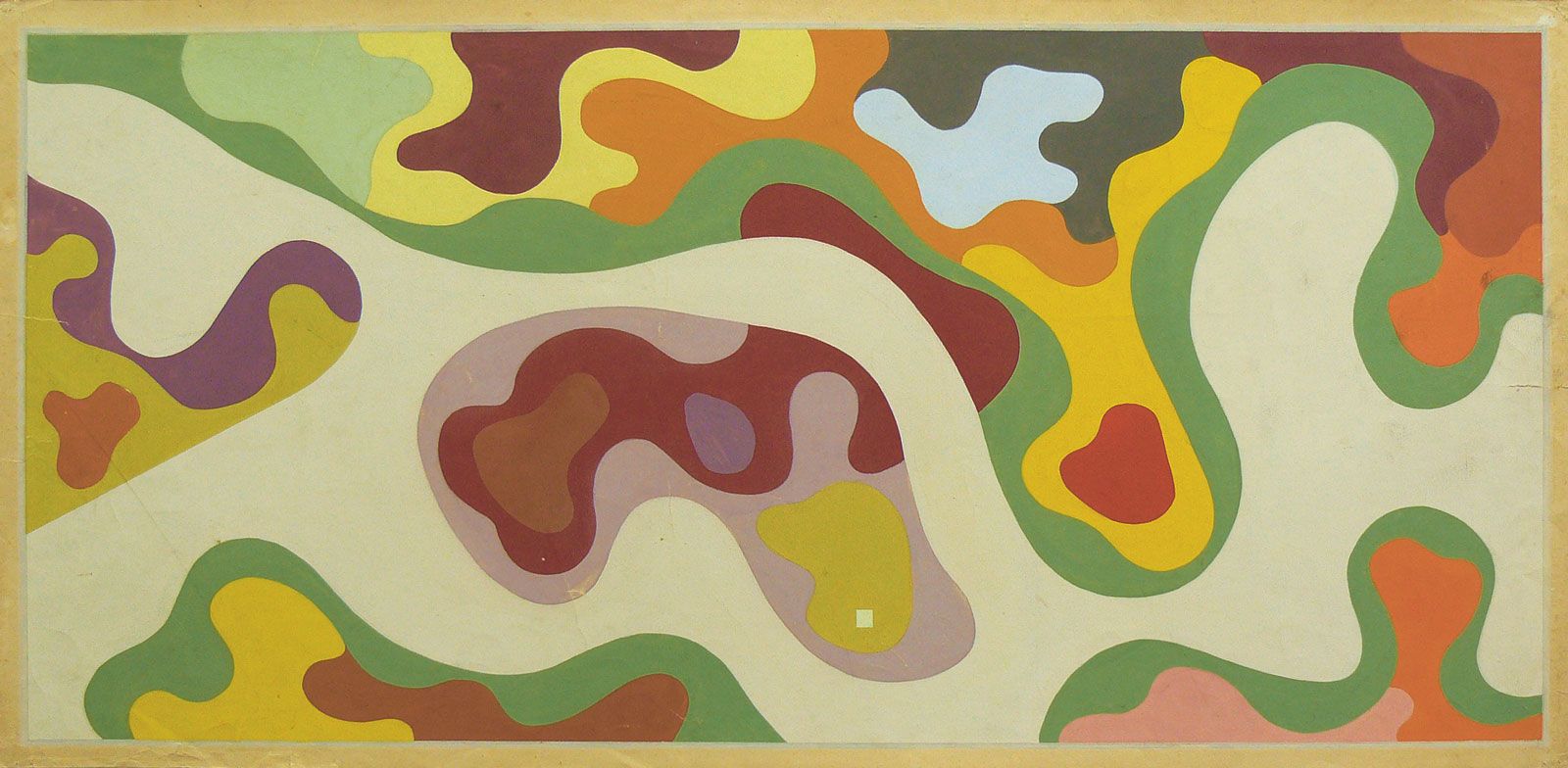 Burle Marx's design for a rooftop garden, Ministry of Education and Health, Rio de Janeiro, Brazil, 1938, via NYRB
or this: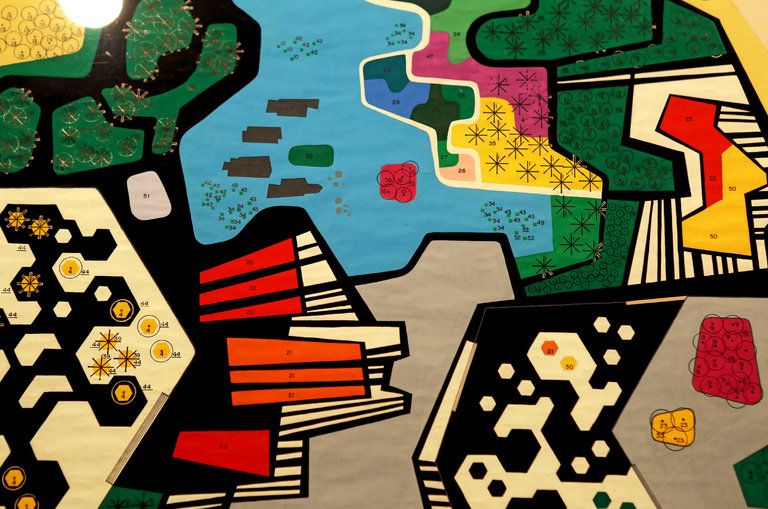 "A detail of Roberto Burle Marx's design for the garden of the Ministry of the Army in Brasília from the early 1970s." The New York Times – "Revisiting the Constructed Edens of Roberto Burle Marx"
I didn't find a print, but did experience an aha! moment discovering the jewelry of Molly M. I was beginning to think I was hopelessly tone deaf when it comes to jewelry.
It's gotten so bad that I'll find myself at work completely denuded of any ornament, having forgotten to wear even a wedding band before leaving the house. What's wrong with me anyway?
My indifference to jewelry all my life never really bothered me much, but I've begun to notice the emotional attachment people feel to their rings, necklaces, bracelets and earrings.
Frankly, I'm a little envious of that attachment. So I had a couple Etsy sessions recently, dutifully scanning the sites for something to spark an interest. Nothing. Hopeless.
Until I saw the laser-cut creations of architect-trained Molly M in the Jewish Museum Shop tying into the Burle Marx exhibition.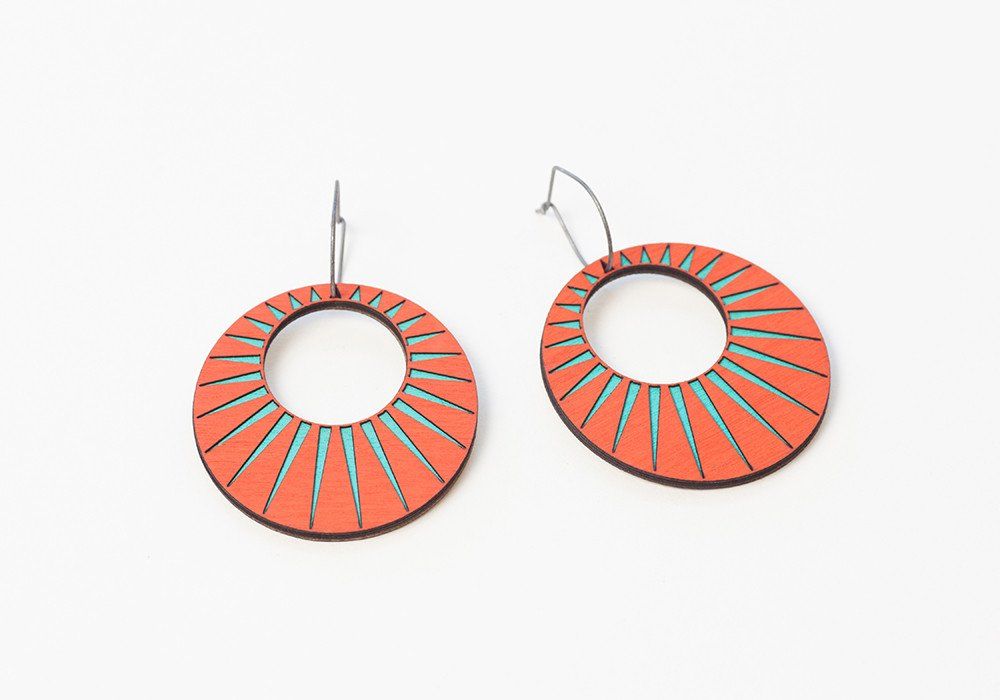 Finally, jewelry I actually desired. Now I get it! The Tropicalissimo Quill Necklace made a convert of me.
But a necklace is a big step for the newly converted, formerly jewelry phobic. Maybe there were earrings on Molly M's own site?
Yes, there are Quill earrings available, as shown in the above photo.
But at almost 2 inches in diameter, I opted for something smaller in "Radial," made of "natural and charcoal stained birch."
You can read more about Molly M here. I think I may have found, via our beloved Roberto Burle Marx, the cure to my jewelry phobia.