On the way to picking up a family member's weekly box at the CSA Growing Experience in North Long Beach last week, I took the opportunity to drive slowly through the surrounding neighborhood of mostly Spanish-style homes. It was drizzling again, still a charming novelty after years of drought. Because of that drought, there's very little front lawn left in these neighborhoods, and what's filling the turf vacuum are all sorts of interesting mashups. I was ready to head for the main thoroughfare again, when I caught a peripheral flare of orange as high as a street parking sign. Could it be? Several K-turns and U-turns later, I found this gem of a garden: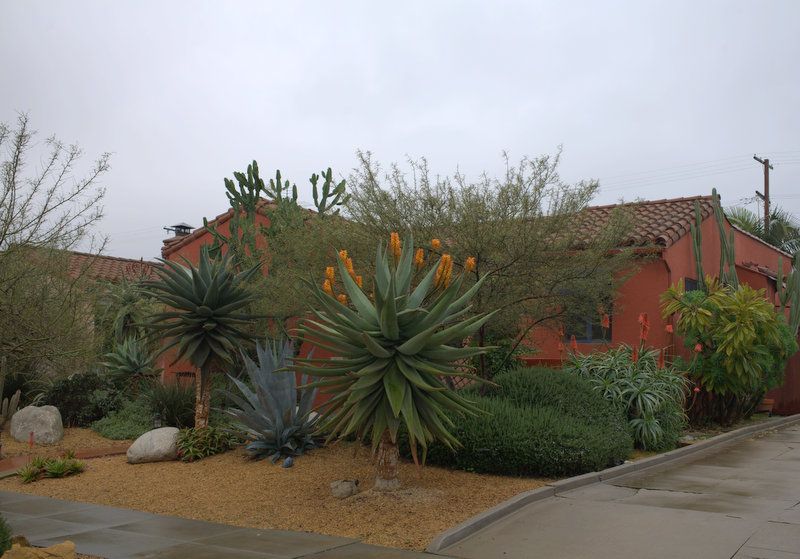 That promising orange flare was everything I hoped for. If this is Aloe marlothii, it's the biggest one I've seen outside of a botanical garden. Amidst all the post-drought, lawn-replacing, tentative start-up front gardens, here's a garden planted long ago and simply for a love of these plants.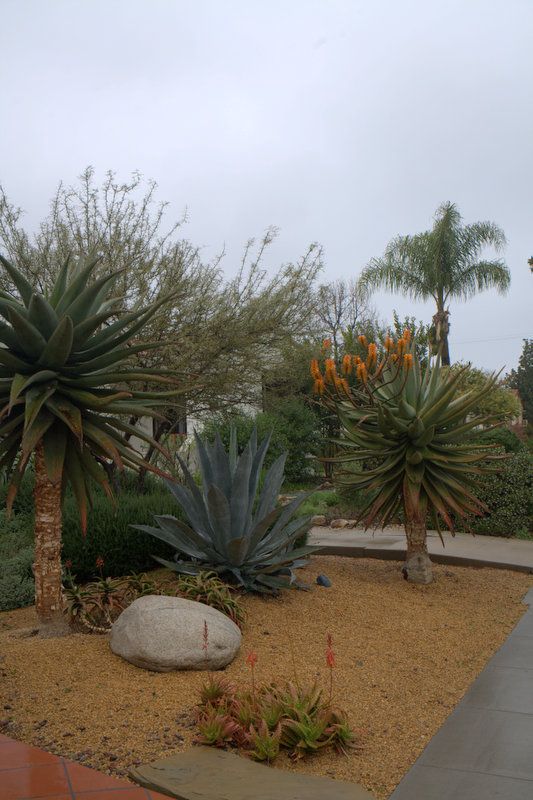 Could the shaggy-headed aloe on the left be 'Goliath'? (A tree aloe notorious for growing more leaves than the trunk can support and therefore prone to toppling over.) Whatever its name, it's a magnificent specimen, with no underplanting to obscure the trunks.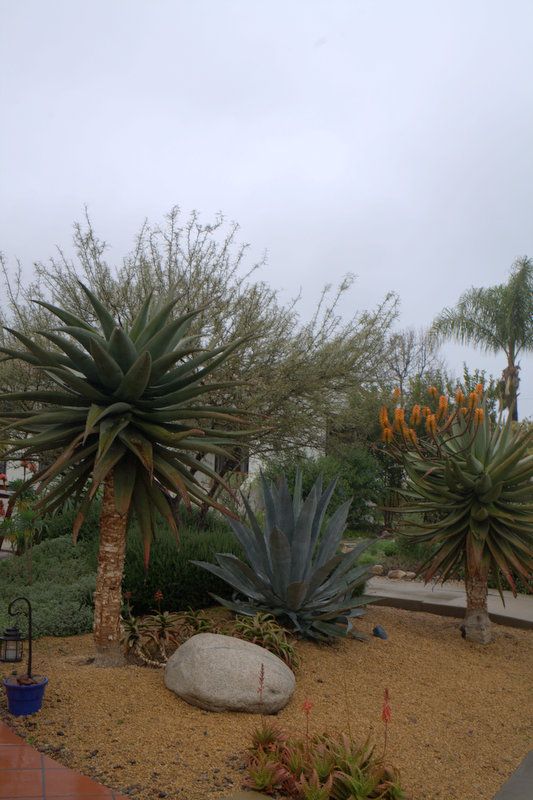 Here's a better view of that tree aloe. The experts say to grow them lean, and you'll have a better chance of keeping them upright.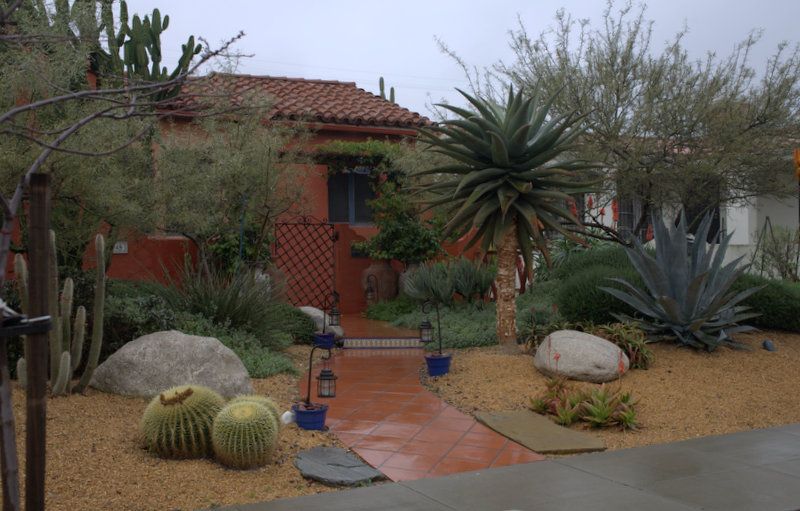 I assumed the other trees were palo verdes, but under these overcast skies it's hard to tell. The architectural massing of plants builds closest to the house and lessens at the sidewalk. With strategic positioning of plants, the house is both screened and open to the neighborhood.
After all this rain, the d.g. still meets the sidewalk in a disciplined line. It was obviously laid down properly, with a good base, then compacted with a roller. Having the planting on a deep setback from the sidewalk is a neighborly gesture to reassure the spiky plant phobic.
I wonder how much editing was done before this vision emerged. This garden struck me as the antithesis of most succulent gardens —
which focus mainly on understory, ground-cover planting that builds tapestries out of all the amazing shapes and leaf colors succulents offer. Here the huge specimens dominate, surging skyward from an austere base of decomposed granite. A very clean, dramatic effect.
A great example of the range of moods and styles possible when planting with succulents.