It all started with a very sweet and generous offer of some foliage for vases. Via bixbybotanicals Instagram, I learned that his Leucadendron 'Wilson's Wonder' was in full winter dress, and he was willing to share some of the largesse with anyone in Long Beach. The South African conebushes are prized for their long vase life, and since my leucadendrons at home are too young to pillage for vases, I jumped at the chance to pick up some ruddy-leaved branches.
The Leucadendron 'Wilson's Wonder' in question, so you'll know in case you're ever offered some branches. Just say yes. And you never know — not only did we leave with a bucket stuffed with cone bush branches, but also some delicious duck eggs, which were ravenously consumed for dinner that night.
Okay, great taste in shrubs and garden fowl — who is this guy anyway?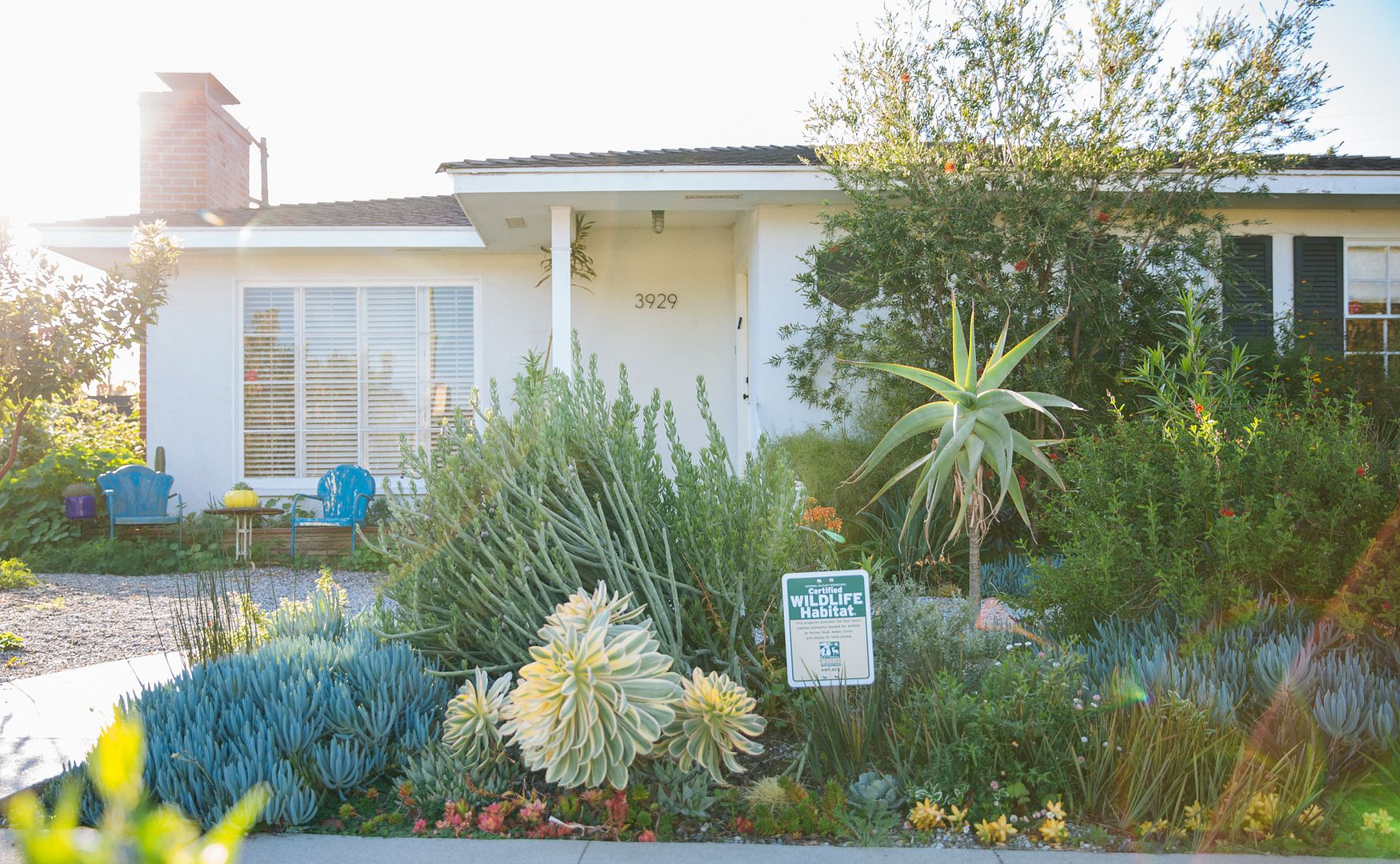 The shorthand answer to that question? Just an Italian Renaissance art scholar/teacher and incredibly busy father of two with a big love of dry garden plants and a strong affinity for garden design.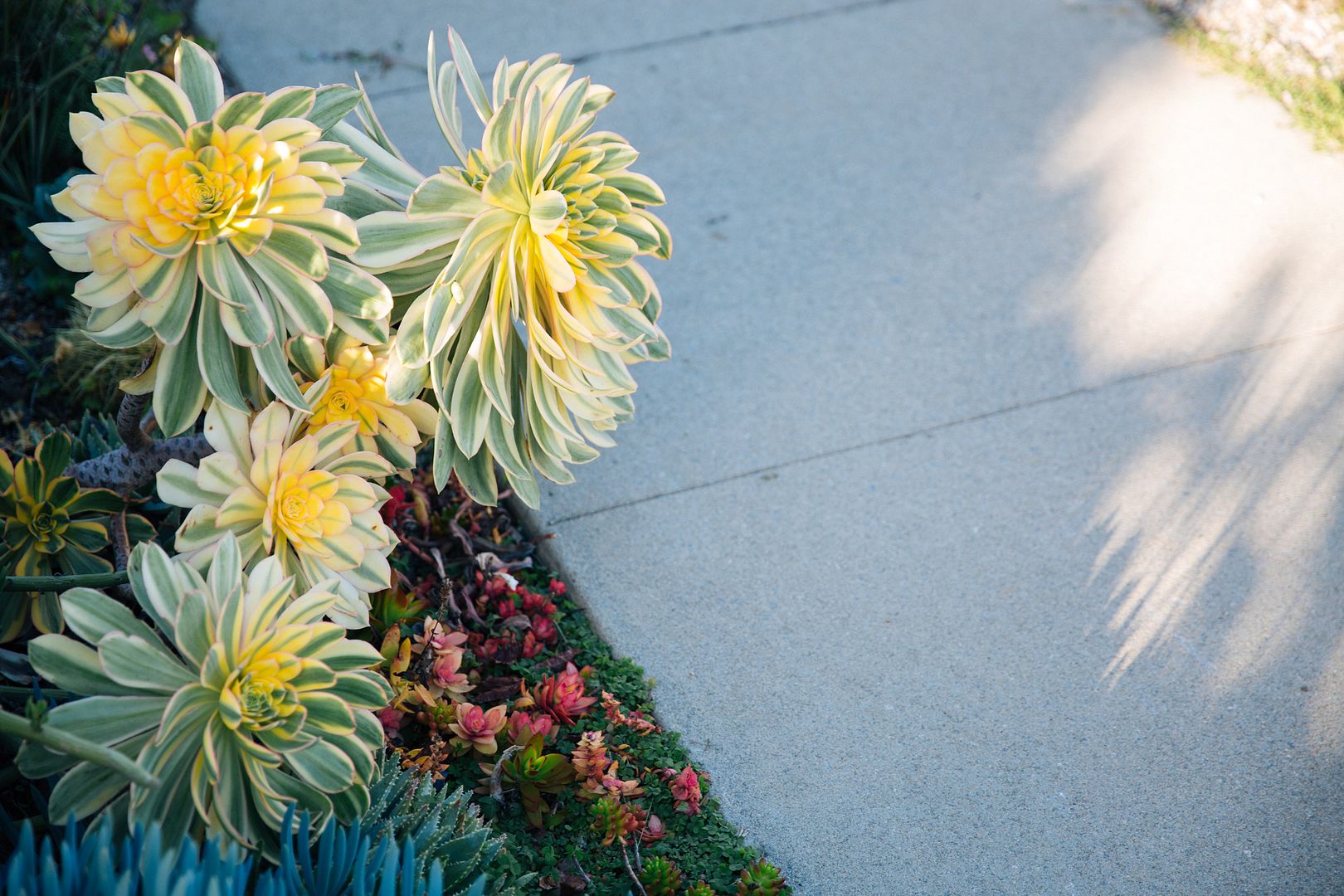 Of course, I immediately began pestering Jeremy for a return visit with the AGO crew (Mitch), and he graciously agreed to let us explore.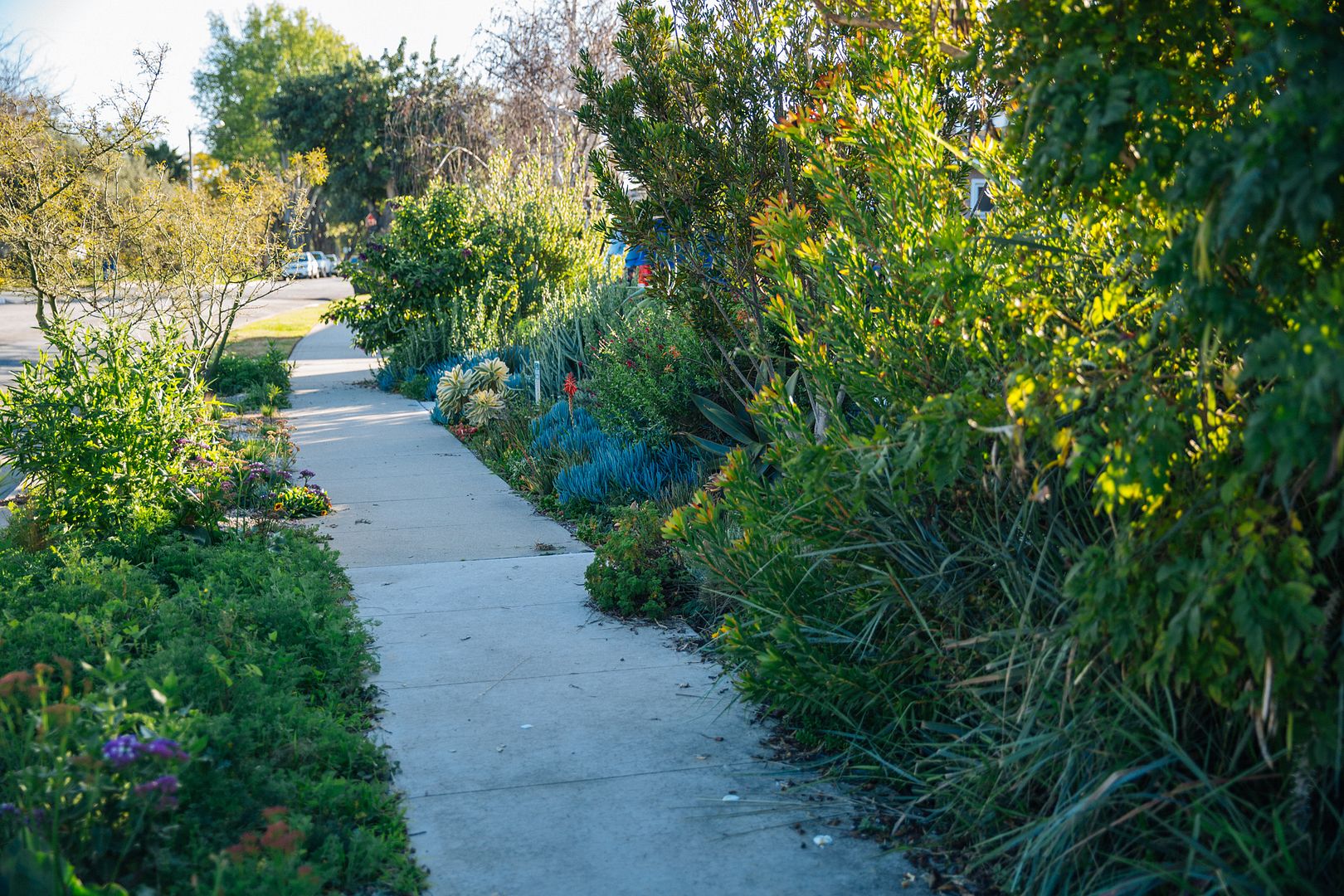 And on an average suburban lot, there is an incredible amount to explore. The parkway is filled with California natives, including milkweed and self-sowing Calif. poppies, making a plant-rich corridor between the hell strip and the front garden.
And here's where Jeremy's garden and other front-yard lawn conversions part ways. Just behind that thick band of plants bordering the sidewalk is this surprisingly private piece of serenity, just feet from the street. I don't think I've seen a river of blue chalk sticks/Senecio mandralsicae used to better effect. And, yes, Jeremy says they do require a stern hand to keep them in check. A 'Creme Brulee' agave peeks through salvia, the red echoed by callistemon in bloom opposite.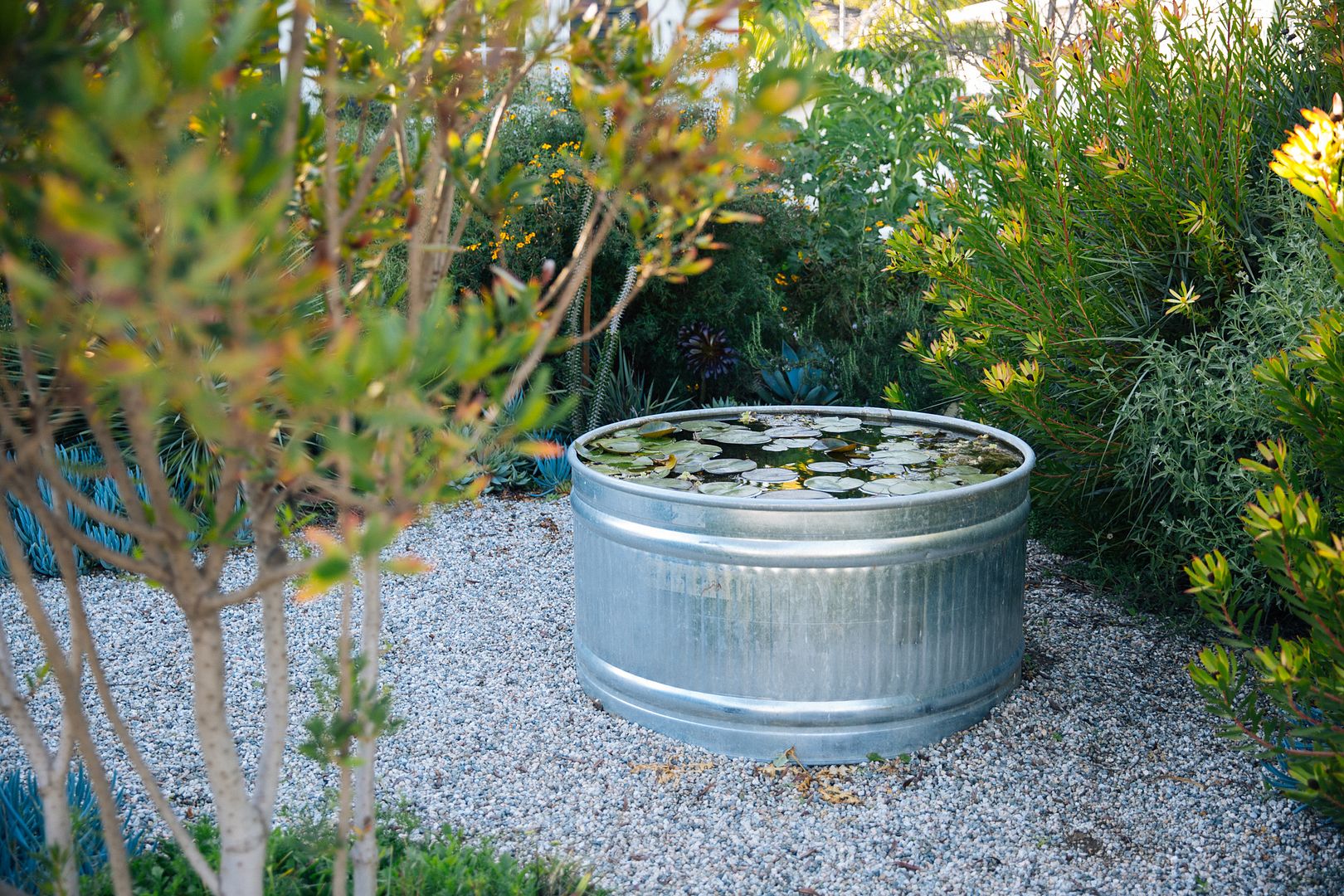 All anchored by the shiny simplicity of that lone stock tank. (There's another one in the back garden.)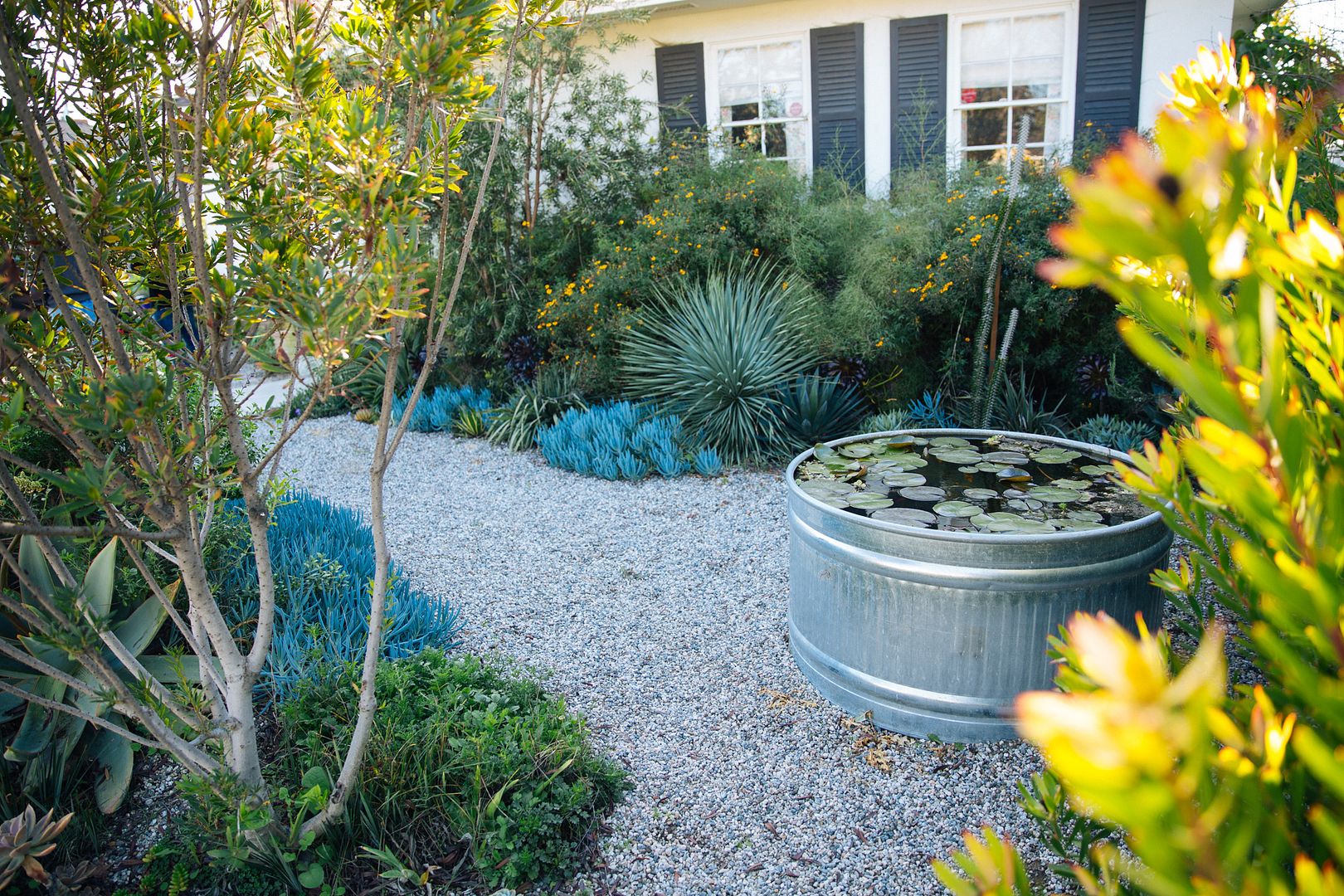 I love how he took featureless, flat panels of lawn and sculpted the space into a multi-faceted garden that works for the family, wildlife, and the neighborhood. A strong sense of enclosure without a fence — who knew? My own street-side (and mangy) box hedges are striking me as unnecessarily claustrophobic now.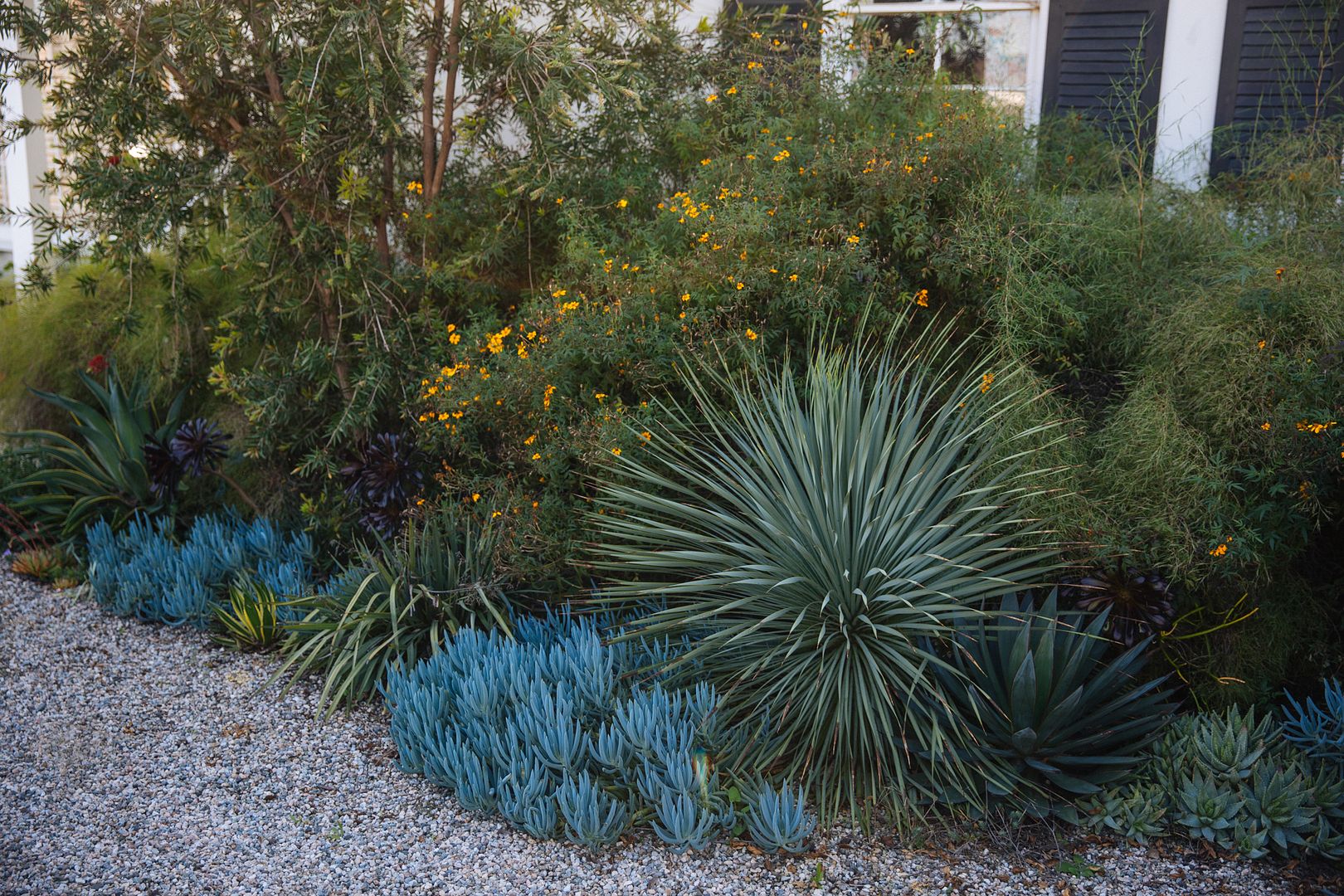 Jeremy seems to have effortlessly managed balancing the broad strokes that strongly lead the eye with the detailed planting that rewards closer inspection. I counted a total of three Yucca rostrata, but there may be more.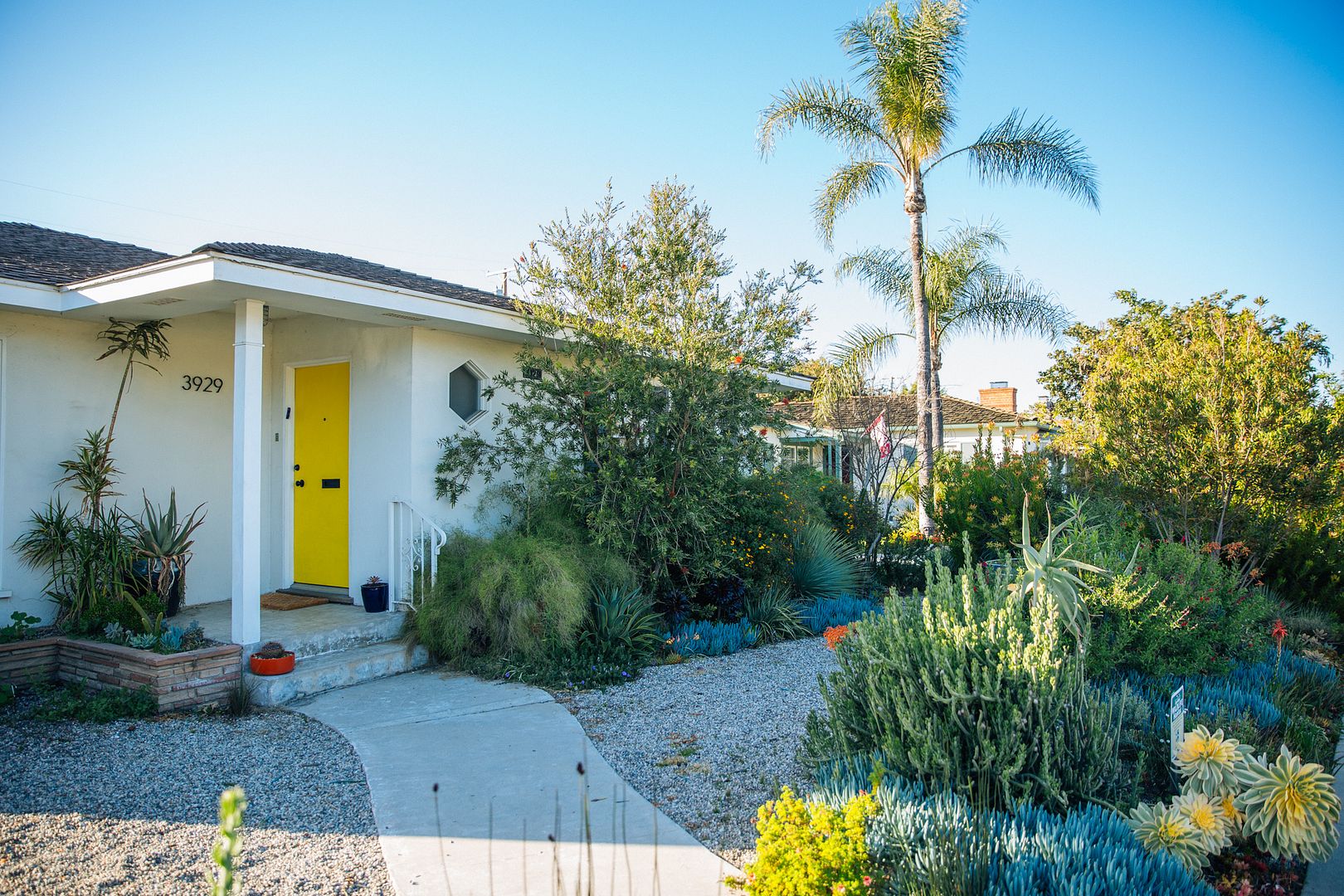 The front garden was started in 2012, when it was nothing but a flat expanse of lawn and a couple palms. Not a trace of either is left. (Those are a neighbor's palms in the background.)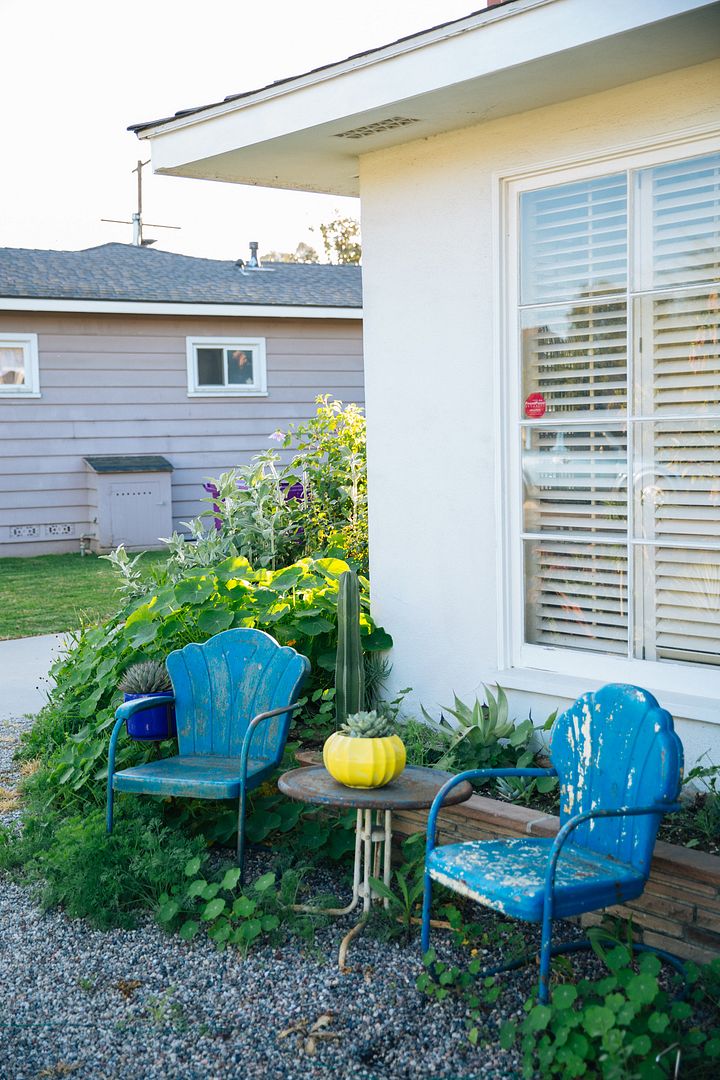 Now there's nooks to watch the kids chase butterflies.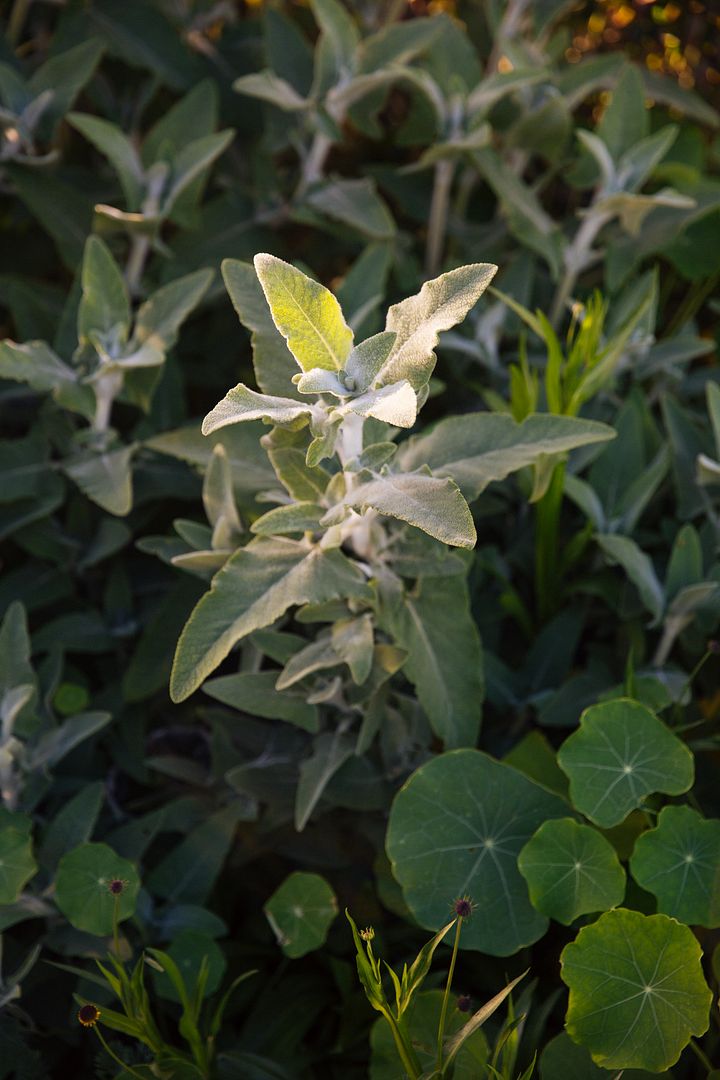 That Salvia canariensis on the corner of the house behind the nasturtiums is going to be stunning in bloom.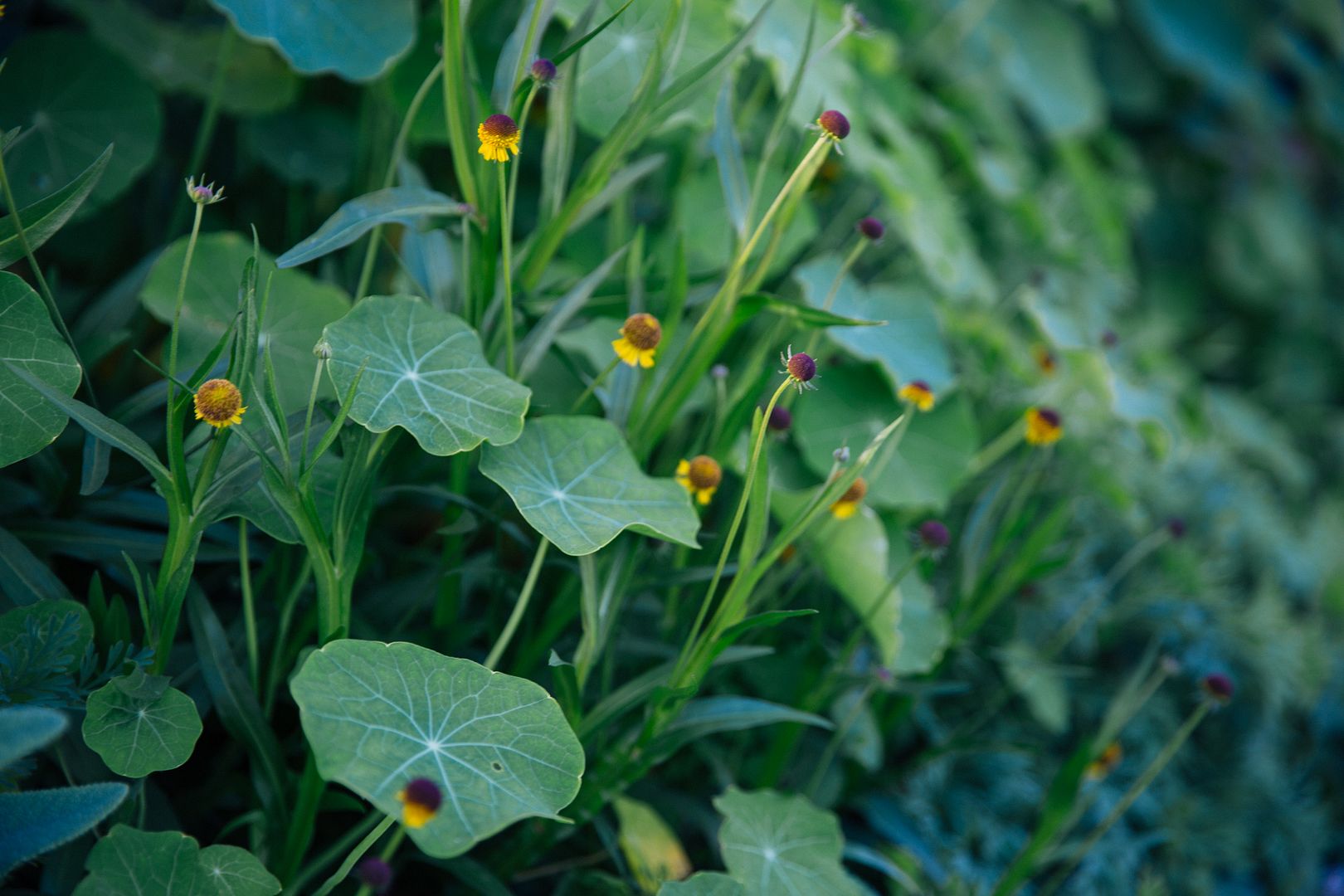 Mixed in amongst the nasturtiums is the charmingly nubby Helenium puberulum, a Calif. native.
And opposite the chairs and table is another gorgeous bit of planting, deftly angled to screen the house on the driveway side. Obviously a collector of choice plants, nevertheless his design instincts are manifest in subtle screening and massing for privacy balanced by openness/negative space. A sentinel arbutus stands apart, with the strong afternoon sun blurring the outline of a 5-foot Leucadendron discolor 'Pom Pom' to the arbutus' left, one I've killed a couple times. Jeremy admitted to lots of failures, too, but his successes are envy-inducing.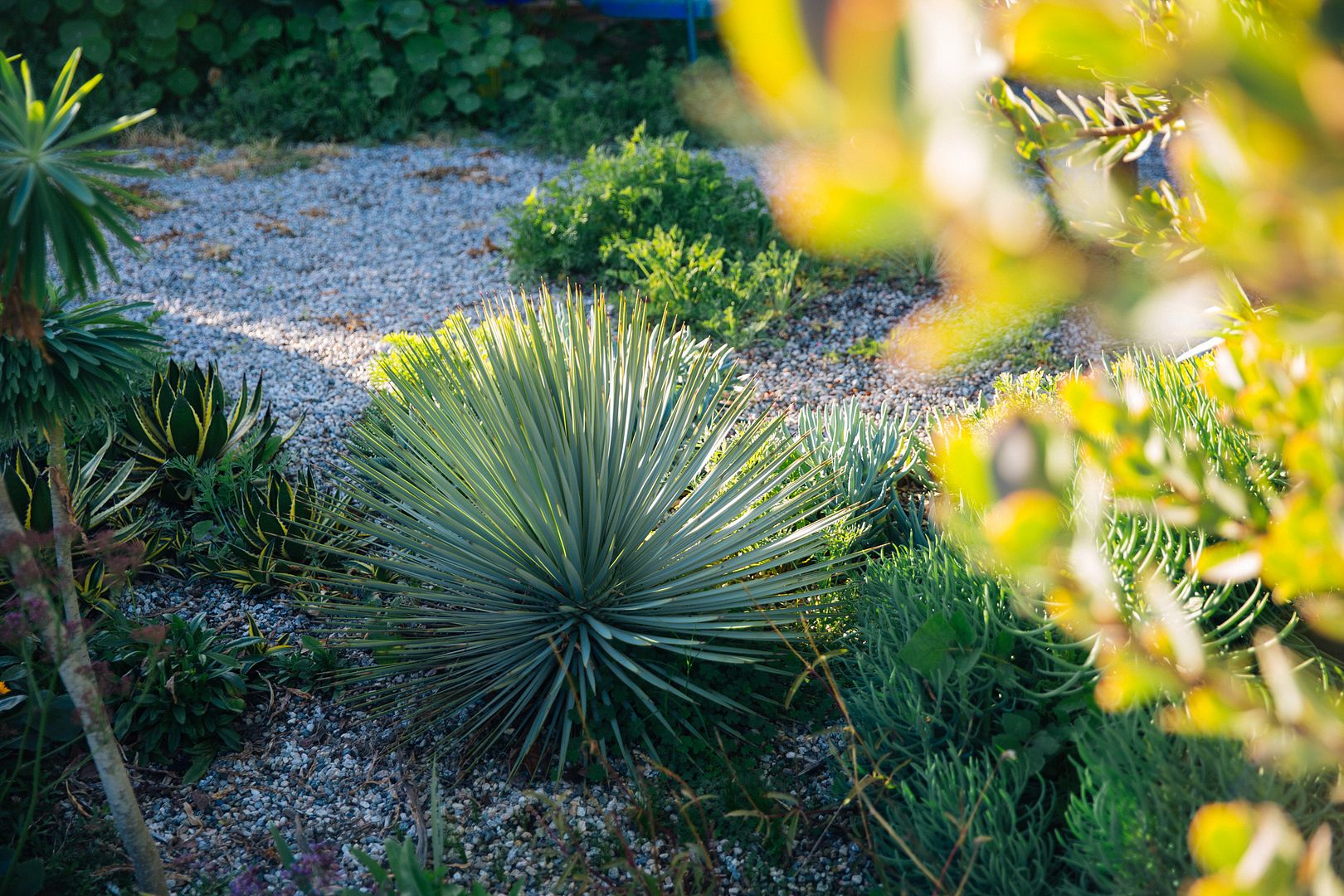 Encircling 'Pom Pom' is a detailed planting of aloes, yucca, golden coleonema, senecio, Euphorbia lambii. Like me, he browses for plants at local H&H Nursery as well as flea markets.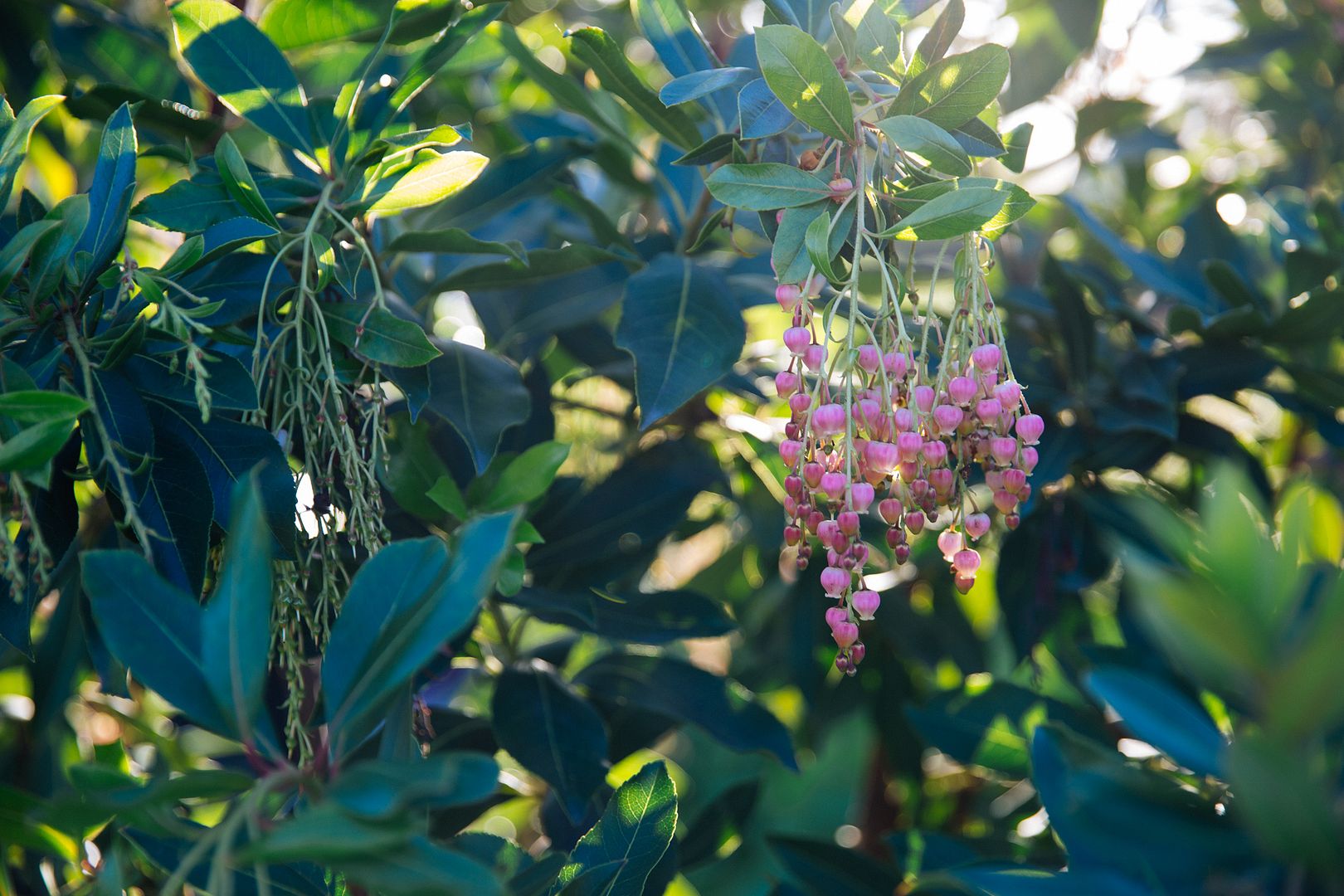 Detail of arbutus bloom.
But where are those ducks? we asked, hoping to steal a peek into the back garden. The ruse worked.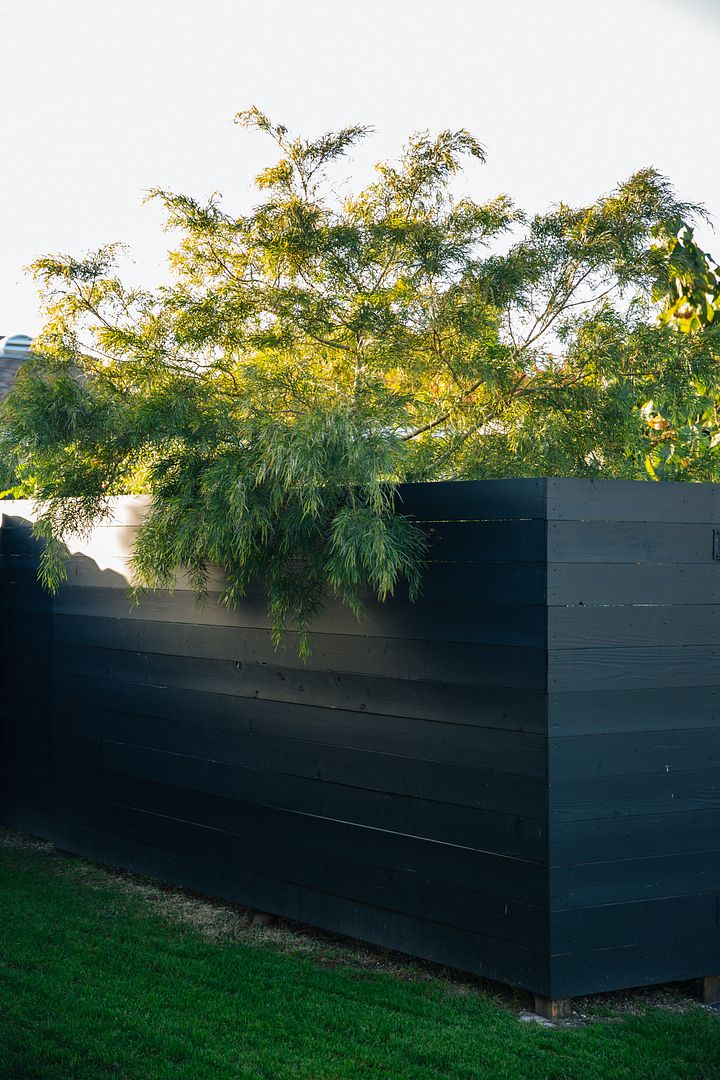 To visit the ducks, we were led behind a sleek black fence at the end of the driveway guarded by Acacia cognata.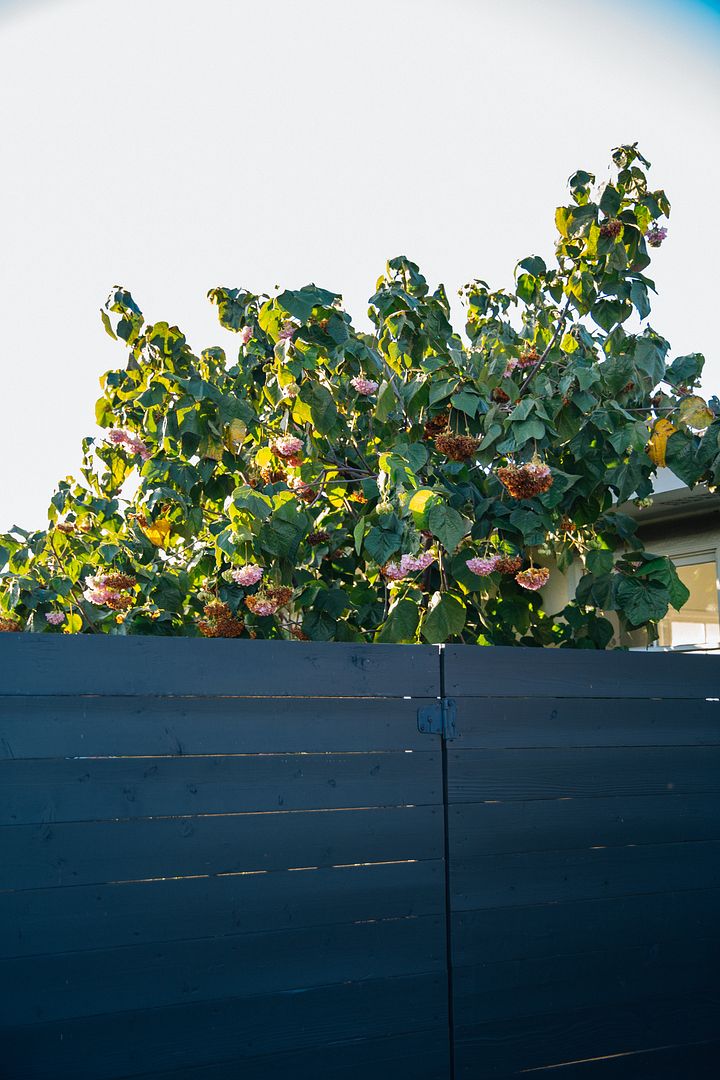 And a dombeya, the highly scented Tropical Hydrangea. Jeremy said he chased this small tree's identity for years.
All was finally revealed during a visit to Disneyland, where the dombeya was growing, and labeled, in Toontown. In an instant, the silly and the sublime converged.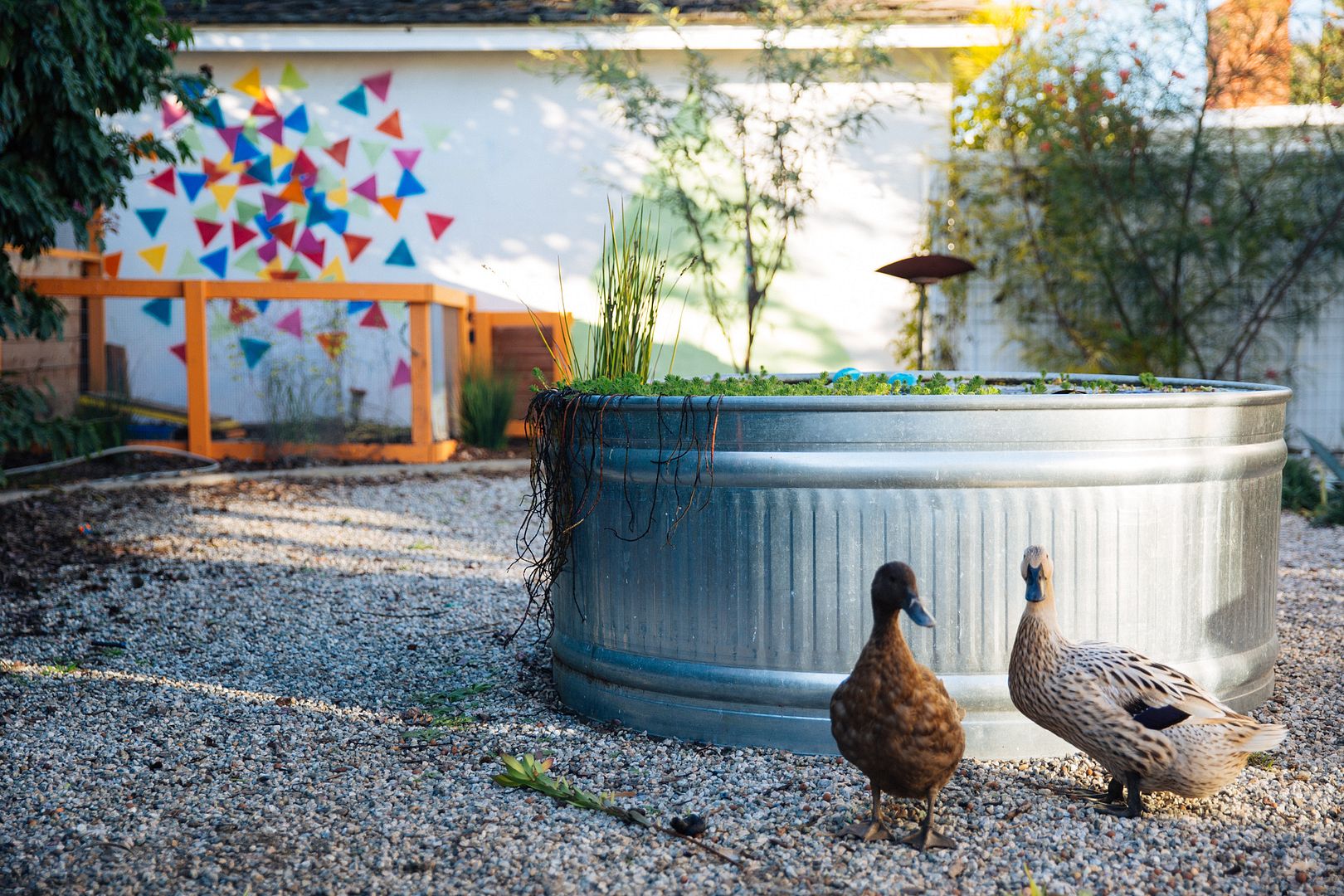 Meet the ducks. Mural in the background was done by Jeremy's brother.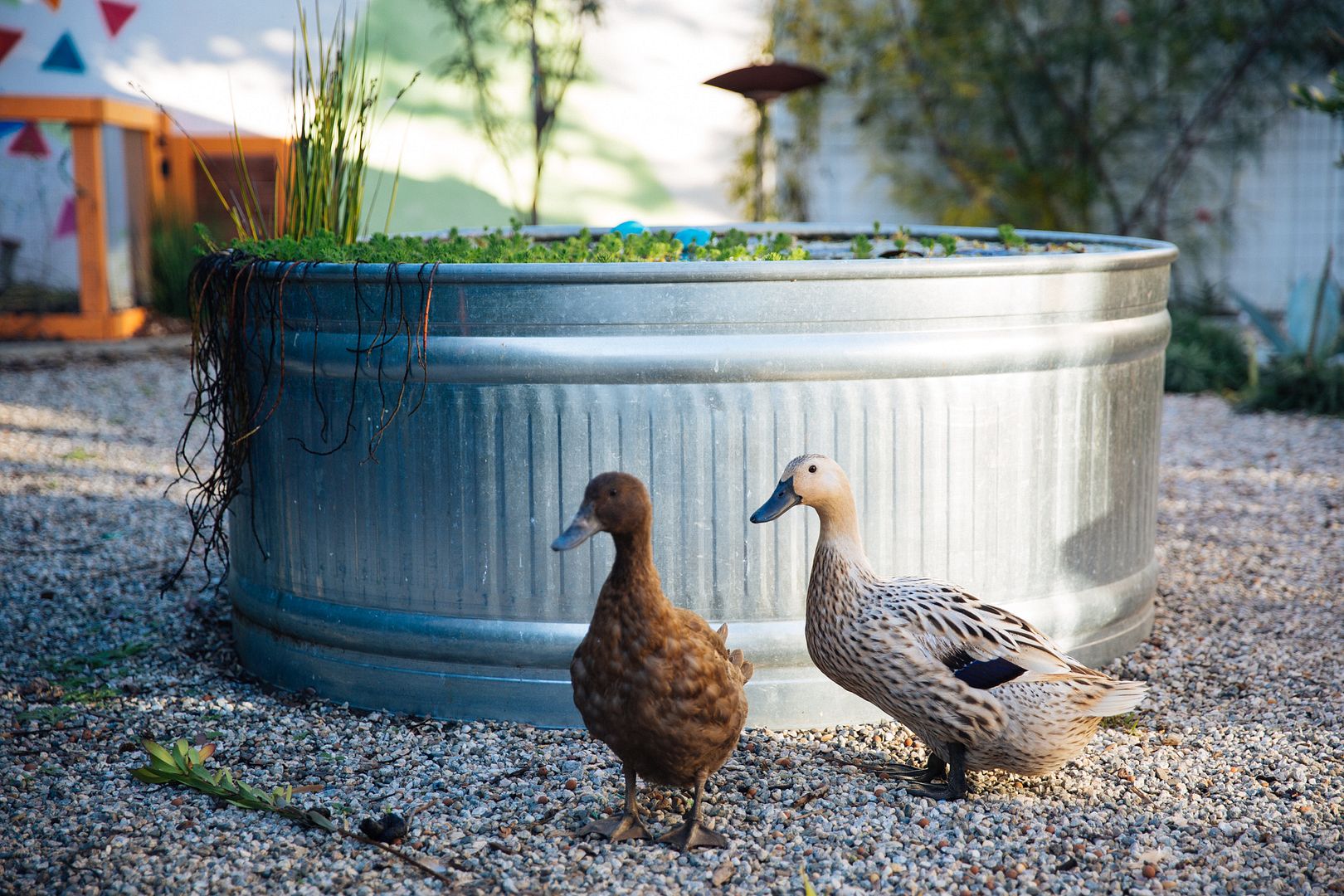 I want ducks!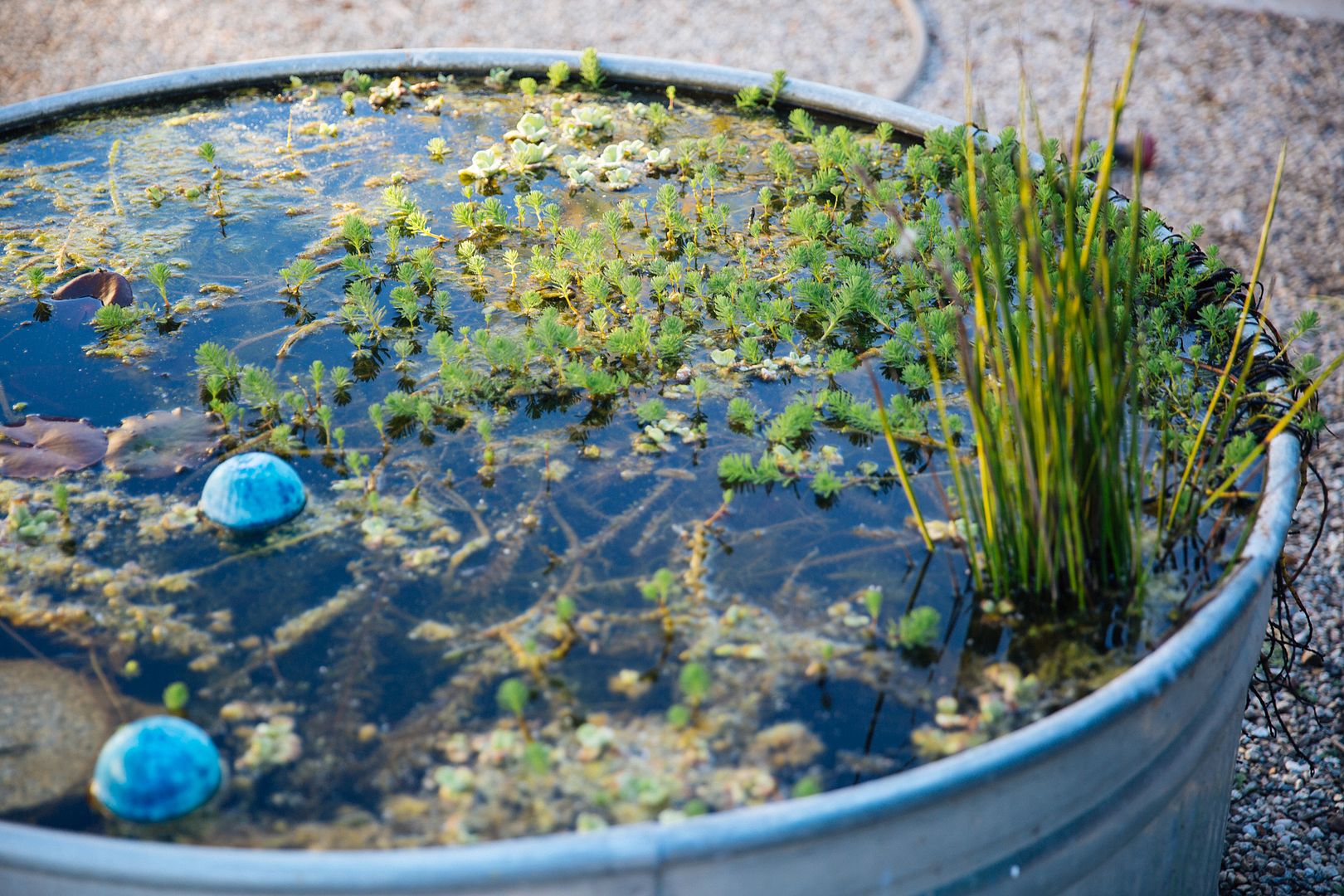 I asked how the gardens were handling the recent (relatively) heavy rain, and Jeremy said the front garden came through like a champ. But there has been a bit of flooding in the back garden.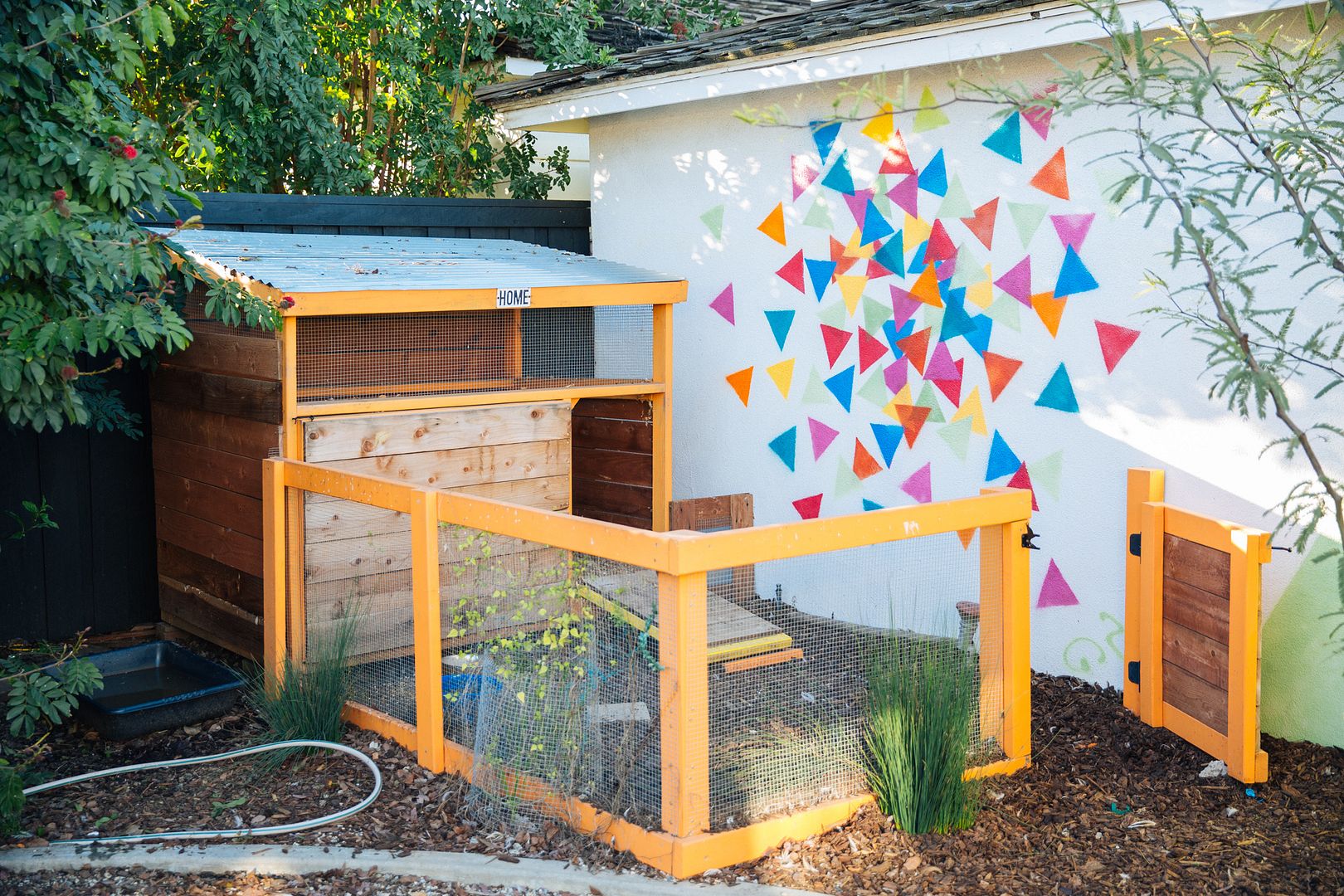 I'm sure I was told but can't remember who built the duck enclosure. What duck wouldn't obligingly lay as many eggs as possible in such cheerful digs?
There's a serious container fanatic at work here too…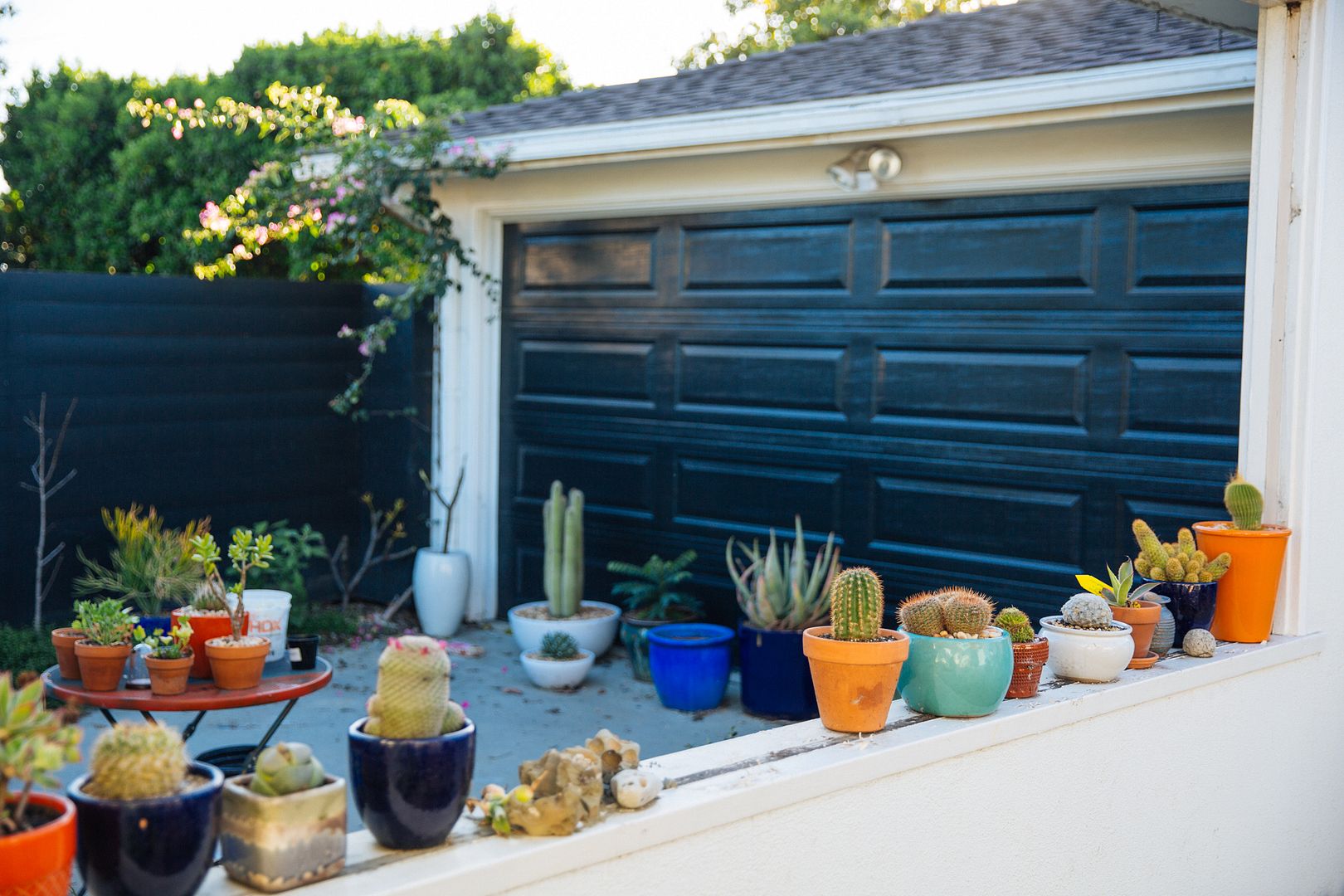 A termite-infested pergola attached to the house had to be knocked down when they moved in, leaving this low wall along the driveway as the perfect spot for staging containers.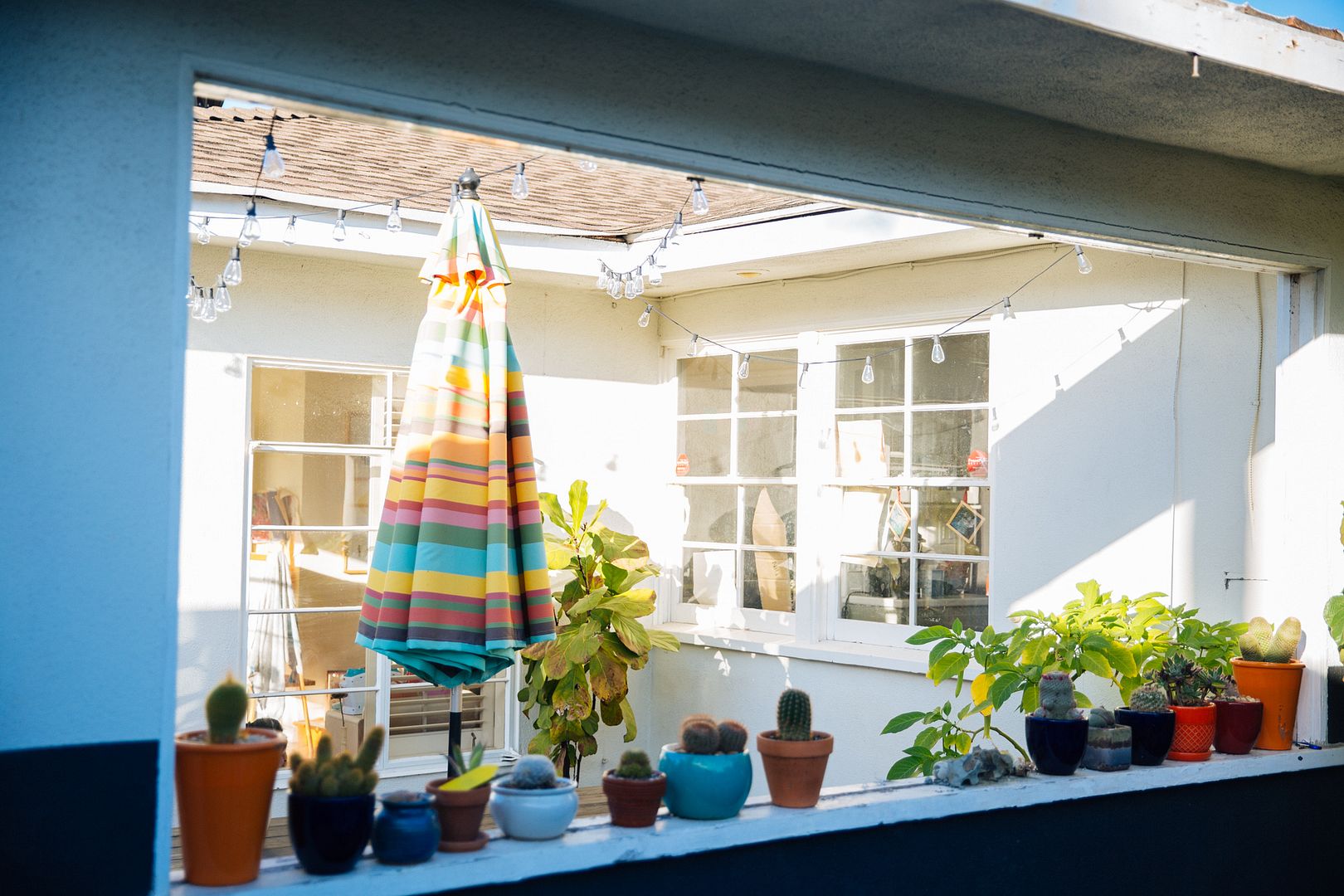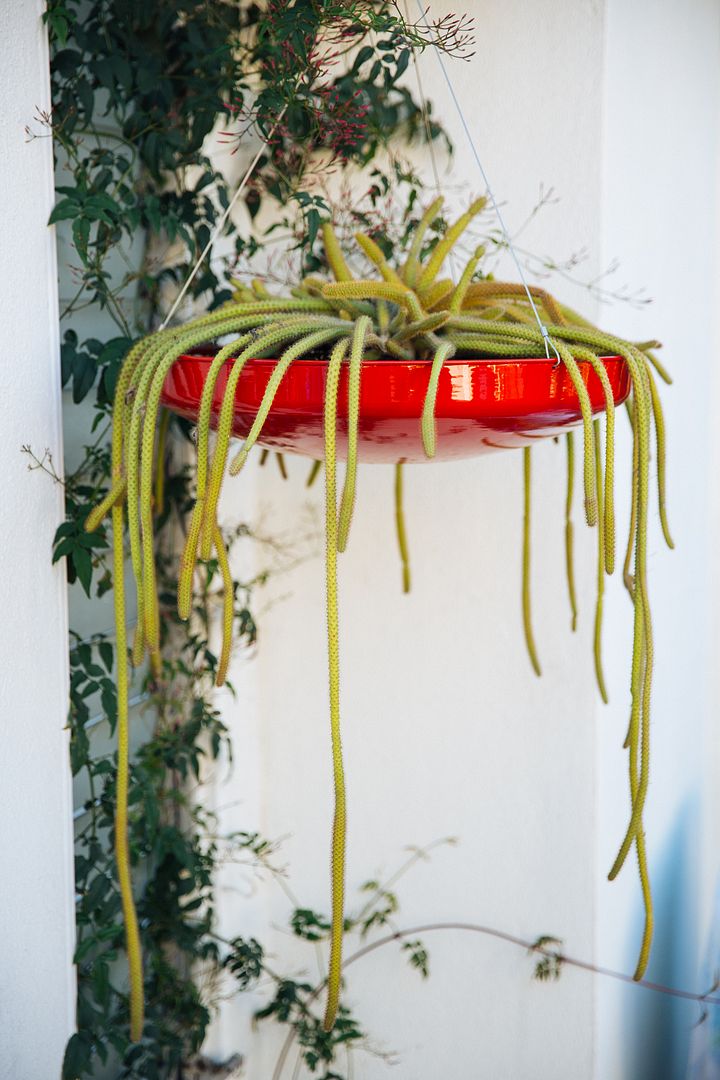 In case you bloggers are feeling that it's all about Instagram, Pinterest and Facebook, Jeremy is a faithful reader of blogs.
Melianthus major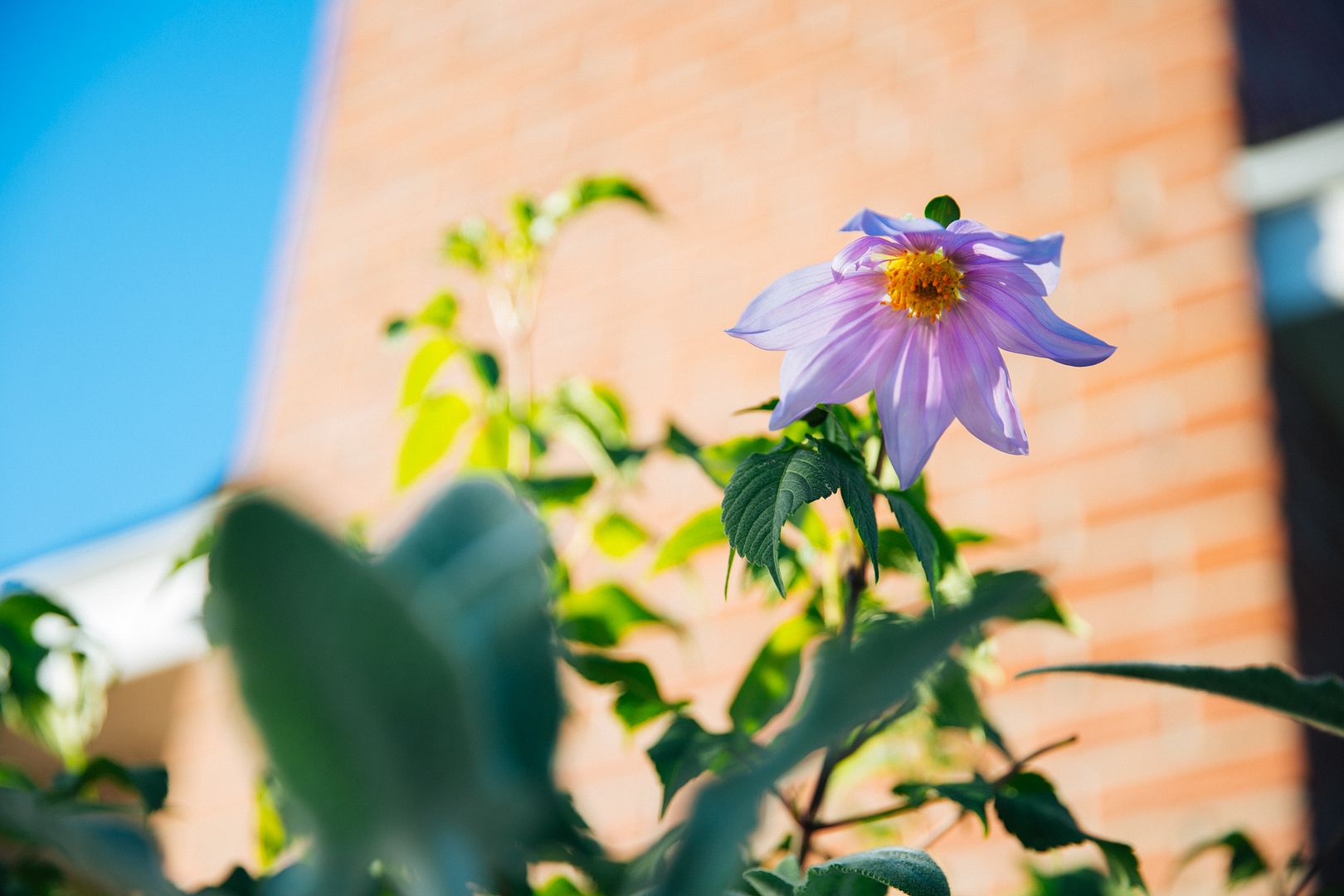 Winter-blooming Dahlia imperialis, after several moves, in a spot obviously to its liking.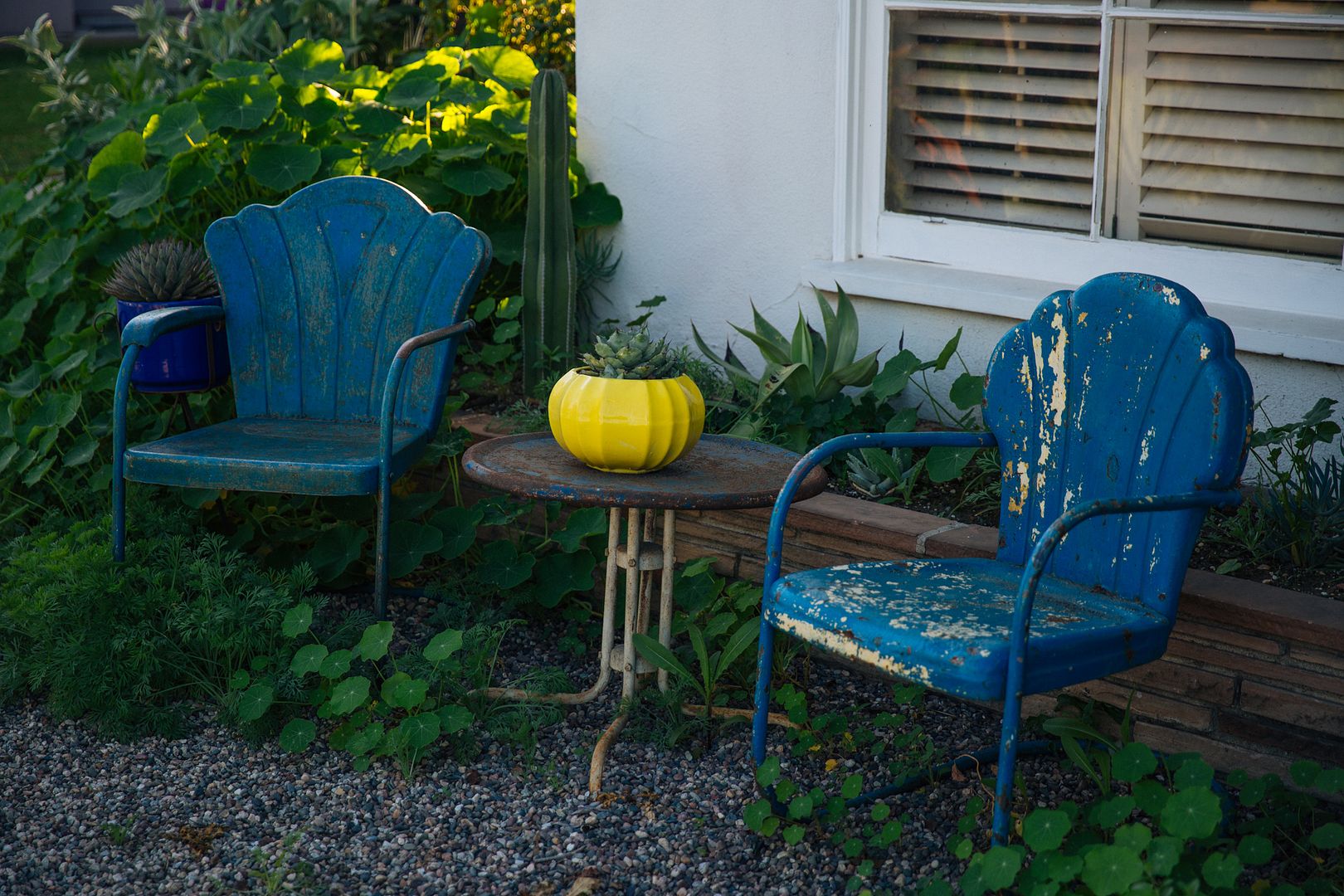 For the leucadendron branches, the duck eggs, and the inspiring garden visit, thank you so much, Jeremy!
All photos by MB Maher.