Mrs. Lazarus, the blog is back from the dead, from whence malevolent forces dragged it deep into the underworld lo these past few weeks, to emerge again battered but triumphant, like Persephone in time for spring. Apologies to Sylvia Plath and Bullfinch's mythology for the theatrics, but it was a pitched battle to which I brought a dull trowel, while my unseen, cowardly enemies wielded the unfathomable powers of their dark arts, hurling code of deadly viruses. More apologies to all visitors who were greeted by the malware warning instead of pleasant photos of plants.
So let's get back to talking about plants, shall we? In the back garden, which is increasingly given over to succulents and dry garden shrubs, with little to bloom for summer except grasses, I carved out maybe a 4X4 patch for some spring ephemerals. The bearded iris is a rebloomer from Schreiner's called 'Final Episode,' a bicolor, unlike the last bearded irises I grew, which were solid orange (see here). If the summer tattiness of the leaves doesn't get too annoying, and they rebloom as promised, I might continue the experiment next year.
Some Eryngium 'Jade Frost' were found locally last week, irresistibly sporting precocious bloom spikes, along with some 'Ascot Rainbow' euphorbia in bloom as well.
The gauzy, pale purple linaria was planted maybe a month ago, a selection from Annie's Annuals called Linaria marocanna 'Licilia Azure.' The linaria and eryngium possess those desirable small garden attributes of slim and tall. Silvery shrub is a native buckwheat, Eriogonum crocatum.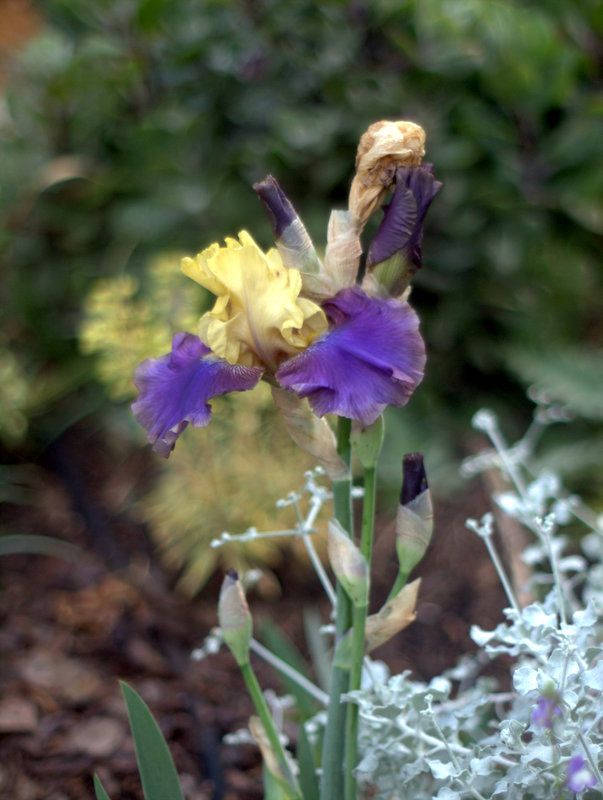 One clump of iris out of three planted is in bloom at the moment.
In other blooming news, cocoa-colored nicotiana have self-sown around the tank of the variegated octopus agave.
Grevilleas continue to bloom into spring. 'Robyn Gordon'
Grevillea 'Moonlight'
Long-time blog denizen, the Corsican hellebore, just the one clump now. A ferocious reseeder.
Another blog old-timer, winter blooming Pelargonium echinatum.
Aeoniums bloom in trusses holding galaxies of thousands of tiny yellow stars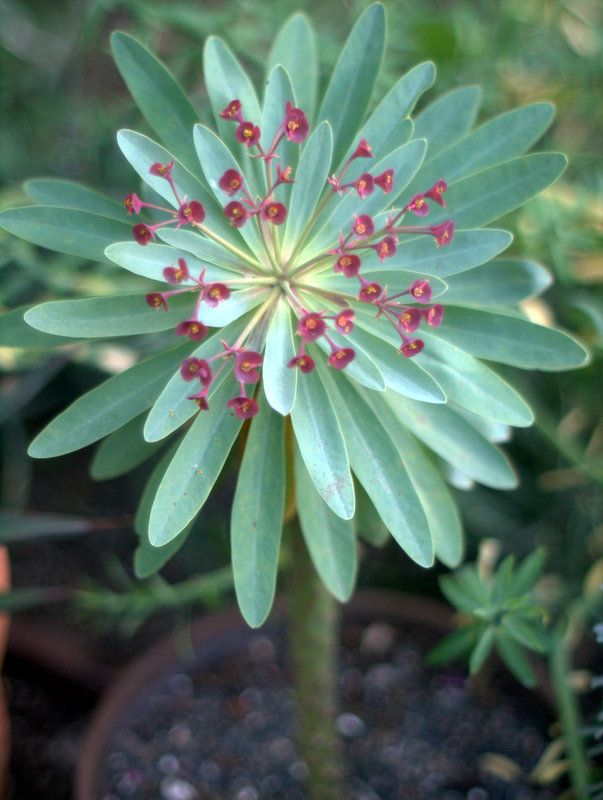 And my newly potted Euphorbia bravoana surprised me by blooming this year.
Missed you!