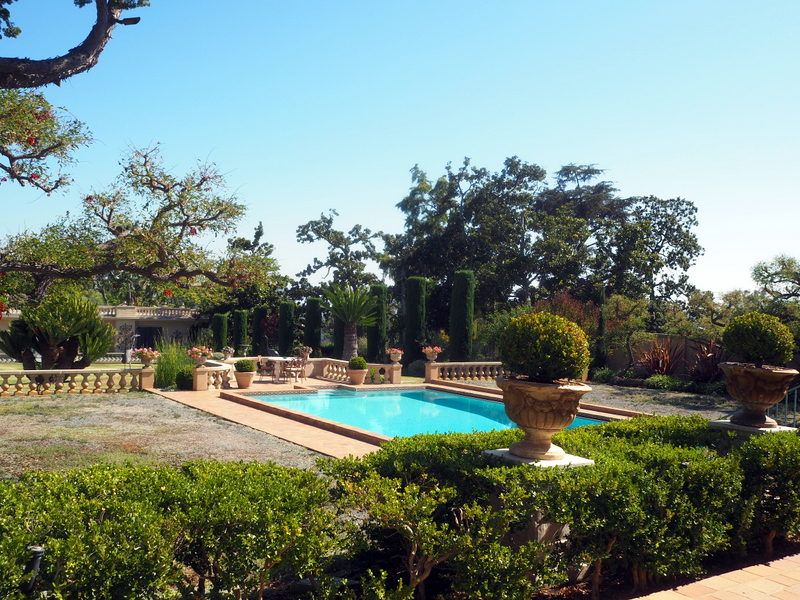 There's always a local, hometown garden or two that we never get around to visiting, right? And that holds true even in garden-starved Southern California. The Virginia Robinson Garden in Beverly Hills has been written and rewritten in seemingly vanishing ink at the top of my must-see list for decades.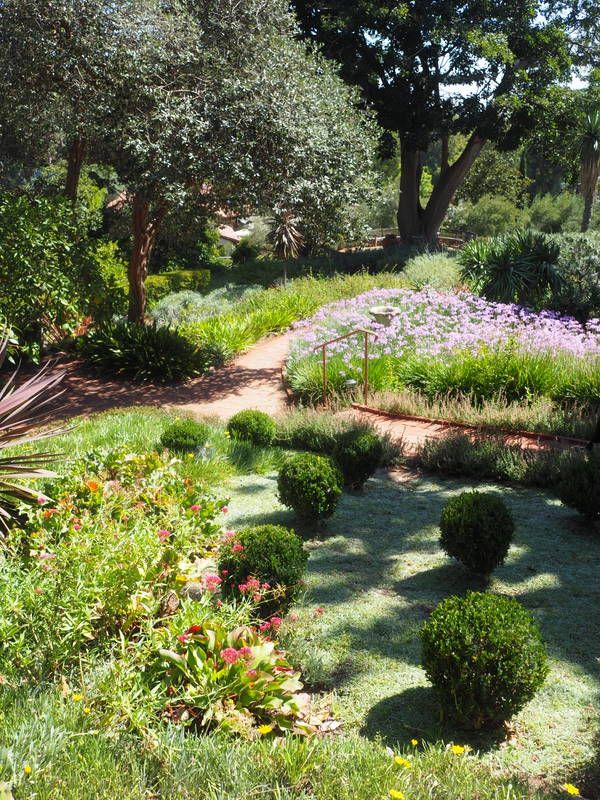 Box spheres in dymondia, massed tulbaghia
Because it is the first estate built in Beverly Hills in 1911, the flourishing enclave subsequently grew up around it, pressing in on all sides of the steep lot, basically concealing its hilltop existence from the uninitiated. I knew it was the formal garden of a wealthy socialite married to a scion of the Robinson Department Store dynasty, Harry Robinson. I probably first learned of this little-known garden from one of my horticultural teachers in the early '90s. Not to sound like a strident class warrior, but let's just say my lackluster interest in formal, box-hedged, trophy estate gardens kept pushing the visit off to some dim time in the future, but that day eventually turned out to be last Saturday. (Reservations are always required for the one-and-a-half-hour tour, which costs $11 per person, and the small tours fill up fast.)
And I have to admit up front that I grossly underestimated Virginia.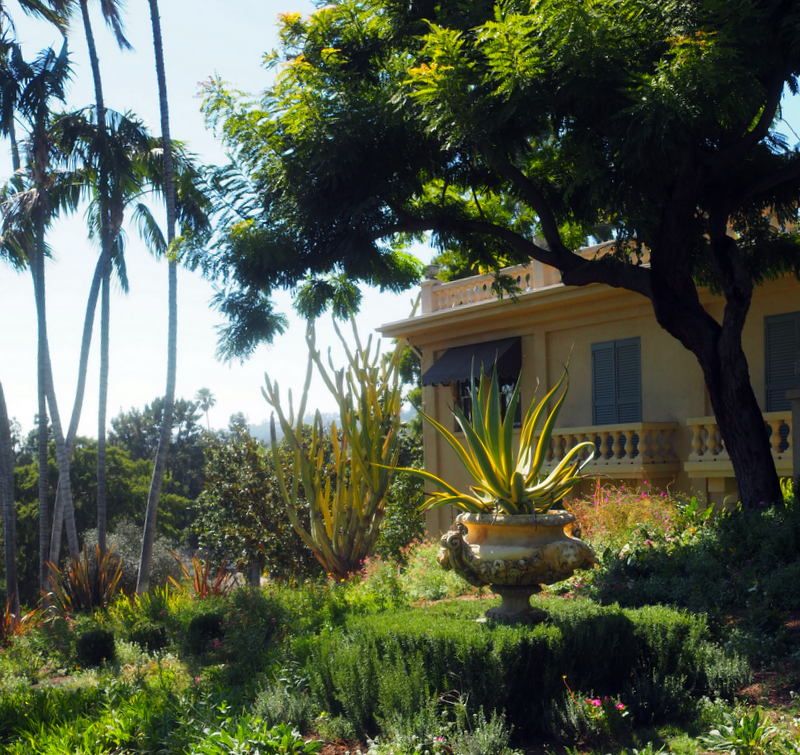 Cactus in the distance was a gift from Arabella Huntington. Virginia knew everybody, played tennis with Charlie Chaplin and bridge with Fred Astaire.
Her garden, bequeathed to the County of Los Angeles, is obviously the work of someone completely in love and in tune with the ideal that a good life is comprised of as much time spent outdoors as possible, surrounded by friends and pets. Prepared as I was for an ostentatious showcase with axial views appreciated best from the drawing room windows, the use of simple materials, the human scale, and the tenacious walkability of the steep landscape came as a humbling surprise. Virginia's footsteps are felt everywhere throughout the garden.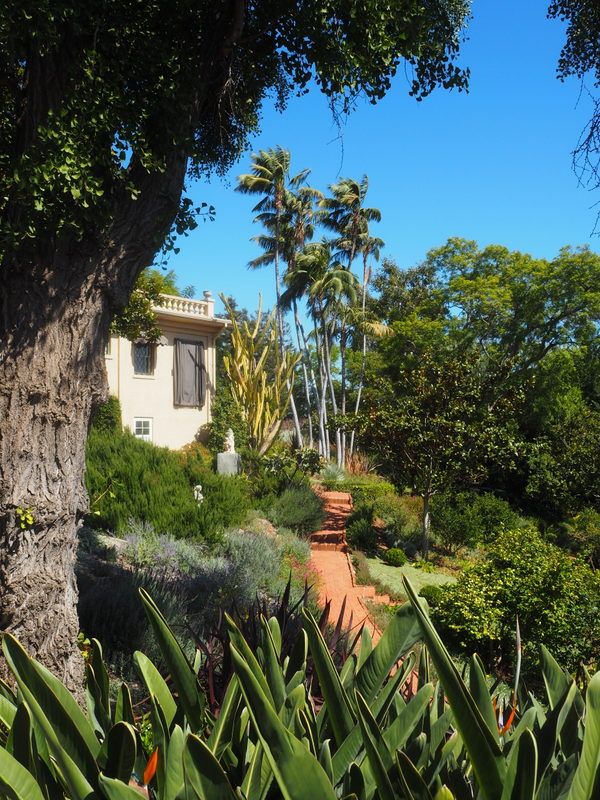 Path cutting through the eight levels of terracing.
Path through the palm garden, the largest collection of Australian King palms (Archontophoenix cunninghamiana) in this hemisphere.
Working with landscape architect Charles Gibbs Adams (who had a hand in another early 20th century garden I'd love to see, the now-mythical Austin Val Verde in Montecito, which has tragically fallen victim to confused stewardship and bankruptcy), Virginia exploited every inch and knew every brick of her terraced garden intimately, daily walking the grounds during the more than sixty years she lived here, 1912 to 1977, almost to her 100th birthday.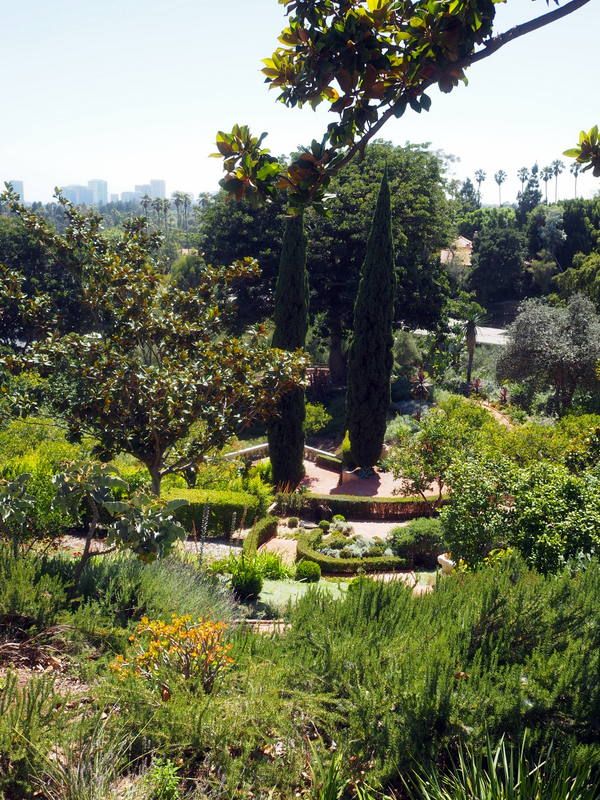 Now that I've toured it with a very enthusiastic docent, I can authoritatively state that it is a roughly 6-acre estate garden and, as I suspected, there's not much detailed planting of interest for modern tastes. Virginia was not a serious plant collector, despite having planted the first coral tree in Los Angeles, Erythrina caffra, now a registered "California Big Tree," still on the property. Nonetheless, her home undeniably exudes an inimitable, Old Hollywood ambience that casts a powerful, time-traveling spell.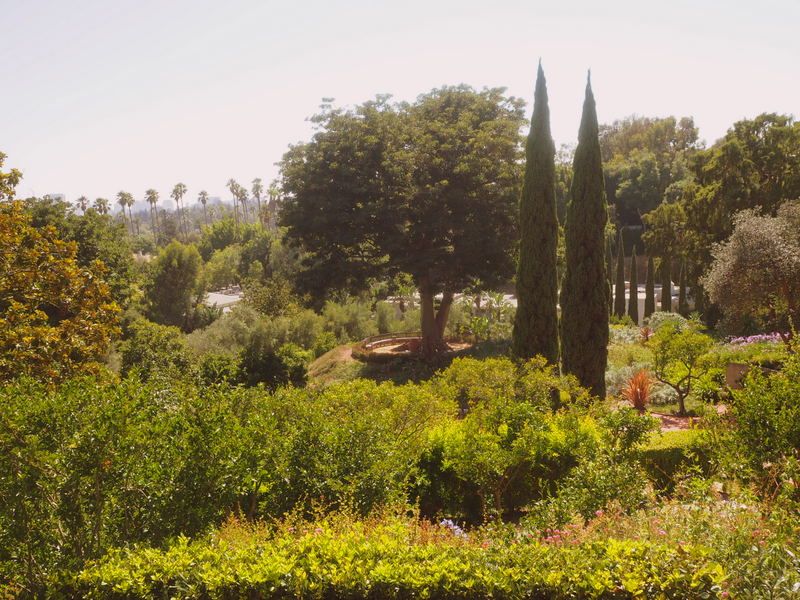 What I find so compelling about this garden is that it can be seen as the living prototype for the garden iconography of Los Angeles' upper classes of the 1920s, combining design elements gleaned from the de rigueur Grand Tour of European and Mediterranean gardens in France, Italy, and Spain. The result is a Mediterranean mash-up that shares the hallmarks of countless succeeding estate gardens, most of which have long ago been scrapped and built over. (The legendary Harold Lloyd estate and garden on nearby Benedict Canyon Drive was broken up and subdivided in 1975.)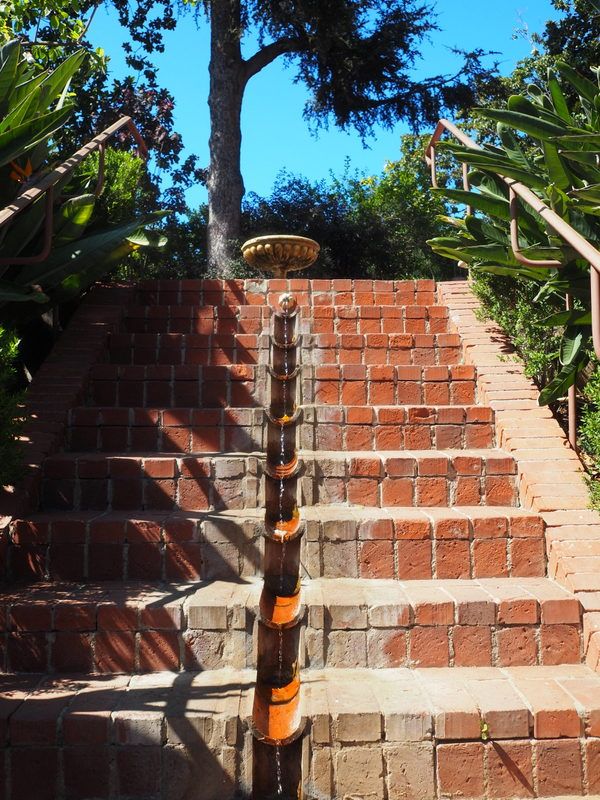 Virginia got the idea for this brick runnel from visiting the Alhambra in Spain
Many of the features and ideas for her house and garden were inspired by her three-year honeymoon abroad, when much collecting of statuary, furniture, and even seeds was accomplished. (In contrast, my honeymoon consisted of an afternoon drive south across the border to eat lobster and beans in Porto Nuevo.)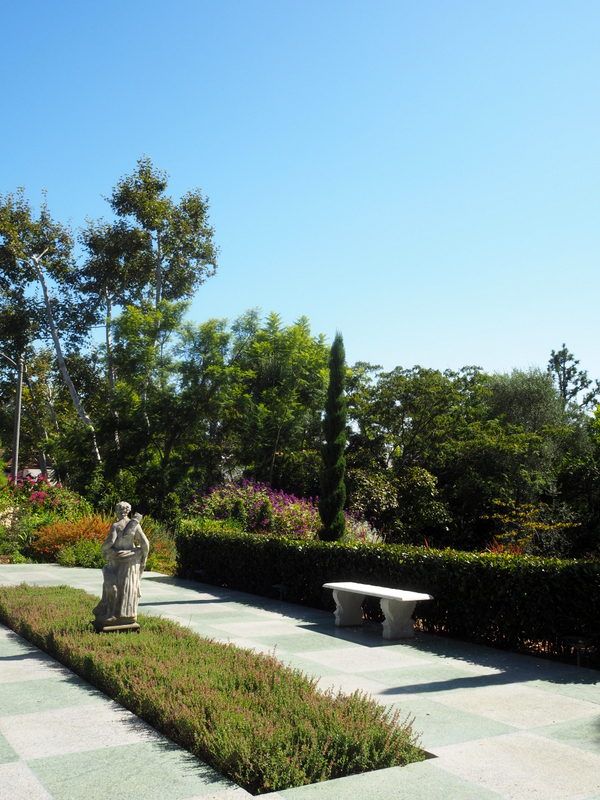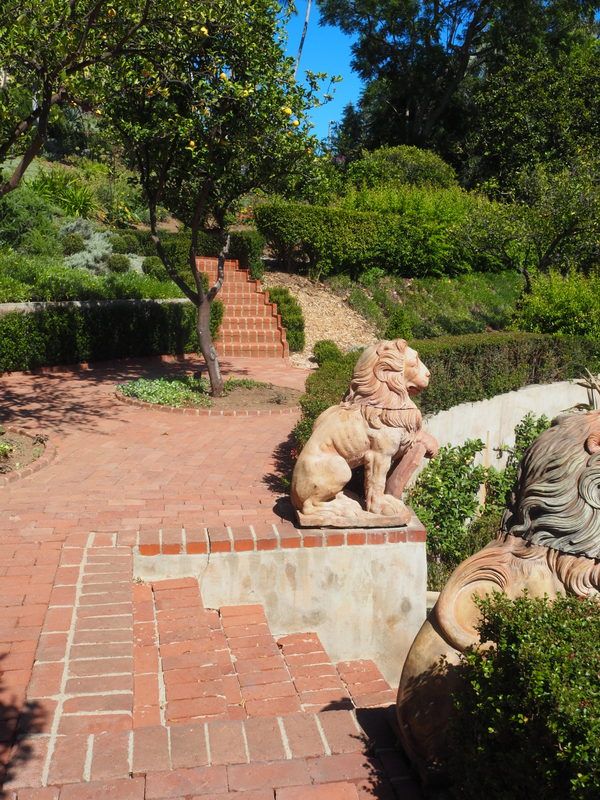 Although she socialized with families bearing the names of Disney, Hearst, and Huntington, this estate has an almost homespun feel to it and rarely indulges in gratuitous ostentation.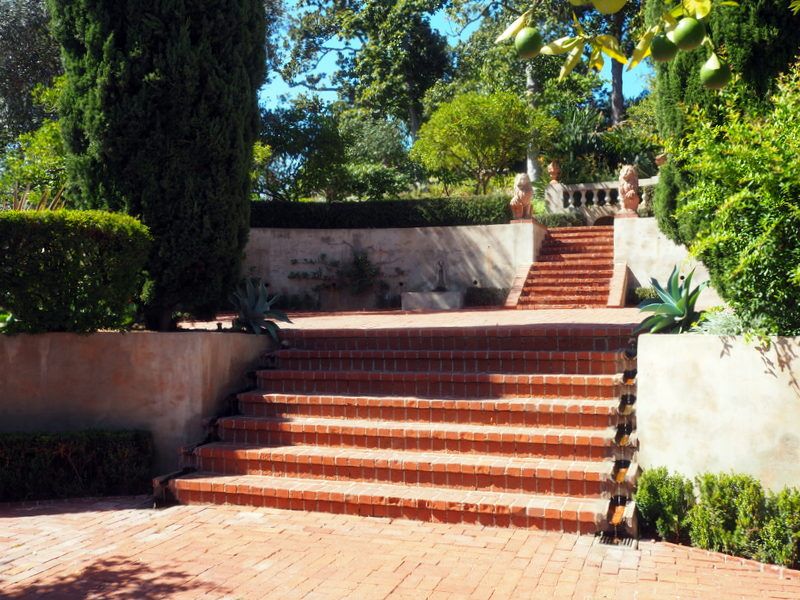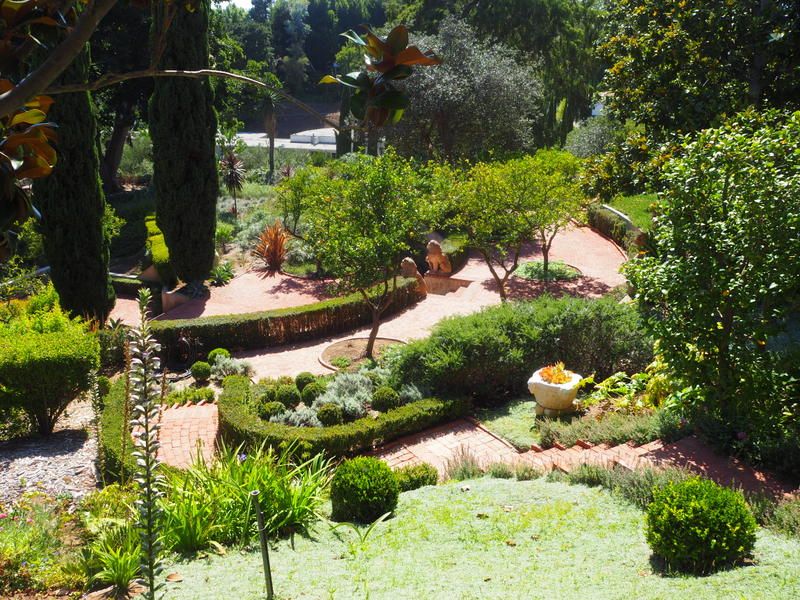 Virginia's home and garden are not only historically significant for being the first estate in Beverly Hills, but the property just might be the last of its kind to survive the tumultuous economic pressures on buildable land in Beverly Hills.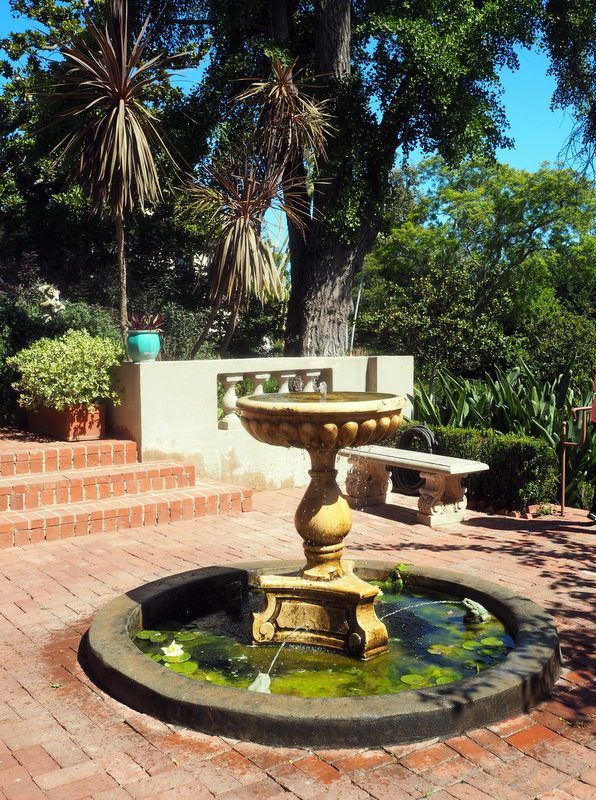 It is an infectious and powerful dream of a garden in which to wander, to swim and play tennis, to throw parties on the lawn, the evening air scented with magnolia, pomegranate, citrus, and cypress. Mediterranean design mainstays such as strategic control and display of water appear throughout.
The pool pavilion was added in 1924.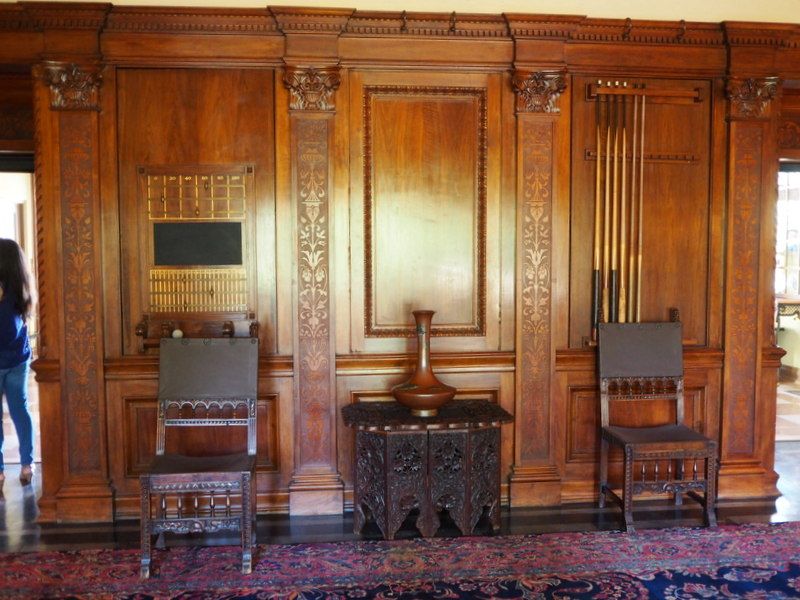 According to the docent, architect George Wyman, of Bradbury Building fame, was responsible for some aspect of the design of the pool pavilion, but I can't find any reference to elaborate on the association.
The pavilion is based on the design of the Villa Pisani in Italy, and the interior is rich with elaborate woodwork and mouldings.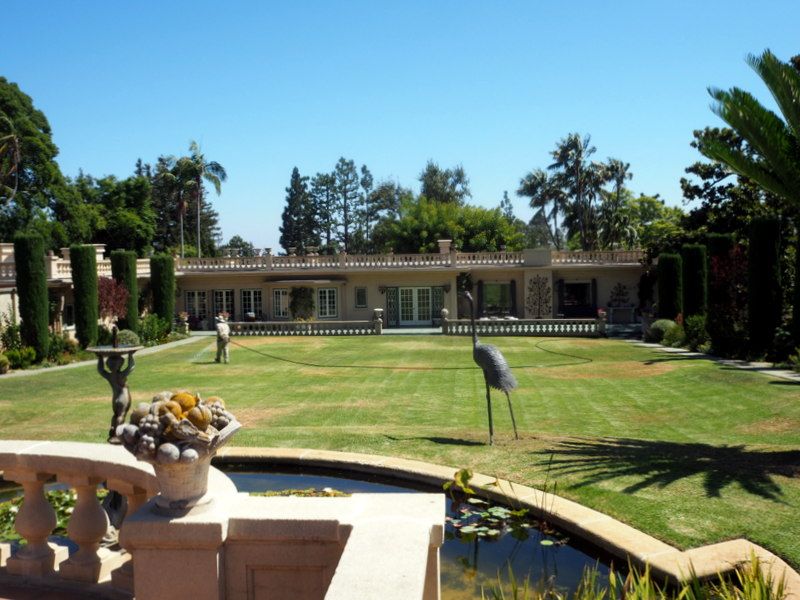 In contrast, the low-ceilinged house is bare of woodwork, painted in Farrow & Ball muted greens and greys. No photos are allowed in the residence, which has some magnificent Persian carpets and furniture and a wonderful personal library, but is otherwise refreshingly modest in scale. When the simple, one-level house was built by her father Nathaniel in 1911, it became the first estate of Beverly Hills. In old photographs (see "When LA Was Empty"), everything surrounding the property looks like a wasteland scraped raw from the chapparal-stripping pursuits of ranching and agriculture.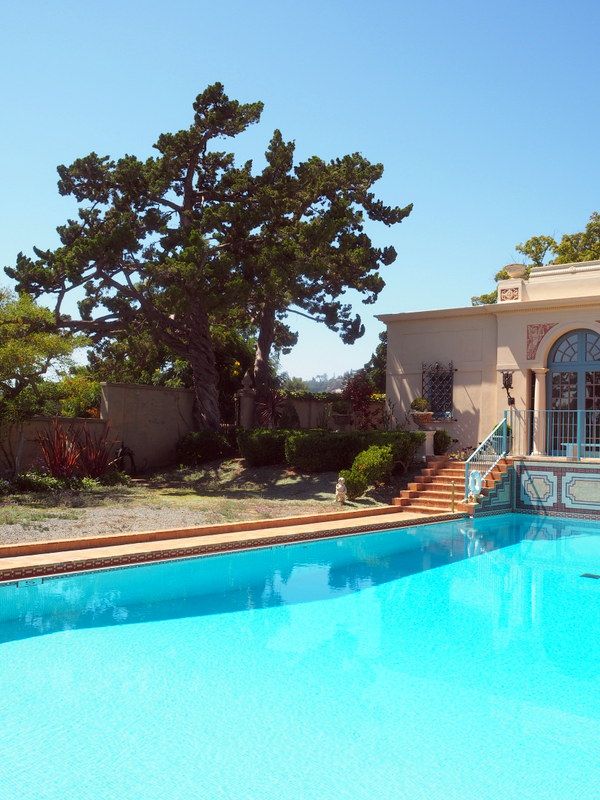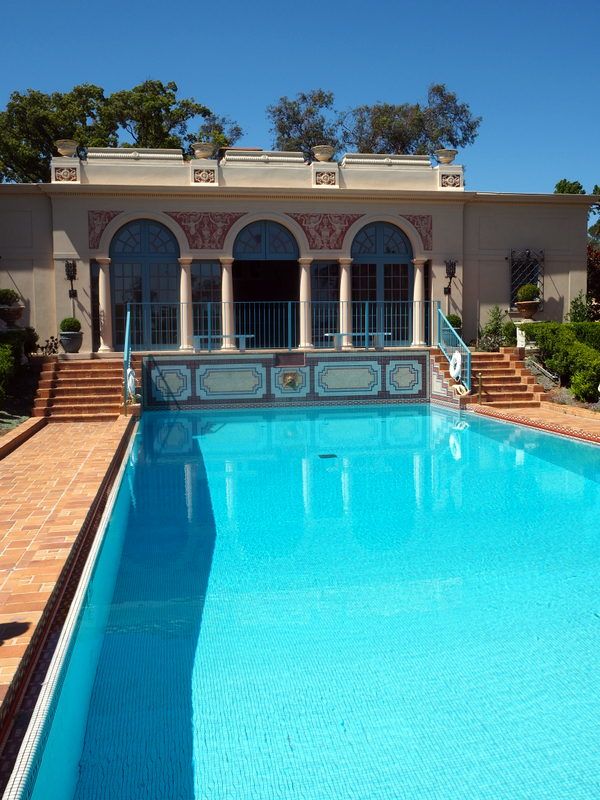 Virginia was famous for her parties, which spilled out onto the lawn and even onto the pool, which was hard-covered when necessary for dancing.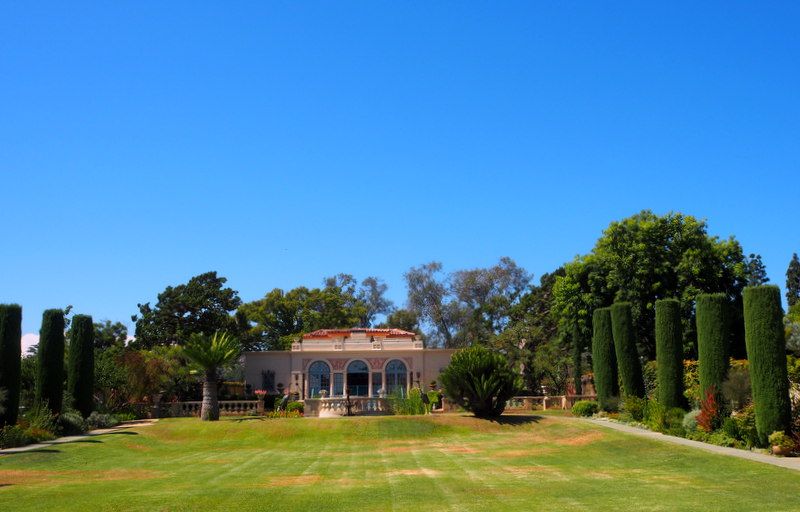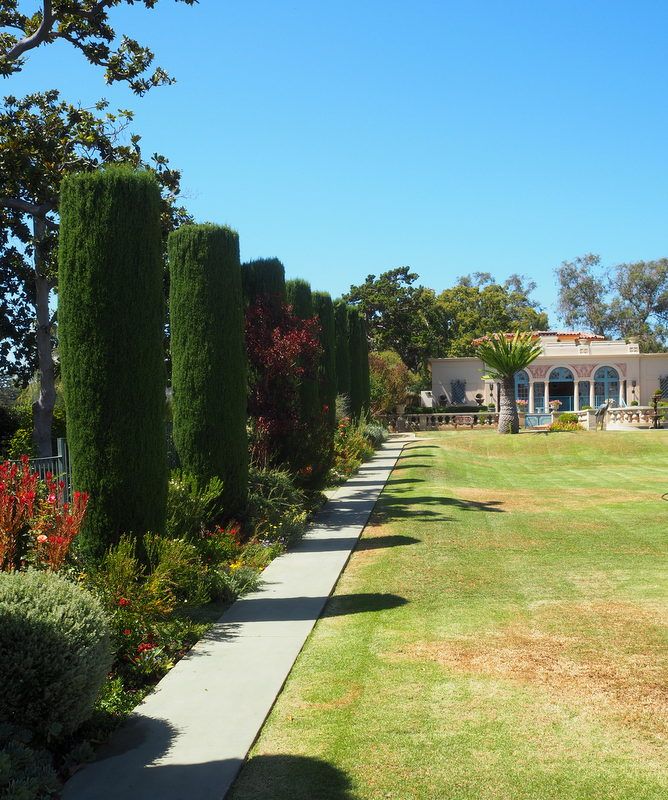 She liked people intensely in bouts of up to three hours, after which time the snuffing of the candles was the first diplomatic sign that guests were expected to leave. If that prompt failed to register, Virginia would order a night cap of chamomile tea from one of her major domos that performed increasingly significant supporting roles after her husband died relatively young in his 50s.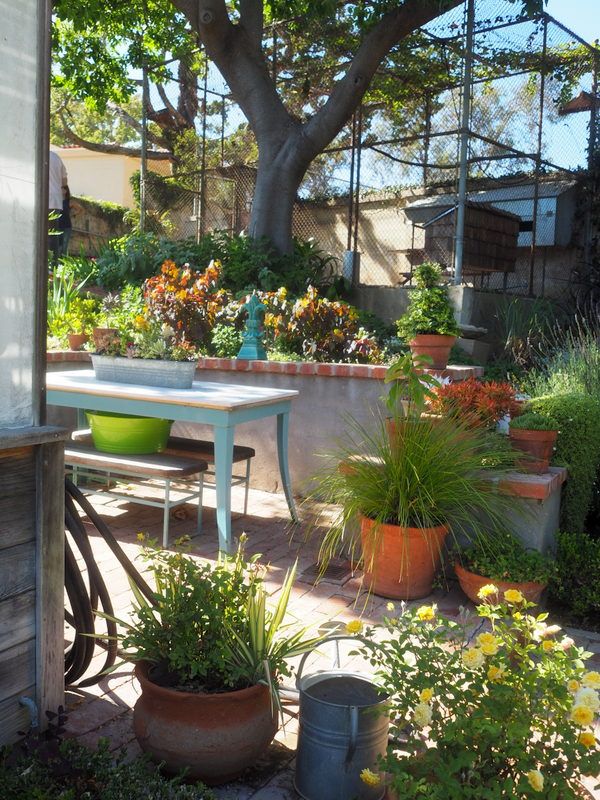 now-empty aviary
After Virginia's death, her will instructed that her major domo would live on the property to take care of her surviving pets.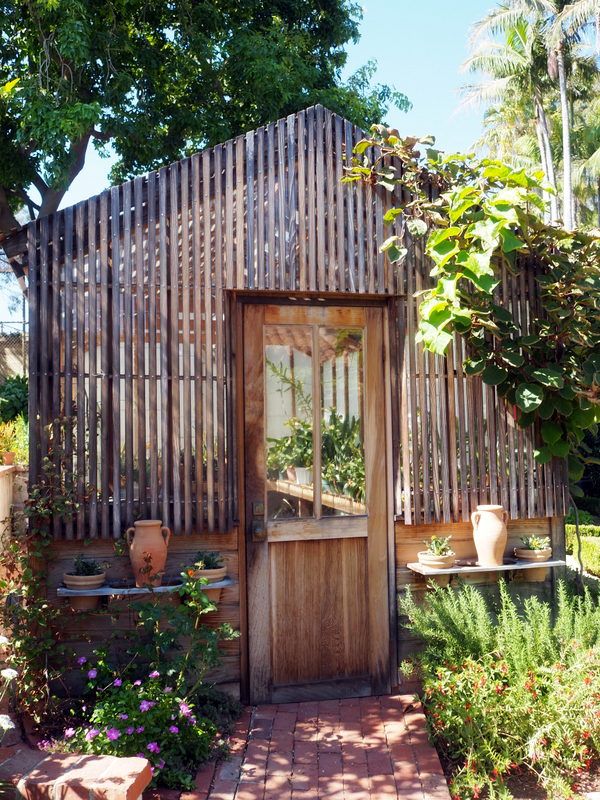 a lath house/greenhouse in the kitchen garden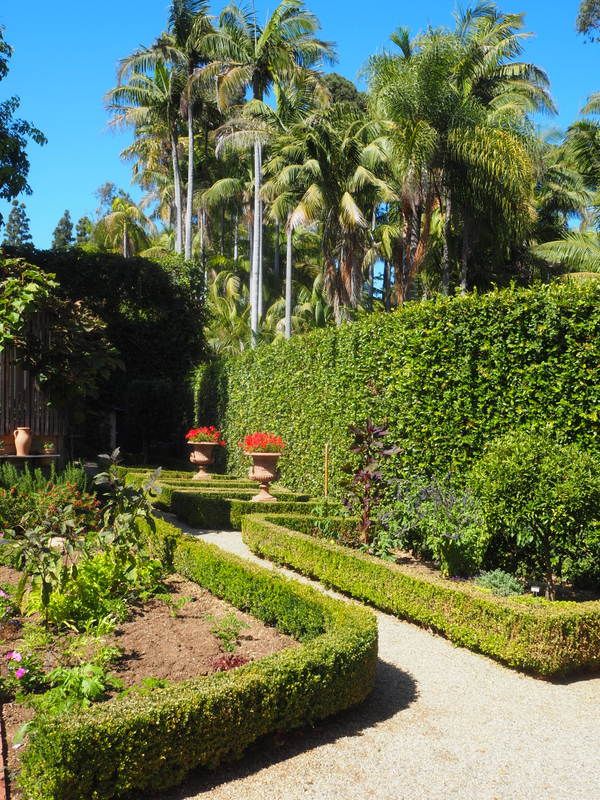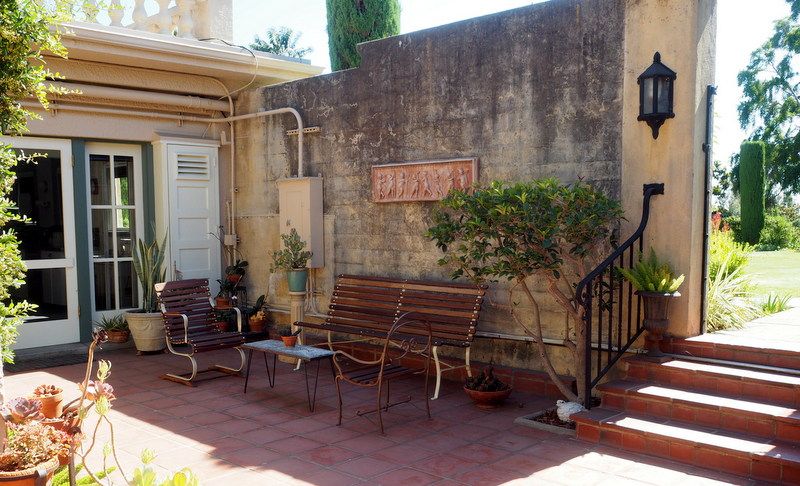 A liberal number of sitting areas and terraces punctuate the grounds.
Intensifying the historical dissonance of visiting the estate, I couldn't help superimpose this vision of ease made possible by department store money over the crash of the retail store empire ongoing today. The site of the former Robinson's Department Store, just down the hill from Virginia's garden on Wilshire Boulevard, was sold to Chinese investors for $420 million in 2014. Construction will start this year on a mixed use, condo/retail/hotel complex dubbed One Beverly, overseen by architect Richard Meier, who designed the Getty Center.
Caring for such a property requires steely determination and well-organized fund-raising capabilities. I'll close with a partial list of some of the projects completed in 2017, funded by the Friends of Robinson Gardens:
1. "Restored and conserved the Moorish style, hand painted ceiling in the Solarium of the Pool Pavilion. Restored the original paint color for the walls and molding in the Solarium.
2. "Restored two 19th century Italianate-style grandfather clocks, one in the Main House museum and the other in the Pool Pavilion. Both now keep perfect time and chime on the hour and half hour.
3. "Cleaned and conserved two early 19th century antique Persian carpets in the Main House.
4. "Replaced the 5,000 square foot front lawn and created a native meadow from seed. This helped meet the 33% water reduction required by the City of Beverly Hills.
5. "Improved the Display Rose Garden by adding historically appropriate companion plants and new tea roses.
6. "The restoration of the pool — replaced broken tiles with replicas to match the original design. Additionally, the pool was cleaned.
7. "The Terra Cotta lions that oversee the magnificent Italian Terrace Garden were restored.
8. "The pair of early 20th century Japanese Red Crown Cranes that grace the Great Lawn at Virginia Robinson Gardens were restored to their original elegant stature."