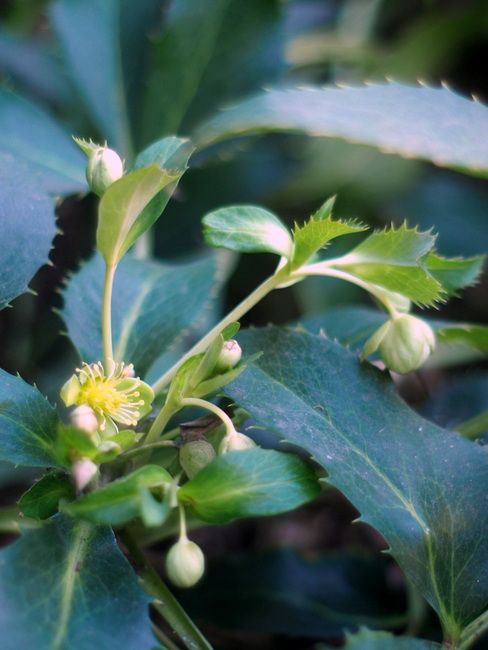 I noticed just today that the big, sprawling Corsican hellebore seeded into bricks against the south CMU fence had begun to bloom and so was eligible for inclusion in this December Bloom Day report, hosted by Carol at May Dreams Gardens. Until we get the creeping fig (Ficus pumila) trimmed back on that wall, it's a bit of a no-go zone. Keeping the wall trimmed is at least a three-times-a-year job that we've reduced to two times a year, spring and fall. Come to think of it, I think we skipped fall this year, which is why the overgrowth of the creeping fig nearly caused the blooming hellebore to escape my attention.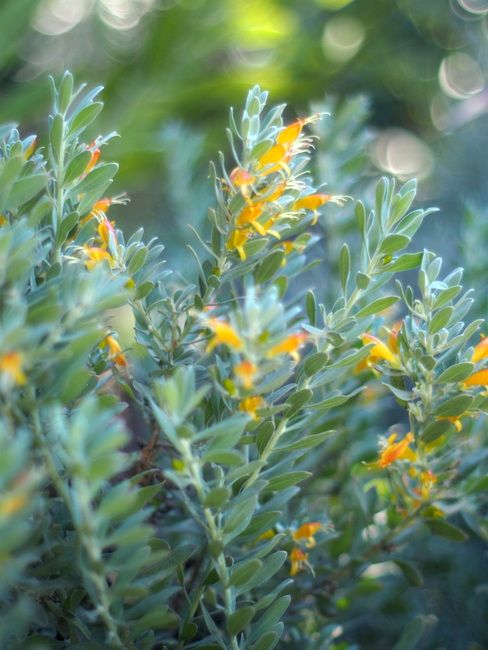 I've been pinching back Eremophila glabra 'Kalgoorlie' to keep it dense and low, and trimming its branches off adjacent lavender and Phyllica pubescens, all the while worrying that these constant interventions might impact flowering.
No need for worrying — it's having its best overall bloom I've seen. Lots of little golden trumpets for the hummingbirds.
I'm very impressed by how quickly the eremophila and grevillea shrubs have become winter mainstays for the hummingbirds. The largest grevillea in the garden is 'Moonlight,' with recent additions of 'King's Fire,' pictured above, and 'King's Rainbow.'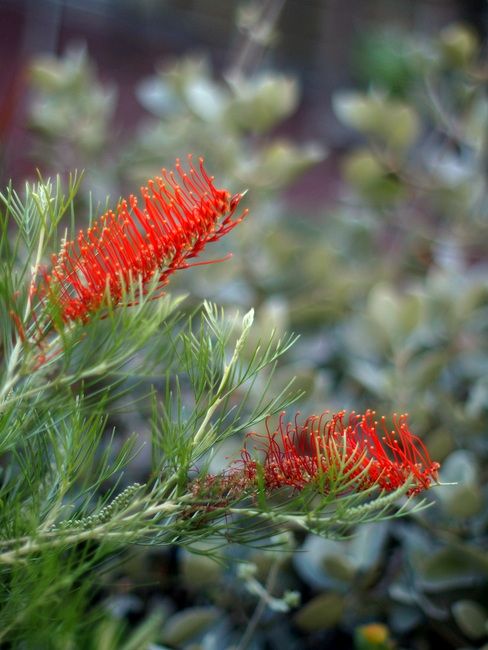 I love that the hummers and I share the same taste in plants, so to speak. I'm not exactly what you'd call a "flowers first" gardener, and perhaps it's the height of selfishness, but I don't think I've yet to include a plant solely for the pollinators that I couldn't whole-heartedly admire as well.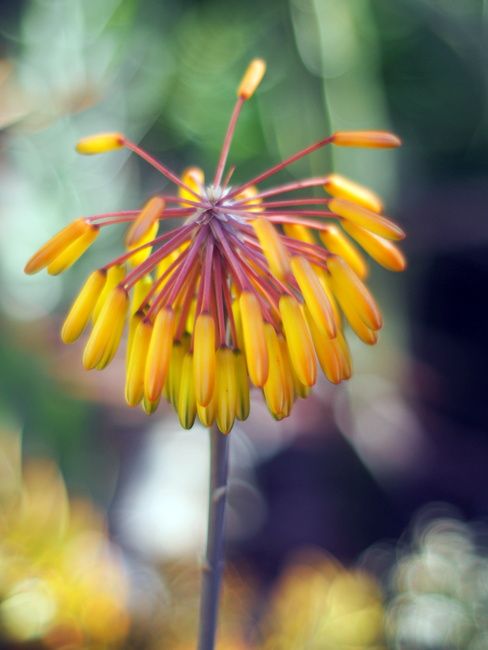 Soon to be augmenting the shrubs is the imminent arrival of the flowers of winter-blooming aloes, like this Aloe capitata var. quartzicola.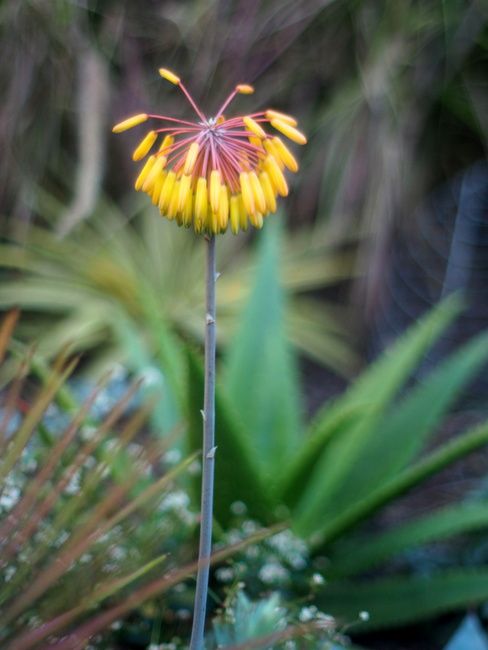 Here again, the hummers and I are on the same page. We adore winter-blooming aloes. I wish I could devote acres to them.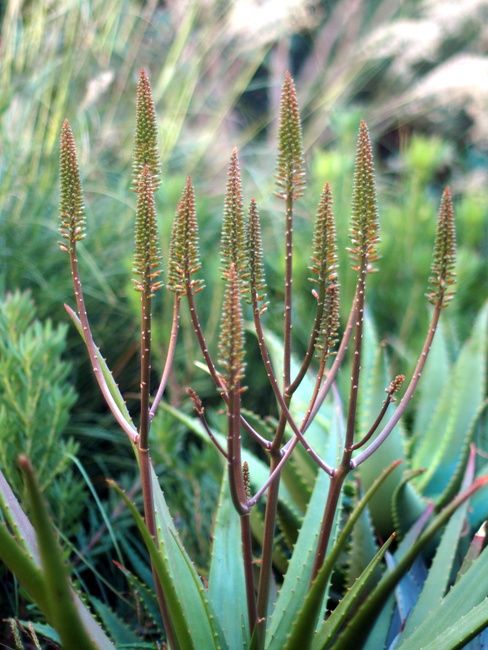 I'm counting five trusses this year on Aloe cameronii.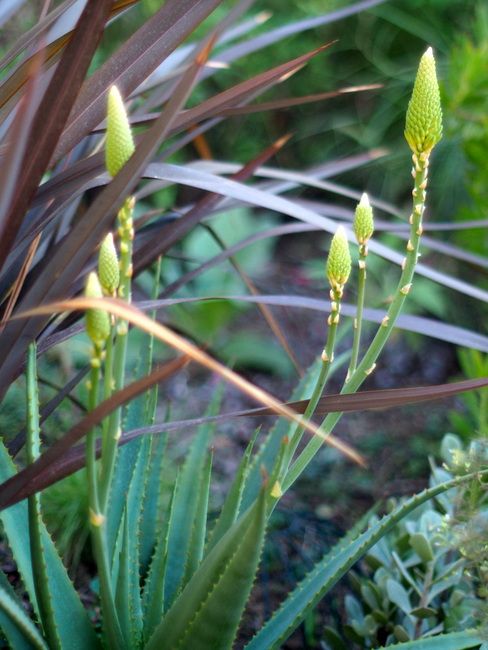 Aloe 'Moonglow' has two bloom spikes, 'Jacob's Ladder' just one, with a few more aloes still too young to bloom this year.
Tecomaria 'Hammer's Rose' is still blooming at the tippy-top of its 6-foot plus stems.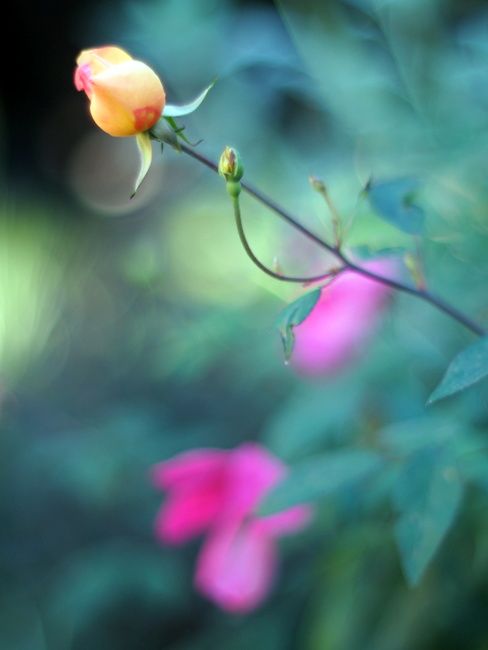 A potted Rosa 'Mutabilis' has been a surprisingly eager bloomer in these cooler temperatures.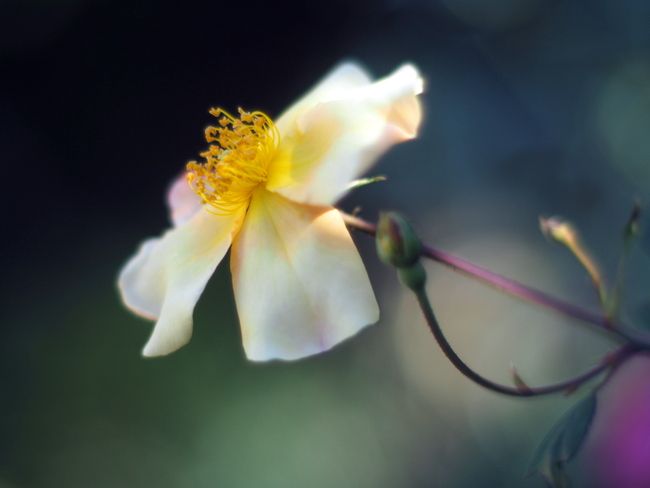 I haven't committed garden space to 'Mutabilis' yet and doubt that I will, because the sunniest real estate is already spoken for.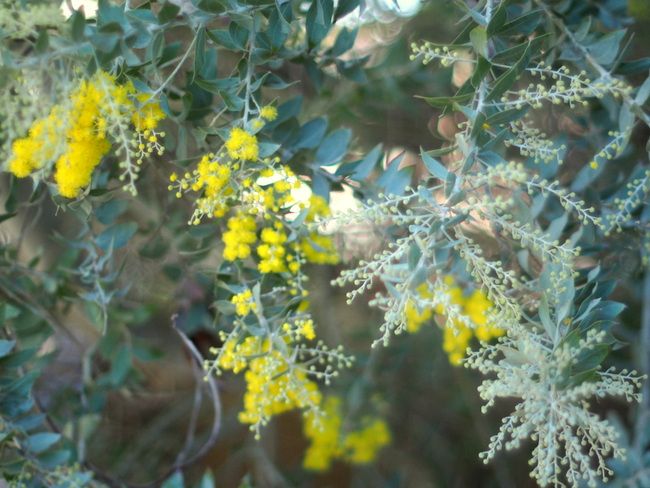 The massive Pearl Acacia near the front of the house, Acacia podalyrifolia, seemed to erupt into bloom overnight, wafting far and wide that distinctive scent with notes of anise.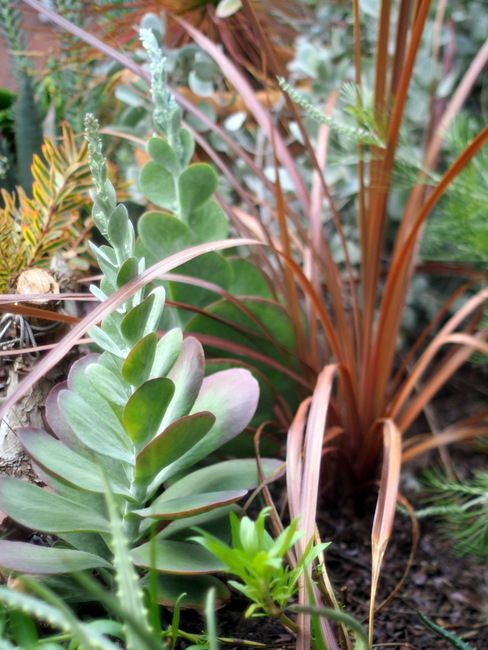 Some succulents are as much about graphic lines when in bloom as out of bloom, like these flapjack kalanchoes I planted for winter, whereas I doubt anyone is growing the senecio tribe for its flowers.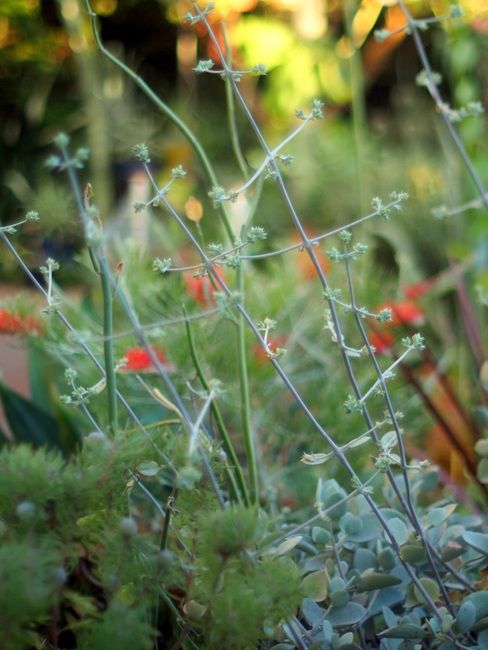 The "spoons," Kalanchoe bracteata (Silver Spoons) and orgyalis (Copper Spoons) are also beginning to bloom.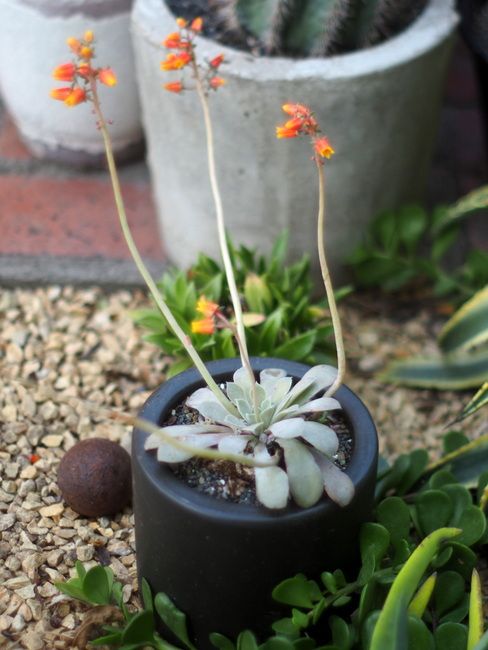 Little Echeveria diffractens is in bloom.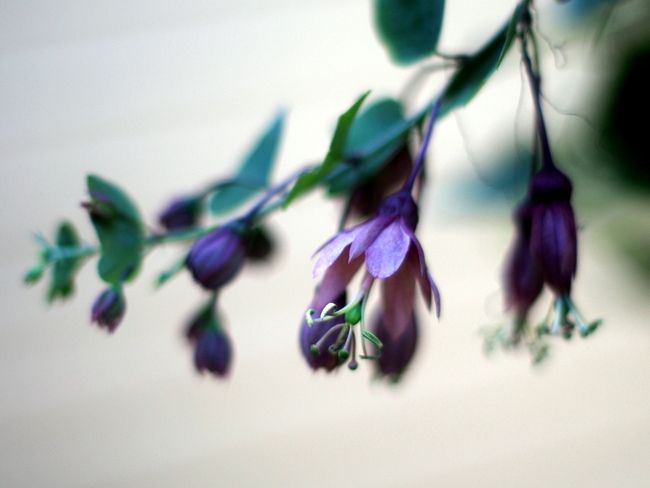 Passiflora 'Flying V' still wants to throw some small blooms even though night temperatures are scraping the low 50s, which I know probably still counts as shirt-sleeve weather for some, but it's definitely hoodie weather for me.
This weird strain of Pelargonium sidoides, tiny flowers on tall scapes with big leaves, is starting to grow on me.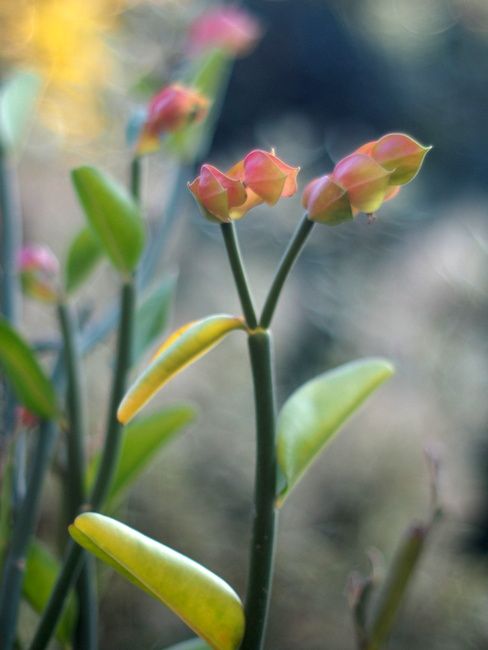 The pedilanthus are another winter-blooming attractant for hummingbirds.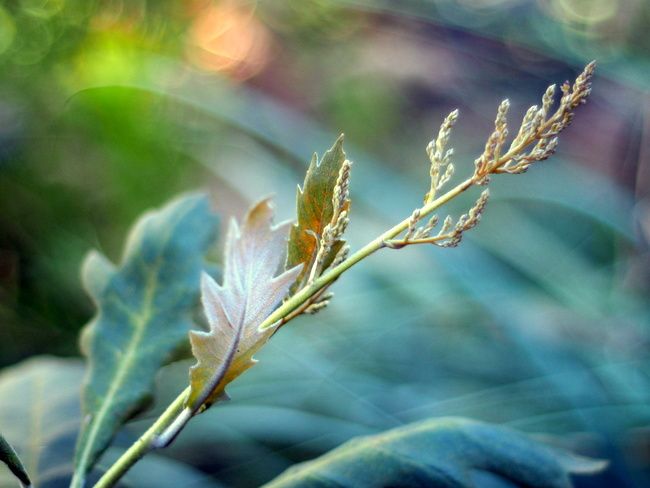 Sky-scraping, tawny bloom architecture dominates the garden in December, with new contributions from tetrapanax and Bocconia frutescens pictured above, and old contributions from spent grasses and dessicated bloom trusses of Eryngium pandanifolium.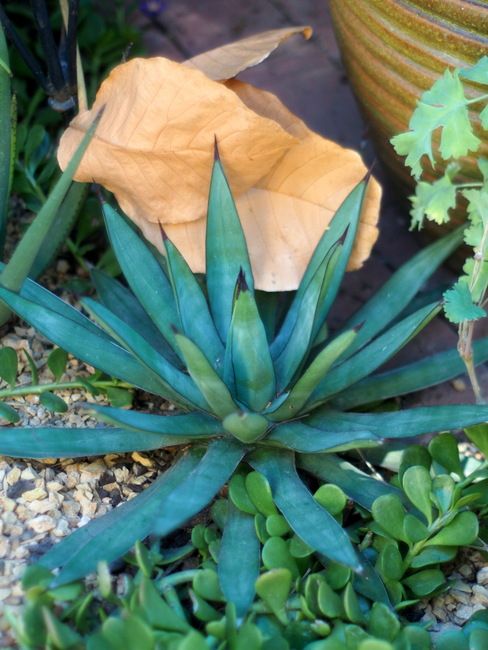 With more golden notes from fallen leaves, like these Pseudobombax ellipticum. I forget where I read or who was telling me that in Southern California, as a general rule, there should be no planting done between Thanksgiving and Christmas, but the soil is so warm from the mild temps that I bet that advice can be safely ignored this year — that is, if the nurseries were filled with anything but wreaths, trees, and holiday gear. I'm impatient to discover how many ladybird poppies I can fit in for spring once the grasses and calamint are cut back, which can be done as late as February/March, and for nurseries to be flooded with new plants again. It's always a conflict, the golden, mellow picture that greets me every morning and the urge to dig, to plan new pictures. Happy December Bloom Day!