There's an unexpected addition to the container garden, and not one that I'd necessarily pick out of a lineup as an especially attractive succulent, like Agave 'Kissho Kan' in the foreground.
I encountered this little space oddity on a walk last week. This is a rooted cutting given to me by the plant's owner, after he found me hunched over his parkway examining the mother plant, which bears the outline of a miniature oak — a dense, umbrella-like canopy atop a stout, 2-inch caliper trunk, the whole plant maybe 2 feet high. Growing singly in a sea of iceplant, its identity stumped me completely. And not to brag, but that doesn't happen very often on my walks, basically because there's not a lot of rarities growing in local parkways. I had no idea what it was, and unfortunately neither did the owner. My quiet afternoon stroll was immediately transformed into a plant-hunting adventure. Maybe it was some kind of colletia? It does have little thorns, but nothing as nasty as Colletia paradoxa. Without any leaves to go by, that was my only clue.
I nicknamed it the "Crystalline Entity," (and Next Gen Star Trek fans will know why), and image-searched colletias off and on for a day or so, which was a dry well. I eventually abandoned the colletia theory and on a new hunch cut into a leaf — milky white sap oozed out, the tell-tale signs of the euphorbia tribe. Within a few seconds I had its identity, Euphorbia lignosa, a leafless, caudiciform succulent from Namibia. I'm going to leave a note with its identity in the grower's mailbox. You think there's any demand for an amateur consulting horticultural detective?
Yesterday, Super Bowl Sunday, was deliciously quiet in the garden. It felt like I had the world to myself. And so it seemed a good idea to replant the tractor funnel, that held a single cylindropuntia, with Zig-Zag Cactus (Selenicereus anthonyanus aka Fish Bone Cactus), various rhipsalis and bromeliads that needed a new home.
And I noted that Baja spurge, Euphorbia xanti, had begun to bloom, so I moved it where it could mingle with the potted annuals and their similarly tiny, meadowy blooms. It's perfect for a very dry garden, but instead I've kept it in the nursery container since bringing it home last year, knowing that it becomes an overgrown thicket of new and old growth in the ground. I've been nipping off the dried-up old twigs, so now it's full of fresh growth and baby's breath-like blooms. It will be a cloud of bloom in a couple weeks.
A nice surprise as a container plant — a see-through, gauzy presence that plays off big leaves and is very tolerant of full sun and other abuses. One of the best things about containers plants — surprise! — is their portability and the endless opportunities they offer for mixing it up and pairing with other blooms and textures.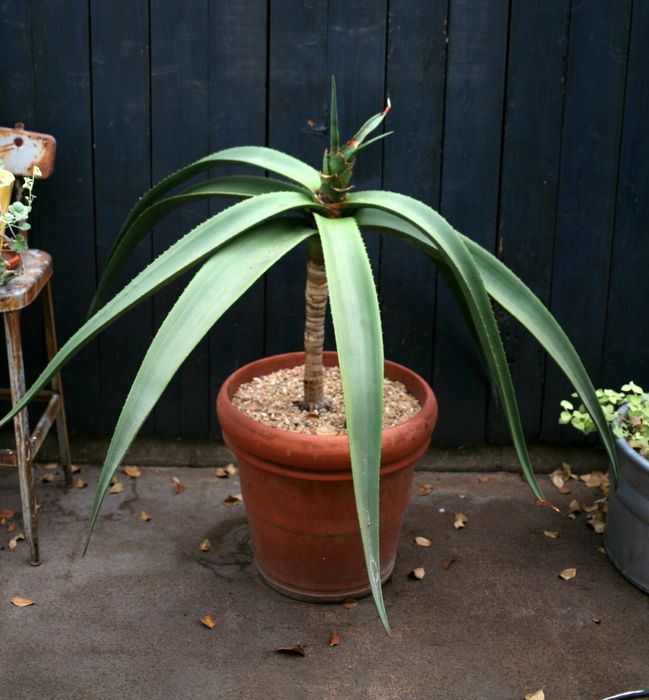 Of course, containers have many, many functions. I've been nursing a sick 'Goliath,' a refugee from the front gravel garden that's been dug up and resettled in a pot for more sun. Too much shade in winter and too many aloe mites have been weakening the giant. He's definitely a statement plant, and one not readily available, so he's worth some trouble. Maybe he'll outgrow this ugly phase. I've been cutting off the mite-infected leaves and treating with alcohol, and for the moment he's clean. A tree aloe (aloidendron) thought to be a cross between barberae and vaombe. The best outcome would be that all this trauma transforms him into a double-headed Goliath.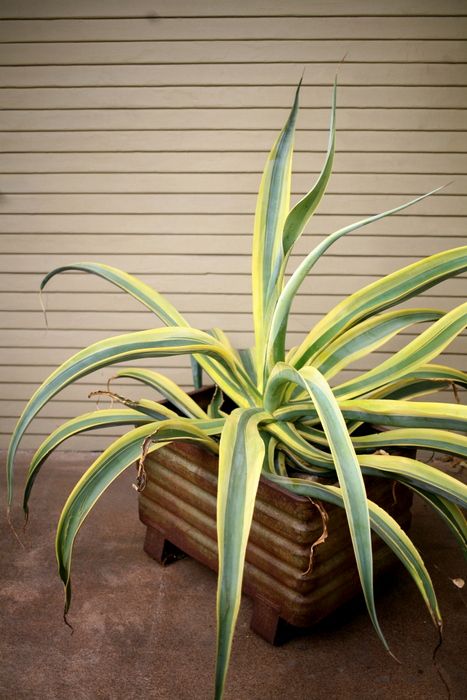 Another "statement" plant, Agave vilmoriniana 'Stained Glass,' shares the east patio with the recovering Aloe 'Goliath.' The agave is the picture of rude good health, an unavoidable contrast to the convalescing giant.
The blooms of the Silver Teaspoons (Kalanchoe bracteata) have colored up and opened, adding another layered wash of warm orange to the winter garden. The grasses haven't been cut back yet, but I have a feeling all these warm, rainless days mean spring is coming early, so I'll be surprised if they're not cut back by the end of February.