On last weekend's APLD "A River Runs Through It" tour, the "Blue Bayou" garden (cue Roy Orbison) designed by Laura Morton looked like "Party Central" to me. I volunteered as a docent for this garden so had ample time to dip in and out for photos. As the welcoming committee, we sat at a little table in the driveway, next to a white picket fence-enclosed small lawn, which some puzzled tour-goers with crestfallen faces initially mistook for the main event. Au contraire, it was all happening in the backyard, that classic bastion of sunny good times in Southern California — not that my childhood backyard ever looked like this. We were definitely in the "patchy turf" camp.
Garden designer Laura Morton: "The back yard was predominantly patchy turf around old citrus trees and a pool. The clients' wish list was long: pool party and play areas, kitchen garden and gathering spaces with a cozy fire. An outdoor cooking and dining space was important, as were new pool decking and equipment. Somewhere along the way we added a cabana with outdoor shower, changing room, and facilities amenable to pool party use. New design transformed the traditional kidney shaped pool as both a reflecting pond and oasis-like lagoon. Full-color bluestone patios and stepping stones break up hardscape. Two new Butia capitata palms anchor the oasis effect. Blue fence paint mirrors the pool, diffusing its edges. Design lines remain fluid on this project; the seating area echo's the curvilinear pool shape, as does the fire pit. We reduced the lawn area and replaced it with a watersaving native mow-free variety. Plantings around the pool and perimeter include dry tropical plants to further reduce water use. In this way we use our water budget for the vegetables and fruit trees."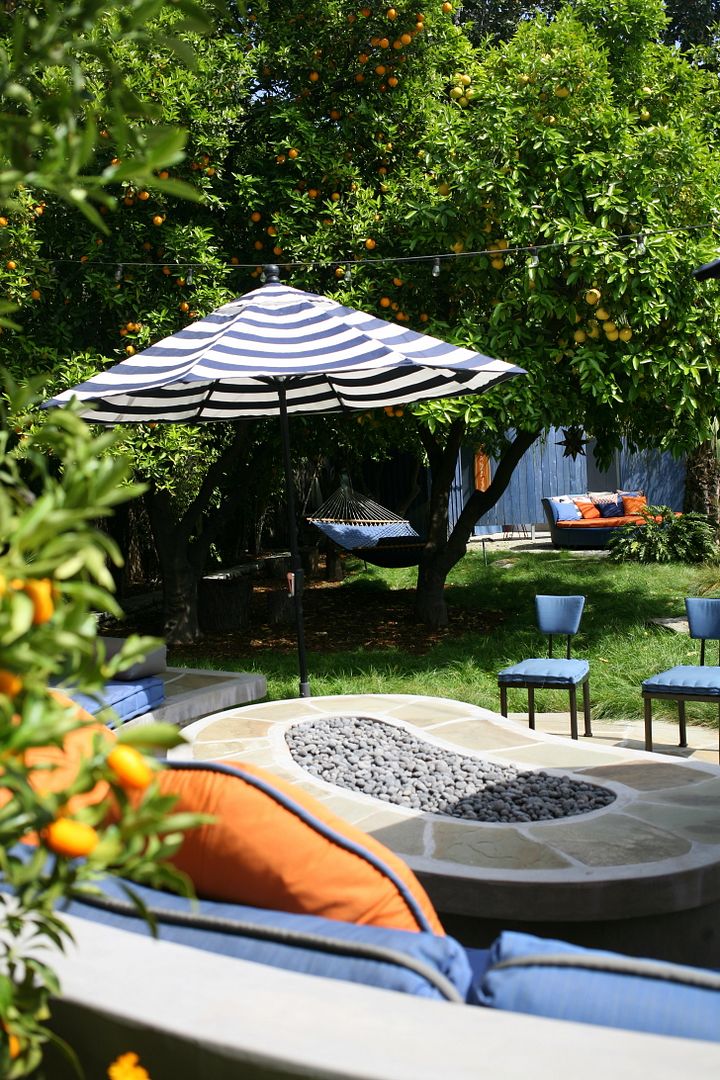 The grand old citrus trees were heavy with fruit, and the entire garden made one ache for a gin and tonic and a long, schedule-free afternoon (that stretched into a languid evening alternately dipping into the pool and then snuggling up to the fire pit).
In addition to everyday use, the garden's family has big gatherings to celebrate Labor Day, Memorial Day, as well as impromptu TGIF celebrations and school benefit activities.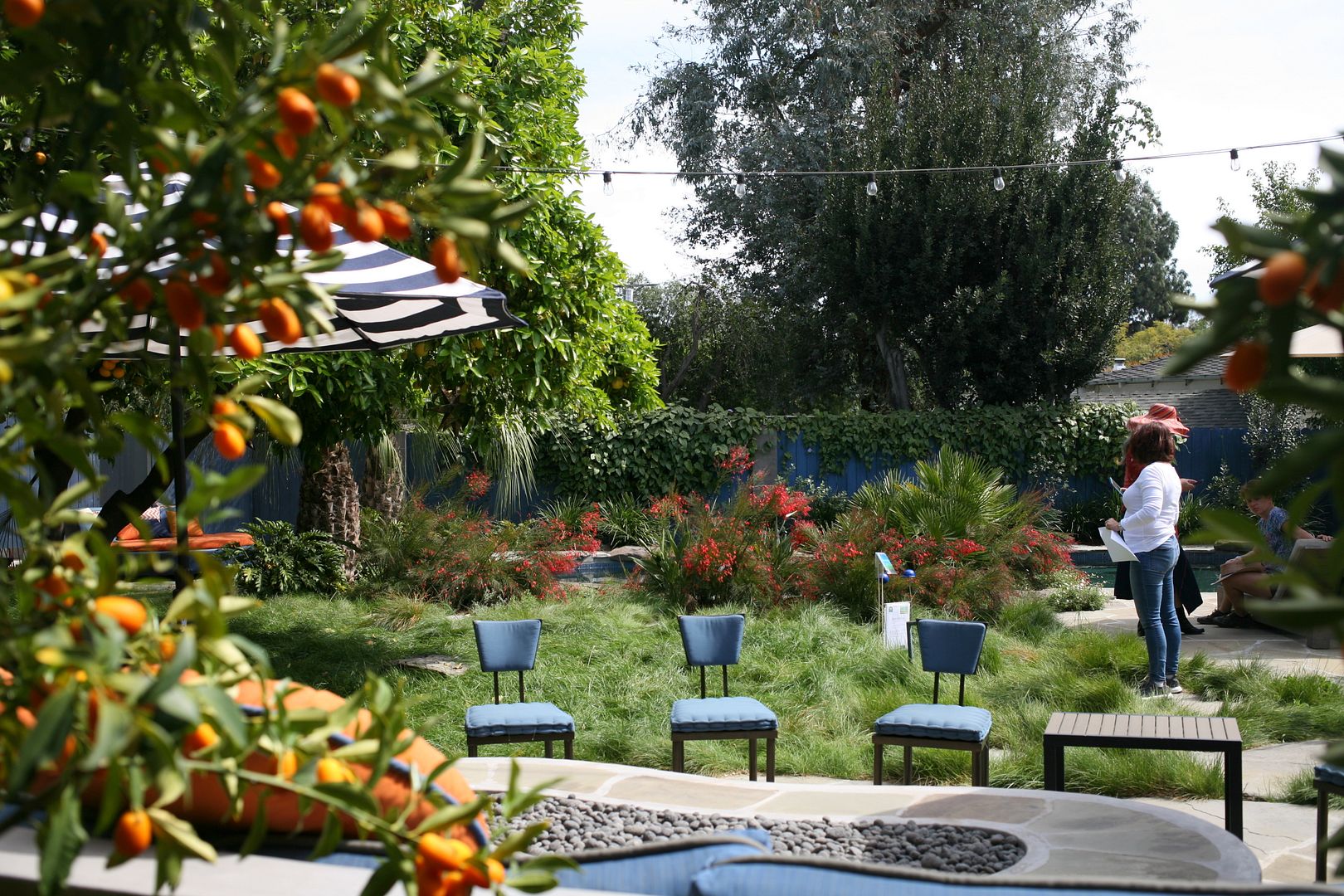 The view from the fire pit across to the pool, screened from view in this photo by the firecracker plant, Russelia equisetiformis.
And the view from the fire pit to the hammock and circular divan in the far corner. You can grab a couple of those kumquats overhanging the concrete seating area to take with you to peel on the divan.
Just step through the flagstone pavers leading through the tousled, mow-less, grassy meadow. (The entrance to the garden is on the right, just beyond a ping-pong table that doubles as an extra table and seating. A small herb and vegetable garden is close to the outdoor kitchen.)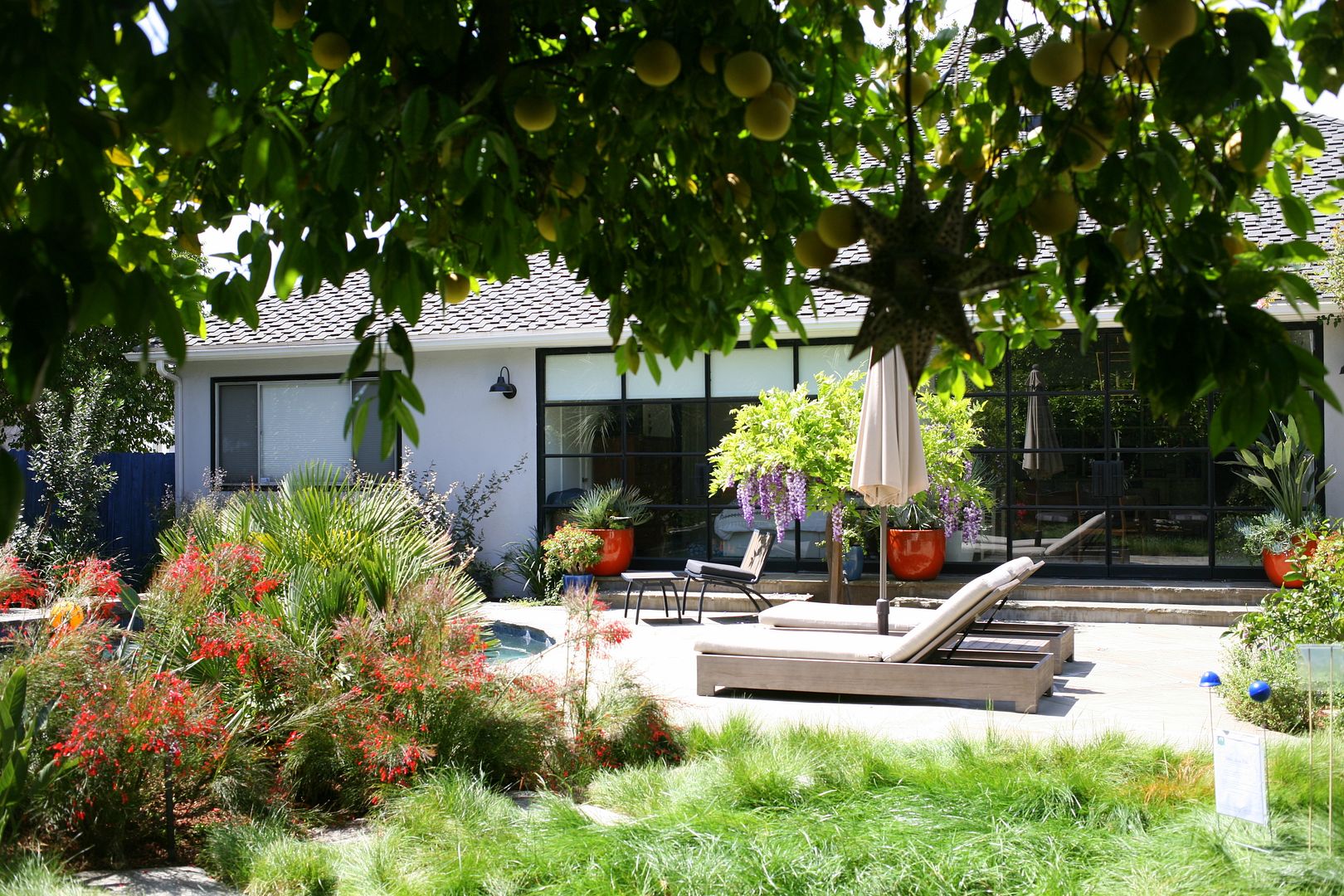 Pardon the overexposure — it was a bright, beautiful day for the tour. Wisteria standard and flanking orange pots with palms against the house. Orange and blue, orange and blue. The coherence of color discipline, especially for such a large space.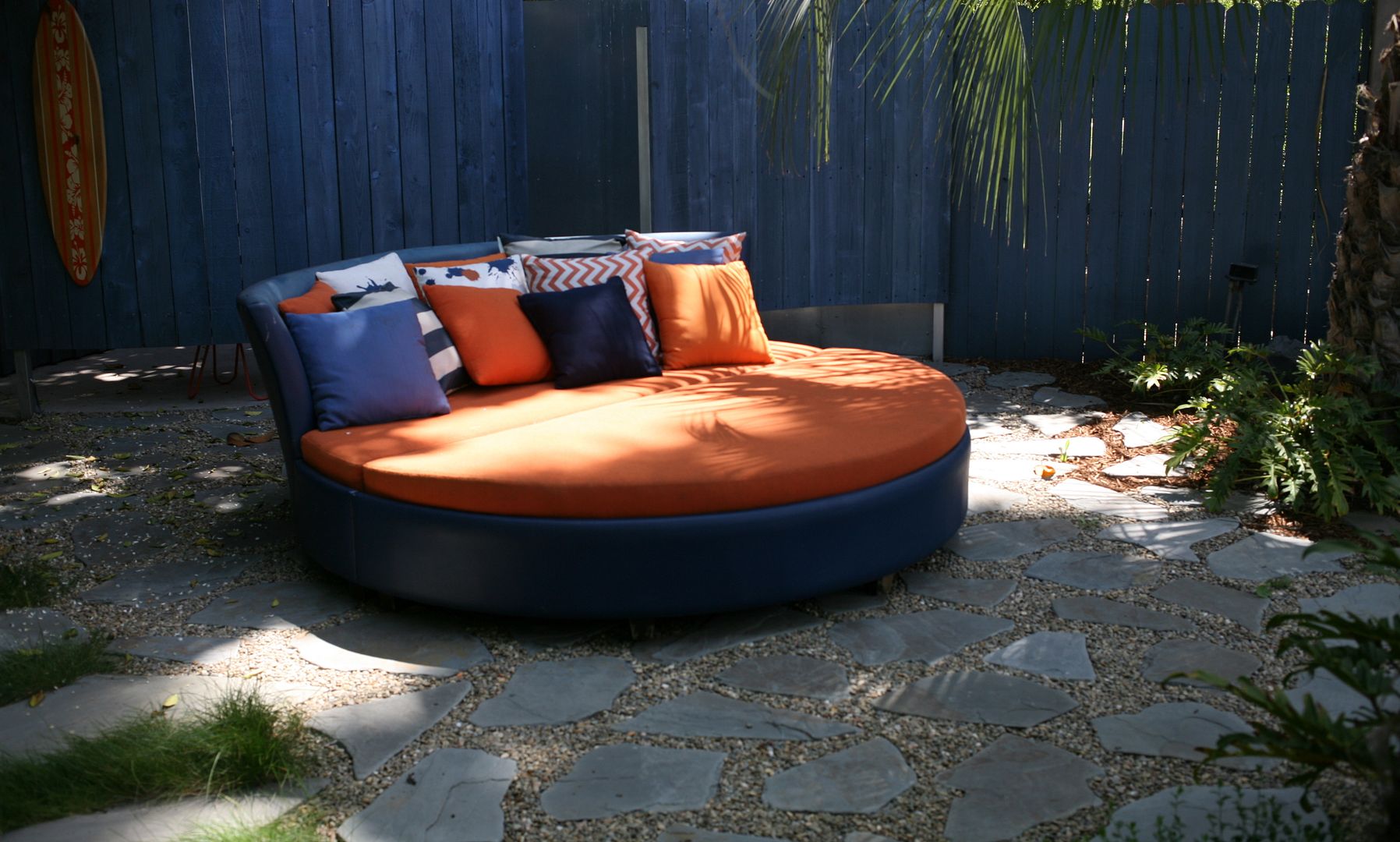 Bathroom and shower are tucked into this far corner behind the divan. (I don't know how they get guests to ever leave!)
From the divan there's a great view of the pool and who's splashing who on a summer day. That's dianella in bloom under the window.
This may be the first hammock I think I could actually nap on — nice thick padding…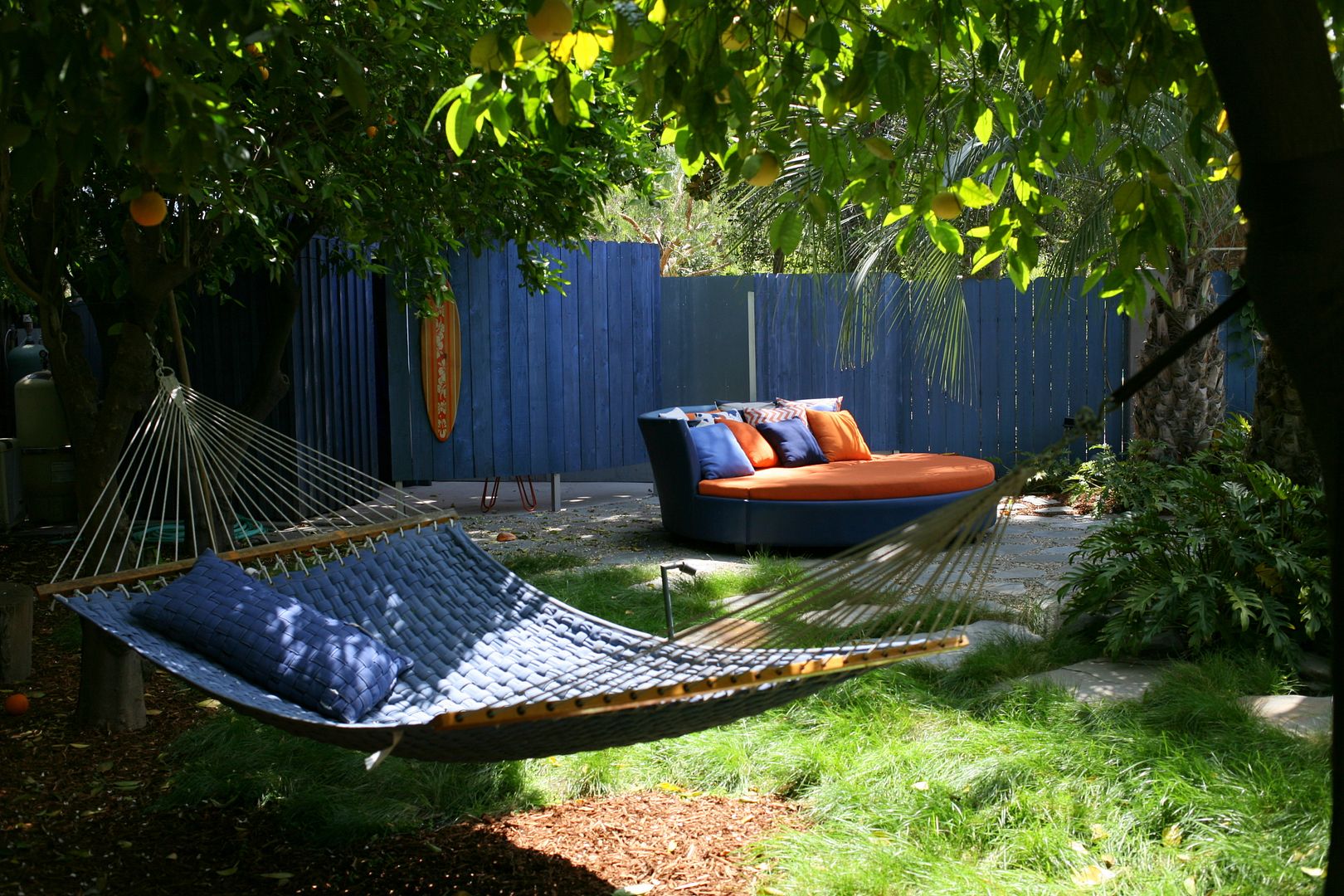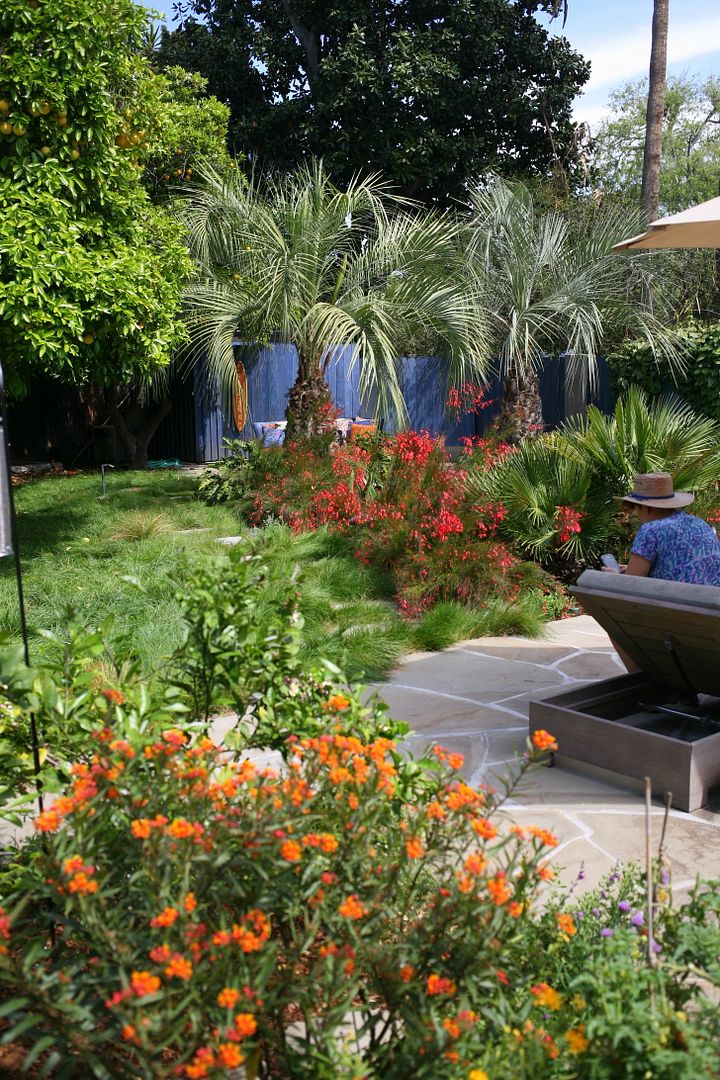 The sentinel jelly palms framing the pool when viewed from the house (Butia capitata).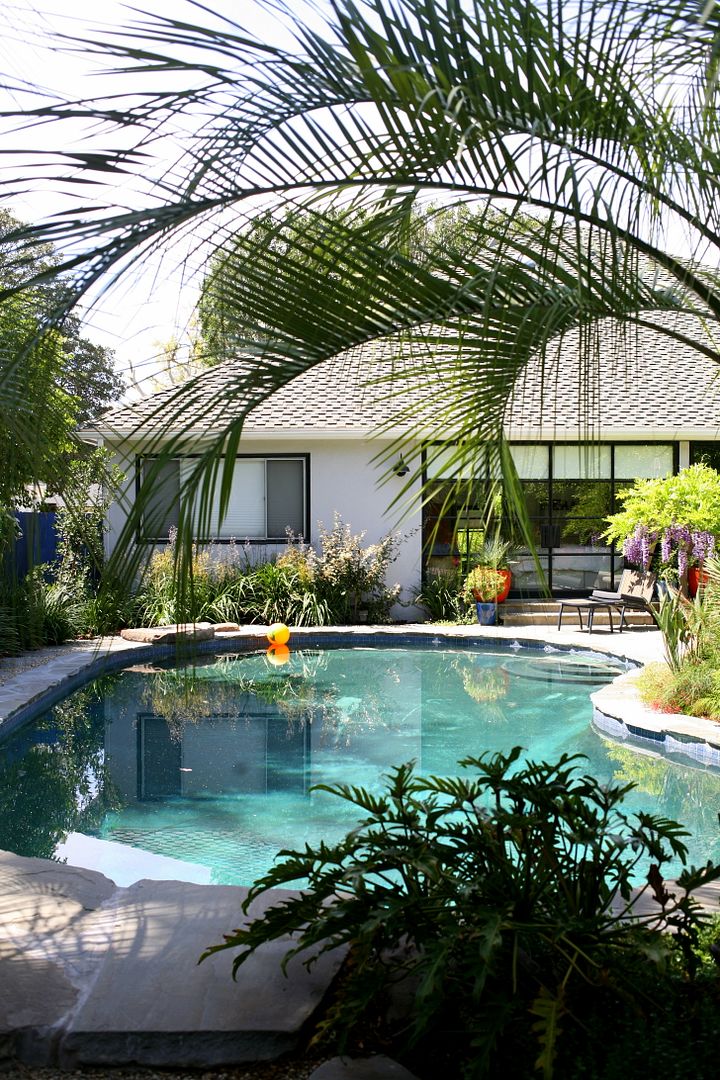 The plant list: (*indicates Calif. native)
Abutilon megapotamicum 'Orange Hot Lava'
Agapanthus 'Baby Pete'
Arbutus unedo 'Compacta'
Asclepia tuberosa
Asparagus meyeri
Bouteloua gracilis 'Blonde Ambition' *
Brugmansia 'Charles Grimaldi'
Butia capitata
Ceanothus 'Ray Hartman' *
Chamerops humilis 'Silver Back'
Convolvulus mauritanicus
Native Mow-Free turf *
Dianella revoluta 'Little Rev'
Leymus condensatus 'Canyon Prince' *
Liriope muscari
Lomandra longifolia 'Sea Breeze'
Philodendron Xanadu
Russelia equisetiformis
Salvia chamaeroides 'Marine Blue'
Strelitzia reginae
Thunbergia grandiflora
Polystichium munitum *
Erigeron karvinskianus
Chamaerops humilis var. cerifera
Senecio serpens
Portulacaria afra
Hydrangea quercifolia 'Limelight'
Wisteria sinensis 'Purple Dragon'
Rosmarinus officinalis
Aloysia triphylla
Laurel nobilis
Citrus Kumquat 'Meiwa'
Citrus Lemon 'Meyer'
Citrus Mexican Lime
Various seasonal vegetables/herbs/flowers
A Blue Bayou garden that would have set Roy Orbison's worried mind at ease. I know I had a wonderful time. Congrats to the APLD Greater Los Angeles District on their fabulous 3rd Annual LA Garden Tour!