Have you checked on your dudleyas lately? ("Stolen succulents: California hipster plants at center of smuggling crisis; Demand in China and Korea has led to thousands of dudleya being stolen from California as officials lament 'plant poaching.")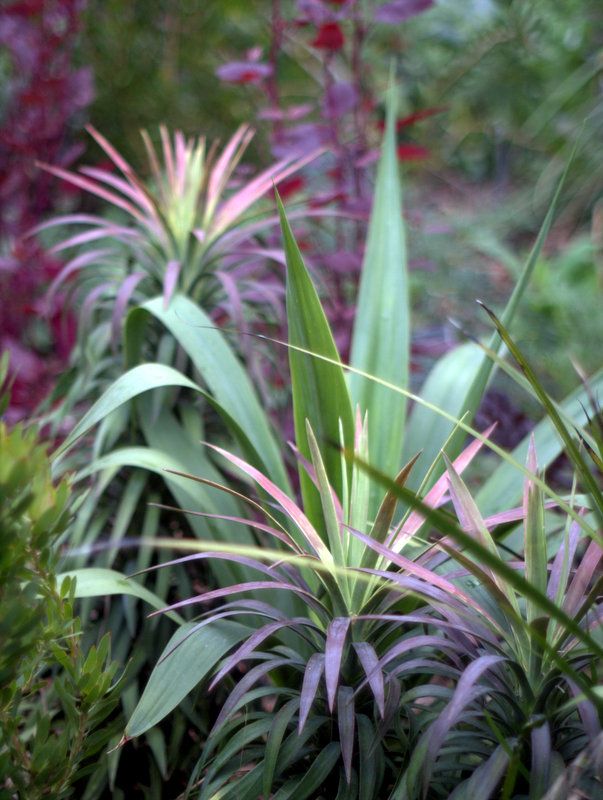 Lots of pruning and shaping going on here. It's like editing a novel, one written by a verbose writer like Thomas Wolfe, but then the garden miraculously finds its stern editor Maxwell Perkins. (Sometimes the editor is asleep on the job for years.) The garden definitely develops a story I wasn't aware I was writing, like how I've started to plant in bays of shrubs infilled with lower-lying plants. Carefully pruning a leucadendron throws into relief the shapes of Beschorneria albiflora and Yucca 'Blue Boy.' The yucca snakes a few feet on the ground before turning upright to 3 feet. New growth eventually turns that plummy shade. I like this phase of editing almost as much as planting, this building around what's flourished, which takes the sting out of remembering what hasn't.
I'm actually being accused of having gone too far, because there's (gasp!) ground showing. And I decided to gravel mulch the portion of the back garden filled with succulents rather than using plants as a living mulch, which requires more irrigation and can cause air flow problems for some of the aloes. The annual poppies have been pulled, the Centranthus lecoqii thinned out (a lilac-pink type), and I'm vowing that Yucca 'Bright Star' will not be engulfed and buried in summer growth.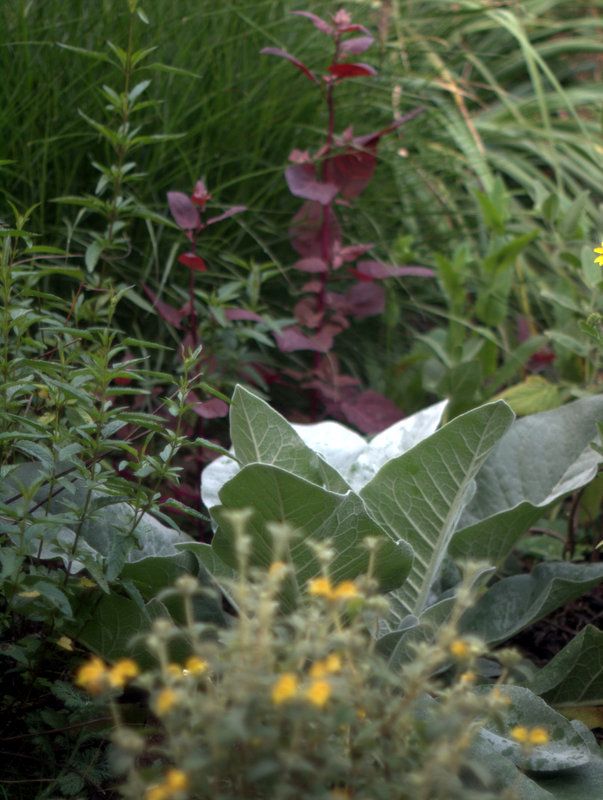 Pruning discipline allows light to reach everybody — look, a happy verbascum!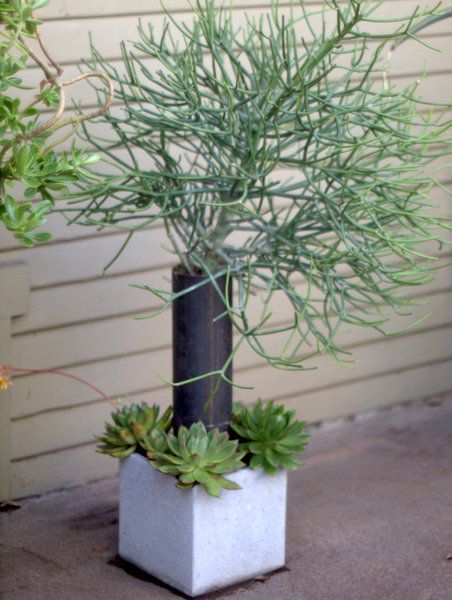 In a Vase on Monday: Because I hate the fact that vases of flowers are such an emphatic microcosm of death in the garden (another weird trait of mine), I rarely keep them around the house. But here's an indestructible combination I hit on at the popup, a Frankensteinian hybrid, part floristry, part assemblage, that's strictly for outdoors because it's so dang heavy. A large branch of a tree-like Euphorbia tirucalli sheared off in some high winds earlier in spring, so I saved it with no real purpose in mind. Wanting something with a little height for the popup, I ended up sticking it in this pipe supported in a square container of gravel. Surprisingly, it drew a lot of comments, and even some offers of purchase. Hating to take it all apart, I potted up the euphorbia with enough soil to keep it alive, shoved it back in the pipe, and planted up the base of the pipe with Echeveria agavoides. Yesss! Industrial-strength floristry.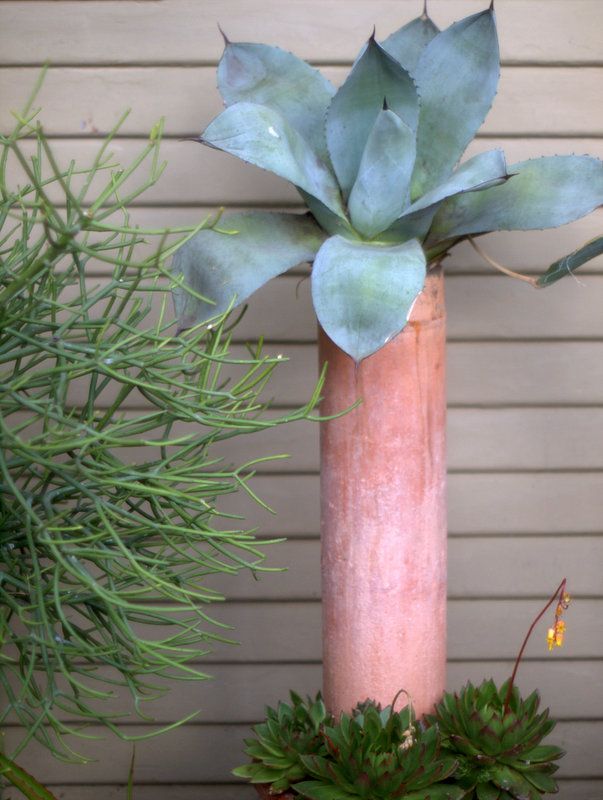 More such mad botanical scientist experiments ensue. A big patch of Agave parryi was thinned, and who could throw away such perfect rosettes? This one has been out of the ground for a couple months. Just in case anyone doubted whether I have very weird taste…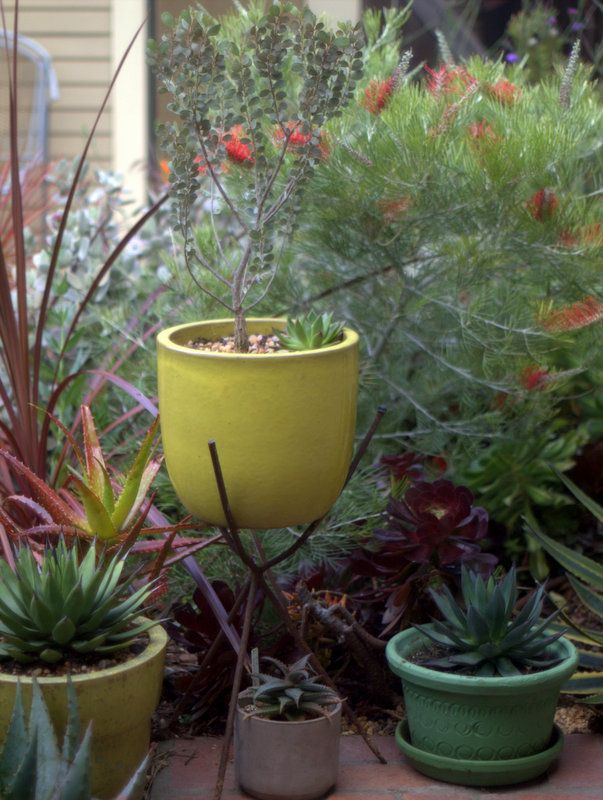 Finding ways to bring height into the mix is a recurring theme. I found this plant stand in a dumpster yesterday. In my defense I was still all keyed up after visiting the flea market, still in that swivel-head search mode. The plant stand legs were sticking up out of the dumpster as we drove by enroute to fish tacos, and though it seemed full of interesting, garden-type detritus, we grabbed just this and ran, like true dumpster desperados. The nondescript shrub in the yellow pot is Acacia craspedocarpa, the leather-leaf acacia. It's not a terribly exciting shrub, but it is as tough as old leather boots, a fact reinforced last Friday when I saw it flourishing in the Huntington's desert garden.
And by the way, it's a great time to visit the desert garden, with the palo verdes and puyas in bloom.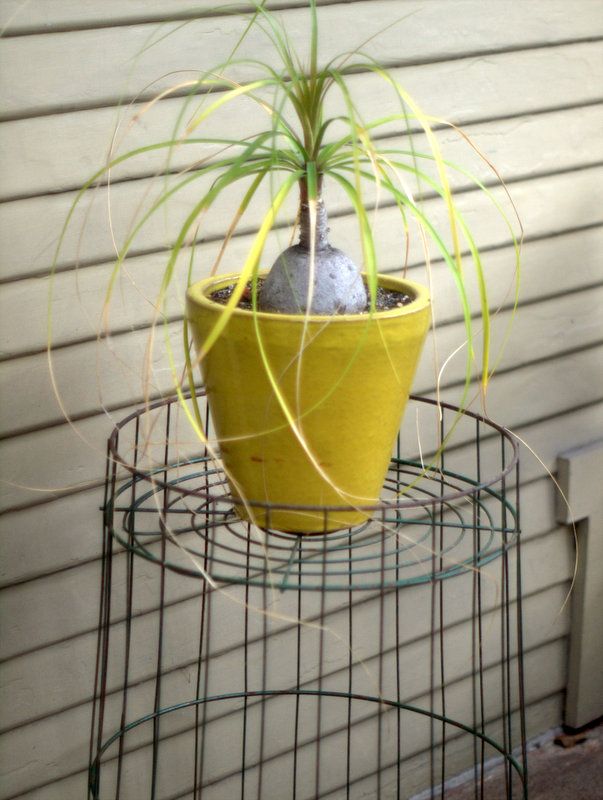 From the flea market yesterday, more of my weird taste. I love putting plants on a pedestal.
And if it's a see-through, wiry, architectural pedestal, so much the better. (Former trash can.) This will be loads of fun to play with.
Adenanthos sericeus, the Coast Woolybush from Australia, has shot up this spring after languishing in the winter shade band. I think it's tall enough now to remain in light most of the year.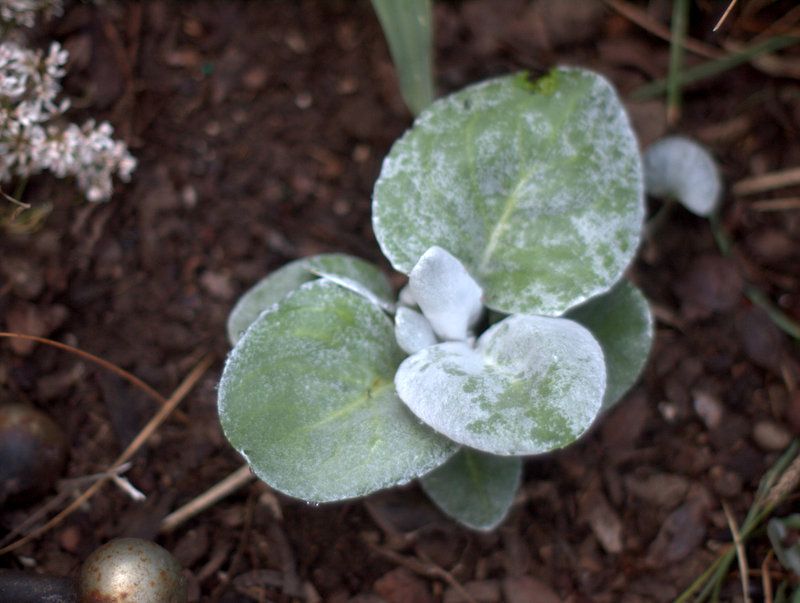 Peter and Kris are to blame for this new acquisition, Senecio candicans 'Angel Wings' that I mail-ordered from Annie's Annuals.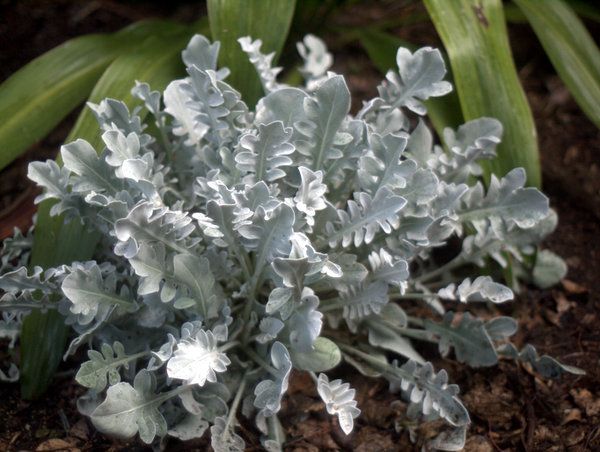 Another silver new to the garden this year, Centaurea ragusina, seems to be thriving. A couple of early losses are two California native annuals, which succumbed to this amended-for-30-years-but-still-clayey soil. That's my guess. (Thistle Sage, Salvia carduacea, and White Pincushion, Chaenactis artemisifolia)
The 'Single Black' carnations are exploding in bloom.
Some upcoming events you should check out while I'm in Austin attending the Garden Bloggers Fling:
May 5-6, Mary Lou Heard Memorial garden tour
May 5-6, San Francisco Botanical Garden 50th annual spring plant sale