Bitter Cassava, Manihot esculenta 'Variegata,' waylaid me at the local nursery Friday while stocking up on potting soil. Just try walking by this. Not possible.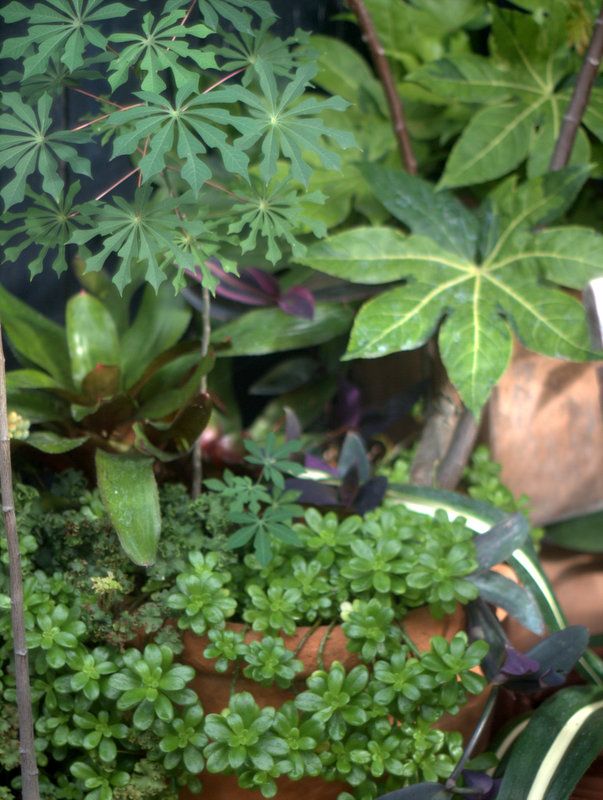 Manihot grahamii, the hardy tapioca, always drops its leaves mid-winter, while the Bitter Cassava is reputed to be evergreen, so now I get to compare the two.
There was a rumor of rain, so early Friday morning I immediately grabbed the hose and slow-soaked the lemon cypresses against the east fence. Because fool me once, shame on you, weather people. Fool me twice…but if anything, I think the good weather people underestimated this rainstorm and lightning show. Water was at last uniformly delivered to the entire garden, something I do a poor approximation of for seven or more months. I think the slipper plant, Pedilanthus bracteatus, shot up another foot in one day.
Unlike the last no-show, I was determined to play it extremely casual about this forecast, so didn't pull any of the plants under the pergola out for a rain bath. I'm not sure why these coleus are doing so well, when through bitter experience I'd become convinced coleus hated life with me. It may be these are exceptionally easy-going varieties, 'Henna' and 'Inferno,' or the large, shallow container provides better drainage, or it also might have to do with the creeping humidity overtaking our summer weather. If the Santa Ana winds do make an appearance this week, these will most likely be their last portraits for 2018. But I'll be grabbing some cuttings.
Coleus (Solenostemon) 'Henna'
Plectranthus argentatus is filling out again after looking a little pinched in late summer.
The xanthosoma got a good soak, its pot situated just clear of the pergola. The red spike is from a pokeweed, Phytollaca icosandra, that's been poking along all summer, finally in a bit of a growth spurt. I've found a seedling that I may try in the garden next summer instead of a container. The patterned leaves climbing the silver spoon/kalanchoe are from Aristolochia fimbriata. Photo taken from the garden side of the pergola.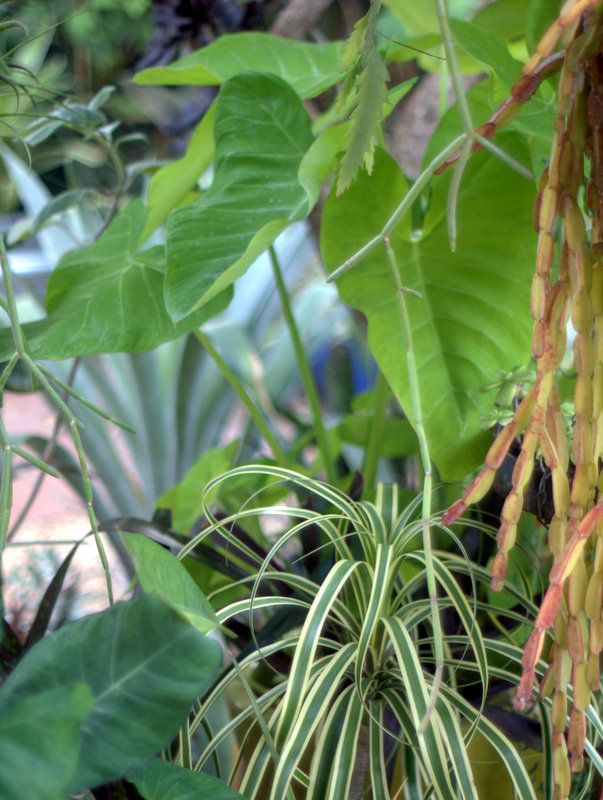 And photo taken from the house side of the pergola. The mesmerizing sound of rain on the corrugated pergola roof kept us outdoors even after dark, munching on chips and salsa and counting off the thunder after every flash of lightning. Rain party!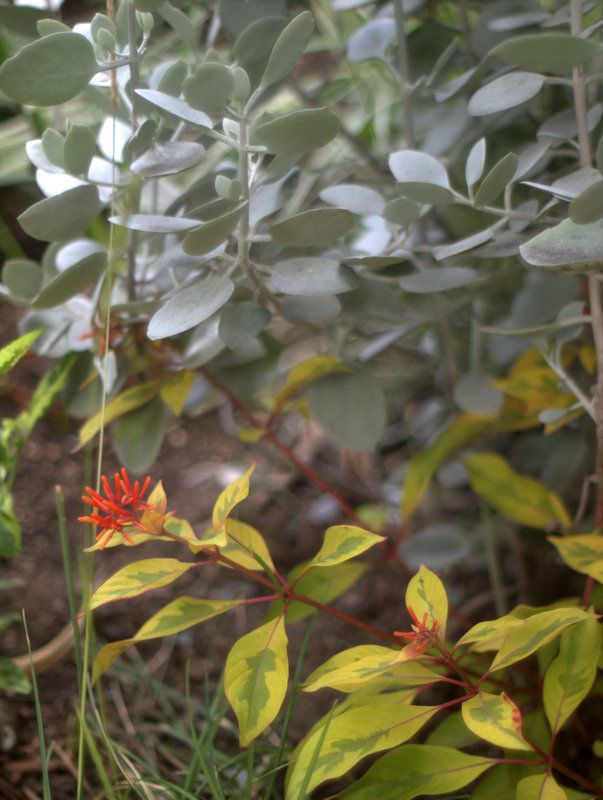 I wasn't sure about full sun for the new kid on the block, Hamelia patens, the Firebush (Lime Sizzler™) so it's been planted in dappled to full sun most of the day.
The plants under the fernleaf acacia are temporarily all washed clean of that fine white powder that the tree exudes late summer. The Abutilon megapotamicum 'Red' took a break from flowering most of the summer.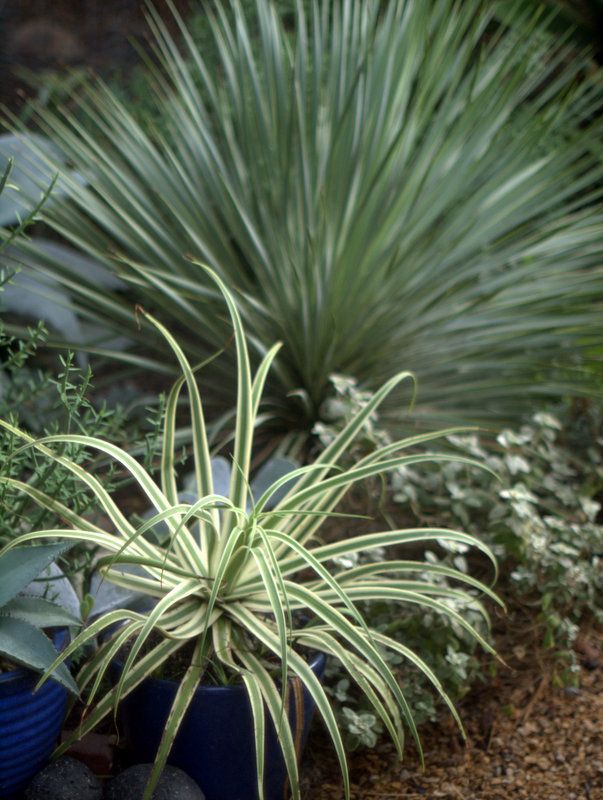 Like kids all cleaned up, you just have to take their portrait: Agave bracteosa 'Monterrey Frost'
The Coastal Woolybush, Adenanthos sericeus, has developed a nice upright habit to over 6 feet. (I finally did pull Salvia 'Desperado' which was crowding it and not particularly happy with its location anyway. This native hybrid salvia was talked up at the recent APLD Plant Fair as a very special plant for big, sunny gardens.)
Fall-planted from 4-inch pots, Kniphofia thomsonii unexpectedly exploded into bloom. It's a wonderful performance, but I'm worried it might be their swan song. I haven't had much luck with these in the past, but it may have been due to overcrowding, so these have been given lots of air and light at their base. Since they're known as the Alpine Poker, the sea level elevation may be an issue, but Annie's Annuals has them zoned for 6-10.
I never thought I'd grow lantana in the garden, that parkway/hellstrip queen, but the variegated form 'Samantha' has won me over. And they're fabulous pollinator plants too.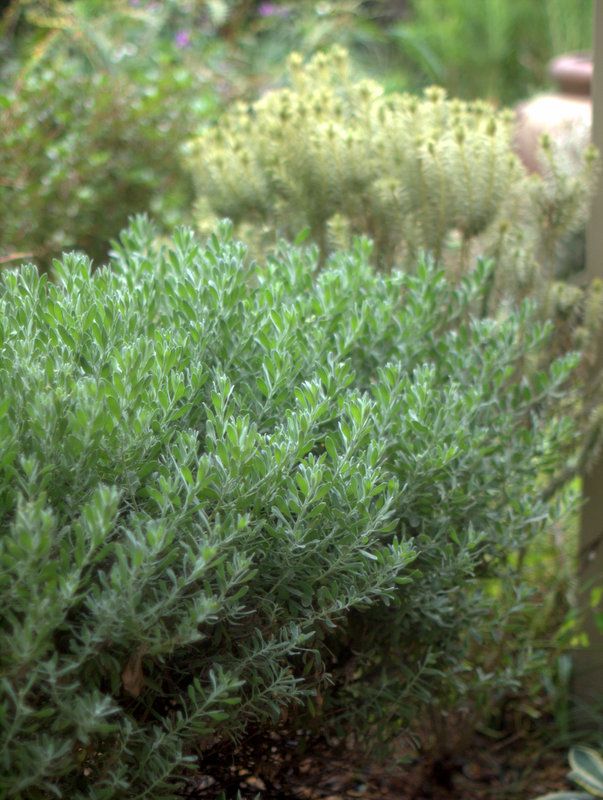 Eremophila glabra has been pinched back all summer and would seemingly make a nice small hedge. I bet it could even be formed into orbs, it's that obliging.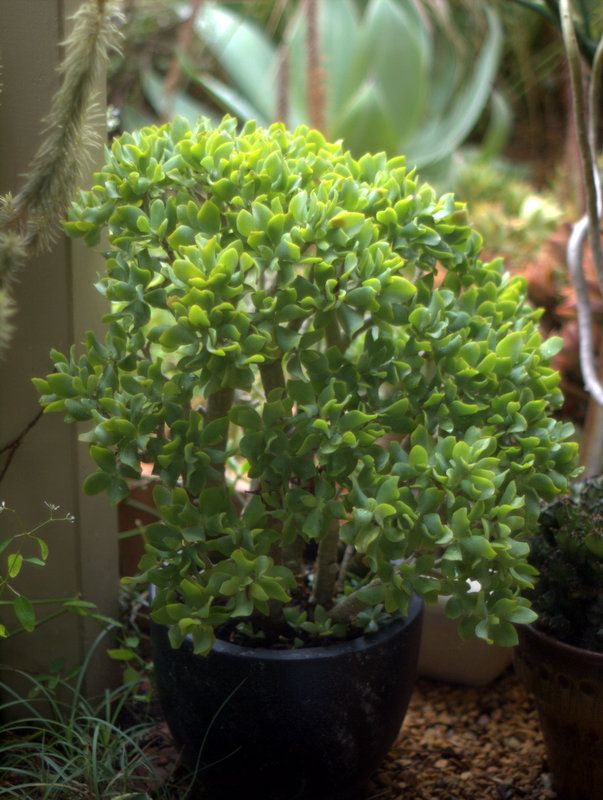 Crassula 'Jitters' attracted a lot of attention on the recent Mediterranean Garden Society tour of gardens in Newport Beach. I haven't been paying mine much attention, which hasn't stopped it from quietly growing into this nice dome shape.
I'm rooting some stapelia cuttings from Dustin around the rim of a large potted cussonia, and surprisingly they still formed these dark, dark blooms. I think this must be Stapelia leendertziae, the Black Bells.
What a nice rainy weekend it's been here! Hope yours has been enjoyable as well.