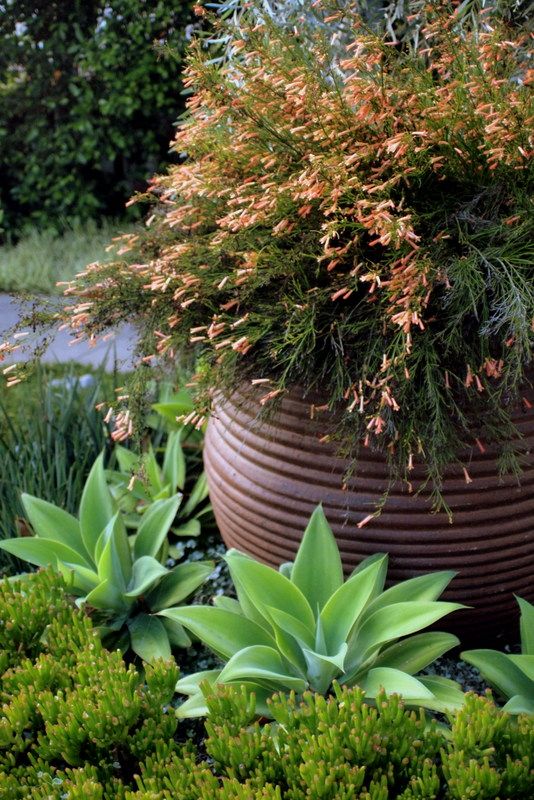 The firecracker plant (fountainbush, coral plant, among a plethora of common names) is an incredibly tough addition to a frost-free dry garden, attributes which also make it an excellent choice for flourishing in containers, which can be a rough life for plants. Russelia makes container life look easy. I've seen it planted in the hellstrips of Palm Springs, where summer temperatures routinely surpass 100F.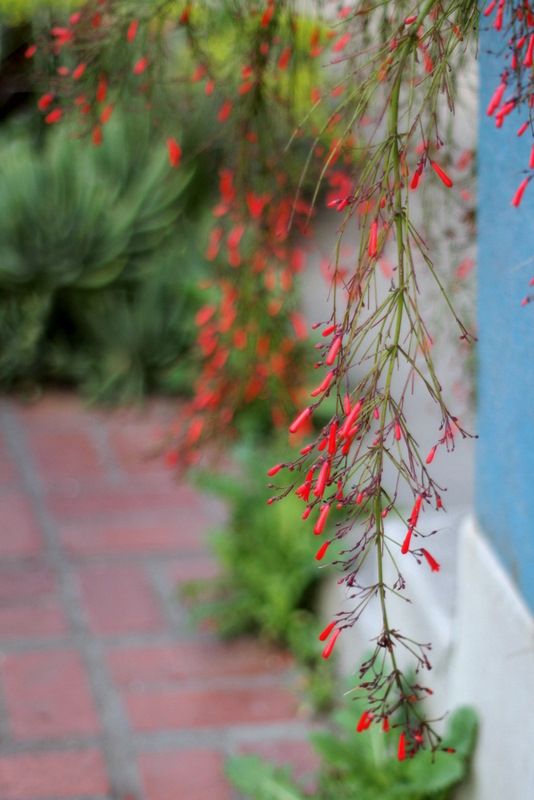 A native to Mexico and Guatemala, the bright red flowers of the species are what's commonly available at local nurseries. Hummingbirds are mad for the totally tubular blooms too.
There is also a pale yellow form, but at the Huntington's fall plant sale I was thrilled to find the much rarer peachy form under the label 'Flamingo Park,' Pink Coral Fountain. The next step, obviously, was to find the perfect pot to showcase its cascading, fountain-like qualities.
I didn't seriously expect to find anything as fabulous as Willy Guhl's Spindle planter at local nurseries, just something slim and tall. Nothing seemed suitable, so I settled for a 12-inch simple clay pot that is now hanging from the pergola…sigh. Not fabulous at all, just barely serviceable and most likely temporary. (If I could afford an original Guhl creation or a well-made re-creation, the best chance locally of finding one would be Inner Gardens.)
But I really don't understand why shameless knockoffs of the Spindle planter aren't routinely available at every corner nursery. That simple sculptural shape is what my plants and I want to live with, not busy neoclassical scrolls or curlicues or garlands. And because I have lots (and lots) of potted plants, I mostly prefer that matte neutral finish over highly glazed primary colors. And apart from accommodating plants that want to fountain and drape, varying heights for potted plants to me is essential to counter the tyranny of the ground plane and add in a little multidimensionality, theatricality, stagecraft, call it what you will. A tabletop or bookshelf size indoors would be amazing too (we could call it the "little willy"!) If you're an adventurous fabricator in Los Angeles, give me a call…
With a credo of "achieving the most with the minimum of effort," Guhl is a design hero in his native Switzerland, where for almost 40 years he taught at Zurich Kunstgewerbeschule (School for Arts and Crafts) and was an early proponent of mass-produced, flat-packed furniture.
It was the invitation of the manufacturers of the industrial product Eternit in 1951 that led him in the direction of designing containers and furniture for the outdoors. Intended for use in roofing and pipes, this concrete/asbestos formulation was offered to Guhl and his students for an experimental collaboration in designing new planters. Guhl's subsequent innovative work with the product lent the industrial material significant credibility; Guhl felt that "no other building substance that is so thin gives so much stability." (here) Recognition by the New York Museum of Modern Art of Guhl's Loop chair in 2001 was short-lived; after two weeks, the chair was removed from display due to concern over the asbestos in the Eternit formula. The Loop chair is still made in Switzerland, of course now minus the asbestos.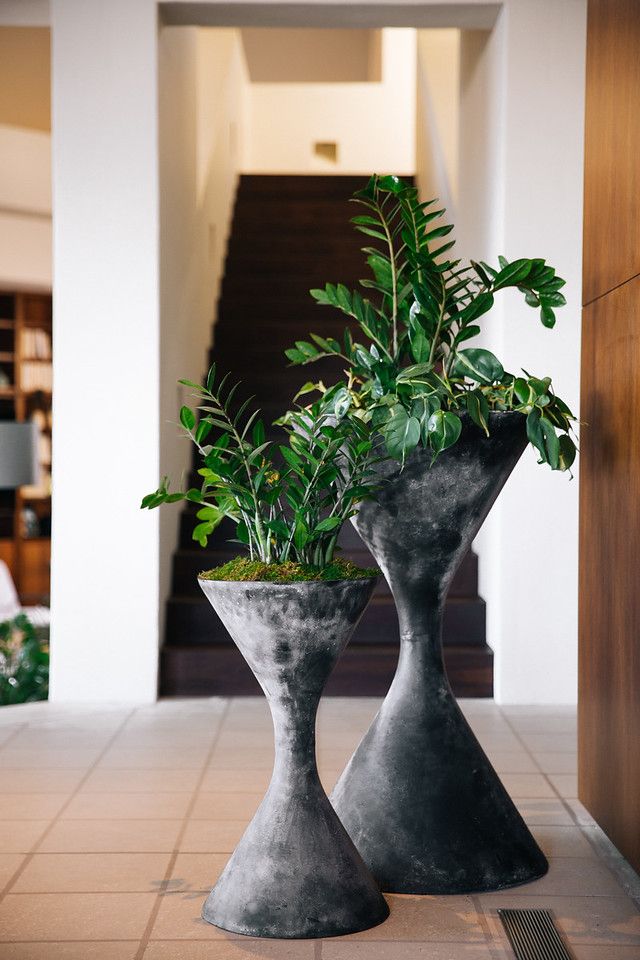 I've done a lot of crazy things over the years in an attempt to bring height and drama to potted plants. Of course, nothing I've come up with ever looks as effortlessly cool as Willy Guhl's Spindle planter.