Some minor drama and quandaries in the garden recently.
The very large but unidentified tillandsia brought home from a sale at the private garden of the late Bill Baker (of Aloe 'Hercules' fame), organized by his wife Donna Baker and So Cal Hort Society, is throwing a bloom. The stalk is over 3 feet and still growing. It just might be the Giant Terrestrial Tillandsia, T. secunda. Seeing this tillandsia at the Sherman Library & Garden in full flowering regalia prompted a mad search for its identity — you can read about it here. Suffice to say that my little garden is somewhat overexcited at the prospect of seeing this tilly in bloom here. I do have a very small Tillandsia secunda I bought after seeing the Sherman's, but it has years of growing to do before it even thinks about blooming.
I'm not sure anything tops that news, but this newly repotted Euphorbia canariensis comes close.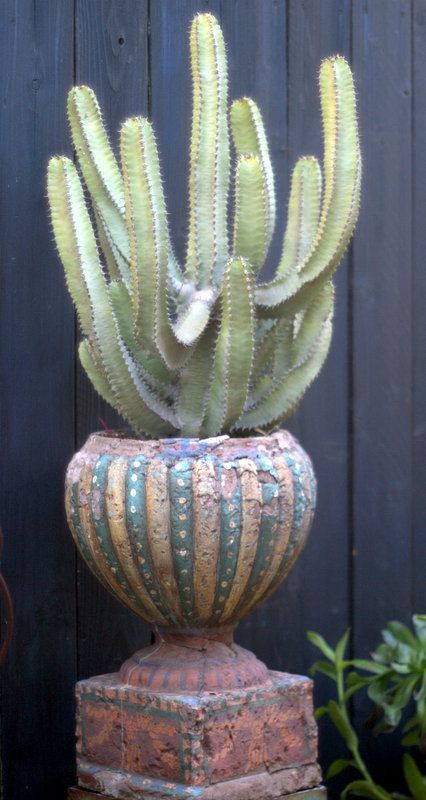 The urn had considerably crumbled and flaked in the four years since this photo, and making a decision on the best course of action had reached a state of paralysis. I could save the urn or the plant, but not both, and the plant was beginning to show signs of stress as the container increasingly shed water rather than absorb it. At this size, it should be flowering, but it hasn't. I sat on this dilemma for too long and began to view what was once so beautiful to me as a troublingly unsolvable problem. This week the hammer finally came out. I opted to save the plant and smash the urn. The mental logjam was smashed to smithereens too — no regrets. Just please don't tell me it's ancient Minoan pottery worth millions….
And that's not the only mental logjam I cleared this week. This unobstructed view of that strapping young agave was made possible by the very hard pruning of a Phylica pubescens, a South African Featherbush (photo in this post). This luminous golden shrub has not been easy to please, so when it decided to live and thrive and grow tall, I wasn't about to grumble that it was blocking my view of the agave behind it. The young agave had lots of growing to do, and if it accomplished that mostly out of my sight, fine. But after some years, the Featherbush has grown leggy, and that finally prompted me to cut it back to a foot or so. I doubt it survives, so I'll start over with a new one at some point. But not where it blocks the view of this maturing agave. And I don't even want to think about the Solomonic decisions to be made when the agave's wing span approaches the predicted 6 feet. I'll file that under "future garden dilemmas" next to rebuilding the termite-ridden fence, calling an arborist to consult on the soaring lemon cypresses, redoing the front garden, etc., etc.