Up to as recently as a few weeks ago, I confess I didn't pay much attention to the various species of tillandsias (aka air plants, bromeliads adapted to a basically rootless life as epiphytic tree dwellers.) The darlings all curl and whorl like living ribbons, and charmingly ape miniature hedgehogs and undersea anemones. All are tantalizingly exotic and desirable, and whenever I encounter a good deal on a tilly, home it comes, whatever its name or country of origin — generally somewhere far south of me in Mexico, Central America, etc. Spritzing them weekly and soaking them occasionally seems to be an easy, successful strategy for growing them outdoors here in zone 10, but your regimen will vary depending on if you grow them part or all of the year indoors. Humidity and air flow are the key concerns. I've never met one I didn't like, so haven't really obsessed over amassing a collection of the many species and burgeoning number of hybrids. In my amateurish, undifferentiated enthusiasm, every one of these exotic beauties is as exceptional as another.
But judging by past photos, I do seem to be attracted to silvery leaves or those with a pronounced ruddy flush.
And the diversity of scent makes them even more alluring. It's remarkable that such intensity of scent should come from something so fragile and spidery — unlike the expected heavy perfumes from fleshpots like gardenias, magnolias, roses, and lilies. The flowers are all fascinating, colorful structures, usually a few inches in length, and while their appearance signals the end of that particular rosette's life, a couple pups will offset from the mother rosette. Such are the fortunes of monocarpism (death upon flowering).
All that said, you would not believe the collective, brain-burning effort that went into identifying this seemingly unexceptional, Ecuadoran air plant, Tillandsia secunda. The leaves, you will rightly point out, are nothing to write home about, and that's true enough. For this tillandsia, paradoxically, it's all about the very long-lasting inflorescence, seen below in this photo from Rainforest Flora.
"Tillandsia secunda is in a class by itself. Of all tillandsias, this is the only one that grows large, has a colorful, spectacular, long-lasting inflorescence AND grows a multitude of new plants on the spent inflorescence! Top drawer all the way. Easy to grow as an epiphyte or larger and faster as a potted plant in a fast draining soil mix."
My relationship with this tillandsia began as a stubbornly unsolvable botanical mystery. In the last couple of visits to Sherman Gardens, various revolving groups of garden friends and bloggers have been stopped in their tracks to puzzle/lust over this spectacular bromeliad in bloom. If you go, you can't miss it. It's opposite the staff greenhouse in the curving bromeliad border. The inflorescence is tall, maybe 4 feet, in brilliant red/green parrot colors, with dozens of offsets studding the lateral inflorescent branches. (I'm winging it now, as far as botanical structure description.) The spectacular flower is puya-esque in its opulence. No one could ID this mystery bromeliad — not any one of us, not staff. A helpful staff member did provide the name of the source, alas, a nursery no longer in business. Thankfully, Gerhard (Succulents and More) persisted in an investigation of his own and emailed the ID a couple days later as Tillandsia secunda. After that, tracking it down was easy. I immediately checked the website of my local tilly source, the retail shop of Rainforest Flora in Torrance, and was thrilled to find they had it in stock. Gerhard found a couple on eBay.
It's joined a bunch of other bromeliads clustering around the base of the tetrapanax and will take a couple years to reach flowering size. There it is to the left of the biggest brom in the photo, the silvery Alcantarea odorata. I'm trialing T. secunda in the ground, in a pocket of potting soil, but it also can be grown as a true air plant (no soil required).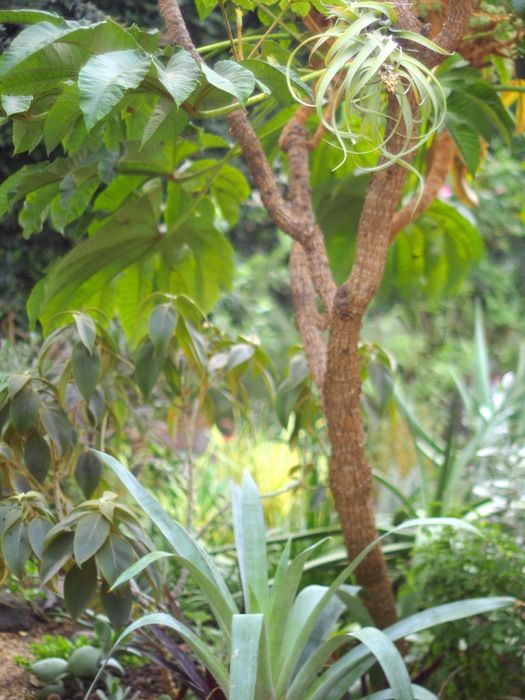 Which is how I'm growing T. xerographica, tied to the tetrapanax's branches.
You can see the new pups forming at the base. The tetrapanax canopy is the perfect environment for air plants, providing bright shade/dappled sun most of the day.
When I refer to Rainforest Flora as my local source for tillandsias, that's kind of like saying BevMo is my local source for Peronis. RF is an enormous operation, encompassing 300,000 horizontal square feet of growing space in San Diego County — yes, the county that just suffered the ravages of the Lilac Fire in December 2017. Tragically, Rainforest Flora's growing grounds were not spared.
From the Southern California Horticultural Society January 2018 newsletter:
"Rainforest Flora lost two caretakers' homes, impacting three families, plus two greenhouses containing plants which in some cases take decades to mature. Nursery co-owners Jerry Robinson and Paul Isley are planning to rebuild." (You can visit their gofundme page for more information here.)
I know that in the case of this amazing local source for tillandsias, I just didn't appreciate what I had until it was nearly gone. Wishing Rainforest Flora the very best in their rebuilding efforts in San Diego County and in salvaging what they can.