Yesterday was the third Sunday of November. When we first moved into this 1919 California bungalow, the third Sunday was kept holy each month for a huge local flea market. But once we found all the necessary vintage hinges and drawer pulls and school house lights and had filled this tiny bungalow to the rafters with all the other great stuff one invariably finds at flea markets then has to later give away for lack of space, we began to actively avoid the flea market and strove to forget the significance of the third Sunday and erase it from consciousness. The house was too small, the garage had long been turned into an office, and the temptation was too great.
If you follow the blog at Rancho Reubidoux, you'll know they are flea market fiends. Reading the blog, the long-suppressed third-Sunday timetable was bubbling up again from the depths. I was ready for it this November.
And I had a specific goal, always a good idea with flea markets, which was to find a receptacle of some sort to set potted tropicals in for next summer, so runoff from frequent watering would pool at the bottom to be reabsorbed. Not a water garden per se, but a means to water more efficiently, and the tropicals would flourish in a couple inches of standing water.
The third Sunday dawned amidst a rainstorm that threw the entire plan into doubt. The early departure we had planned was scrapped, but when the rain abated late in the morning we decided to drive by, since it's close. The flea market was open but with very light attendance, which made us giddy with excitement. On a busy day, it's sometimes impossible to gain access to the vendors' goods, ringed in by rows and rows of buyers.
I was open to any and all possibilities the flea market had to offer, saw a couple things of interest, but settled on this for its color and corrugation: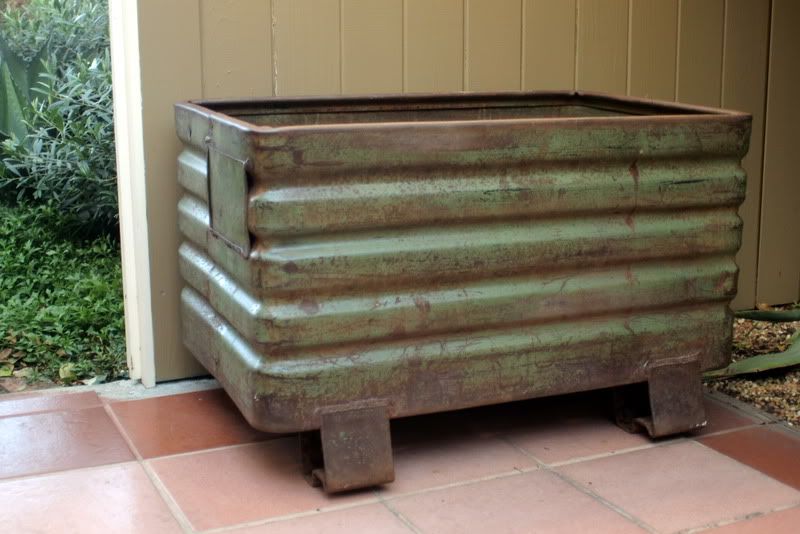 Serendipity and kismet is a big part of the allure of flea marketing, as in: If it hadn't rained and the crowds of buyers had come, or if we had stayed home due to the rain…but it did rain and we didn't stay home, and now this gorgeous hunk of verdigrised scrap metal is all mine!
I am a timid flea marketer, so indulge my boasting over the negotiating technique I used:
Me: I would like to make you an offer on this (pointing).
Vendor: Okay.
Me: You won't like this offer, because it's half of what you're asking.
Vendor: Okay. And I'll loan you a hand cart to haul it away.
More serendipity in a vendor who was a pushover. And so the deal was done.
There was also a vendor selling plants, a wonderful assortment of succulents, many of which I didn't know. I bought an unnamed cotyledon from him I'd never seen before, a chalk fingery looking plant with a chartreuse cast to the leaves, whose identity he said had eluded the experts at the Huntington Cactus Garden. "You stumped the Huntington?" I gushed incredulously. What a savvy purveyor of plants, who may have played me like a fiddle, but it's all part of the fun.
The next third Sunday is December 19th, rain or shine.