Every so often I come across a word that tunnels straight into the murky recesses, boring into that dank station in the brain where rusty thoughts rumble around and bang like aimless cars in a railyard. Thoughts with otherwise no timetable for arrival, no destination known. Just knowing such a word exists is enough to set one of those idle railcars in motion, rumbling down the track and into focus
An opportune moment to pause for a photo of The Atocha, Madrid's astonishing, jungly, former railway terminus, from "The Ten Most Impressive Railway Stations."
I could plan entire trips around gardens, railway stations, and libraries.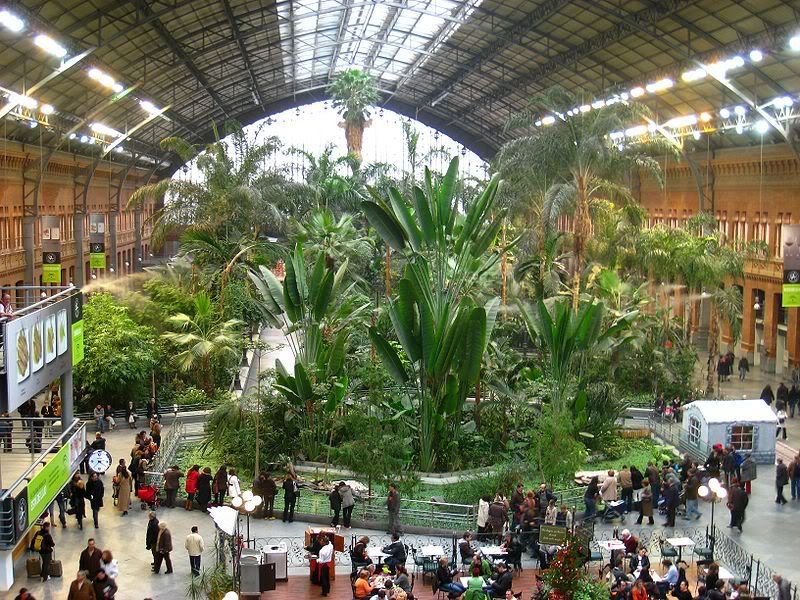 As I was saying before risking derailing this little narrative with that glorious photo, which incidentally does serve to illustrate my point of seeing things in new ways, like envisioning a railway station as a gigantic tropical conservatory….
Last week the word was "habituation." It has a specific scientific meaning and usage, but what appealed to me was the scientist, Jonathan Schooler's quick sketch of the word for the lay person in the magazine article:
"Habituation is why you don't notice stuff that's always there. It's an inevitable process of adjustment, a ratcheting down of excitement."
(12/13/10 The New Yorker, "The Truth Wears Off," by Jonah Lehrer.)
And, no surprise, I'm relating habituation to making gardens, our own personal gardens to be exact. The inevitable "ratcheting down of excitement" that comes from having only one garden to view day after day, and sometimes becoming numbingly acclimated to it. Traveling, visiting other gardens, whether in blogs, books, magazines, or in person, are time-honored habituation busters, a means to see anew and clarify what the heck it was you set out to accomplish in the first place. You'd think we'd be weepy with disappointment from too much garden visiting, but my little garden never pleases me more than when I compare it to others, even gardens far superior, because at such moments I feel the most intensely connected to the ageless tradition of garden making. Being a participant in that tradition is literally and figuratively the ground under my feet.
Another disrupter of habituation is the camera. This morning I was surprised by a couple different views when trying to make the most of an early misty light rinsed in fog. One unseasonal bloom of Salvia verticillata 'Purple Rain' changed everything.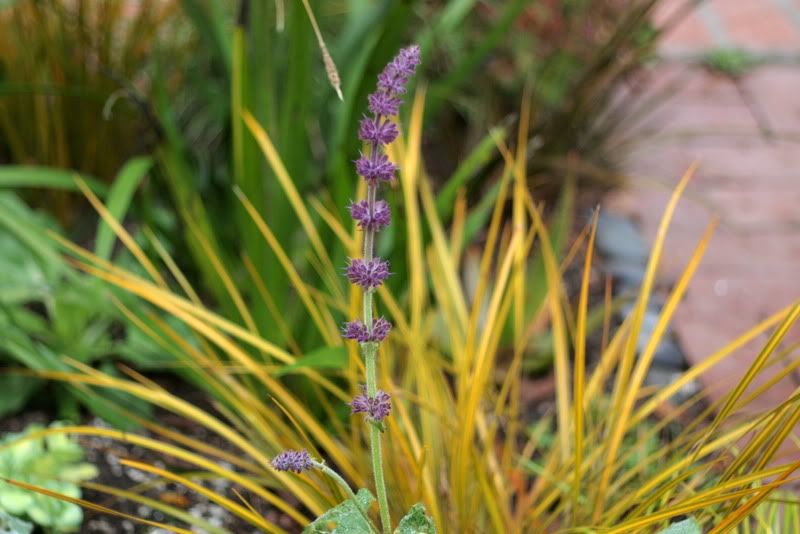 Photographing the salvia from the back of the garden made me take notice of the drama of kangaroo paws against a solid backdrop.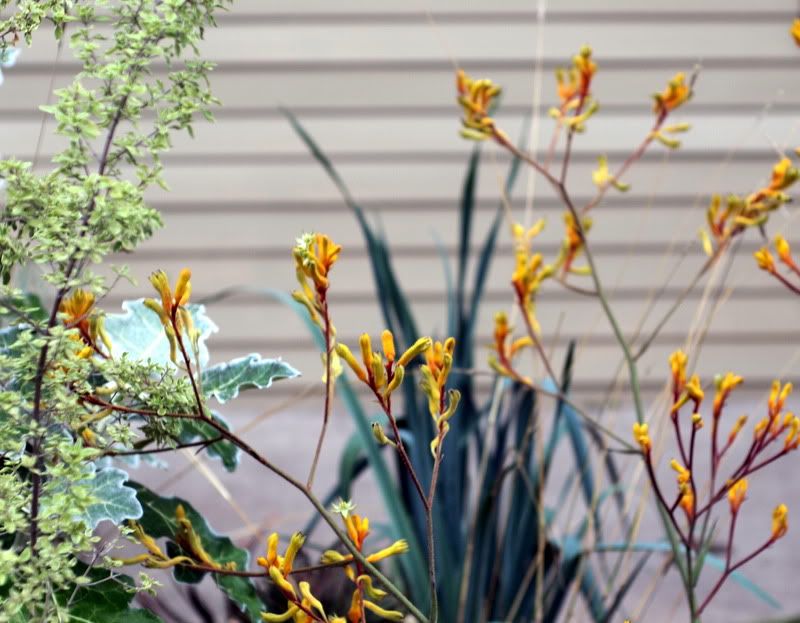 I know, kind of anticlimatic after that train station photo (from Wikipedia). For another good dose of anti-habituation, if you have a half hour to spare this Sunday I'd recommend watching Carol Klein's Life in a Cottage Garden. There are some annoying ads to contend with, but Carol's tour of her garden is just what's needed for those of us habituated this February to our personal garden scenes of unremitting snow, mud, or just the same-old/same-old.