Smashing two of my fingers in a car door just before leaving San Francisco hasn't helped to speed up the process of posting a few measly photos from the show. Not quite the airtight excuse, since having two fingers turning gothic shades of purple and inky blue didn't prevent me yesterday from planting nearly the entire flat of plants brought home from the show and several nurseries we visited. (I highly recommend making little protective condoms from rubber gloves to protect injured digits while planting. And this year I will get a tetanus shot.) There is an excellent little video by Cindy McNatt and MB Maher making the rounds, and Floradora's posts are very comprehensive, with the added bonus of getting a designer's point of view. As for me, it seems I did nothing but buy plants and, judging by the meager output of photos, paid very little attention to the exhibits. The exhibits were all solid, beautifully executed, not ground-breaking, but the show overall had great fizz to it, a good layout with lots of outer buildings and tents to ease the claustrophobia of the crowds in the main hall. And lots of great plants for sale. Geraniaceae and Digging Dog are where I parted ways with most of my plant show money.
I did admire the streamlined elegance, the utter scientific cool of the UC Berkeley hydroponics exhibit.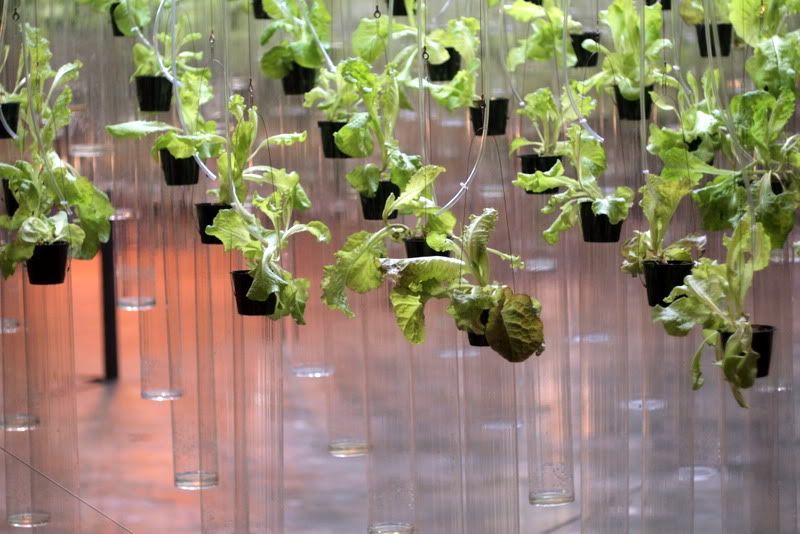 Hanging glass has been on my mind for this summer. I keep this tear sheet handy, a photo by MB Maher of a friend's studio.
Maybe using distilled water will keep the nasty calcification crusting from rimming the glass. Any excuse to play with glass beakers and flasks.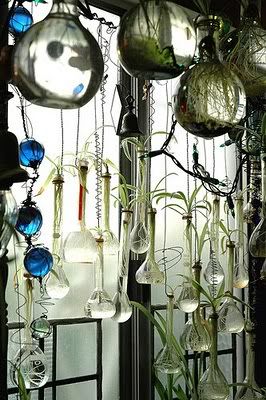 Back to the show. This rusted bedspring would be just as cool hanging on a wall, filled with tillandsias and Spanish moss.
By Quite Contrary Garden Design: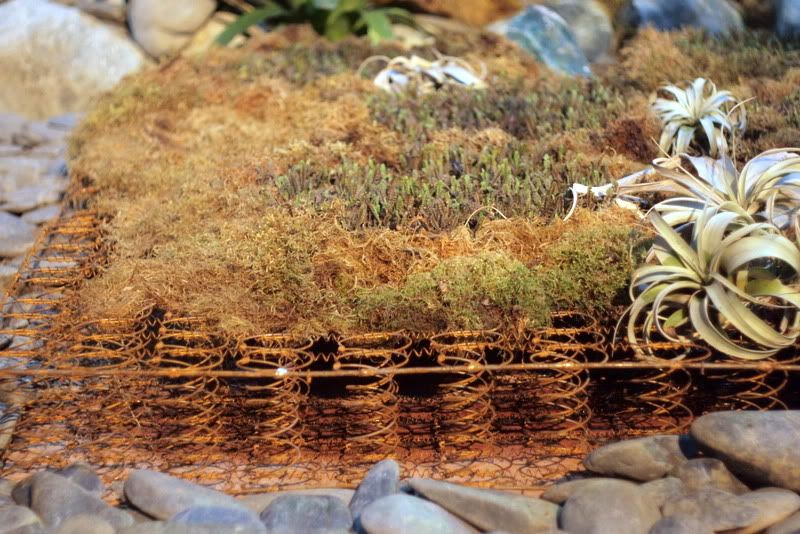 Shimmering Acacia craspedocarpa against corrugated fencing. Poor photo of a wonderful acacia.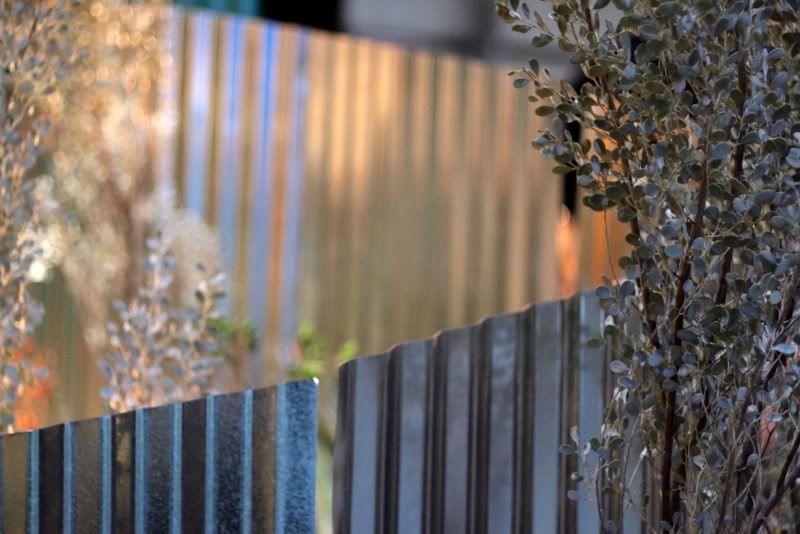 Tierra Seca's "Golden State of Mind." Exquisitely stacked stone walls and Southern California river rocks on pikes.
Although Brian Swope intended these floating rocks to illustrate that anything is possible in California, levitating over an "energy field" of plastic sheeting, I can see them used also as an inverse visual pun, floating over rushing water, over rivulets of succulents. I much preferred Swope's stylistic treatment to the naturalistic use of rocks in some of the exhibits, which struck me as jarringly out of place in so artificial an environment. (I cringingly introduced myself to Mr. Swope as a "minor blogger." Sometimes the words that spill out of my mouth….)
Photo by MB Maher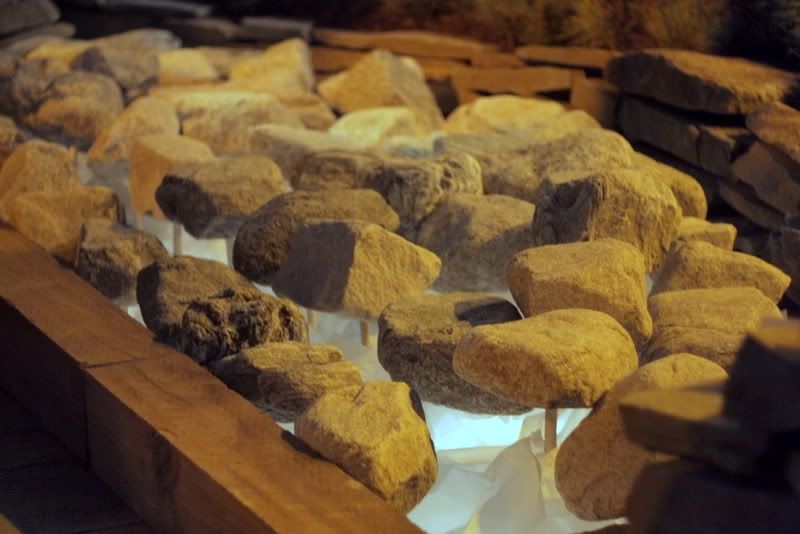 From Gold Medal Winner Jeffrey Gordon Smith's "Pi R Squared," black plastic culverts planted with succulents, an exhibit he first built as a temporary installation on sustainability for the San Luis Obispo Botanical Garden. A wood-fired heater warms the water for the tub then roasts the veggies while you soak. Sustainable decadence.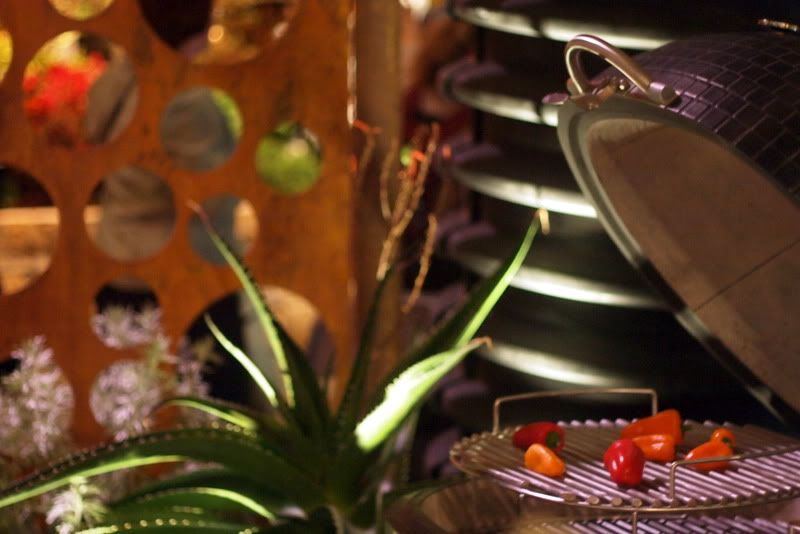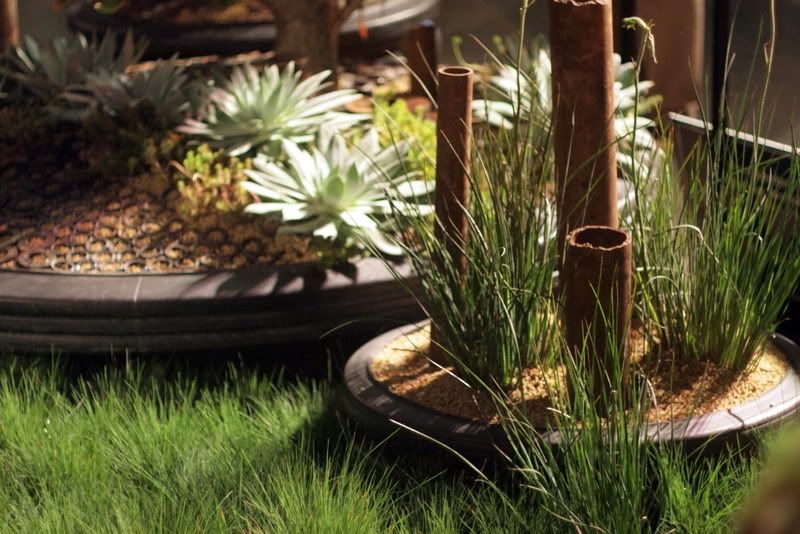 One of the living walls from Filoli's dovecote.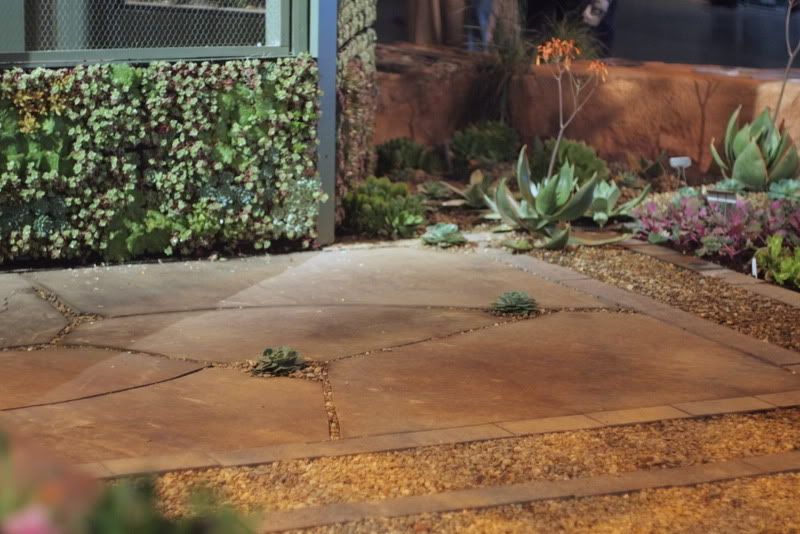 Studio Choo's florals in repurposed wooden dynamite boxes in Star Apple's edibles tent. Possibly from being visually saturated by succulents and livings walls, I was riveted by these Flemish Old Master tableaux vivants with crown fritillaries, tulips, and ranunculus in astonishing Persian carpet shades of russet, raw sienna, mahogany.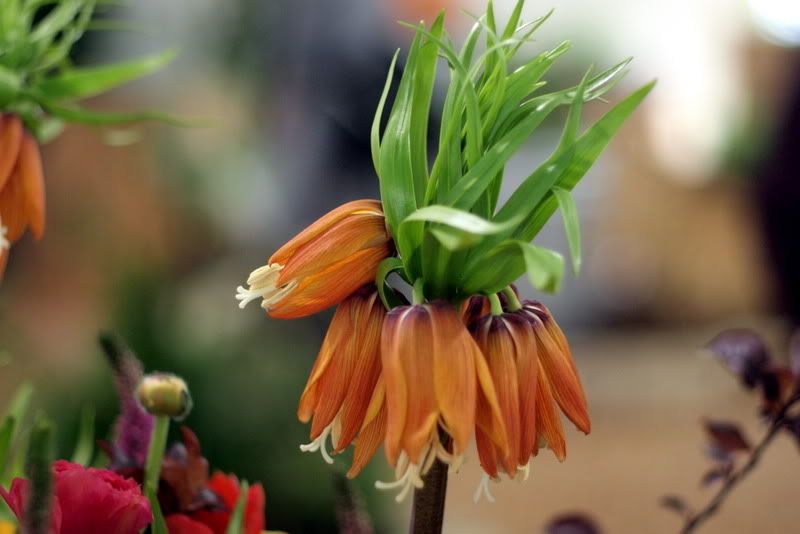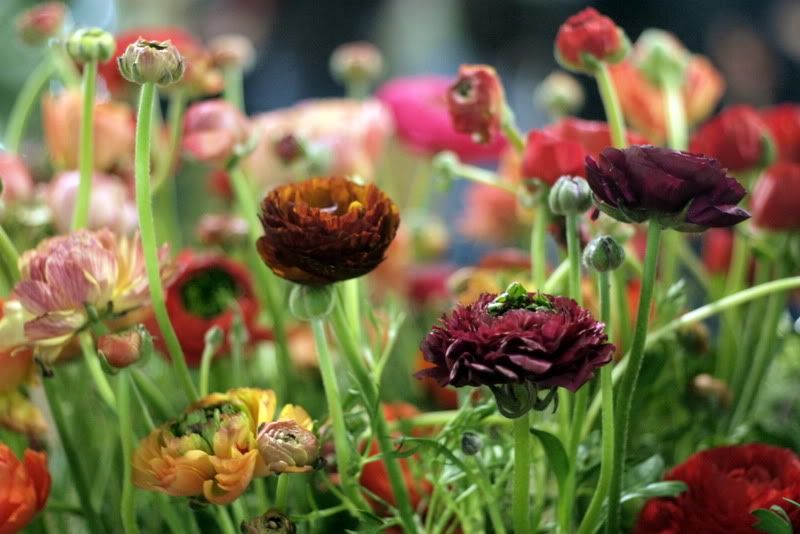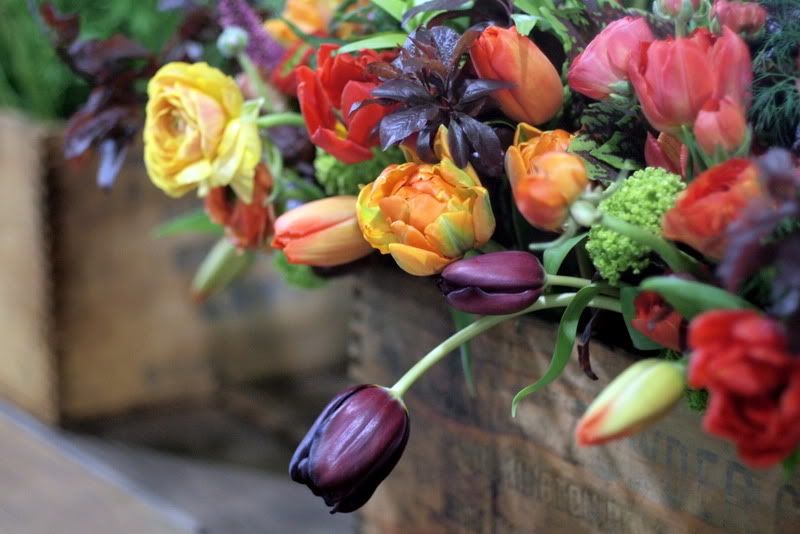 That's probably enough flower photos. Congratulations to the hard-working people behind the SFFGS for a fine 2011 show,
a successful inauguration of garden road trips 2011.