I visited a couple nurseries today and was a bit horrified by the seemingly overnight invasion of flat after flat of "spring color," a reaction which made me wonder if I'm growing snobbish. So am I a snob? I don't think so, just possibly confusing strong personal opinions with snobbery. I am amassing stronger opinions the older I get, exclusionary opinions that make distinctions and draw battle lines, if only for my own sense of clarity on issues. But I don't think that strictly counts as snobbery.
Roses would be an example. No floribundas. I would never plant a rose for scentless masses of color.
(I can't think of any plant from which I'd ask for masses of color, preferring the intriguing, shimmering inflorescences of Stipa gigantea to, for example, landscape roses, though that's not strictly an apples-to-apples comparison.)
We can agree to disagree. Many people will prefer strong color over all else and find what I've come to love weedy and insubstantial. Others will find any rose unbearably old-fashioned, just as bearded irises go in and out of fashion. A mature stand of bearded irises in bloom nowadays is a rare sight in my neighborhood. These sorts of plants, bearded irises and roses, have in the past inspired extreme loyalty that overlooked any faults as garden plants. I recognize well that loyalty, since years ago I once gamely tried to make a garden out of a collection of old roses, over 30 in number of mostly noisettes and tea-noisettes, in this very same small garden. And though I loved them all, I have never felt more constrained and miserable as a gardener. Tastes change.
Reuben's friends, Hal and Bill, invited us to visit their lovely garden, classically bricked and box-hedged, and this is but one stand of their many irises in bloom interspersed among trees of Euphorbia lambii and sprawling matilija poppies. (Who can look at bearded irises in bloom without thinking of Henry Mitchell, who took his yearly vacation the few weeks his hundreds of irises flowered, to stay home with them in their fleeting glory?)
And yet Hal and Bill were most excited by their new "meadow" of toadflax, Linaria maroccana. Tastes change.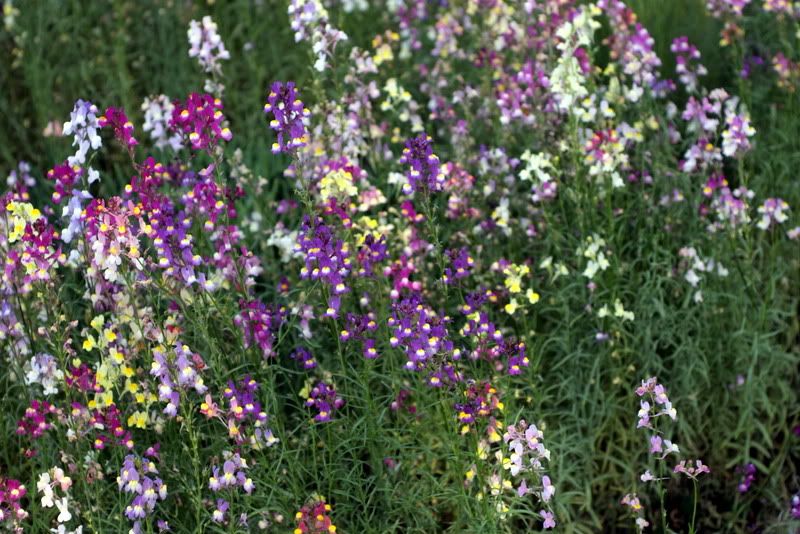 As far as roses, I ask for intense scent, voluptuousness of bloom and iridescence of petal, preferably in a climber. Many can deliver all this.
But I'm finding I feel tyrannized when I grow more than one at a time. And the water bill doesn't like it much either.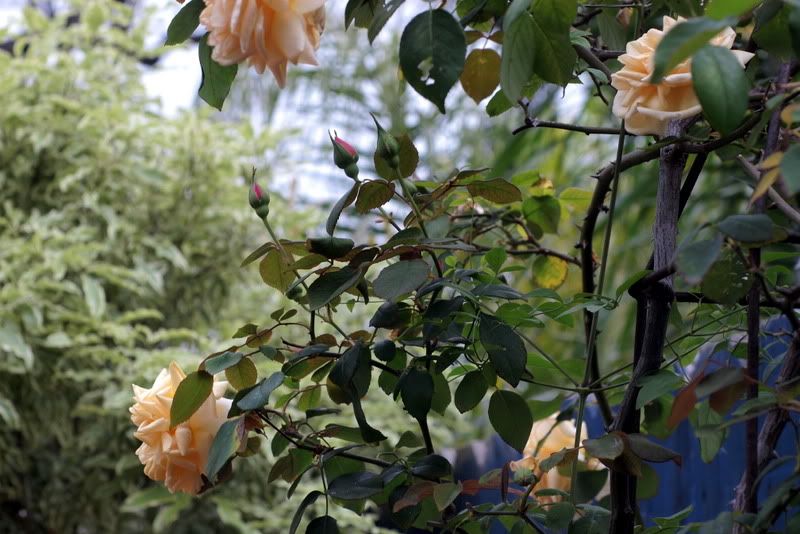 Right now, that one rose is the tea-noisette climber 'Bouquet d'Or,' and she amply represents all rosedom for me.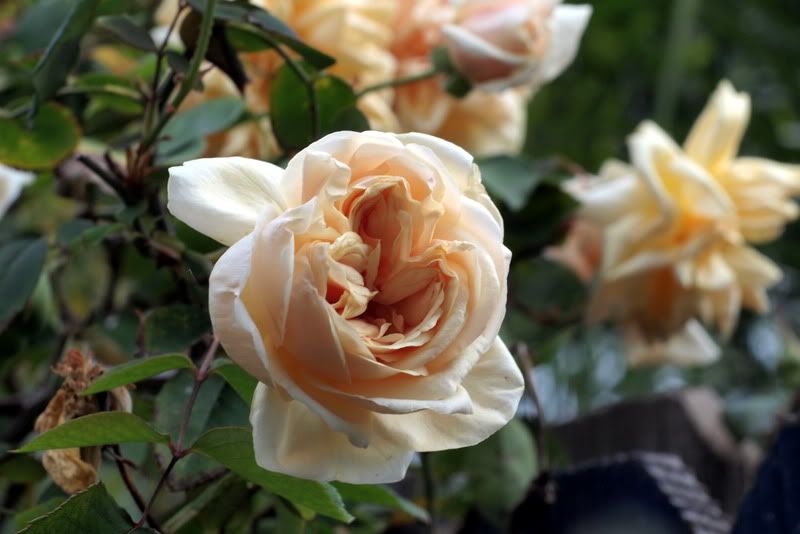 She makes do in a narrow gravel border with some exotic bedfellows like this beschorneria at the far end.
Tastes change.