Let's be honest, in zone 10 there's no equivalent to the pent-up anticipation for blooms to arrive that describes spring in colder zones (and probably makes its arrival that much more exquisitely joyful, that cycle of denial and deliverance). Our spring gets going in February. What I'm really waiting for is the tropicals to hit their stride, still a month or two away. The xanthosoma and colocasias kept dry over winter are just now waking up. The 15-foot Euphorbia cotinifolia tree is similarly slow to leaf out, its bare branches an odd sight compared to the explosive growth on the hybrid cotinus 'Grace,' in full leaf and smoke. The bloom has come and gone on the Chinese fringe tree, Chionanthus retusus. Garden cannas are already in bloom, and Brugmansia 'Charles Grimaldi' just finished a bloom cycle, though it can be seen in bloom locally nearly year-round depending on its size.
A couple quick photos. Salvia cacaliifolia rendered even bluer by the lemony backdrop of Arundo donax 'Golden Chain'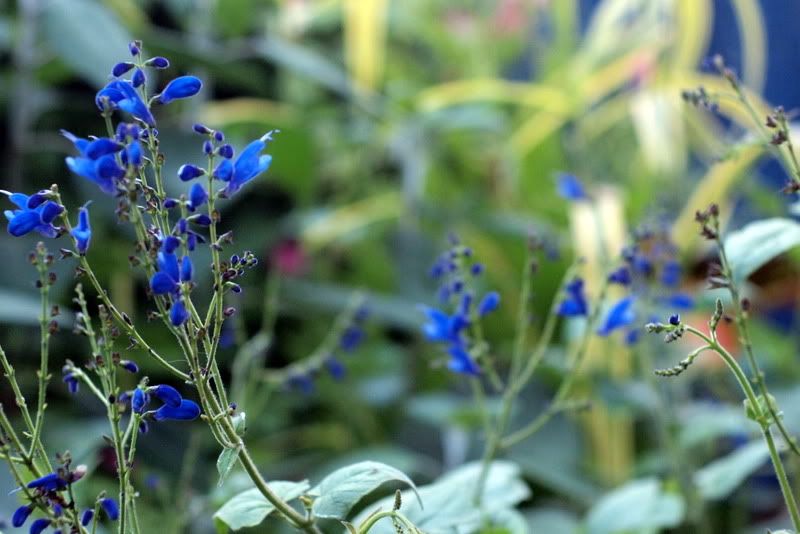 Knautia macedonia and Salvia chiapensis give magenta a solid, continuous presence.
I don't mind, not even when the orange crocosmias start to bloom, and I noticed some crocosmia buds forming yesterday.
Pelargonium sidoides. The bronzy leaves outlined in green belong to Brachysema praemorsum.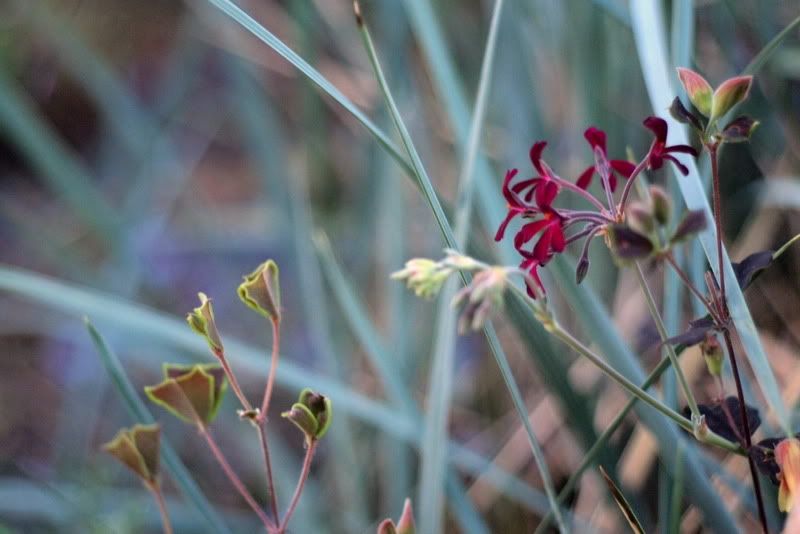 The parkway jacarandas are in full, glorious, exasperatingly messy bloom.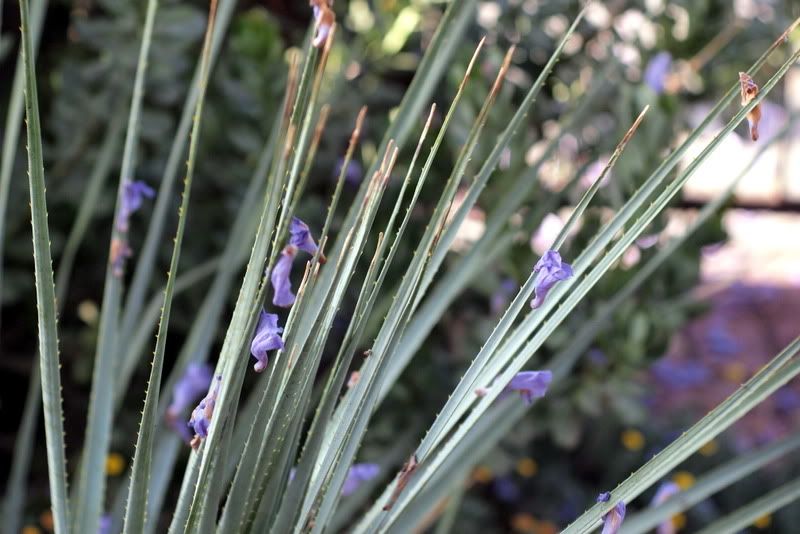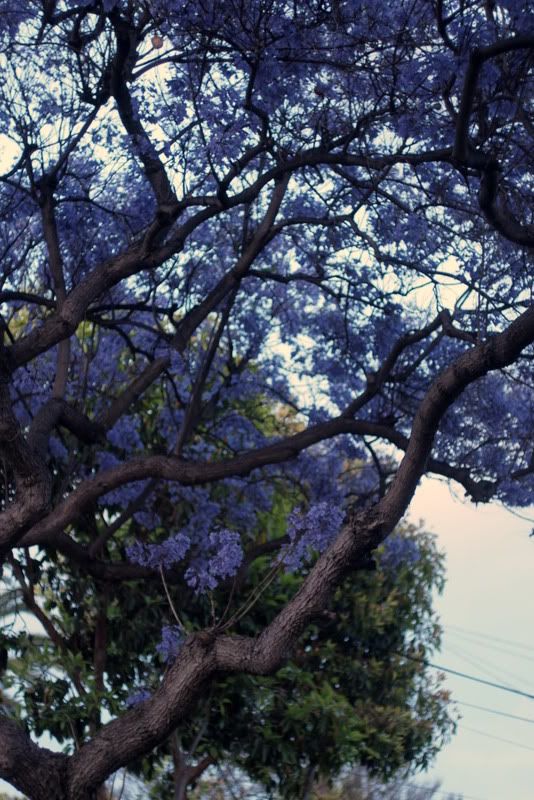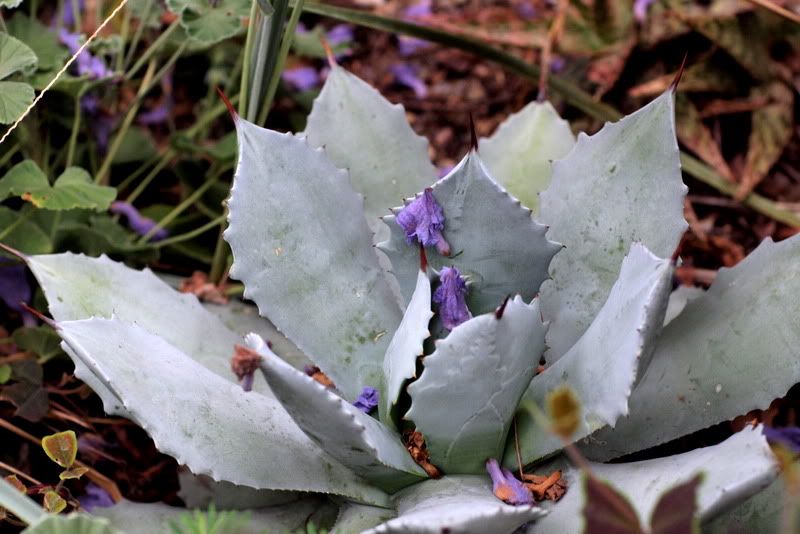 Potted Lobelia valida has been in bloom since February. First time I've tried this short-lived perennial lobelia. Very impressive.
The best photo I could get of Albuca maxima. The green stripes just don't want to show up as pixels.
Reminds me of an exotic, elongated snowdrop. I carefully transported this one home from a nursery recently in full flower.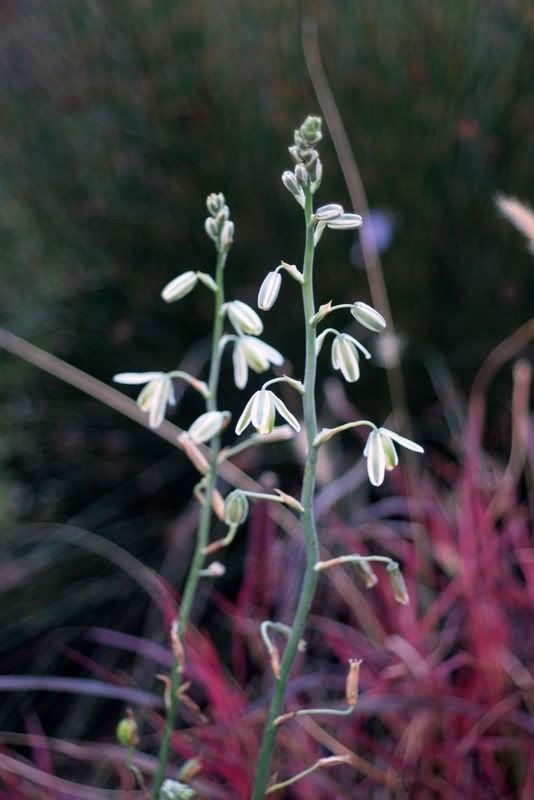 Carol of May Dreams Gardens, the grand mistress of Bloom Day, has lots happening in her garden, not to mention the gardens of other bloggers participating in Bloom Day. Go there and be amazed.