Should any part of your garden extend under a tree canopy, be joyful, for you will never lack for tasks to keep you busy. (Ha!)
But if your garden is home to spiky plants, no amount of sweeping and raking will help. The tree litter will be stuck, impaled, draped like dirty laundry for weeks until a strong wind arrives to liberate the garden of its vegetative equivalent of Irish pennants. Or failing a stiff gale, you may be driven to reach in desperation for a vacuum cleaner to suck debris from plant crevices and thorns, exposing your plant-geek tendencies to the ridicule of the entire neighborhood. (As if such tendencies have been well hidden up to this point.) While trees rain down bounteous spring bloom, remember that despite being a teeth-gnashing annoyance, it's really a small price to pay for all the good that trees do. And if you're not paying a price, reaping the inevitable downside of something glorious and good, check your pulse quick.
In our case, our particular bete noire is the jacaranda. The subtropical South American Jacaranda mimosifolia, two of them planted by the city in the parkway, overhanging the front garden. We're just now digging out from under two months of incessant rain of violet-blue, stick-to-your shoes petals. Let's not even get into "My tree creates more havoc than your tree," for I know many of us have our patience tested each and every spring and fall by diverse species of trees. In our case, we get about a two months' respite a year from the jacarandas, July and August, when they are not unleashing some kind of debris. As far as petals, by late June the end is in sight, and the bulk of the flowers will have fallen.
Strong blasts from the hose unearthed my Agave guadalajarana this morning.
Fortunately, I don't really mind sweeping and have worn out many a broom on these bricks.
But when the sticky petal grime builds up to critical mass, only a strong jet of water from the hose can remove it.
From the opposite direction, Stipa gigantea caressing a furcraea, with dried flowers from the 'Kiwi' aeonium, Agave 'Jaws' in the distance on the right.
Lots of nooks and crannies for tree litter.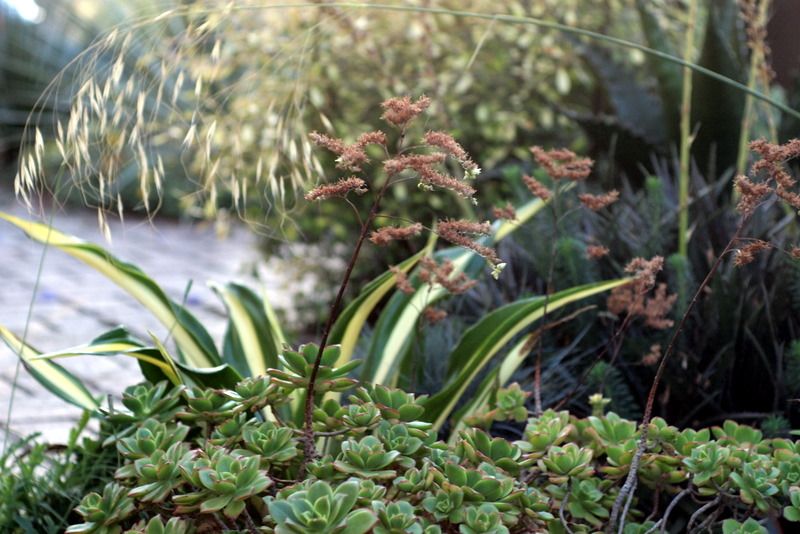 Senecio decaryi from Madagascar (formerly Senecio amaniensis) is almost 6 feet tall this year. Since I bought it as an unnamed succulent, I had no idea it'd reach such proportions. There's so much in the front garden I truly enjoy… if only I wasn't so pissed off at the jacarandas every spring.
But by July we're in love with our trees again, fully leafed out for the heat of summer, appreciating all they do to cool our home and clean our dirty, port-town air.